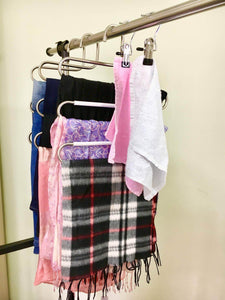 Multi Pants Hanger with Pant Hangers Space Saving Non Slip Stainless Steel with White Silicone Coating use for Jeans Pants Towel Scarf Tie
Regular price
$38.07
Sale price
$27.00
---
Brand: Gington
Features:
Consist of 3 Multi-Layer Hanger with white Silicone Coating & 10 Portable Clip Hooks.
Non-Slip Design - Unique design with hanger coated with additonal white silicone to prevent clothes/pants from slipping off.
Sturdy - Gington Hangers and Portable Clip Hooks are made from Premium stainless steel that are durable and compact.
More organize closet - With additional hangers and clip hooks, you are able to hang more items with less space used.
Multi-purpose usage - Hangers allow you to hang towels, scarf, ties and pants. Portable Clip Hooks allows you to clip on any clothes, belt and even soft toys.
Publisher: Ginny Goh
Details: **Multi-purpose Hangers Perfect for Saving Space Storage. **Keep your closet clean and tidy with more items, less space.

1.Dimensions: 14(L)*15(H)*0.4(D)inch.
2.Scratch Resistant: clear silicone caps at the opening and coated with white silicone which protects the clothes from scratching and eliminates creases. Keep pants neat and organized on the poles and tidy.
3.Super Durable: The hangers are made of premium quality Stainless Steel which can be used for a long time because the pants rack will never rust & always look new.
4. One hanger can hang 3-5 items. This enables more space in your closet, keep pants and clothes be organized.
5. Improved and Innovative design: Addition of the white silicone coating on the hangers which keeps everything in place and make it super easy to get things on/off the hanger. Convenient and does not need to worry about items falling off again. ---------------------------------------------------------------------------

**Portable clips with hook.
1. Dimensions: 4.4(L)*1.87(H) inch.
2. Sturdy - Made from premium stainless steel with a gleaming, rust-resistant chrome finish, additional tension grasp with gripping teeth that can hold accessories firmly preventing clothes from falling.
3. High tension grasp covered with black silicone coating prevents leaving teething marks on clothing and towels.
4. Multi-purpose - Conveniently hangs skirts, towels, soft toys, gloves and more without creasing.
5. Versatility - Hooks at anywhere over closet rod or shower bar up to 1.4''. Provides the convenience to use the hooks anywhere because it is portable. Can use even when going for a Holiday!
UPC: 768114276017
EAN: 768114276017
Package Dimensions: 14.6 x 14.4 x 1.3 inches