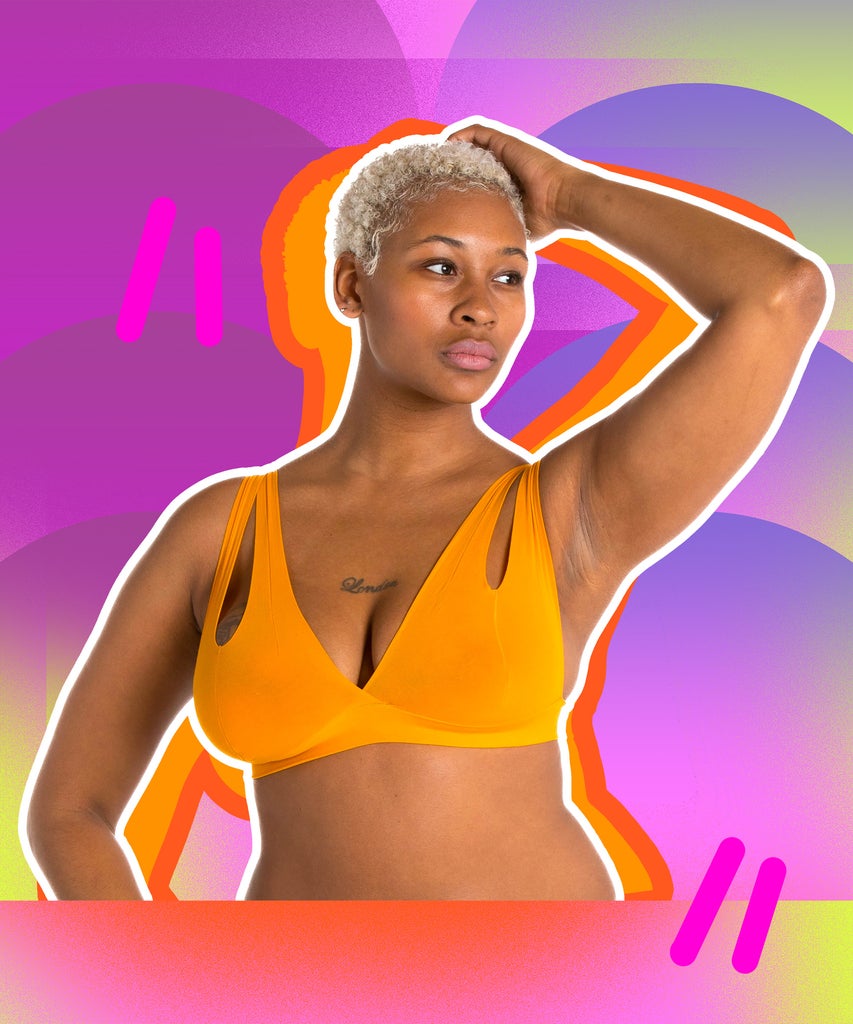 The first thing to know about Nuudii System is that the intimates brand makes what founder and CEO Annette Azan calls "boobwear," not bras. In fact, the brand is anti-bras and pro-boobs, and it describes wearing Nuudii as the "option between bra and braless." The way Azan explains it, traditional bras have been designed to reshape, push, flatten, squeeze, or lift breasts into unnatural positions. Bras are also constructed with thin straps that often dig into the shoulders and made with frilly, lacy, meshy, and otherwise delicate materials that require upkeep. Wearing a bra, she essentially argues, should be an intimate experience that makes a wearer feel confident, but often, it's the least comfortable item that's on the body.
Azan also notes that bras, in general, are also not very size inclusive nor are they made for diverse chest shapes. For example, folks with two different cup sizes have generally been out of luck, defaulting to bras that simply don't fit. As another example, people with bigger busts have always been conditioned to think they need bras that "support," often with padding or uncomfortable underwires that don't actually cradle the juggulars in a natural or sufficient way.
Azan herself was over the notion that boobs have to be reshaped by bras at all — so she launched Nuudii System for people who seek the feeling of going braless while embracing the natural shape that they have. Made from a lightweight but strong material that has 360-degree stretch, the Nuudii is somewhat similar to wearing a soft stocking for your chest. There's a supportive double-strap system that allows for myriad ways to wear, while the band is made to effortlessly stretch and hug the underboob area. Wearers can expect just a hint of a lift, but it's subtle because Nuudii is all about letting the boobs hang and jiggle as they may. Ahead, we catch up with Azan on how she's bringing innovation into the tatas space.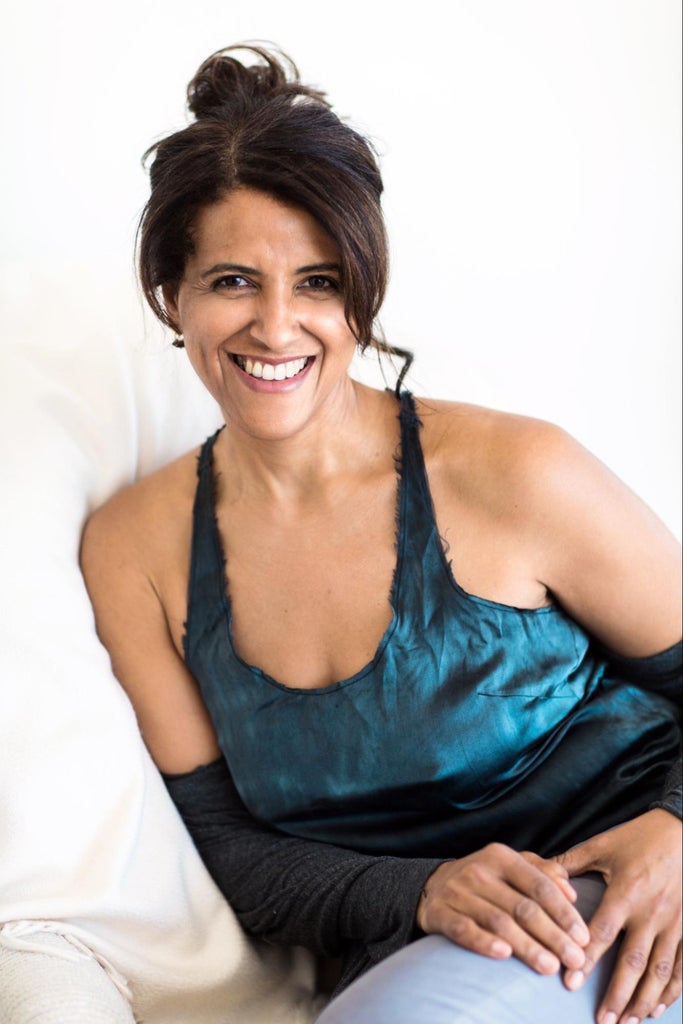 I learned that you inadvertently created the Nuudii prototype when you needed something to wear under your wedding dress. What were the problems that this early boobwear solved?
"So my wedding dress was super-sheer and skin-baring. It was cut literally under my arm all the way down to my waist and my back. My only option was stick-ons, but I had third-degree burns and those adhesives have formaldehyde in them if you read the small print. So out of desperation, three weeks before my wedding, I went to a general store and bought a nylon-spandex base and created a very thin layer between myself and my dress. It was made out of a fabric never used for boobs. And the minute I put it on my body, it worked so well. It didn't look like I had anything on. It was such a great solution for what I needed at the time. We launched a Kickstarter two and a half years ago to wild success and sold about $750,000 of merchandise in only 30 days."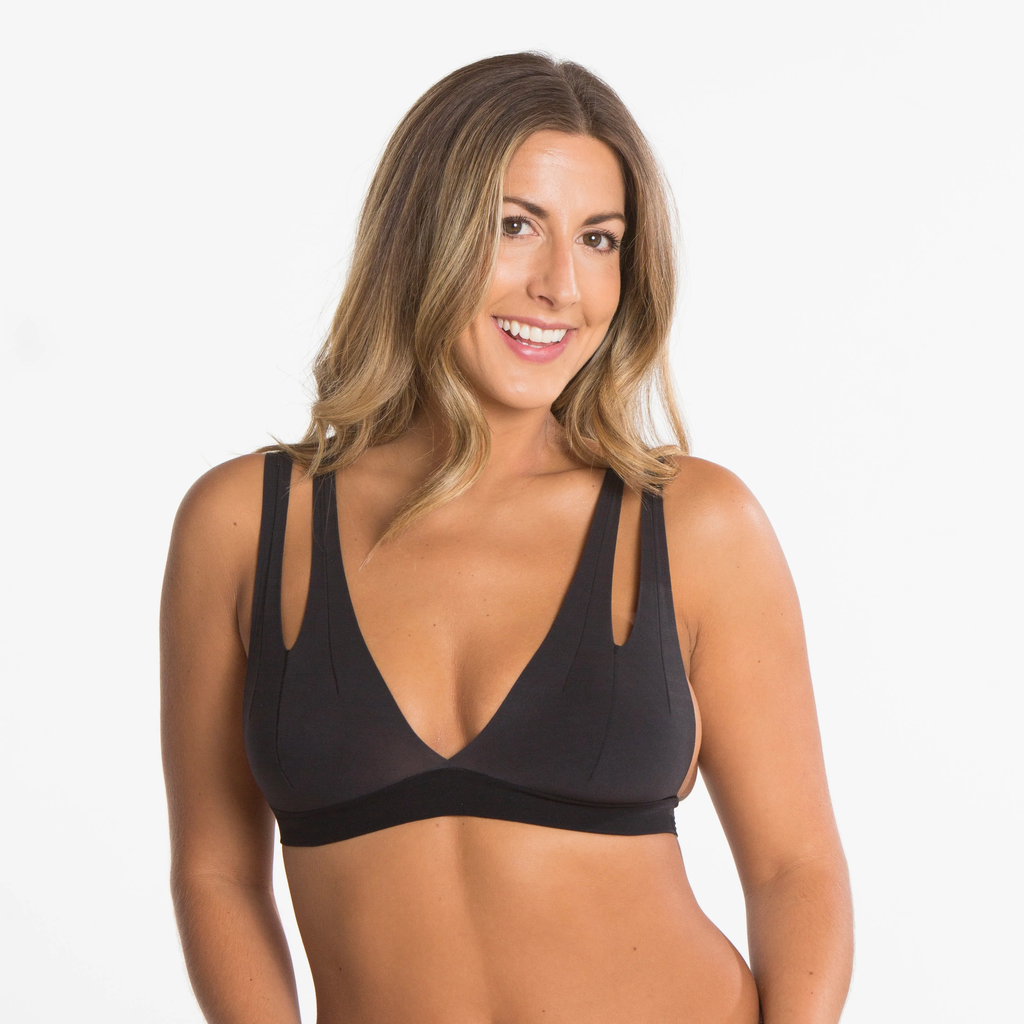 Shop all Nuudii System
I feel like a common concern for people who wear bras is the need for support, especially for those with larger busts. But I know that very concept is something Nuudii is reframing. Can you explain more about what the Nuudii experience is like?
"So we never use the word 'support.' Basically for the last hundred years, bras have been reshaping us into thinking we need support, we need lift, we need to push our boobs into the middle. But these are things we don't actually need. The bra industry has basically sold us on that. So Nuudii does not support like a bra because we don't believe in that. We're creating a space where your boobs look more natural. But having said that, it is not like going braless. It's really something in between. It's kind of like leggings — leggings aren't pants; they're something different. We're up against the whole bra industry so it's really important for us to guide and educate our customers as to what Nuudii is. If people are expecting support and lift, that's not what Nuudii is. We're telling people that your boobs can hang the way they normally do. We embrace and show off the side-boob. You don't have to force your boobs to be any specific way. The intimates industry has been over-sexualizing bras, and can we just move away from it now and just be yourself? I mean, it's great if you want it, but we don't want to feel forced into that anymore."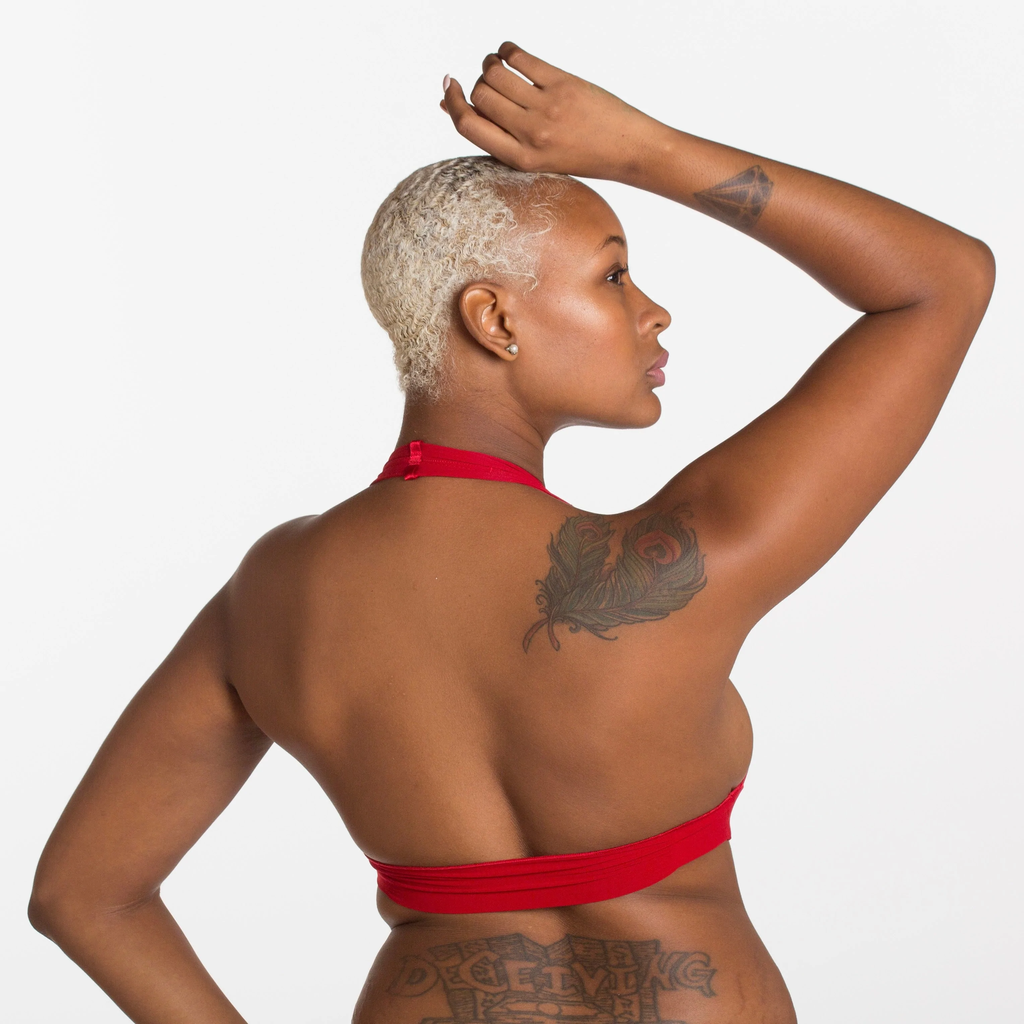 Shop all Nuudii System
That all said, the sizing system for Nuudii is also unique. How was the sizing chart developed?
"We have a two-letter system because our bodies are complicated, right? Some breasts aren't the same — some people have one smaller cup and one larger cup. What we heavily recommend is that women measure themselves because every bra company cuts differently. [Note: You can use a traditional bra size chart to help you determine your Nuudii size.] And we don't call them cups; we call them 'the cradle' since they're stretchy and soft, and they hug and cradle you rather than holding you like a cup. Our sizing system works, and we know it works because we have an extremely low return and exchange rate, which is unheard of. Women can really get a fit that works and is comfortable for them — we have all those sizes in our charts."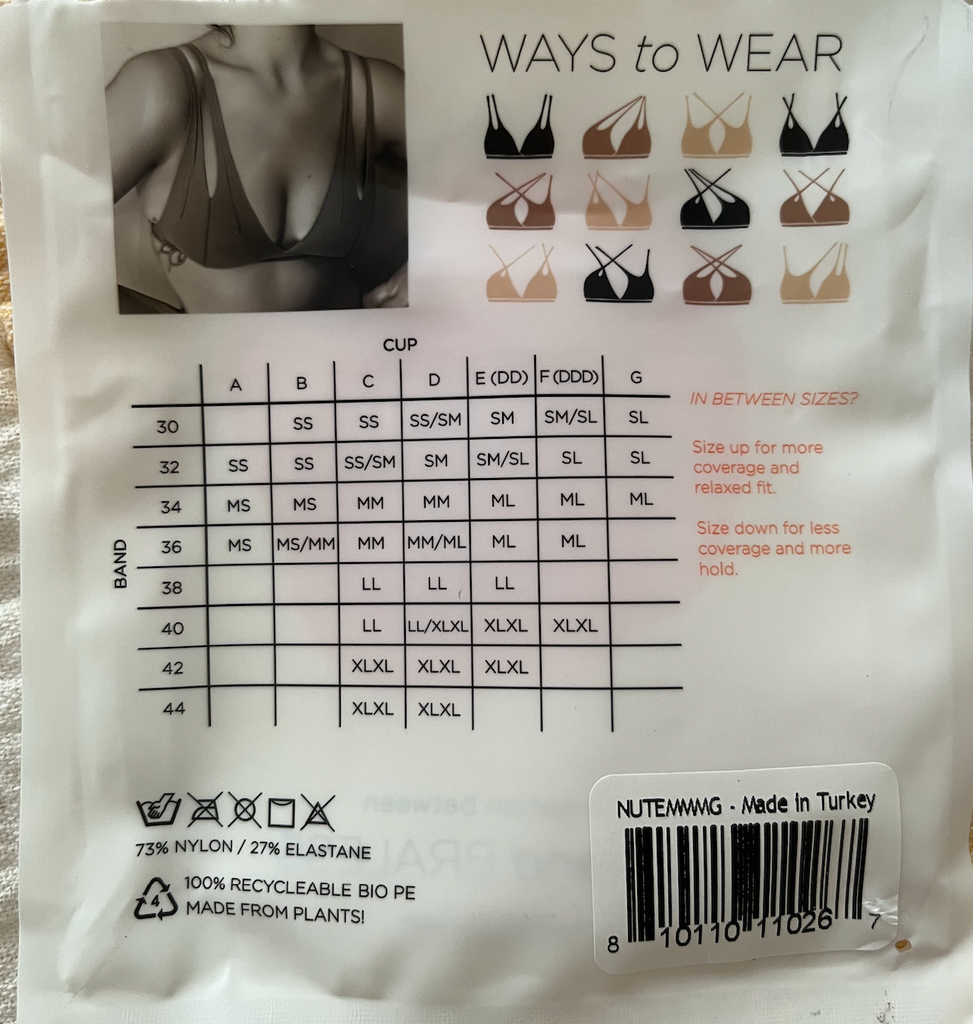 As someone who has tried the Nuudii, I want to emphasize how stretchy it is. Like, I initially thought I ordered a size too small because the packaging is so compact. But it totally fit after a good stretch, and you can also cross over a strap and sling it over your head. That's how stretchy it is.
"It was a very complicated product to make, even though it looks very minimalist and is simple from a consumer standpoint. This thin fabric is not just two pieces of fabric sitting on your boobs — the straps are made from one piece of fabric, which doesn't exist in a lot of bras. So the straps actually do give you a little bit of support and hugs from underneath your boobs. The two straps allow you to have complete comfort from your shoulders, especially for women with larger busts, because the two straps minimize a lot of tugging on your shoulders. It also allows you to wear the Nuudii 12 different ways."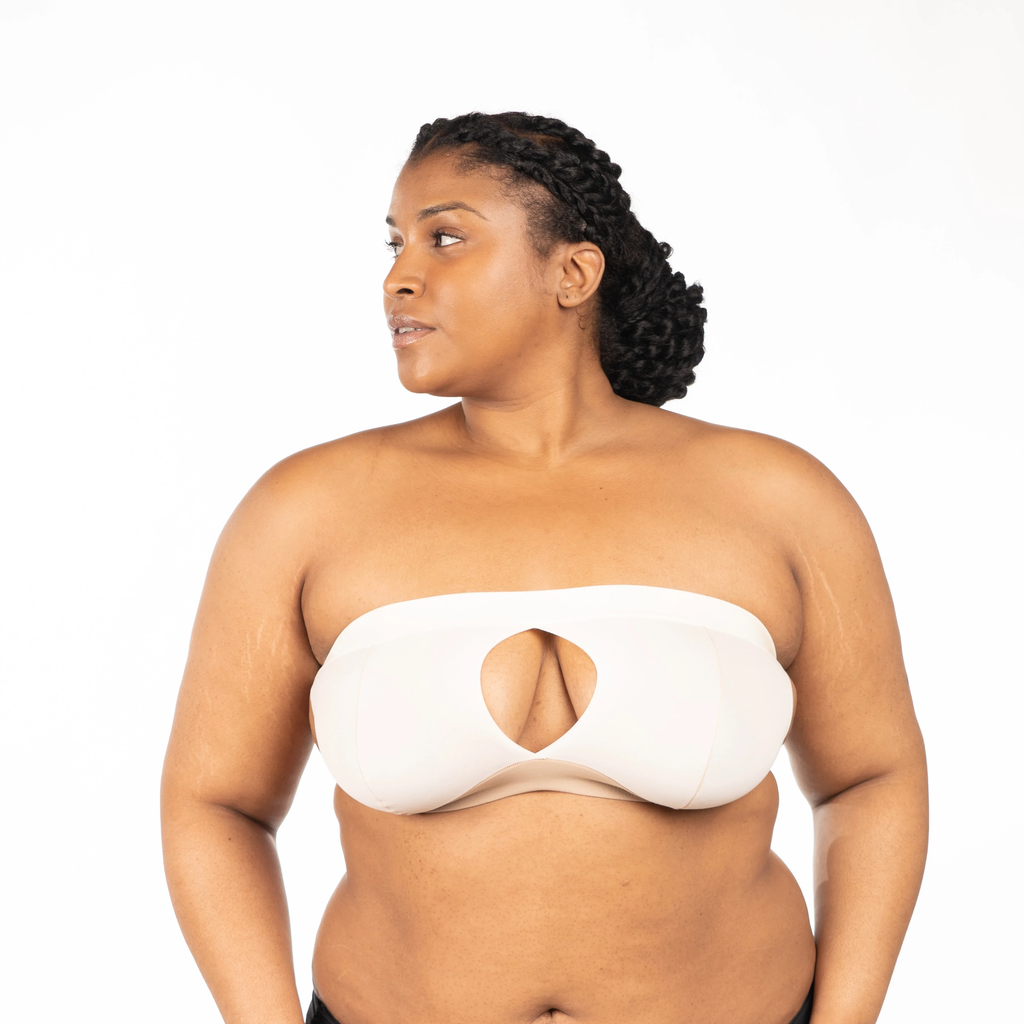 Shop all Nuudii System
What's up next for Nuudii System?
"So many great things. We launched our strapless a week and a half ago, which we're really excited about. This fall we are launching bottoms and two completely new, really innovative styles, which I can't tell you about yet but they're great. We sell at Nordstrom and are also going to be in vending machines at malls and airports, so there's easier access. Nuudii is really good for travel because you can just crumple it up, pack it, wash it, and it dries really quickly. We also launched a Kickstarter campaign for the Nuudii Backless System and received support from 4,000 backers. [Note: The Backless System is in development and will debut next year.]" 
So you're an entrepreneur, a woman of color, and you're in an industry that caters predominantly to women, which I hear is often overlooked or dismissed by investors. What's this journey been like for you?
"From the consumer standpoint, they've been super embracing. From an investor's standpoint, it's been more challenging. But I'm actually in the midst of a community raise through WeFunder and Daymond John from Shark Tank actually just became one of our investors. I keep hammering at the VC doors because, as we know, women and women of color hardly get any VC money. But I've gone to the community, and they've been super, super supportive. We've sold now what is close to 90,000 Nuudiis and raised $360,000 through our Kickstarter campaigns. There's been absolutely insane outreach from the community. We have a growing community behind us."
At Refinery29, we're here to help you navigate this overwhelming world of stuff. All of our market picks are independently selected and curated by the editorial team. All product details reflect the price and availability at the time of publication. If you buy or click on something we link to on our site, Refinery29 may earn commission.
Like what you see? How about some more R29 goodness, right here?
Inside Reddit's Most Popular Bra Community