Camping is a classic way to commune with nature and spend time with family and friends. It's good for the body, mind, and spirit to mix up our routines and get outside for some fun and relaxation. But we know how daunting packing for multi-day camping trips can be. That's why we put together this checklist to help make packing easy and stress-free.
The Gear
To determine what gear you need to bring on your trip, ask yourself these 3 questions:
Are you going to a campground or a primitive campsite?

This will help you determine whether or not there will be picnic tables, fire pits, bathroom facilities, water, and electricity. You'll obviously need to pack a bit differently for primitive camping.

What activities would you like to do?

You get to decide how you want to spend your time in the outdoors. Complete your gear list with the items you need to make hiking, fishing, biking, playing games, or just relaxing in camp enjoyable.

How luxurious do you want your camp to be?

Think of your campsite as a blank canvas where you can set up as much or as little as you'd like to make it your own. Some people take great pride in setting up elaborate, cushy camps, while others prefer to take a more minimalistic approach.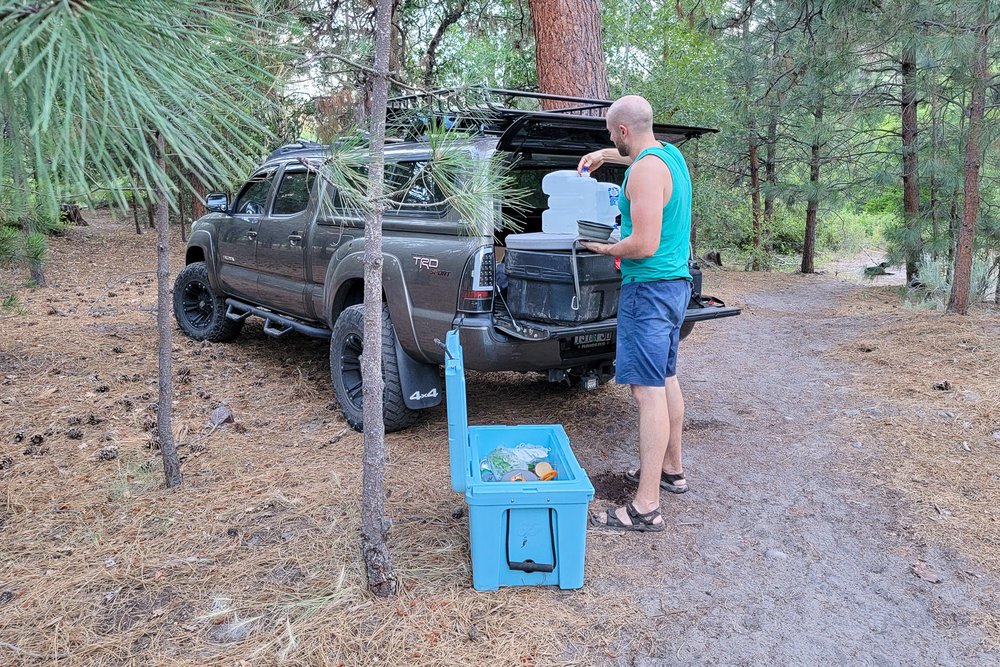 Starting from Scratch?
While this gear list may look intimidating at first, but you don't need every single item here, and you'll probably find that you already have a lot of these items around your house.
Start by gathering the important basics like your shelter and bedding first, then expand from there.
If you're on a tight budget, consider renting or borrowing big-ticket items to get you started. Your camping supplies will upgrade and evolve as you go on more trips and grow to love camping.
---
The ultimate camping checklist
DOWNLOAD OUR FREE PRINTABLE CHECKLIST
(Change margins to 'narrow' when printing)
SITE GEAR/FURNITURE
PRIMITIVE SITE GEAR
(when water, toilets, & electricity aren't available)
SHELTER/BEDDING
ELECTRONICS
Bags for garbage & recycling

Bottle opener/corkscrew

Can opener

Potholder

Measuring cups/spoons

Paracord + food hanging bag (for bear country)
CONSUMABLES
CAMP KITCHEN
CLOTHING & FOOTWEAR
PERSONAL GEAR
Cash, credit card, ID

Toiletries (shampoo, etc.)

Prescription Rx

Toilet Paper

Toothbrush, paste + floss

Comb/brush

Ear plugs + eye mask

Permits/reservations/fees/licenses

Check weather forecast
CAMPFIRE SUPPLIES
Hatchet or folding saw

Firestarter (egg cartons work well)

Matches or lighter

Firewood (if unavailable near campsite)

Tarp (to cover wood + protect car)

Roasting forks for s'mores
FUN & ENTERTAINMENT
Games (dice, cards, etc.)

Reading material, notebook/sketchbook & pen

Instruments

Fishing gear

Hiking guides/maps/field guides

Dog gear (dishes, leash, longline, bed)
Camping Tips
Staying Organized
It's really easy to keep your camping gear organized by using clear plastic bins with lids. You can see what's inside the bins at a glance and slide them easily in and out of the car. The bins also keep your items contained and protected from dust and critters in camp. And, as an added benefit, your stuff will always be in one place in your garage and ready to go at a moment's notice. All you'll have to do next time you want to head out is quickly go through the bins with your checklist, add clothing, restock consumables, and you're good to go.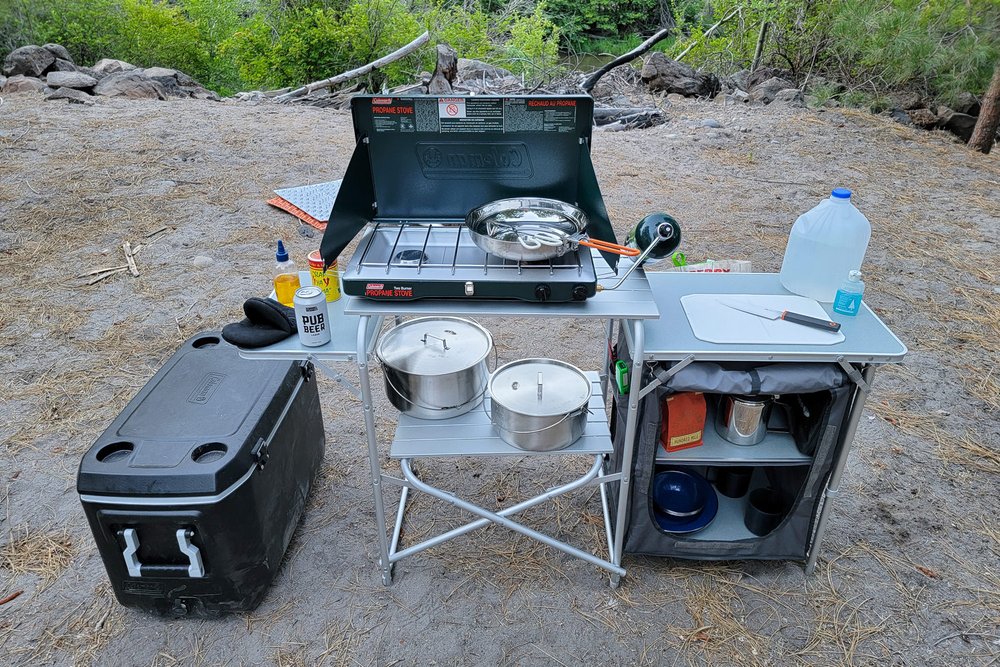 Camping Food
The camp kitchen and your food system will vary greatly depending on how much or little you want to cook on your camping trip. Some people prefer to bring mostly cold or prepared foods, while others enjoy whipping up gourmet meals at their campsite.
Deciding whether you'd prefer not to cook, to cook on a stove, use a grill, or over a fire will help you figure out what to pack and what kind of food to shop for. We usually prefer to prep and combine some ingredients at home, then do some simple cooking on a stove in camp. Taking the time to make a meal plan before your trip will make your role as camp chef much easier and more fun.
Check out our Easy Camping Recipes That Taste Gourmet post for meal ideas. We also have a ton of other food-related resources that work for both camping and backpacking.
Stay Cool, Cooler
A quality cooler will have thick insulation to help keep it cold for a long time. But even the best cooler will lose its cool after a day or two on hot summer trips.
Use these tips to help your cooler perform to its max potential, keeping food safe and drinks ice-cold, the way we like 'em:
Pre-chill both your food and your cooler before you load it for the best start

The fuller your cooler is, the less trapped warm air has to cool, so choose one that isn't too large and top it up whenever possible

Separate your drinks from your food in two smaller coolers instead of one large one to reduce the number of times people open them

Cover your cooler with a blanket, sleeping bag, or pad, and keep it in the shade
If you're in the market for a new cooler, check out our list of the Best Coolers.
Garbage in Camp
It's a good practice to keep your campsite clean and free of litter to keep birds, rodents, bears, and other wildlife from getting a taste for human food. It really doesn't take much to follow Leave No Trace protocol and it improves the way you experience your campsite too.
We try to separate garbage from recyclables whenever we can. Dispose of garbage in campground receptacles when you leave your site unattended or store foods items and garbage in your car. In bear country, it's a good idea to keep your food in a bear locker, store it in your car, or properly hang a food bag like the Ursack.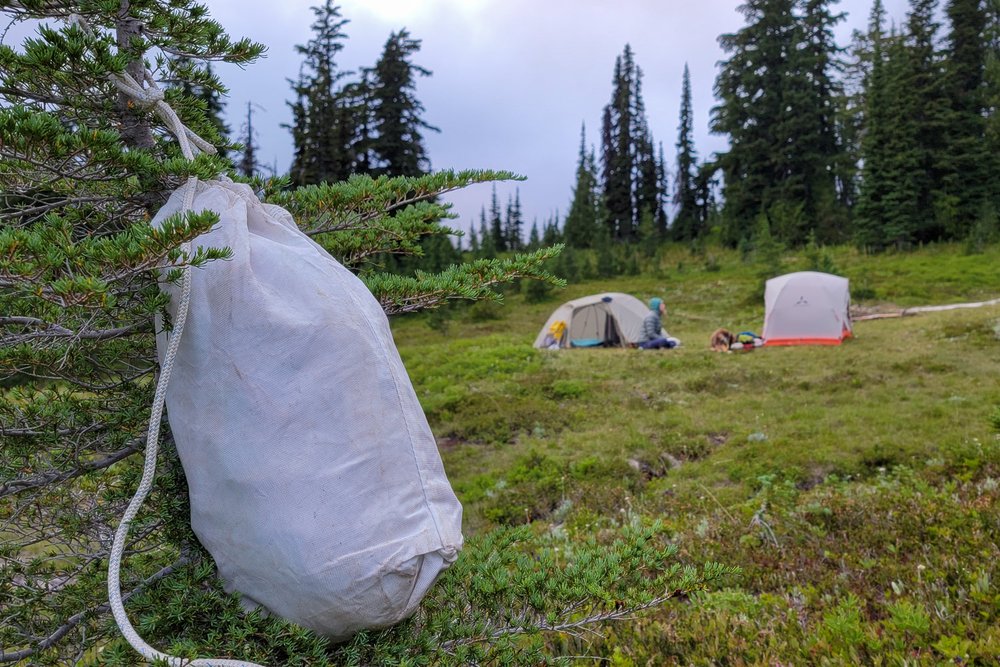 First Aid Kits
You can't be prepared for absolutely everything, but you should have what you need to take care of minor cuts, scrapes, sunburn, bug bites, upset stomachs, and headaches. Check out our Best First Aid Kits list to find the best one for you and your camping needs.
Did we miss anything? If so, leave us a comment below and we'll update our list.
More Information
If you enjoyed this review, you'll probably like the CleverHiker Gear Guide as well. Here are some popular resources to check out.
---
---
Some of the links on this page are affiliate links, which means we may receive a modest commission if purchases are made through those links. This adds no cost to our readers and helps us keep our site up and running. Our reputation is our most important asset, which is why we only provide completely honest and unbiased recommendations.