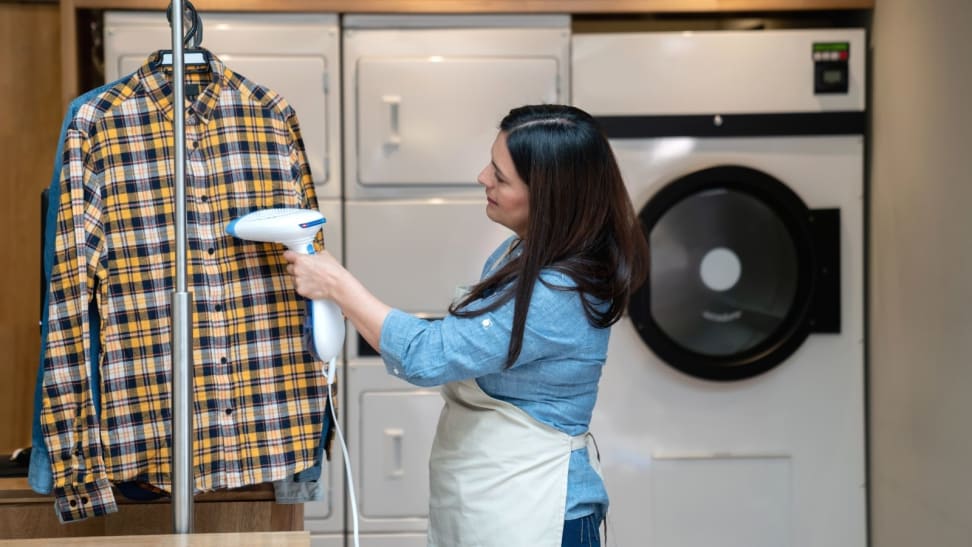 — Recommendations are independently chosen by Reviewed's editors. Purchases you make through our links may earn us a commission.
Got wrinkled clothing? Although irons have been the standard tool to smooth out wrinkles for generations, ironing is quickly becoming an old school technique. After all, irons are heavy, hot, can easily burn thinner fabrics like silk or melt polyester, and perform best on a horizontal flat surface like an ironing board. In a word, they're awkward.
So along come clothing steamers to the rescue. Small and light enough to take with you while traveling, several portable models work just as well as their commercial grade brethren. Stand-up models are the preferred choice of clothing retailers and career professionals alike, because they're more efficient. While steamers have been the appliance of choice in the fashion industry, it's just been in the last few years that the rest of us have discovered how great they are.
Now, admittedly, I had a favorite from the start—my J-2000M Jiffy Stand-Up Steamer (available at Amazon), which I use regularly. While I still love it, I discovered that others were equally good, or even better. The PurSteam (available at Amazon for $89.97) was our favorite overall, mainly because of its ability to get rid of wrinkles on all the fabrics we tried. But the Sunbeam Portable Steamer (available at Amazon) was also surprisingly good, especially for the price! Honestly, I may get one myself because it was so lightweight and quick to heat up.
These are the best clothing steamers we tested ranked, in order:
PurSteam
J-2000M Jiffy Garment Steamer with Metal Steam Head
Conair Extreme Steam Deluxe Upright Professional Fabric Steamer
Sunbeam SB51W Garment Steamer
Magictec Portable Travel Garment Steamer
Rowenta IS6520 Master 360 Full Size Garment and Fabric Steamer
Cirago LS-609C Professional Heavy Duty Hanging Clothes Steamer
Hilife Steamer for Clothes
Conair Complete Steam Hand Held Fabric Steamer
BEAUTURAL Steamer for Clothes with Pump Steam Technology
DB DEGBIT Portable Fast Heat-Up Steamer
Housmile Steamer for Clothes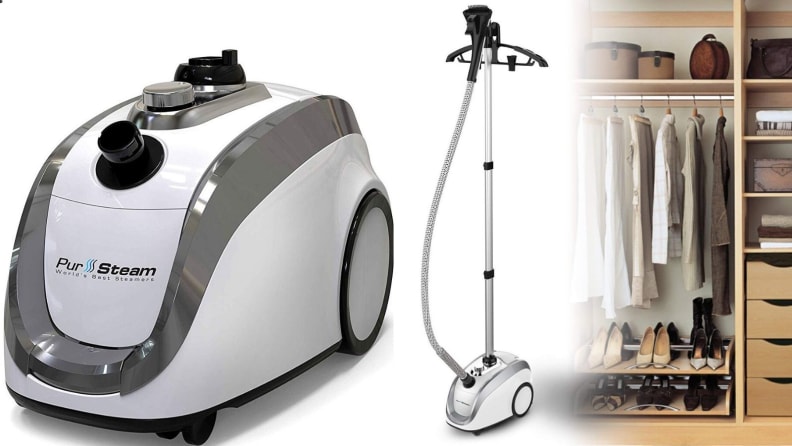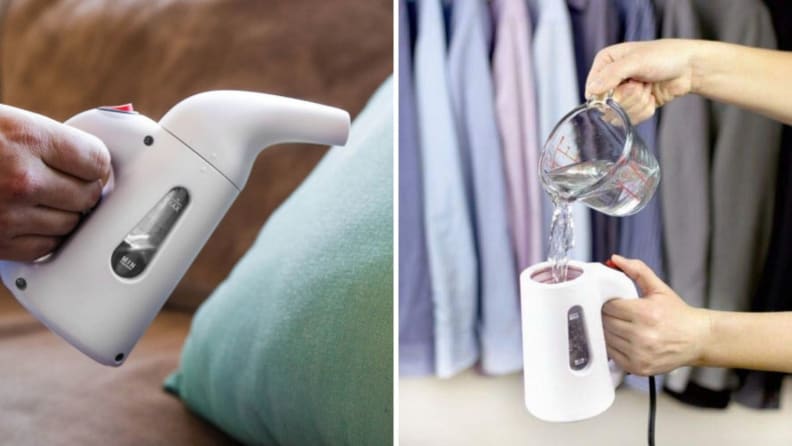 How We Tested
The Tester
I'm Marcia Layton Turner, a freelance writer who has written for Health, Woman's Day, Every Day with Rachael Ray, Businessweek, US News & World Report, and I currently write for Forbes.com and a number of other outlets. I've also tested products for several magazines and websites. I was the baby product reviewer for ePregnancy magazine years ago, am an Amazon product tester now, and frequently offer my two cents even when I'm not asked for it.
As a busy mom of two kids and two dogs, I don't have much time to spend on getting dressed. But I also love natural fabrics like linen and hate leaving the house for a meeting already wrinkled, so I use a clothing steamer more than the average person, I suspect. Yes, I still use an iron from time to time, but more on larger household items like curtains and tablecloths that are unwieldy to hang and steam. On shirts, skirts, pants, and dresses, my steamer is my go-to appliance.
The Tests
We spent a couple of weeks testing 12 different garment steamers on four different types of fabrics: wool, 100% cotton, polyester/rayon, and, easily the most wrinkle-inducing fabrics known to man, linen. Some of the steamers were manufactured by companies that also market irons, like Rowenta, Beautural, Conair, and Sunbeam, while others were more steamer specialists, like PurSteam, Jiffy, and Cirago.
We assembled all the steamers, took notes on which were easy to put together and which took way too long, tested them on fabric we had dampened and purposely wrinkled, and, for the portable models, packed them away in a suitcase to confirm they were, indeed, travel-friendly. (We didn't bother doing this with the stand-up models because they could fill an entire suitcase on their own; not an appliance you would normally bring with you on a plane.)
To determine which steamers performed best and which weren't a good use of your money, we tested them over the course of two weeks on four different –but significantly wrinkled–types of fabrics. We wanted to see how well the steamers performed on everyday wrinkles, on cotton and polyester blend t-shirts, as well as on more challenging varieties, such as a wool skirt and linen tablecloth.
Although removing wrinkles is the primary purpose of a steamer, we also judged how hard it was to assemble each model, assessed how much water they could hold, how easy they were to clean, and how convenient they were to store or to pack for a trip.
What You Should Know About Clothes Steamers
I was raised as an iron girl, meaning I was never exposed to the possibility for wrinkle relief that a steamer can provide. Despite being a late bloomer when it comes to clothing steamers, I've embraced them wholeheartedly. After too many singed shirts, melted scarves, and discolored napkins thanks to a too-hot iron, I've converted.
But where I went all in, investing in an expensive commercial grade stand-up steamer costing, you don't have to (unless you want to). This testing process proved that you can find effective steamers for an affordable price point, stand-up and portable. But there are still differences you'll want to be aware of.
Some of the factors you should consider when choosing a new garment steamer include:
Common Use: Start your shopping process by thinking about how you intend to use your steamer. Are you buying one to take on a cruise or trip? Then portable is the way to go, so it fits in your suitcase. Do you want an alternative to everyday ironing or are you a retailer or reseller? Then you'll likely want a more heavy-duty stand-up model that will allow you to hang clothes on the unit while you steam them.

Price: Most steamers cost somewhere between $20 and $100 and you'll generally get what you pay for, with just two exceptions—the Sunbeam and Magictech portable models, which are identical.

Varying Steam Levels: Heavier fabrics tend to need more steam than lightweight items, and some models allow you to customize the steam flow. Do you need several minutes of continuous steaming or only a few puffs here and there? Although I don't think this is an essential feature, some users may find it desirable.

Size: If you plan to use your steam as your everyday de-wrinkling machine, you may want to go with a stand-up version, keeping in mind that it requires a fair amount of closet storage. Do you have it available? If not, you may want to opt for a smaller, more compact, travel size steamer.

Extra Steam Heads: Some models provide alternate heads that provide simultaneous de-linting, which can save time. Is that important to you?

Durability: Most of the steamers were primarily plastic, which suggests they won't last forever. However, some were of a thicker grade of plastic that is more likely not to fall apart in the next couple of years.
---
Other Clothes Steamers We Tested
More Articles You Might Enjoy