When you think of hiking clothing, do you think about puffies, fleece, pants, and maybe socks? But what about hiking underwear? While you can definitely just wear your normal underwear when hiking – and many of us do, as you'll find out below – you can also choose from a whole range of hiking underwear for women that is designed to be comfortable and convenient on the trail.
Everyone is going to have a different opinion on the absolute "perfect" pair of hiking underwear, but here we will share the recommendations that came up the most among our She Dreams of Alpine team, Backpacking Badass students, and social media audience.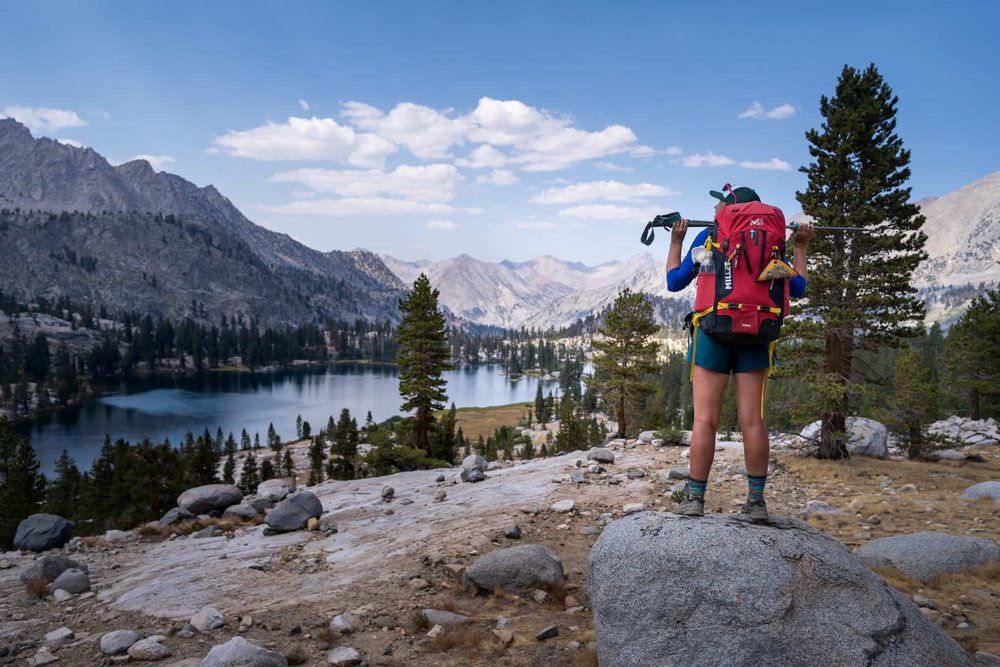 BEST HIKING UNDERWEAR FOR WOMEN
As with many pieces of hiking gear, the best hiking underwear for women is what feels best for you. We all have different preferences on cut, fabric, and price that work for our bodies and our budgets.
So here is the most recommended hiking underwear for women among our community – with pros and cons of each, so you can figure out the best hiking underwear for you.
(Note: This post may contain affiliate links.)
1. BRANWYN
BRANWYN underwear
has taken the outdoor world by storm!
It's made from Merino wool, and many women swear by it on the trail,
including She Dreams of Alpine Social Media Manager Kellie. As she says, "I'm in love with the BRANWYN Hipsters merino underwear. They don't ride up my big hiking peach, they are soft and comfortable (no chafe in the thigh folds!), and merino wool does wonders for moisture wicking."
And one of our Backpacking Badass students declares, "BRANWYN. 100%. My go to undies for all of life. They're Merino...so spendy, but man, oh, man! I have bikinis and thongs, I day use thongs and use bikinis overnight. They dry so fast and resist odor, perfect for the trail."
Pros:
Merino wool

Quick-drying

Odor-resistant
Cons:
Buy BRANWYN Women's Hiking Underwear Here
>>> She Dreams of Alpine readers get $10 off your first BRANWYN purchase using the code SHEDREAMS10
---
PSST.. ARE YOU READY TO FINALLY UNDERGO YOUR OWN BACKPACKING TRANSFORMATION?
Join me (and your peers) on a transformational adventure, where you will learn how to confidently go on your first ever (or perhaps your first solo) outdoor backpacking trip without the constant fear of getting lost, the debilitating worry of being unprepared, and the lurking feeling that you lack the "know-how" and skills required to stay safe on the trails. Click below to be the first to know when my one-of-a-kind backpacking program re-opens again for enrollment!
Become an Outdoor Backpacking Badass Waitlist
---
2. EXOFFICIO
ExOfficio might be the most-recommended hiking underwear for women
among everyone we asked including our students and social media audience. These synthetic panties come in a few different fabrics and a variety of cuts, and have an anti-odor treatment. They also feature flatlock seams and a smooth waistband to prevent the dreaded chafing.
As a close friend of She Dreams of Alpine says, "ExOfficio is my favorite because it's really, really quick-drying, so even on long hikes, it always feels perfectly dry and clean…It's worth the extra penny because every other undie I've tried that claims similar benefits doesn't add up at all."
And a Backpacking Badass student really put them to the test and was impressed: "I brought 3 pairs to Nepal for a month-long trek and that was all I had. They held up great with a good rinse as best you can in between wears. No chafing, and they just don't seem to hold the sweat smell if you at least rinse them."
Pros:
Anti-chafing seams & waistband

Quick-drying & odor-resistant

Less expensive
Cons:
Inconsistent sizing

Elastic issues in new versions
Buy ExOfficio Women's Hiking Underwear Here
---
GRAB MY [FREE] OUTDOOR BACKPACKER STARTER KIT:
I created the Ultimate Outdoor Backpacker Starter Kit for you (and it's FREE)! This starter kit is filled with 14 pages of my best hiking and backpacking tips to help you learn what it takes to become a safe, confident, and self-sufficient outdoor backpacker!
---
3. ICEBREAKER
Icebreaker is another well-loved women's hiking underwear option.
Several students and social media friends swear by Icebreaker as the best hiking underwear for women. The thong gets called out specifically as an excellent choice, but Icebreaker offers several other styles as well.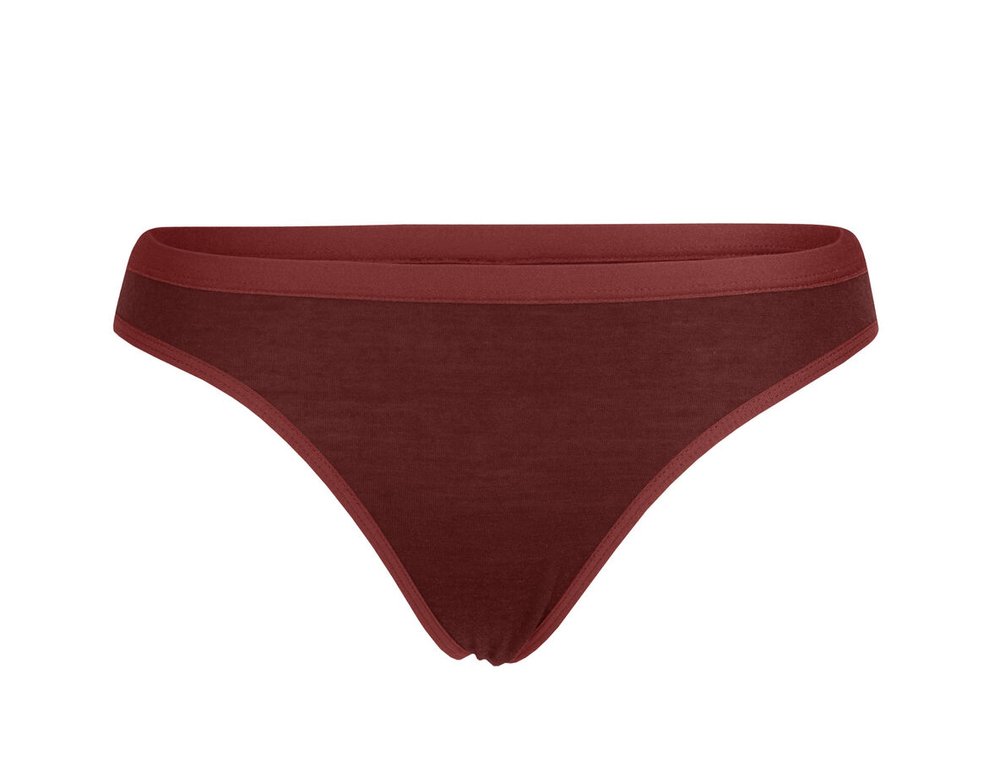 Pros:
Merino wool

Helps regulate body temp
Cons:
Buy Icebreaker Women's Hiking Underwear Here
---
4. REI ACTIVE
REI Active hiking underwear is made from polyester mesh,
which is stretchy and soft. It's also moisture-wicking to help with sweat and quick-drying –
plus, an antimicrobial treatment keeps things smelling fresh.
If some of these other options are giving you sticker shock, REI Active hiking underwear for women is lighter on the wallet (especially if you have an REI membership and get a dividend). REI also has a merino wool hiking underwear line, but those are twice as expensive as the polyester pairs.
Pros:
Moisture-wicking

Antimicrobial

Cheaper than some of the other options
Cons:
Buy REI Active Women's Hiking Underwear Here
---
5. SMARTWOOL
Smartwool hiking underwear for women seems to be hit or miss – some people love it, and some people hate it.
One of our Backpacking Badass students explains, "Smartwool ones seem to run small, but they hold up well, don't chafe, and don't hold odors."
Smartwool hiking underwear for women seems to be hit or miss – some people love it, and some people hate it. One of our Backpacking Badass students explains, "Smartwool ones seem to run small, but they hold up well, don't chafe, and don't hold odors."
The cut of the Smartwool bikini bottoms doesn't work for every body, so ideally, try these on if you can before committing to them.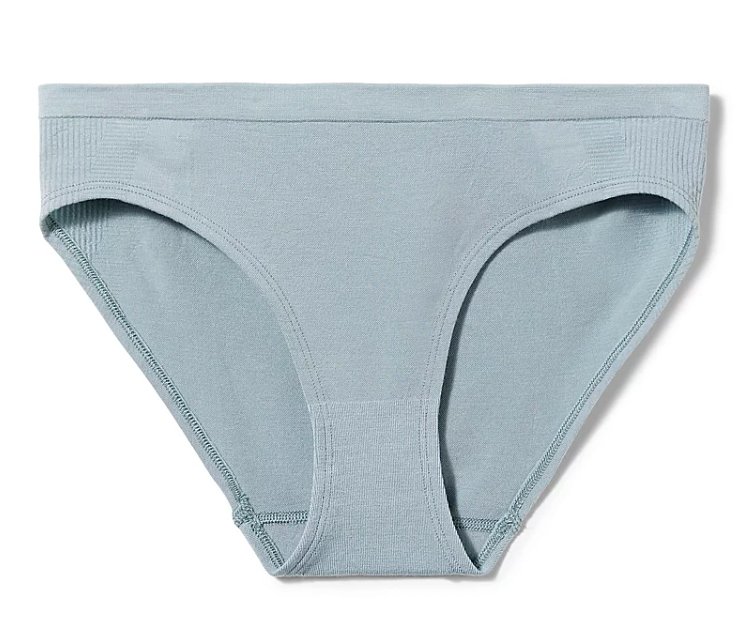 Pros:
Super soft

Breathable

Cooling fabric
Cons:
Skimpy cut that tends to ride up

Not quick-drying

Pricey
Buy Smartwool Women's Hiking Underwear Here
---
6. PATAGONIA
Patagonia is one of my favorite outdoor brands,
and their women's hiking underwear lives up to the standards of their other clothes.
Patagonia hiking underwear is made from soft, stretchy synthetic fabric that controls odor and is moisture-wicking.
The waistband is seamless for comfort, and the leg openings feature soft bindings that stay in place and don't chafe.
Patagonia designs their garments to last a very long time, and their hiking underwear is no exception. But because of this, some people have noticed that the newer versions of Patagonia's hiking underwear might fit slightly differently than their old styles.
Pros:
Lasts for years

Breathable & moisture-wicking

Stays put & doesn't ride up
Cons:
Some people say style has changed

Tag is annoying & needs to be cut out
Buy Patagonia Women's Hiking Underwear Here
---
7. AERIE
Aerie is a bit of a surprise on this list of hiking underwear for women, since it's not specifically an outdoor or athletic brand. But several of our Backpacking Badass students shared their love for Aerie underwear.
As one student said, "I like Aerie underwear. The ones I have are made of modal. They breathe well and never stick to me when I'm sweaty." And another echoed, "I've really liked the stuff from Aerie. The modal is nice."
While the super soft modal material is extremely lightweight, Aerie underwear is not designed to be quick-drying or odor-resistant like other hiking underwear. But these are by far the cheapest of any women's hiking underwear that were highly recommended.
Pros:
Cheap

Lightweight & comfy
Cons:
Not specifically designed for hiking/active women
Buy Aerie Women's Hiking Underwear Here
---
8. BOMBAS
While you might know Bombas for their super comfy socks, they also make underwear, too! As one of our Backpacking Badass students raves, "Bombas makes real soft & comfy seamless undies. Literally feels like wearing nothing."
The synthetic blend fabric of Bombas underwear is breathable and quick-drying to keep you cool and not feeling sweaty. A special feature of Bombas underwear is the "Stay Put Flex Tech," which is a special grippy but velvety pattern along the inside of the panty to keep them in place while you move.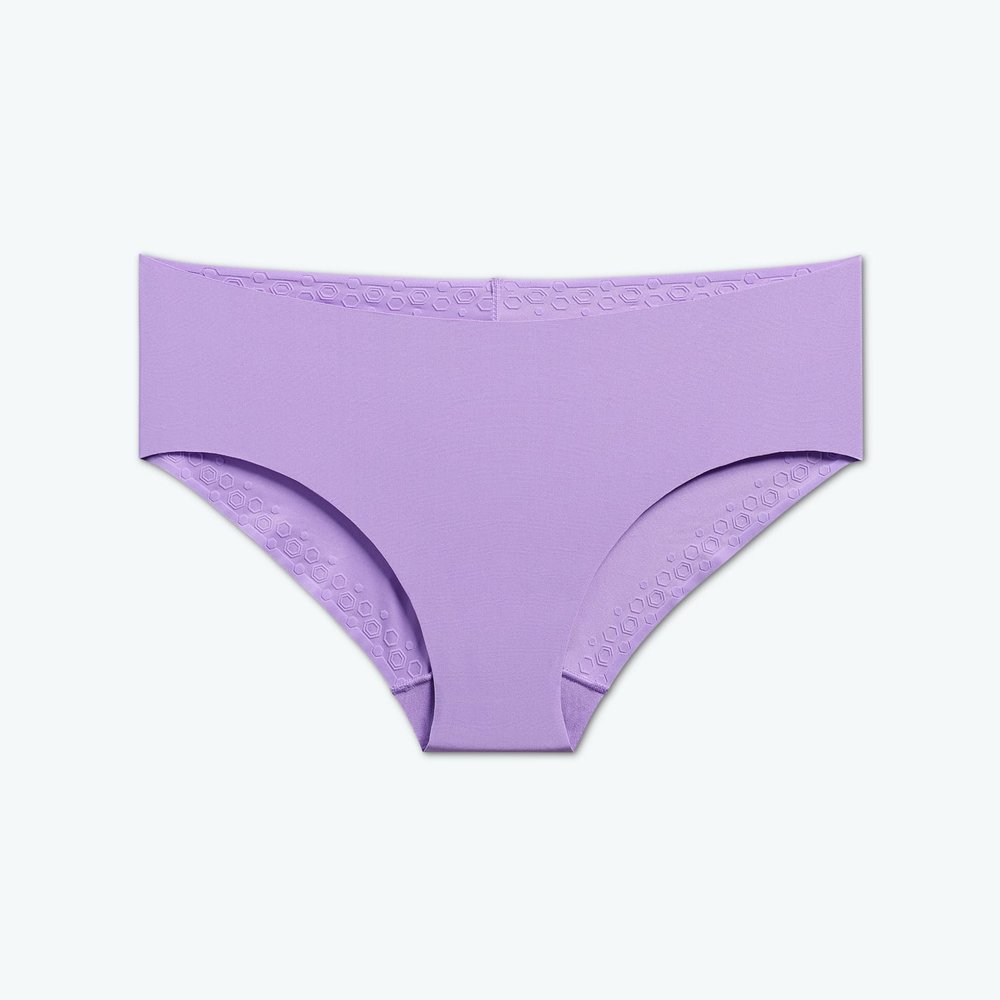 Pros:
Stay Put Flex Tech keeps the underwear in place

Somewhat cheaper than other hiking underwear

For every pair bought, a pair is donated to homeless shelters
Cons:
Run small & snug

Waist is prone to rolling since there's no band
Buy Bombas Women's Hiking Underwear Here
---
9. DULUTH ARMACHILLOS
The cool thing about Duluth Armachillos is that they are literally cool, thanks to microscopic jade embedded in the fabric. This makes the underwear feel cool to the touch, which is super nice when you're sweaty from hiking. Duluth women's hiking underwear is also moisture-wicking and odor resistant, so you feel extra fresh on the trail and at camp.
Duluth Armachillos are available in a boxer briefs style if you prefer more coverage – however, they don't come in a thong, if that's your go-to.
Pros:
Special cooling fabric

Odor-resistant & moisture wicking

Slightly cheaper than some & often on sale
Cons:
Sizing can be inconsistent

No thong style, if that's what you prefer
Buy Duluth Armachillos Women's Hiking Underwear Here
---
10. PERIOD PANTIES
An interesting option for women's hiking underwear is period panties! As a Backpacking Badass student explains, "I like period panties to wick away sweat from activity, and they are easy to wash, dry and repeat."
She prefers Victoria's Secret, which "has a great boy short style period panty that I love. I barely feel it and sweat does not become a problem there with this tactic – the boy short style aides to ward off chafe also."
She Dreams of Alpine Content Manager Kate wore a pair of
Bambody period panties
when she hiked the
Grand Canyon Rim-to-Rim in a day
and became a convert. She "found them
surprisingly comfortable, especially on such a long hike.
Even while wearing a menstrual cup, it was great not to have to worry about leaks, and they absorbed sweat, too – which was crucial, since it was ridiculously hot!"
And She Dreams of Alpine Community Manager Kellie likes June period undies. As she explains, "They don't have any harmful chemicals and can be worn for up to 12 hours. When backpacking on my period I like to use my period panties at night or to just free bleed to avoid messing with hygiene products with dirtbag hands. I can rinse and hand wash them at camp and hang to dry like any other pair of undies. Keeps me dry, is odorless, and comfortable!"
Pros:
Super absorbent for sweat

Easy to rinse and clean
Cons:
On the pricier side

Can feel a bit bulky
Buy Bambody Period Panties Here
---
OR WHATEVER YOU GOT!
While all the options mentioned above are great, you truly don't need any kind of special underwear to go hiking or backpacking. Hiking underwear is not something I tend to stress about, so I say use what you have and don't let not having the "right undies" keep you from getting started on the trail!
As She Dreams of Alpine Client Success Manager Katie says, "Getting special hiking underwear is just really low on my gear priority list. One day, I'll be Miss Fancy Underpants, but in the meantime, one fresh pair a day does the job just fine."
---
DOWNLOAD OUR HIKING PACKING CHECKLIST:
So that you can hit the trails with peace of mind knowing that you didn't leave anything essential behind!
---
HOW TO CHOOSE HIKING UNDERWEAR FOR WOMEN
When choosing the best women's hiking underwear, there are several important factors to consider. Here's what to pay attention to as you're shopping for hiking underwear for women.
FABRIC
When choosing hiking underwear for women, you want fabric that breathes well, dries quickly, and doesn't retain odor. Learn more about the following fabric options for women's hiking underwear:
Merino Wool - One of the best fabrics for hiking underwear, merino wool is soft and comfortable, as well as naturally moisture-wicking and odor-resistant. These great attributes make it expensive though.

Synthetic - Synthetics (including nylon, polyester, and spandex) are stretchy, breathable, and quick-drying, but they tend to get a little smellier than wool. However, they also are usually cheaper than merino wool.

Cotton - Not usually the best choice for hiking underwear (or hiking clothing in general). Cotton absorbs moisture – like sweat – and does NOT dry quickly, so things can get uncomfortable fast. Cotton is really only a good choice for hanging around camp or sleeping.
STYLE/CUT
The style or cut is a key consideration when choosing hiking underwear for women, but it's also a very personal choice. Some people prefer as little fabric as possible and go with a thong, while others might find thongs super uncomfortable and prefer the fuller coverage of a boy short. Bikini cut panties are a good middle ground for some women, but it also depends a lot on body shape.
Basically, there's no right or wrong answer for everyone here, so go with what you like and what feels most comfortable to you.
WHAT TO LOOK FOR IN HIKING UNDERWEAR
Comfort is key, and that means more than just a soft fabric. You don't want to constantly be tugging on your hiking underwear to keep it in place, and no one likes a wedgie on the trail. So look for hiking underwear that fits you well and is designed to stay put.
Quick-drying is also crucial in hiking underwear. Not only will you be sweating on the trail, but if you're backpacking and spending multiple days outdoors, you'll want to rinse out your underwear in camp at night. You don't want to wake up in the morning and have it still be wet!
WHAT TO AVOID IN HIKING UNDERWEAR
While a variety of styles and options can work great on the trail, there are a few things to avoid when choosing women's hiking underwear.
Embellishments – such as lace, rhinestones, and ruffles – can be itchy and irritating on the trail, so it's generally best to keep things simple. Some stretchy lace might actually be comfortable, but it's probably a good idea to test underwear like that on a short day hike before heading out on a backpacking trip.
Also, avoid thick seams, which can cause chafing in uncomfortable places when you're hiking. And don't wear underwear that's too loose or too tight, both of which can also cause more irritation.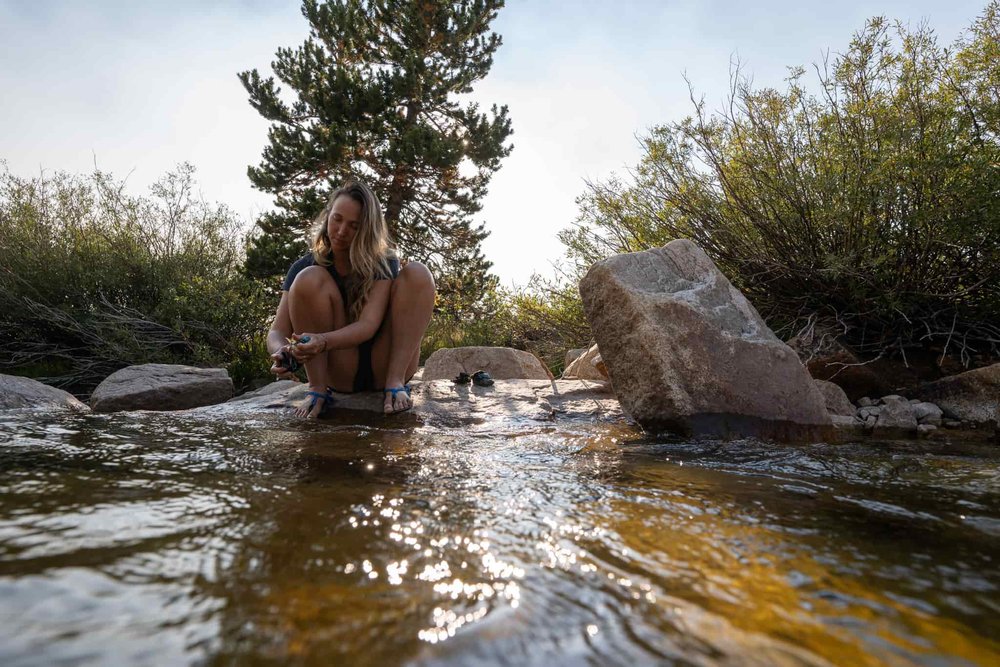 HIKING UNDERWEAR CARE ON THE TRAIL
The most important part of caring for women's hiking underwear on the trail is to keep it dry. So if you plan to rewear pairs while you're backpacking, a great strategy is to rinse them out and hang them out to dry at camp. This is where quick-drying fabric is extra convenient.
Also, a little tip to keep feeling fresh down there and able to wear a pair for multiple days is to use pantiliners. Just be sure to pack them out with your trash!
>>> For more tips for keeping clean(ish) on the trail, check out our post all about Essential Backpacking Hygiene Tips & Feminine Care in the Outdoors.
---
Hope this post helps you find the perfect women's hiking underwear to feel comfy and fresh on the trail! And if you already have a pair of your favorite hiking underwear, share your recommendation in the comments!
LOOKING FOR MORE OUTDOOR GEAR GUIDES?
Check out these other hiking and backpacking gear posts!
Cheers,
Allison - She Dreams of Alpine
[TAG14]


[TAG16]