One update I've been wanting to make to our bedroom for a long time is some fresh bedding. I've never felt like I'm super great at putting together a really beautiful bed, but I've been wanting to put some effort into creating something that really makes me happy. So, when Camila from Effortless Style reached out and asked if I wanted to participate in her virtual slumber party with her, Carli from Made By Carli, Rebecca Propes, and some fresh bedding from Crane & Canopy, it felt like the perfect kick in the pants to make it happen!
If you follow along on Instagram, you might know that we ordered a new bed for our room waaaaay back in September, but when finally got it in November we quickly realized it was the wrong bed. We're now waiting on the right bed and crossing our fingers it'll be here within the next month. But, I decided there's no need to wait for the correct bed to get the bedding just right. So, I've been playing around with things for the last few weeks, and I think I've finally landed on a combination that I really, really love.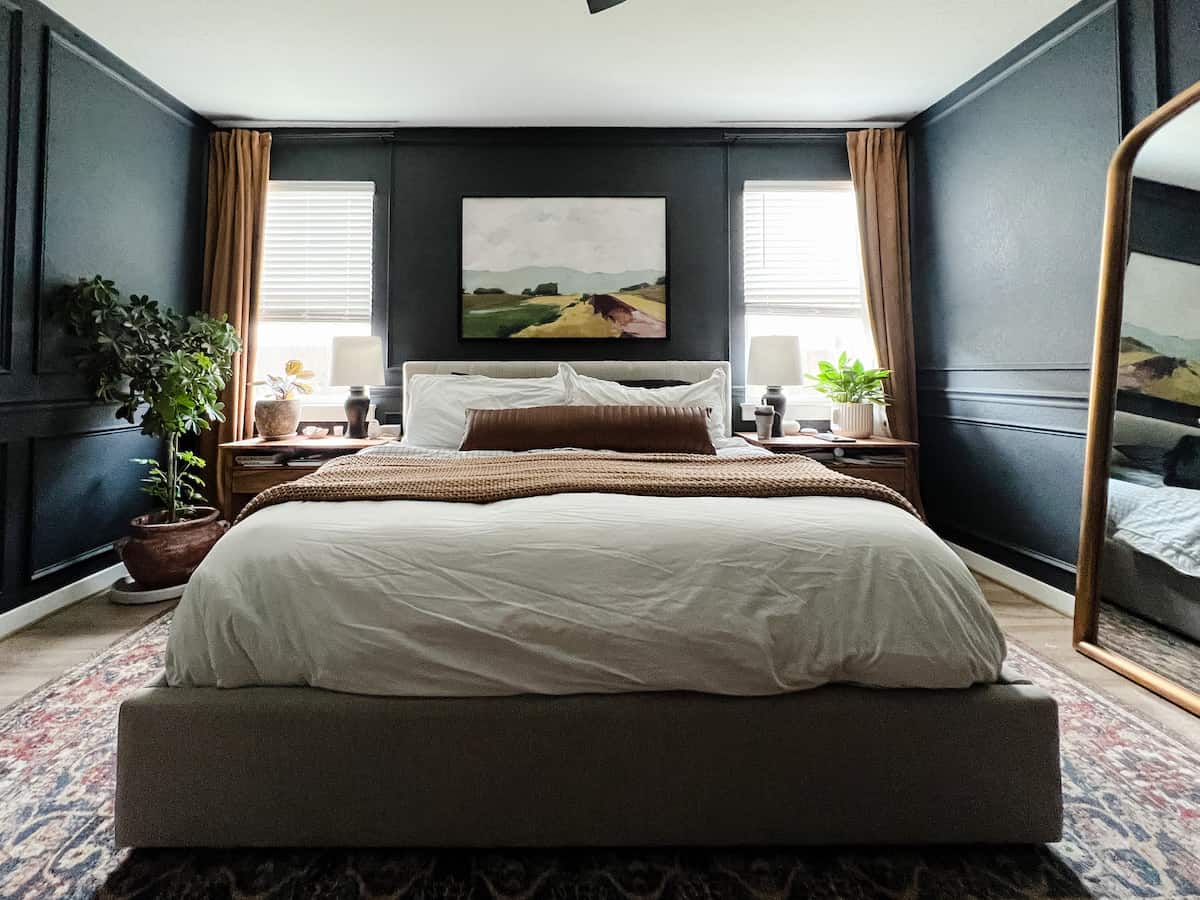 I've wanted to be a real grown up who can handle white bedding for years and years. We even tried it a few years back and immediately gave up when we couldn't keep it clean for more than a week.
However, we no longer allow Hadley on our bed and that has made a huge difference in our ability to keep things clean in here. So, we decided to give it another go. I've waited a couple months before even telling you about it because I wanted to make sure it was going to work, and I think it's going to!
We got the Peninsula Soft White Duvet Cover – so far we are really truly loving it. We've had no problem keeping it clean, it's soft and cozy, and it's a great blank slate for our bed. My favorite thing about the idea of a white duvet is you can add in patterned sheets, throw blankets, pillows, or whatever and it's really easy to get a fresh look without changing everything!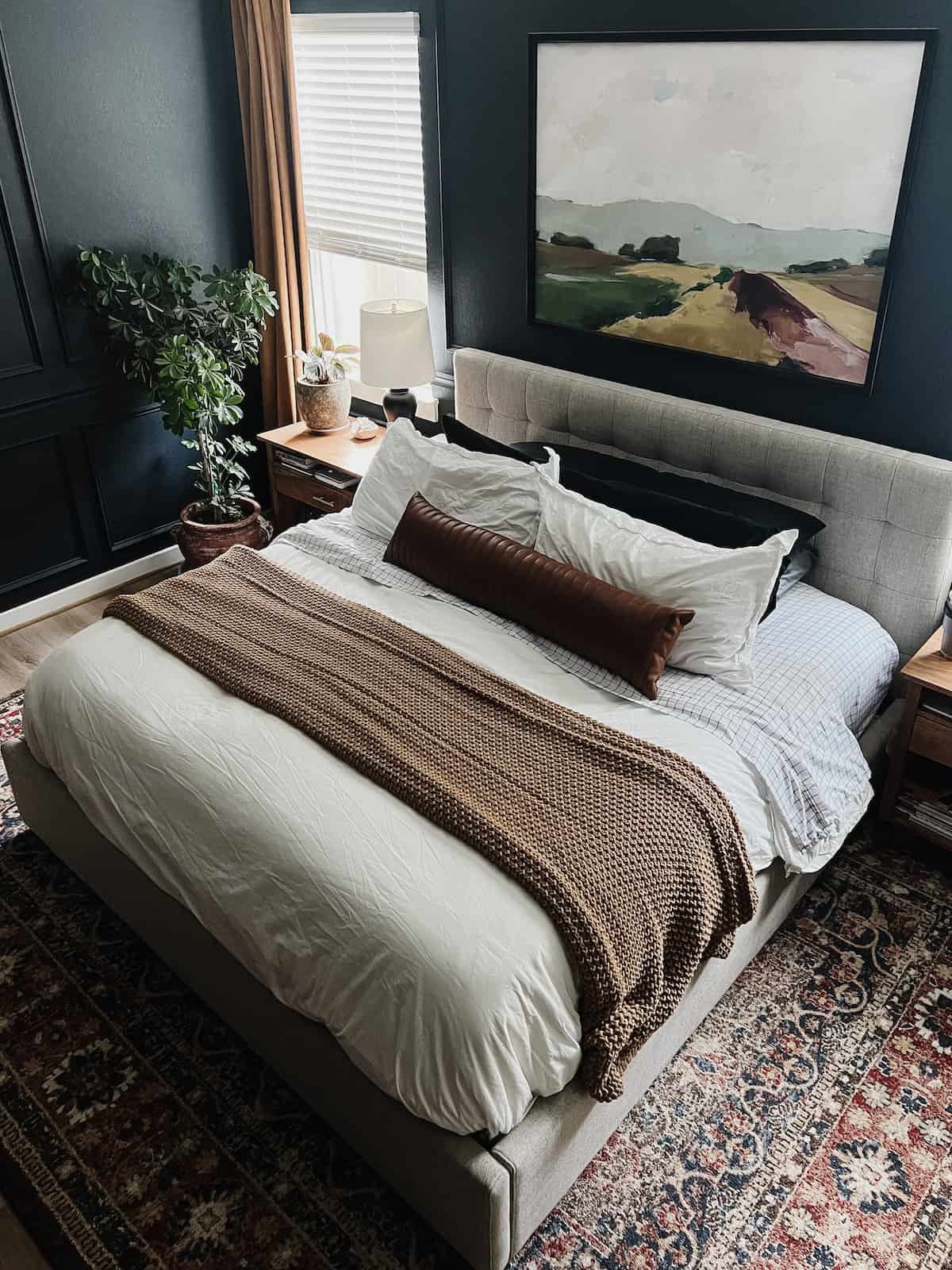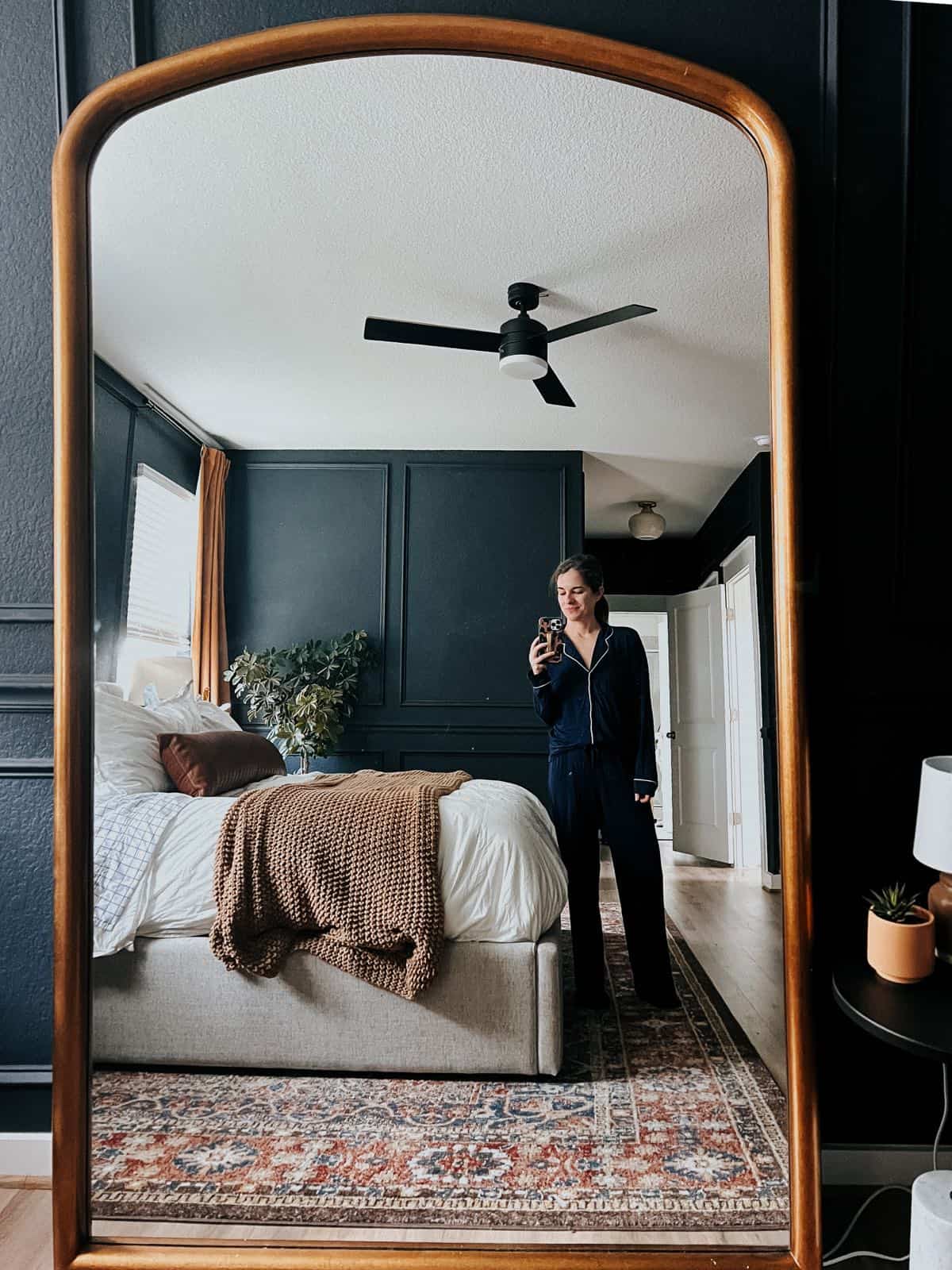 Crane & Canopy also generously sent over some cozy PJ's for the virtual slumber party, and I've been wearing them non-stop. I've become such a pajama person in the last few years, and there's nothing a love more than a really cozy PJ set. I got the Layla pajamas in Navy and I feel so fancy and grown-up every time I wear them!
Camila sent us a few questions for the virtual slumber party (because what good is a slumber party without a little "getting to know you"?!). So, let's dive into those and then I wanna chat a little about what else you can expect from this room in 2022!
My favorite movie to watch during a slumber party is…
Anything scary! When I was younger, we'd always watch really cheesy older horror movies. I loved The Shining, Poltergeist, and Pet Semetary. Nowadays, when I'm having a late night hang with my friends I love to watch a scary movie or show. Anything that gets my blood pumping and gives me a good jump scare or two is the perfect girls' night movie if you ask me!
My go to snack is…
A charcuterie board! My bestie is the queen of a delicious meat & cheese board (she shared some of her best tips right here) and I think it's the perfect snack for literally any gathering.
Makeovers and games or just relaxing and chatting?
When my friends and I get together, we always have grand plans of playing games or doing face masks together…and we always end up just chatting and laughing all night! It can be hard to find time to get together without the distraction of kids, so when we do I find that we often have so much to say there isn't time for anything else!
But, you know I love a good game! Here are a few favorites that would be perfect for a girls' night!
Stay up all night talking, or actually fall asleep?
Y'all, I'm such a grandma. When I have nights away with my friends I always stay up way later than normal…but I'm still always asleep by midnight or so! I don't function well without a solid night's sleep, and the knowledge that at some point I'll have to go home and be a mom again always motivates me to go to bed at a relatively decent hour.
How many pillows are the perfect amount for a bed?
I'm a bit of an, ahem, needy sleeper.
I need two pillows for my head – unless I'm somewhere that the pillows are super fluffy, then just one. I also sleep snuggled up with a body pillow because, as I mentioned before, I am a grandma.
For decorative purposes, I tend to prefer just one nice lumbar pillow. Probably because my bed is already overflowing with four head pillows and two body pillows for Corey and me.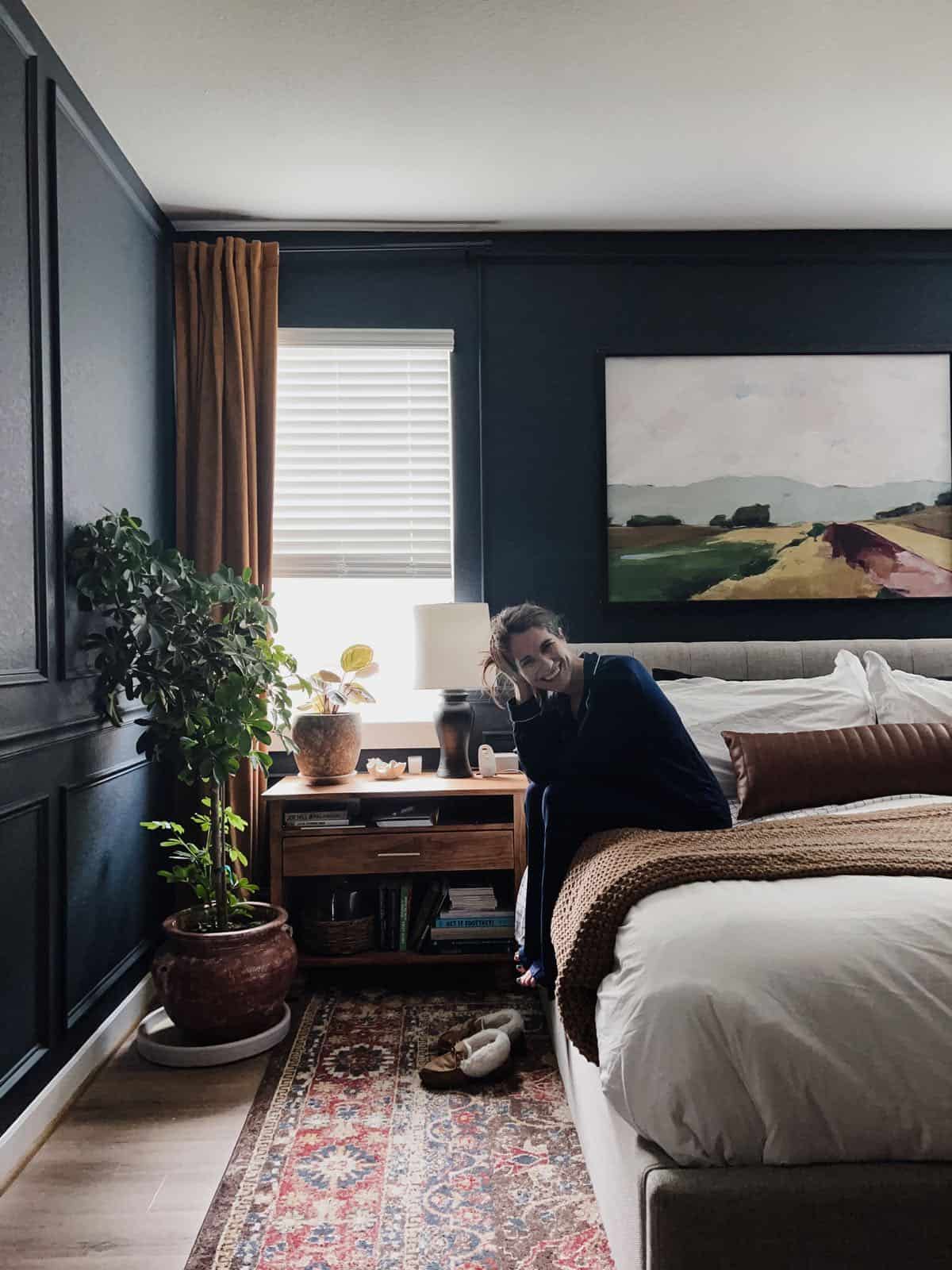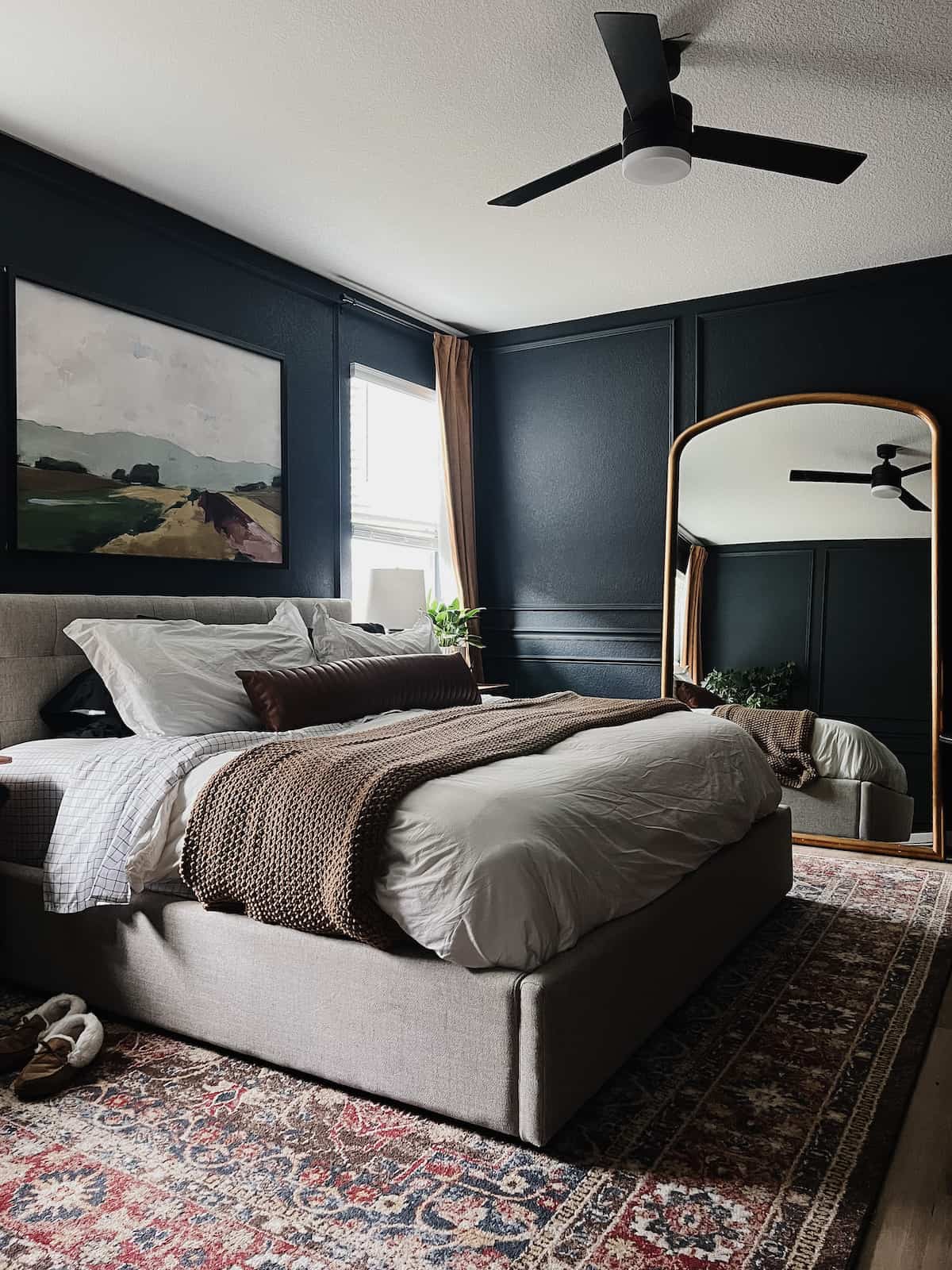 So, what else is on the agenda in here this year? You might remember that I mentioned wanting to spend time this year freshening up some spaces we've already worked on – this room is included in that!
Here's what I've got on my mind in here:
I definitely want some new lamps for the nightstands, and to spend a bit of time focusing on the styling of our nightstands. I'd love to have a nicer looking charging station and a few basics that will keep the nightstand looking nice and put together on a day-to-day basis.
While I'm at it, I'm also thinking of upgrading the hardware on the nightstands. I think they could use something that feels a little more special!
I also want to play around with styling on the dresser – this is gonna be the year of honing in on allllll the small spaces around our house, and this is one of them!
I've played around with the idea of swapping out the art above our bed for something else. I still love this oversized print, but it might be fun to swap it out for a small gallery wall or something fresh and different.
And that's where we're at right now! I'm sure other things will pop up as we begin working – these things always tend to snowball.
Be sure to visit the other blogs participating in the virtual slumber party today for lots more inspiration!
Sources
The post New Year, New Bedding! appeared first on Love & Renovations.