The 12-Piece Travel Wardrobe Capsule
Going somewhere this Spring? If so, and youre looking to pack lighter and smarter, heres a Spring travel wardrobe capsule you can use as a starting point to plan your own travel wardrobe.
As always, the pieces shown are intended as examples. You may want to make adjustments based on you destination, activities and weather forecasts.
When considering pieces for a travel wardrobe, I do my best to balance three factors:
They work as part of a cohesive whole and can each can be worn in a number of combinations.
They pack and travel well.
They rise to the level of Smart Casual.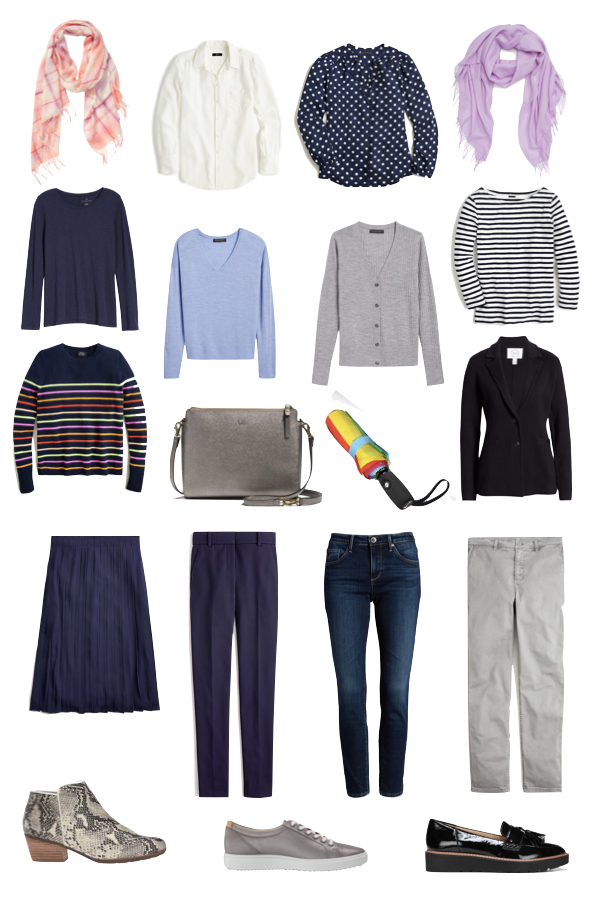 The 12-Piece Wardrobe above is built on a neutral palette of navy and grey. I always recommend a core of neutral pieces as theyre easy to combine multiple ways, and adapt to varying levels of formality. I chose navy because its easy to combine with other colors, and theres a shade that will work for any palette. You may prefer to start with a different neutral base (black, beige, taupe or brown). And yes, you can always add more color!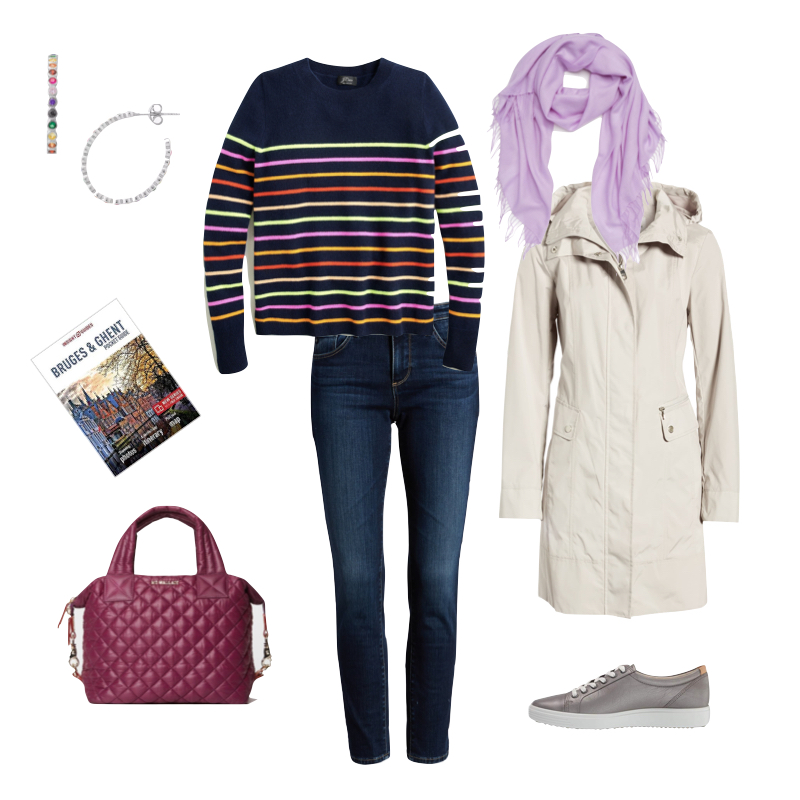 Accessorized with: Earrings | Raincoat | Bag | Guide
In general, I find that Smart Casual is as dressed up as I need to be when we travel. But if you have a special event on your itinerary (a cocktail party, wedding, formal nights on a cruise), youll need to add items as appropriate.
So lets break it downheres what I included in this capsule and why:
Footwear
When planning a travel wardrobe, I always start with the shoes. Its the most important part to get right. You want footwear thats comfortable enough for several hours on your feet, and works with the rest of your wardrobe. Ive shown four types of shoes here, but I usually try to bring just three pairs, including what I wear on the plane.
If you anticipate cool, wet weather, a pair of water-resistant ankle boots is a good choice. I almost always travel with a pair as I find them versatile as well as protective for travel days.
Sneakers, because they are a popular and comfortable choice.
As an alternative to either the boots or sneakers, you may prefer a pair of loafers or oxfords.
And for warm weather travel, I always bring a comfortable pair of walking sandals. (I wore this style all over Paris and London last summer.)
Shop Travel Shoes
Bottoms
Accessorized with: Earrings | Bandana | Guide | Bag
I find that a ratio of two tops to one bottom works best for me. I use the concept of tabletop dressing, keeping the bottom separates simple and using the tops to add interest and variety. I find straight leg pants that can be cuffed to be the most versatile cut.
Ive included a skirt in this capsule as many of you have mentioned you tend to wear and pack them. This one isnt too full, so should work with most of the tops.
Some dont like to travel with jeans, but I do. I find non-distressed styles are appropriate in most places, and are easy to style. If weather will be warmer, you may find a slightly relaxed cut that allows some air circulation is more comfortable than skinnies.
Ill usually include a pair of knit pants, either ponte knit in cooler seasons, or stretch crepe when its warmer. (During seasons when temperatures fluctuate, Ill often pack both.)
A pair of soft trousers. For this wardrobe capsule, Ive chosen grey chinos, which add some lightness to travel outfits, but wont show dirt quite as quickly as white. Navy would also be good choice.
Shop Travel Bottoms
Tops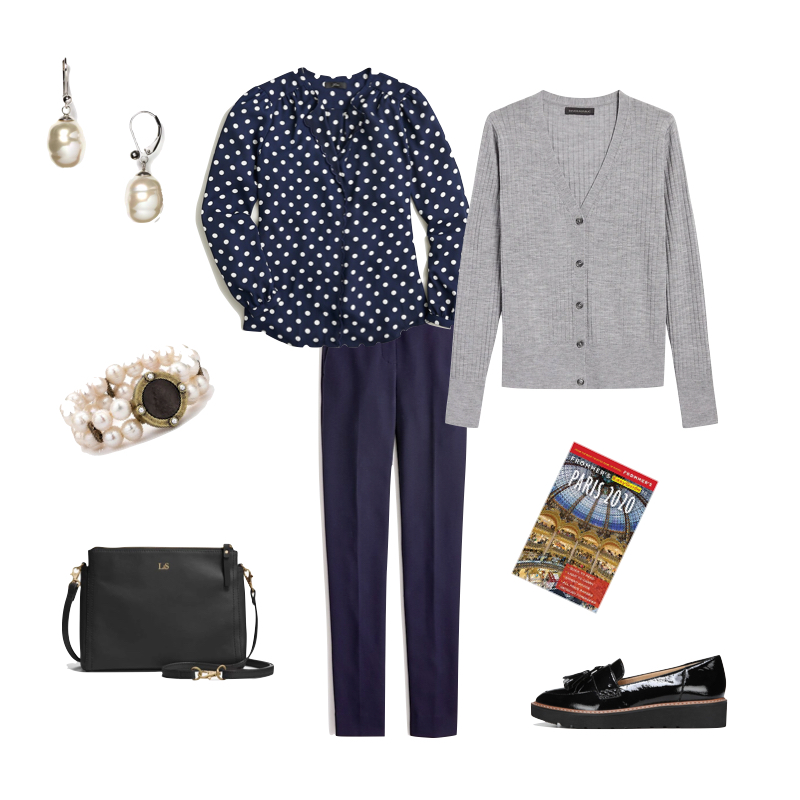 Accessorized with: Earrings | Bracelet | Bag | Guide
To get the most out of your travel wardrobe, look for tops that layer well. This is key to a creating a travel wardrobe that accommodates a wide range of temperatures. Avoid or limit oversized and bulky tops. Youll want to adjust the weight of your tops based on the forecast at your destination(s), but its a good idea to allow for temperatures either 20F/6C above or 20F/6C below averages.
Ive included two tees and two blouses, but you can adjust based on your preferences. One thing Ive finally figured out is that when temperatures are too warm to layer, tops with color or pattern add a bit of visual interest and help the outfit look more finished.
Ive included three sweaters. One cardigan that can be worn either open as a top layer or buttoned up as a mid-layer. Two pullovers, which should be able to layer over the tees and shirts.
Shop Travel Tops
Base Layers
I always pack a few silk tanks and camisoles, and wear daily underneath my tops. They insulate and (I believe) help keep my tops and sweaters fresher longer. I can rinse out or hand wash in the sink, and they hang dry overnight.
If theres any chance that the weather will turn cold (always a possibility in Spring, especially at altitude), its a good idea to include some thermal tops and bottoms. They can also double as sleepwear on cold nights.
For no-show socks, these are the best Ive found. They stay in place, wick moisture, and dont pick up odors. For regular socks too, Id recommend lightweight wool in general over cotton or synthetics for the same reasons.
Ill cover outerwear and bags in a subsequent post. And yes, Ill also show you some ideas for adding color to a travel wardrobe.

What items do you always pack for travel?