Leatt
The Revamped HydraDri Collection
With Award Winning 5.0 Monosuit
South-African protection specialist Leatt reintroduces its HydraDri Collection as an independent product range. The bad weather collection includes the award-winning MonoSuit, Jackets, Pants as well as a brand new waterproof shoe.
Leatt's HydraDri collection is designed for keeping you dry and comfy while riding in bad weather conditions. After the immense success of the previous HydraDri products, the safety gear experts from Cape Town decided to give birth to a whole new product range: Bad weather gear or now known as, the HydraDri collection.
Mono Suit MTB HydraDri 5.0 & 3.0
Whether it's rain, mud or snow, the Leatt Mono Suit MTB HydraDri has got you covered – especially in the worst weather conditions. Developed in the Leatt Lab, its ultimate three-layer HydraDri MAX membrane is fully waterproof (Mono Suit 5.0: 30.000/30.000 water column / Mono Suit 3.0: 10.000 / 10.000 water column) with the top model including YKK Aquaguard zips, taped seams and soft-velcro on the ankles and wrists for full protection.
The adjustable ventilation and a dirt/water/stain resisting coating will make the suit withstand any weather situations you might ride in. Another feature is The Ride Adaptive Hood (RAhD) with an extra tall collar, that can be worn in four different configurations. The patented magnetic hood system keeps the hood fixed to the helmet and avoids flapping around when riding. The unique Leatt ClimbVent lets you keep your jacket completely open for maximum ventilation during uphill rides and exhausting climbs. Inspired by snowmobiles, a carefully designed suspender system allows you to hang the mono suit jacket down when off the bike. Brush guards on the shoulders, forearms and knees helps protect the suit from any branches, snags or grazes.
For 2023 Leatt's Mono Suit has been awarded with the renowned Design & innovation Award, also known as the Oscars of the bike industry. This seal of approval sets benchmark trends for the most exceptional products in the outdoor, bike and fitness sector, Leatt's MonoSuit being one of them in the field of outdoor functional gear. In case a whole suit exceeds your needs for bad weather riding, Leatt's HydraDri 5.0 pants are the right choice for riding on rainy days. Made from the premium HydraDri MAX membrane, the four-way stretch fit with ankle adjusters is snug enough to keep the bad weather out and keep you comfortable all day long. With plenty of pockets and fleeced telephone pouch. The knees are pre-curved for knee guards so you can ride safe at all times.
Mono Suit MTB HydraDri 5.0: $399,99/ €419,00
Mono Suit MTB HydraDri 3.0: $299,99/ €319,00
Pants MTB HydraDri 5.0: $219,99/ €239,00
Shorts MTB HydraDri 5.0: $169,99/ €189,00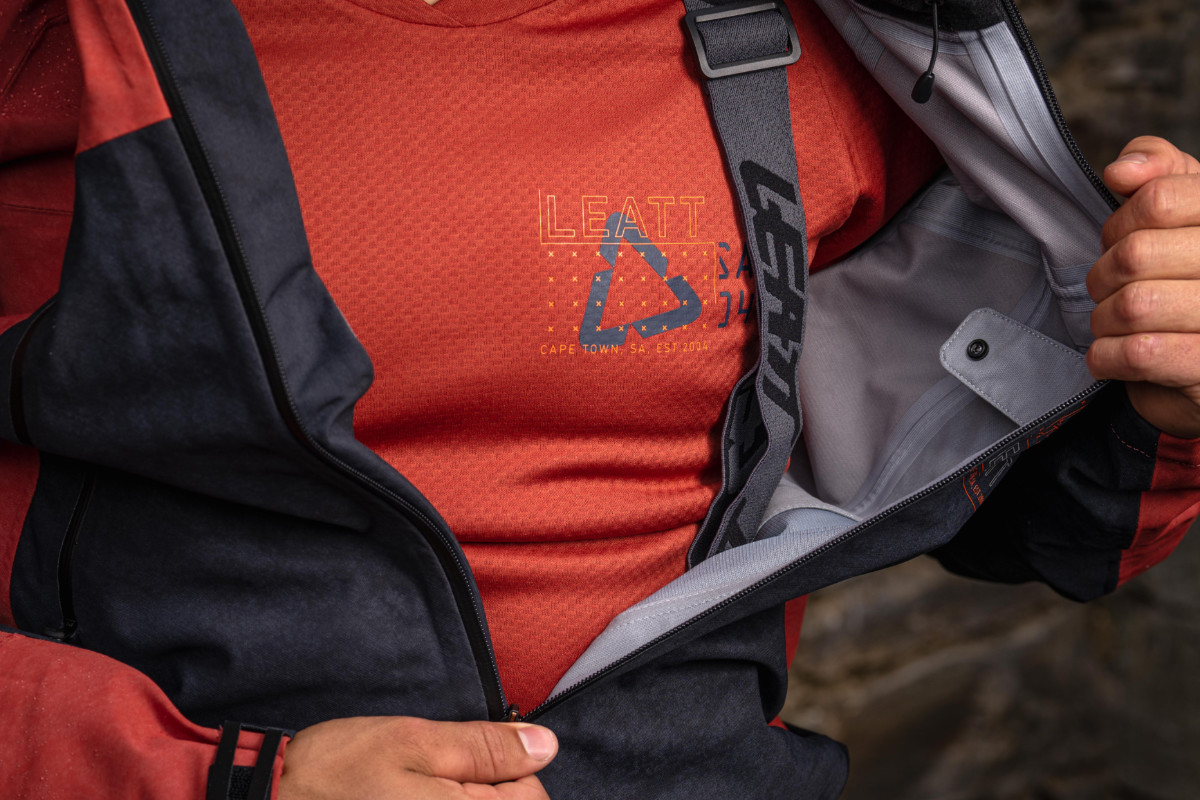 HydraDri Jackets:
Made from Leatts Hydradri membrane, these bad weather jackets are packed with unique features designed specifically for a rider's needs. Just as in the Mono Suits, all HydraDri jackets feature The Ride Adaptive Hood with magnetic fixing as well as the unique Leatt Climb Vent for better ventilation during harsh climbs.
Jacket MTB 5.0: HydraDri MAX 30.000mm/30.0000mgs – $269,99/ €299,00
Jacket MTB 4.0: HydraDri EVO 20.000mm/20.0000mgs – $179,99/ €199,00
Jacket MTB 2.0: HydraDri 10.000mm/10.0000mgs – $149,99/ €159,00
HydraDri 7.0 Shoe
Made for those days when it rains from the bottom-up! This all-weather flat pedal shoe uses the HydraDri membrane and offers 10k/10k waterproof protection. With a fully taped outer shell and waterproof zips, your feet are protected from mud and water. The HydraDri 7.0 shoes offer outstanding grip on the pedals with bad weather in mind: The soles feature Leatt RideGrip™ Pro Rubber compound, significantly softer than its preceded compound the standard RideGrip™ rubber. Softer rubber means more pedal connectivity and a better hold in slippy conditions.
The improved WaffleGrip Pro sole pattern is an inverted version of Leatt's WaffleGrip. This allows short pins to dig deep into the sole and delivers great off bike traction when you need to walk.
If all-weather performance is what you are looking for, then the Leatt 7.0 Hydradri shoe is the perfect match!
Shoe 7.0 HydraDri Flat – $189,99 / € 209,00
Visit the Leatt Website to learn more about their new HydraDri collection, and to find out where to pick up their new wet weather gear for yourself.
LEAVE A COMMENT, WIN FREE SWAG!
Want to win some free schwag? Leave a comment and vote up the most thoughtful comments and each month we'll pick a winner. The person with the smartest and most helpful replies will earn some sweet new gear. Join the Pack and get the latest news and read the latest reviews on the top mountain and electric mountain bikes.
The post Leatt Releases The Revamped HydraDri Collection appeared first on The Loam Wolf.