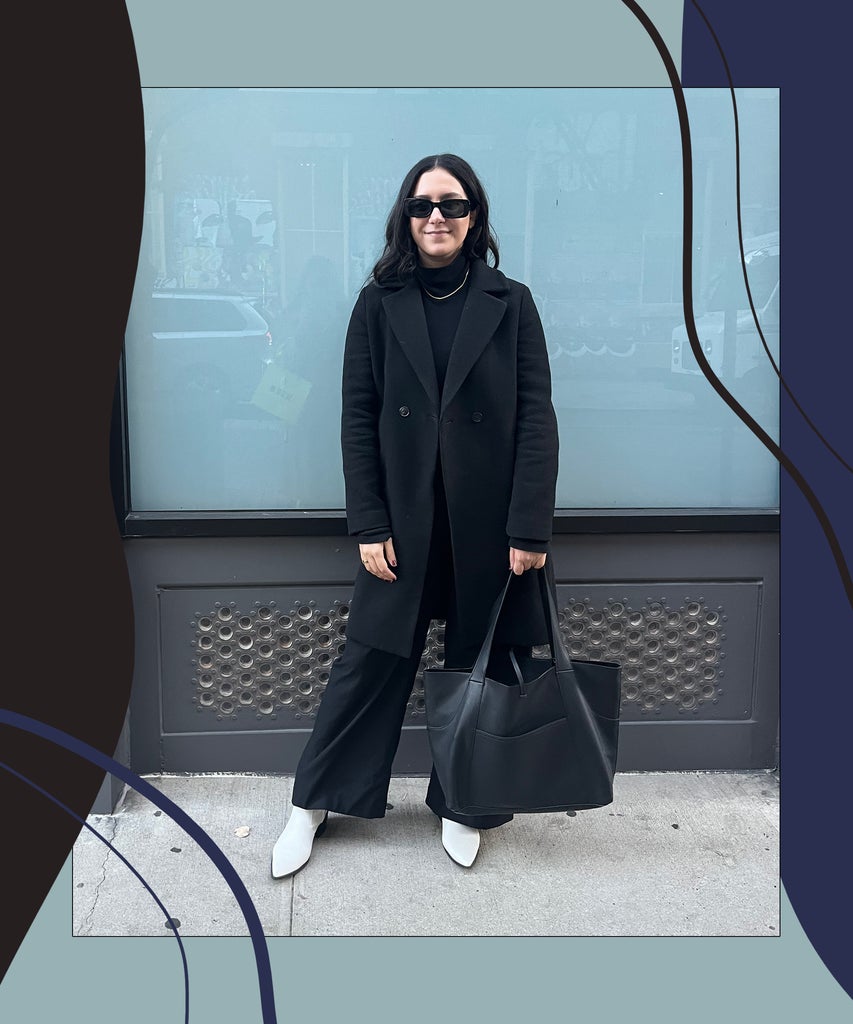 I must admit, I've always been attracted to corporate fashion. There's something about crisp shirts, tailored khaki pants and classic blazers that enthuse optimism in my brain, even if corporate offices and boardrooms are not the most alluring places to be in. It might have to do with growing up with a mother who never let her dull, accounting job erase her love of fashion. It was quite the opposite, actually. Every morning, I'd see her tying a pussy-bow blouse, pairing it with perfectly fitted pants and classic pumps. On occasion it was a suit she'd made herself, accessorized with a classic tote bag from Marshalls. 
Somehow, even when I got some of the best corporate style lessons from my mother, I still can't nail down the concept of getting dressed for work. This has been one of the main challenges of going back to an office after two years away. While I only go to the office one or two days a week, every day I do go fills my morning routine with anxiety over what to wear. If I put on heels, I look too overdressed. But if I wear sneakers, I might be too casual, the voice of my mother in my head, saying, "Sneakers have no place in an office." And when I put on a blazer and walk into my overly modern office, packed full of creatives and where a casual dress code reigns, I'm paranoid to look like a parody of corporate life. 
Thankfully, I'm not the only one that has gone through this conundrum before. TikTok-famous stylist Neelam Ahooja, who has gathered a cult following for her vast collection of The Row, had to nail down her corporate-ready uniform early on in her previous career as an accountant. "I wore a lot of suits, carried a lot of briefcases," she says. "It's no wonder that appeals to me still."
Battling weeks of stressed mornings getting dressed for work, I enlisted Ahooja to help me figure out a workwear uniform that is not only functional (and appropriate) but fashion-forward. Here's how it went. 
Wear what's comfortable to you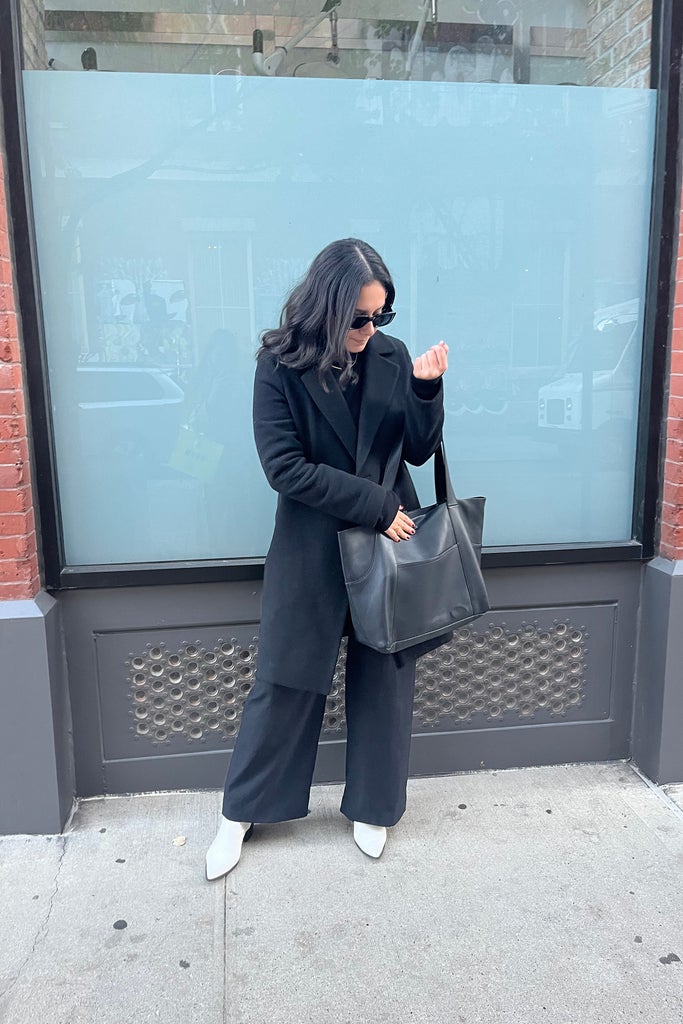 When I asked Ahooja her rules for workwear fashion, she replied: "I don't have a lot of rules because I think you should wear what's comfortable to you." So that meant going to the base of my closet: all-black outfits. 
While I've worn mostly black for nearly a decade, I've stayed away from wearing it head-to-toe for some time now, trying to step outside my comfort zone; if not for myself, then for the sake of being an adventurous fashion journalist. But leaning on old friends — a black turtleneck, trousers and coat — instantly eased my anxieties in the morning. The simplistic canvas felt elevated and comfortable, but boring. Thankfully, I've now added other colors to my closet — similarly muted shades such as navy, grey, brown, and white — so with this in mind I grabbed a pair of white ankle boots that gave the outfit an understated twist. 
Throughout the day, the outfit felt functional and presentable without trying too hard. And even if I was wearing all-black, the white boots hinted my style isn't as boring as the top of the outfit might have suggested. 
Rethink shirting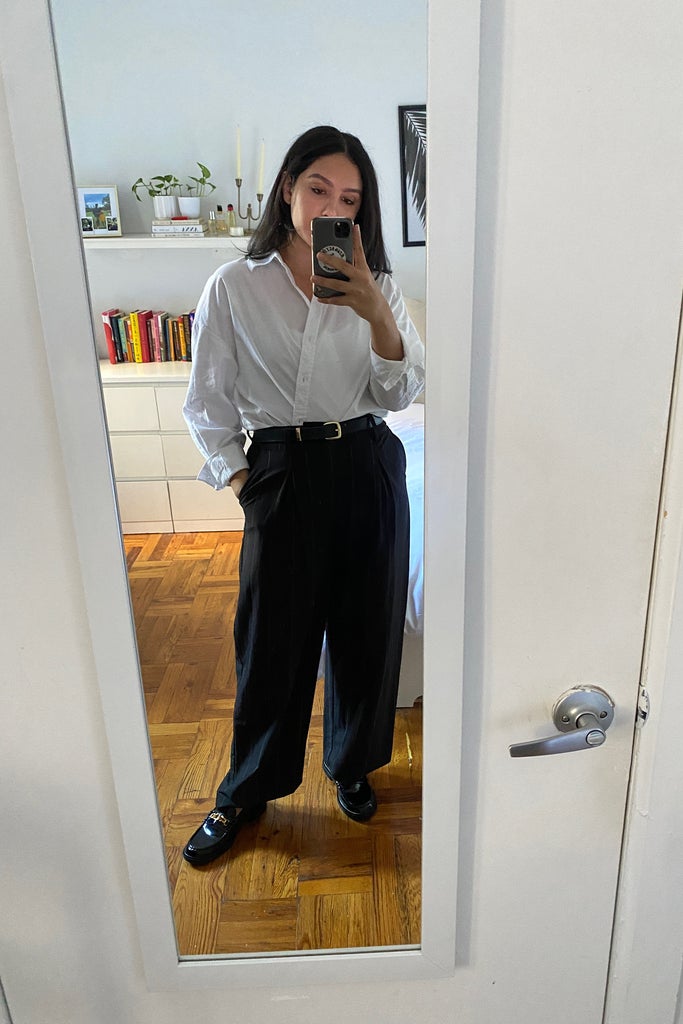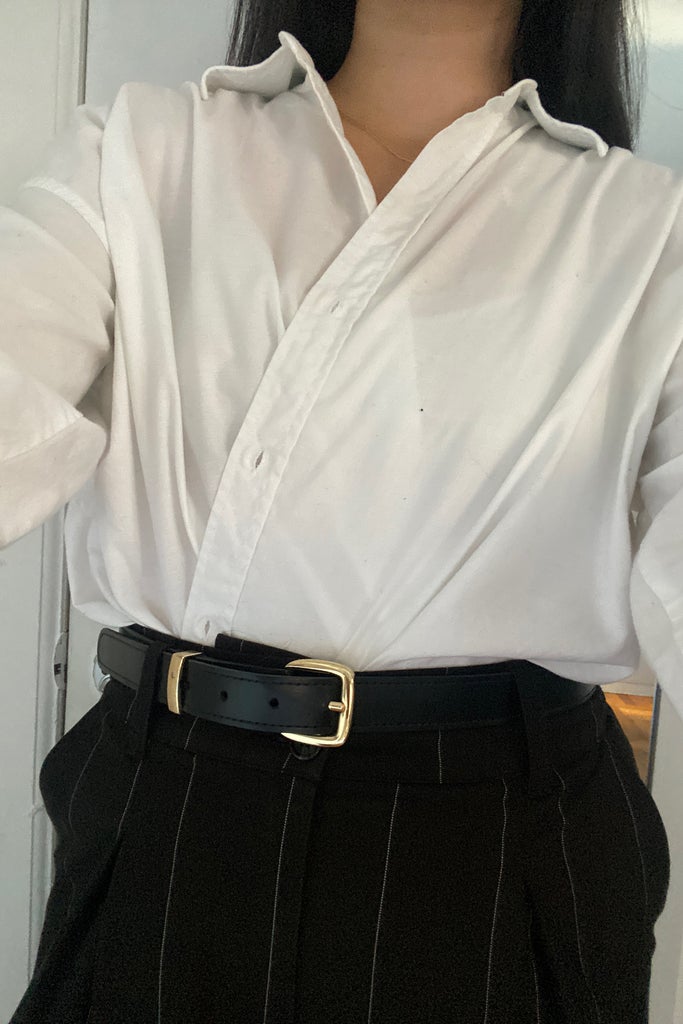 An essential piece of workwear is the basic white shirt. With its vast history and multiple variations, it's easy to think there is no way to revamp this basic item. But Ahooja made me reconsider this narrative. 
She recommended looking to her favorite brand The Row, known for its impeccable tailoring, for inspiration. As I sorted through some of the brand's most recent collections, two details stood out: casually-cuffed shirts and asymmetrical styling. So, I promptly applied these tips to my own look.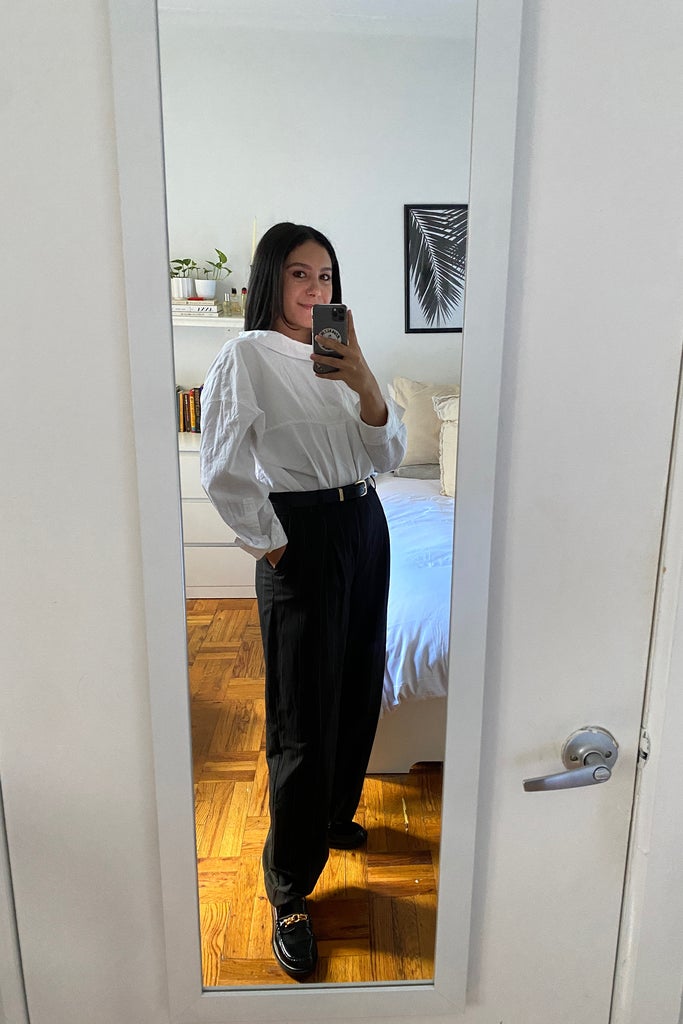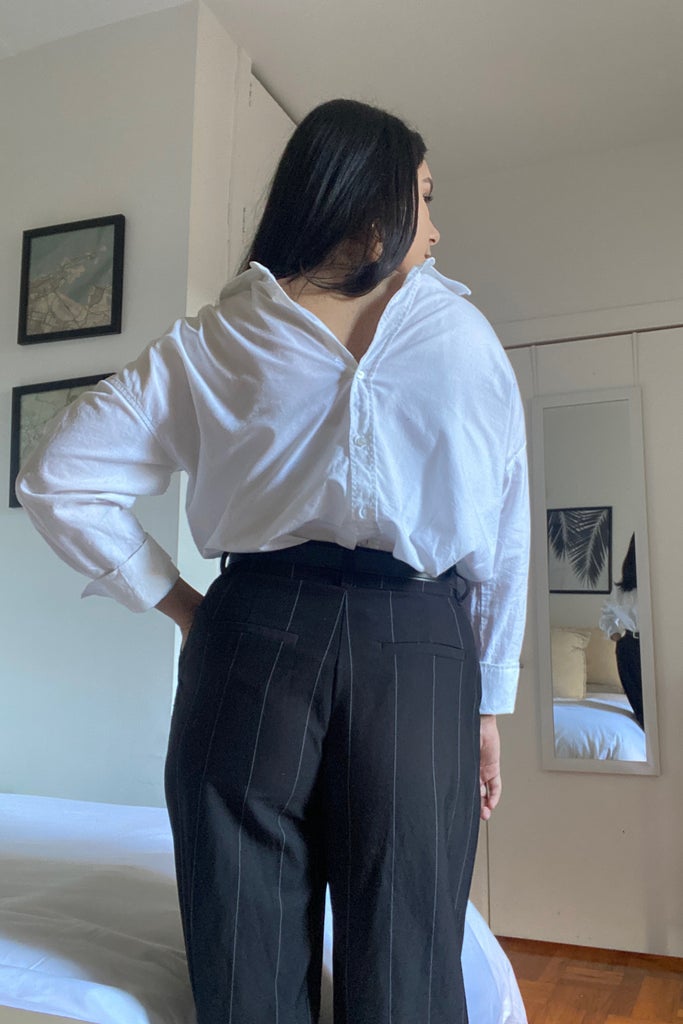 Pairing a white shirt with a pair of pinstripe tailored pants, first, I styled the top with rolled sleeves, crossing one side over the other to create a wrap-around silhouette. While white button-down shirts are often defined as menswear-inspired, this styling gave this piece a more feminine look, cinching its laid-back, baggy silhouette. So far, my experiment was already opening up the workwear wardrobe possibilities. 
For a different take on asymmetrical styling, I was inspired by a pre-fall 2022 look by The Row that showed a model wearing a blazer backwards. It wasn't easy and it required a ton of flexibility (and a helper) to button up the back of the shirt. But once I was able to do it (after much stretching and sore arms), the shirt looked remarkably cool, now resembling a blouse instead of a plain white button-down, and giving this basic item a whole new vibe.  
Neelam was onto something. 
Dressed down blazers
Then, it was on to suits. It's hard for me to explain how much I love a good blazer, but the reality is that they get a bit boring after a while, not to mention that they look out of place when worn in an office that has a casual dress code. So Ahooja proposed two styling tricks: tying the blazer around my waist, or wearing it as a one-shoulder top. The latter seemed simple enough, while the former brought back flashbacks of Tibi's spring 2023 collection, which included a slew of models wearing blazers with just one arm, letting the other sleeve hang on their backs.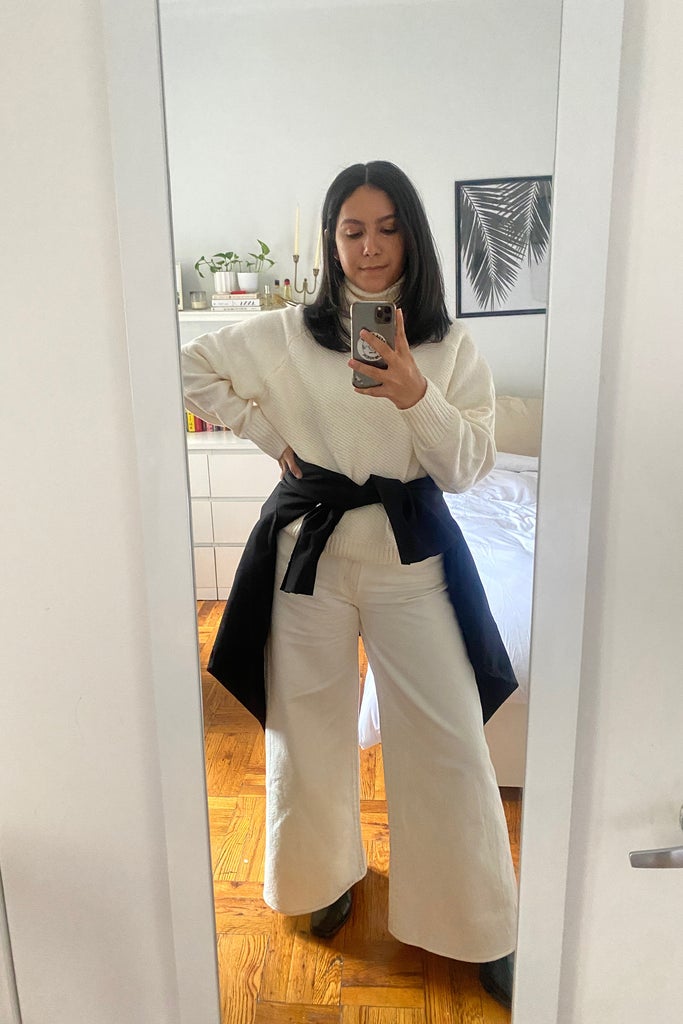 Challenge accepted. 
I opted for a basic, black double-breasted blazer with a white sweater and blue jeans, sporting the outerwear as directed: just one arm in. At first glance, it seemed odd, but the more I looked in the mirror, the more I liked the unexpected twist. From the back, though, it was a different story: one sleeve hung awkwardly with no real aesthetic value. It was just another reminder that on-the-runway styling is not always as practical in real life.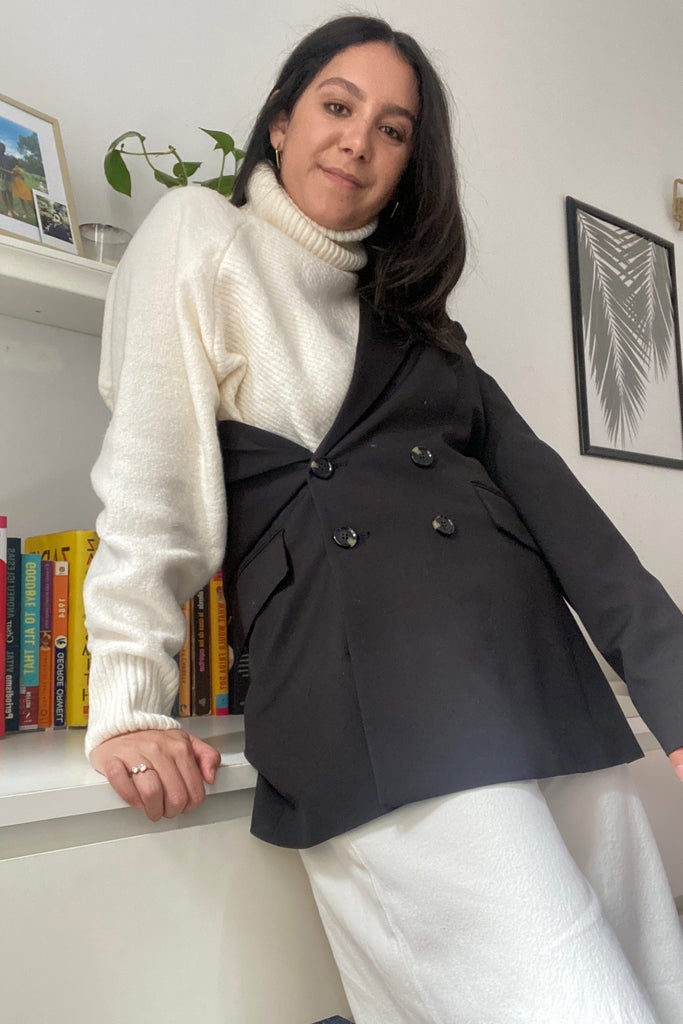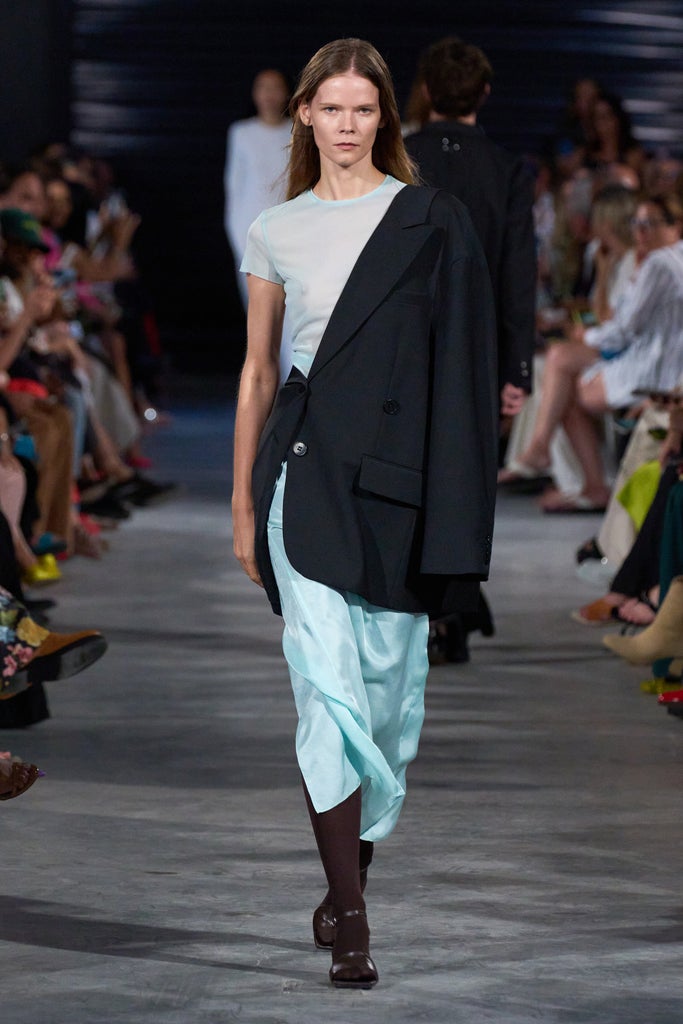 Still, I learned some valuable lessons from this workwear challenge, especially when it comes to approaching these basic pieces with a fresh perspective. After all, who says you have to wear them like the briefcase-carrying executives do? 
At Refinery29, we're here to help you navigate this overwhelming world of stuff. All of our market picks are independently selected and curated by the editorial team. If you buy something we link to on our site, Refinery29 may earn commission.
Like what you see? How about some more R29 goodness, right here?
We Styled 3 Everlane Capsule Pieces Into 9 Outfits
Is Business Comfort The Future Of Office Workwear?