Laundry is a dreaded chore around my house. And my guess is, it's not your favorite thing to do, either. But what I truly hate is all the folding after the clothes are dry. And more specifically – folding shirts. I am not exactly sure why it annoys me so much. I think the reason might be that after all the folding I do, after putting them away in my kids' closets, they manage to unfold them every time they pull one out. Every. Single. Time. So, I had to look for ideas to store shirts better and save my sanity. And I found 5 fantastic ideas about how to fold a shirt like a pro.
Prepare to be surprised at how fast and how crisp your clothes can be by following these incredible folding tricks!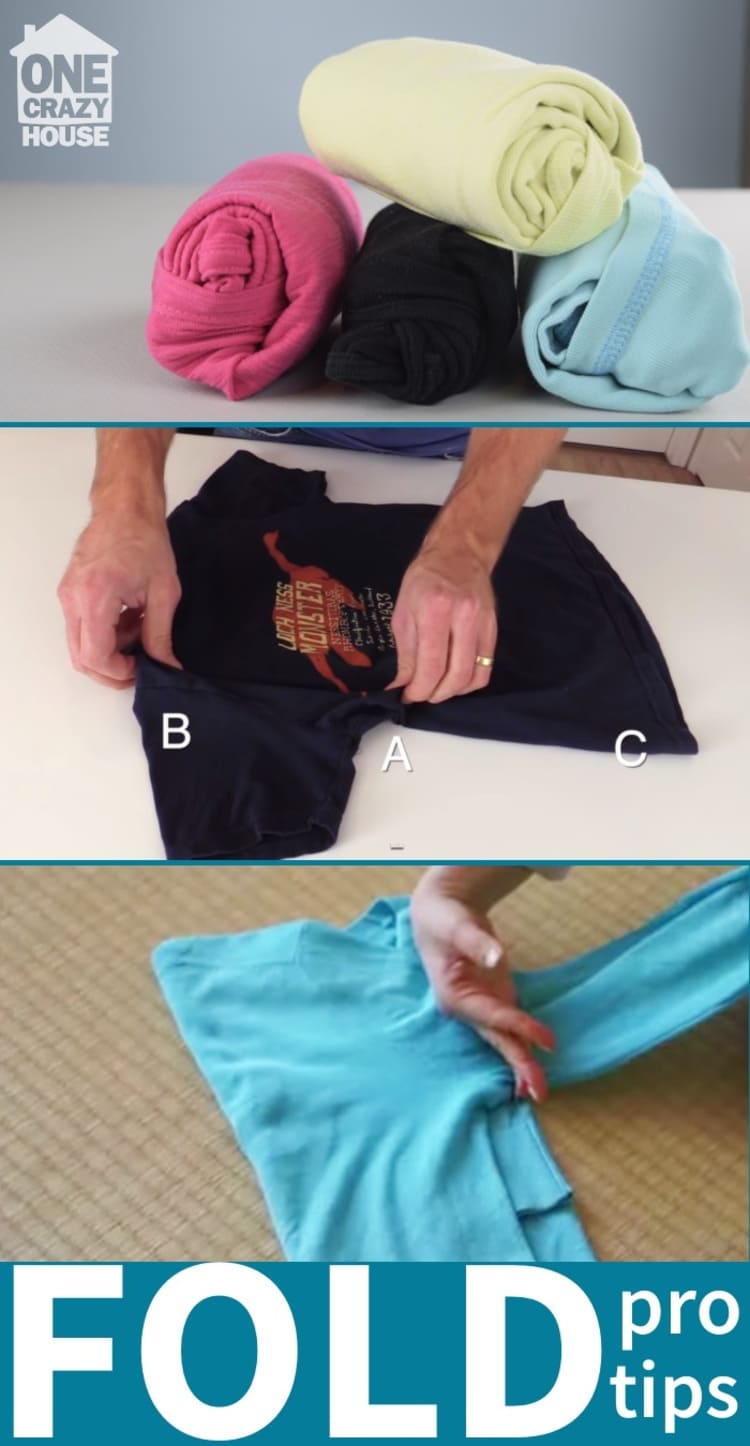 How To Fold A Shirt The Right Way
Who would have thought there are so many ways to fold a shirt! Before I conduct my research, I never even thought that I didn't know how to fold a shirt properly, quickly, and with almost zero effort.
I got a pleasant surprise, while I was browsing the web for ideas. I was not the only person in the world who struggled with keeping shirts folded in a way that's good enough both for kids and adults. I had to find a way to organize shirts in a visible and easily accessible way. And I also wanted to keep it simple for everyone in the house to actually keep them organized.
I will not go into much detail but let's say this list was a lifesaver not only for my kids' shirts but for my hubby's, too. So, let's dive in and learn about how to fold a shirt the right way.
1. Must-Know Travel Tip: How to Fold a Shirt So Your Suitcase Would Be Arranged In A Neat And Sweet Matter
We all know that traveling with kids always means TONS of luggage. It doesn't really matter if you travel in a car or by plane. The rule is always the same: the fewer bags, the better.
You could be aiming for better-priced tickets (because bringing an extra suitcase on a plane could cost you crazy money!). Or to fit everyone's stuff in the trunk of your car. This means you need to fit everything you need in the smallest amount of bags. To make the best of every inch, you have to pack your bags in a smart way.
And the solution is simple: Roll it up! This is the best way to keep clothes from being in a big pile when you are traveling. In a neat little ball, you will easily be able to find the shirt you need. No more digging!
But be careful not to overstuff your suitcase. If you put too many clothes in, they will need ironing after you unpack. In that case, you might need to check with the place you'll be staying at if they have an iron available for guests.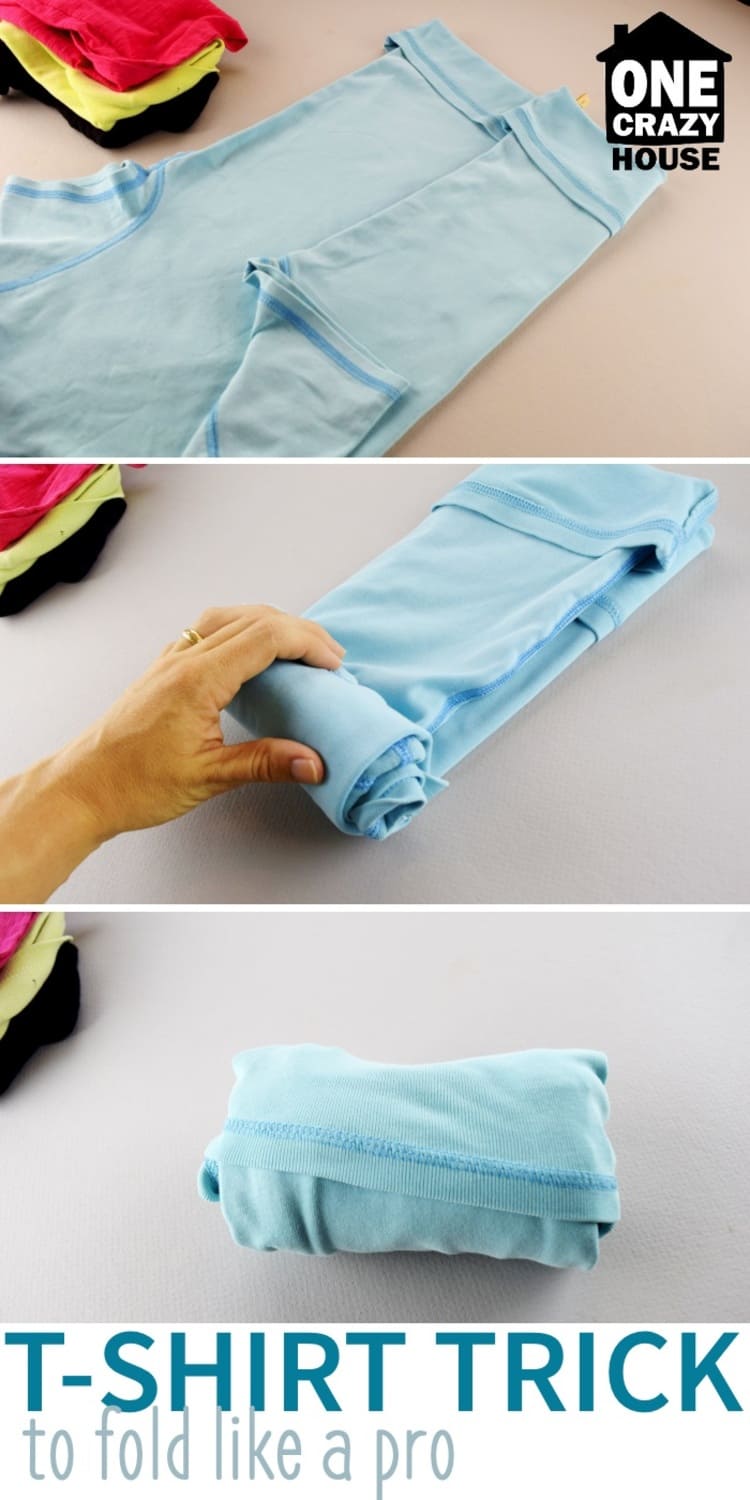 Video: Folding Shirts Trick
I made a short video showing how to roll your T-shirts. Check it out!
2. How to Fold a Shirt the Fastest Way And Cut In Half The Time You Spend Putting Away Dry Clothes
Putting away your dried clothes the right way will save you not only time but also closet space. And when you open the doors, your closet will look like a picture from a magazine: arranged perfectly, with all of the clothes folded in absolutely the same way.
Don't think it's possible for you? Wrong! It is! And it's so much easier than you can think of!
Let me prove to you that folding shirts don't have to be a daunting task.
In this video Jared (from How Does She) shows a brilliantly EASY way to fold kids' (and not only kids') shirts. And it takes mere seconds! I think this way of folding has a Japanese origin.
Instructions:
Lay the shirt out flat with the neck on your right and the hem on your left.

Use your right hand to pinch the shirt between the shoulder and the neck.

Then with your left hand, pinch halfway down.

Using your right hand, press over your left to pinch up the hem.

After that, pick up the shirt and pull your left arm through, to uncross your hands.

Then drag the shirt along the table to smooth out the sleeve.
And you're done. Like magic!
This video makes it very easy to understand and to repeat exactly what he's doing to get the perfectly folded shirt. Check it out:
3. How to Fold a Shirt with Long Sleeves Using The KonMari Method
If you haven't heard of Marie Kondo and her teachings about how to organize and declutter your home (and life), you really need to spend some time getting to know her and her work.
Marie Kondo is the author of the book The Magic of Tidying Up. When reviewing the book, Vogue described it as: "The Japanese expert's ode to decluttering is simple and easy to follow." And they are absolutely right.
This is one of my favorite tips described in her book. And I just had to tell you about it because it really shows you how to fold a shirt like a pro.
Pay special attention to how she folds the sleeves. No more armpit creases! Genius, isn't it?
4. How To Fold A Shirt The Perfect Way? Use A Folding Board!
Are you experiencing difficulties with involving your kids in chores? Do they find folding clothes too hard? What if I tell you there's an easy way for you to help them learn how to fold their shirts?
What you need is this nifty laundry board! Check out how Ricky is super fast at folding shirts. It is easy enough kids can do it!
You just have to teach them how to follow the same sequence with every shirt.
Step 1: Fold the board from one side (starting from the sleeves).
Step 2: Fold the board from the other side.
Step 3: Fold the middle part. This will fold your shirt in half.
Voila! You're done!
Do you know what the best part is? All of the shirts come out folded in exactly the same width. When you put them in the closet, it looks so tidy and so well organized! It's a great way to teach the kids to store their clothes properly.
By the way, you can easily make a cardboard version of this board or just use a clipboard. So easy!
5. Who Would Have Thought The Best Way To Fold a Shirt Is… Over A Hanger!
One of the best ways to store clothes more efficiently in your closet is to add an extra rod for hanging pants. But what if you don't have much space for a second rod? What if it just can't fit your pants?
Well, try hanging your sweaters! Another genius shirt folding trick from Jared. Check out the video below! You'll learn how to hang your sweaters (and other long sleeve shirts) without getting those annoying bumps on the shoulders from the hangers.
Instructions:
Take out a sweater and lay it flat out.
Fold the sweater in half.
Lay the hanger in the armpit with the hook down.
Flip over one of the sides of the folded sweater over the other (the torso part over the sleeve).
Flip over the other side of your sweater over the other (the sleeve over the torso part).
And you're done!
You've folded your sweater on a hanger in a way that will make no creases, no bumps, and taking a minimal amount of space.
It's a great solution for long-term storage.
In Conclusion
If you're looking for a way to save yourself time and closet space, you're in the right place! Learn how to fold a shirt in 5 different ways and make your family's life (and your life, too) easier!
It doesn't matter if you're trying to fit more clothes in a suitcase for your next vacation. Or you're just looking for more efficient ways to store clothes in your kids' rooms, so they can easily see them and keep them in place. You'll definitely find at least one of the proposed ways a great solution for your household.
Which of these smart ideas about how to fold a shirt are you going to try out first? I'd love to know in the comments below!
Are you amazed by these great ideas about how to fold a shirt? Then, don't miss out on these posts, too:
The post How to Fold a Shirt 5 Ways Like a Pro! appeared first on DIY House Hacks - One Crazy House.