It's good for the environment and your bank account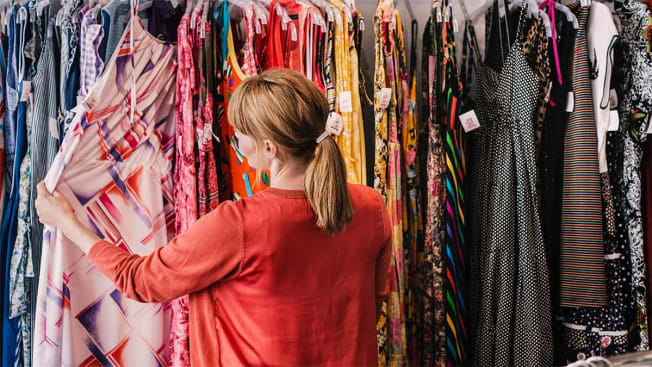 A woman looks through dresses at a thrift store.
By Laura Murphy
Thrift stores have long been a destination for savvy fashionistas looking for deals on secondhand designer wear and unique vintage finds. But now secondhand shops can count the eco-conscious shopper among their customer base, too. 
As more consumers become aware of fashion's impact on the environment, shopping secondhand has grown in popularity. According to a 2021 report by ThredUp, an online thrift store, sales of secondhand clothing are growing and expected to double by 2025. 
But shopping at thrift stores, flea markets, and even peer-to-peer resale platforms, isn't the curated experience most people are used to. It often takes a discerning eye—and a lot of patience and persistence—to spot well-made, high-quality pieces among the rubble.
And when it comes to shopping sustainably, bear in mind that the longer you're able to keep and wear an article of clothing, the better. According to a report by WRAP, a sustainability-focused charity based in the U.K., clothes typically have an average life of two years in your closet.
But if you can extend that to closer to three years, it reduces its carbon, water, and waste footprint by 20 to 30 percent. That's why we spoke to experts in vintage and secondhand shopping to get the best tips to help you find your next 'fit. 
Know Your Thrifted Shopping Terms
When embarking on your thrift-store journey—whether it's online or in-store—it's important to know what several common terms mean. Here are a few you'll see most often. 
Vintage fashion "is most usually defined as being 20 years old or older," says Margaret Wilds, president of the Vintage Fashion Guild and author of "Wear Vintage Now! Choose It, Care for It, and Style It Your Way," "while antique begins at 100 years of age. Yes, that means that clothing from the year 2002 is now vintage!" 
Secondhand fashion, meanwhile, is any garment that was previously owned. It could be vintage, or it could have been on the racks at the Gap last year. Typically, however, secondhand usually refers to clothing that isn't old enough to be vintage. 
Retro fashion is a piece of clothing that borrows its style from the past. Retro can be vintage, as in the case of some 1970s clothing imitating silhouettes from the 1930s or 1940s, or it can be a brand new piece of clothing styled to reflect trends from the past. 
Mint condition means "an item has to be in a state as if it had just come off the assembly line—like new," Wilds says.
NWOT (new without tags) is used in clothing descriptions at online resellers like Poshmark, DePop, and eBay. It means the item has not been used.
Note: Being unused does not guarantee a garment is flawless. It might have rust stains from a metal hanger, mildew from a damp basement, or some other issue.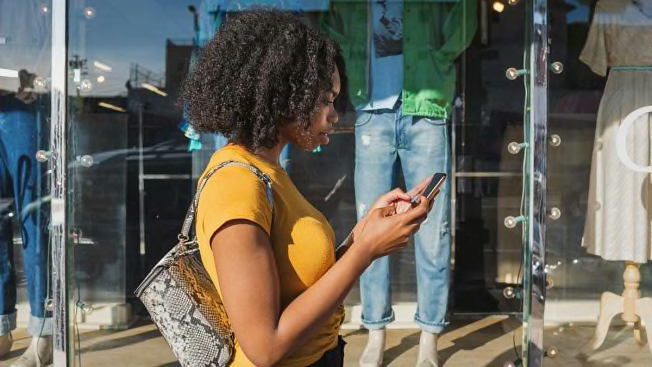 A woman shops for clothes on her phone.
Photo: Tony Anderson/Getty Images
Know Where to Shop
"Depending on your taste, budget, knowledge, and willingness to search, you can find vintage clothing and accessories in many places," Wilds says. And that goes for newer secondhand pieces as well. 
Wilds says that your basic thrift store, such as those operated by Goodwill or the Salvation Army, may have newer vintage—as in pieces that are just 20 to 30 years old. Because there's often a mishmash of inventory, thrift stores often offer an opportunity to mix pieces from different eras. 
Curated consignment shops, meanwhile, may sell at a slightly higher price than a thrift store. Those shops often feature both secondhand and vintage clothing, but they've usually been somewhat vetted for condition and style. 
"If you love clothing that predates 1980, you are going to have to look harder," Wilds says. For those items, she recommends prowling estate, garage, and yard sales. "Flea markets sometimes have vintage fashion vendors, and auctions can include fashion, or even exclusively offer vintage and antique fashion." 
Shopping vintage while traveling is a unique way to explore the place you're visiting. "Whenever I'm in a new place, I like to find the nearby thrift stores or antique stores," says Saraid Claxton, a fashion blogger and founder of vintage fashion blog Sunset Saraid. "You never know what you'll find." 
It's also possible to get your thrifting fix online. "There are huge numbers of vintage fashion sellers online, some with their own websites, and many on sites such as Thrilling, Fashion Constellate, Ruby Lane, and others," Wilds says.
Claxton tends to frequent peer-to-peer platforms like Depop, Etsy, eBay, Poshmark, and Facebook Marketplace. 
"I really enjoy online thrifting if I'm looking for a specific piece or more special vintage pieces I might not find at my local thrift store," she says.
Here are a few of Claxton's top tips for shopping secondhand online: 
Use search tools & filters. The Gem Vintage app or website searches through several different shopping platforms at once, which can save you time if you're looking for a specific item. When shopping online, search filters are your best friend—many sites allow you to filter by brand, size, price, and even the condition of the item. Many sites allow you to set up notifications for a specific search.
Check where the item is shipping from. Usually, shipping is cheaper and faster if it's within the country. Often, you can select in your search filters to see items shipping from the US. 
Make sure the seller is active. "Typically the site will tell you if they've been active lately," Claxton says. "I've found a couple shops where I bought something from sellers who weren't active and never shipped the item. Luckily, it was pretty easy to get refunded."
Look for Quality Fabrics and Seasonally Appropriate Materials
The key to shopping sustainably is to buy clothing that will last for the long haul—so you don't have to keep buying more. High quality fabrics are likely to be more durable than flimsier materials.
"A good quality fabric feels soft with no protruding fibers," says Ajoy K. Sarkar, a professor of textile development and marketing at the Fashion Institute of Technology. He recommends holding the garment up to a light source to reveal the tightness of weave or knit. A densely constructed weave will let less light through the fabric, and is considered of better quality. 
Sarkar also suggests shoppers look for particular materials depending on the type of clothing they want to buy. "For summer wear, look for fabrics made from plant sources such as cotton and linen," he says. "These fabrics conduct heat efficiently and will be comfortable in hot and humid conditions."
For winter, wool is a great choice for coats and sweaters because it's a poor conductor and tends to trap heat, keeping you warm. Though many synthetic fibers may do the same, Sarkar says you're more likely to notice pilling on fabrics such as polyester or nylon.
But that doesn't mean that you should never shop synthetic. If you're shopping for athletic wear, synthetic fabrics tend to perform better because they're stronger, and blends such as cotton/polyester can offer the breathability of cotton along with the durability of polyester—the best of both fibers. 
Claxton suggests that shoppers check the tags, the garment composition (what materials it's made out of), the feel and fit of the piece.
"Depending on what you want for your thrifted pieces, fabric content might be important to you," Claxton says. "A majority of pieces made today contain synthetic materials or blends. Synthetic fabrics tend not to breathe as well, release micro plastics into our water system, and they don't hold their shape well or last long. I had a pair of thrifted modern bell bottoms that I loved. But after three or four years the elastane wore out, and they were unwearable. Pieces made from cotton usually breathe better, last longer, and hold their shape better."
Wilds recommends looking for natural materials such as wool, silk, cotton, cashmere, linen, leather, wood. 
"Luxurious fabrics such as silk satin, brocade and velvet and wool tweed, bouclé, challis, and melton are wonderful," she adds. "Very fine, light, or sheer fabrics can also be luxurious, such as silk chiffon and georgette, cotton lawn, handkerchief linen."
When evaluating a garment, Wilds advises shoppers to ask themselves:
Is the stitching straight, even, and small?

Is there very neat hand sewing in evidence?

Are hems stitched inconspicuously?

Are the inseams neatly finished?

Are seams that are under pressure reinforced?

Do obvious prints and patterns line up at seams?

Do the prints themselves have fine detail?
And don't forget, quality is in more than just the fabric. 
"Linings, better-grade components such as buttons and trims, details like hand-sewn elements, and carefully pieced fabric prints—all of these add to the quality of a piece," Wilds says. 
When it comes to buttons, Wilds says that metal, "wood, mother of pearl, and rhinestone are generally of higher quality" but that plastic buttons can also be great. Linings are another high-quality touch, as are facings. Embellishments such as embroidery, appliqué, lace, hand-sewn beading, prong-set rhinestones, and prong-set metal studs are all indications of a nicely made garment. Nothing should be glued, she says.
"Some other quality touches are topstitching, pick stitching, French seams, weights sewn into a garment to make some aspect of it hang well, braid, hand-painted detail, plenty of fabric (such as in a full skirt), horsehair braid around a hem, and boning for structure in a fitted bodice," Wilds says.
The more you do it, the sooner you'll become attuned to what is high quality and what isn't, Claxton says. "I think finding high-quality garments just takes time and patience." she says. "It took me a while to learn what to look for and what I want in thrifted pieces."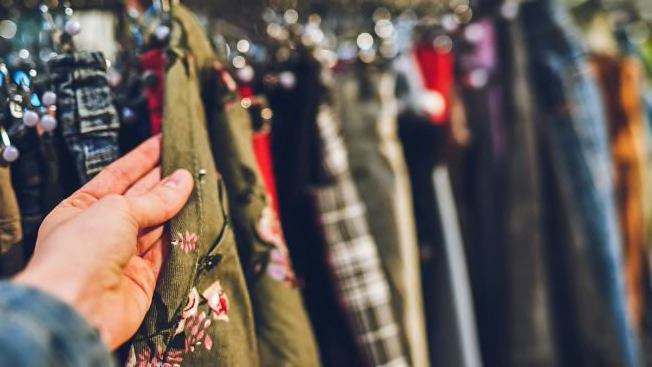 A shopper inspects clothing on the rack.
Photo: Getty Images/Charday Penn
Make Sure the Garment Is in Good Condition
Once you're used to shopping secondhand, you may want to acquire some sewing skills, learn how to get tough stains out of fabrics, or make friends with your tailor and the people at the local laundromat. But for beginners, your best bet is to buy garments that are in good condition in the first place. 
"If an item is not in good shape, it doesn't matter if it is labeled Christian Dior—it will not serve you as is," Wilds says.
She advises shoppers to check to make sure the zipper works, whether any elastic is still stretchy, and look inside as well as out for holes, stains, fabric weakness, and odors. 
"The most common places to find stains are under the arms, around the inside of the collar, at the hem of a long dress or pants, at edges of long-sleeve cuffs, and along the openings of pockets," Wilds says. "I also always check for stains inside the crotch of pants and swimsuits. If there are long sash ties, check the ends. Honestly, I look at any garment all over, inside and out, because you just never know where a stain might be. I also check for fading, both overall, and in various, unpredictable places."
Wilds suggests that you ask yourself, are the buttons all there? Is the hem in place? Are there stains or faded areas? Do shoes have soles with life in them? 
Sarkar concurs. "Look for buttons and/or zippers to be properly anchored to the garment," he says. "Metal zippers are preferable. Seams should not be out of sync." But as you gain confidence in your thrift shopping abilities, you may find pieces that are fabulous—except for a loose button, a stain, or a tear. 
"I've recently learned how to sew," Claxton says. "So I've taken more project pieces home in the past year or two."
For vintage pieces, the Vintage Fashion Guild has an entire section dedicated to caring for older garments, which covers a variety of materials. This can be helpful whether you're buying a garment that needs a little TLC or just trying to keep a beautiful old piece in good shape. 
For more laundry tips to extend the life of your clothes, see "How to Do Laundry Without Ruining Your Clothes."
Find the Right Fit
If possible, it's a good idea to try on secondhand clothing before buying, especially because most of the time these items are final sale. 
Wilds emphasizes that when shopping secondhand, and particularly shopping vintage, it's important to know your own measurements. 
"Vintage sizes do not coincide with modern sizes, nor are they predictable when compared with other items from the same era," she says. "I've seen people reject vintage size 14 items that would fit them perfectly because they were sure they would never wear a 14. Numbers are just numbers, and vintage numbers are particularly disconcerting to the modern mind. Focus on the item's measurements and compare them to your own."
Claxton says that even current sizing varies from brand to brand, so knowing your own measurements is a good idea no matter where you're shopping. 
"I often bring a fabric measuring tape with me when I thrift so I can check the sizes of pieces," she says. 
Wilds advises knowing all of these measurements.
Waist: Measure around the smallest part of your waist, just above your belly button.
Hips: With heels together, measure around the fullest part of your hips, about 8 inches (20.3 centimeters) down from your waist.
Shoulder width: Imagine lines going straight up from your armpits to your shoulders in back. Measure from this point on one shoulder to the other, across the back.
Outer sleeve length: Measure from the tip of your shoulder to your wrist along the outside of your arm.
Upper arm: Measure around the fullest part of your upper arm.
Neck: Wrap the tape around your neck about 1 inch (2.5 centimeters) above the point where your shoulder meets your neck.
Back waist length: Measure from the base of your neck to your waist in back. 
Inseam: While standing straight, measure from the groin to the place where you would like the hem of the pants to fall (ankle or floor).
Outer leg length: Measure from the waist to the point where the hem of the pants will fall.
Rise (front and back): Measure from the groin to your waist at center front for the front rise, and at center back for the back rise.
She says that she specializes in women's fashion but that these measurements are largely applicable to men as well. It's a good idea to keep them handy as you're shopping—try putting them in the notes app on your phone. 
If you're shopping online, know that most sites put the onus on the buyer to check with the seller for size and fit information. On most sites, items can be returned if they do not reflect the seller's description but not if they don't fit.
"I almost never buy something unless I know the measurements of the garment," Claxton says. "If they are not listed, you can always message the seller to inquire."
But just because your measurements may be an exact match for the garment doesn't necessarily mean that it's a good fit.
"What you also need in order to be able to enjoy yourself in your vintage fashion is a little extra space," Wilds says. It's called "wearing ease."
How much ease do you need? According to Wilds, each of us is a little different in our fit preferences, "but we all need to breathe, and most everyone needs to sit, walk, and move their arms." When it comes to woven fabric with little stretch, she says you may need up to 2½ extra inches at the bust, another inch at the waist, and up to 3 additional inches at the hip. By contrast, a garment made of a knit fabric that has some stretch might not need ease, or could even have negative ease—such as in the case of a swimsuit—for a proper fit. 
Fit also applies to style.
"Another kind of ease is 'design ease,' which is part of the cut of the clothing," Wilds says. "Every era has a variety of styles and fits, and the ease will vary with the cut of the garment. If you are looking to fit a 1960s flaring tent dress made of a woven fabric, the design ease at the bust will be close to the wearing ease, but the design ease at the waist and hip will be much greater. For a strapless 1950s formal, there may be very little design ease through the bodice because the dress might not stay up if it isn't properly tight!"
Finally, it's important to keep the age of the garment in mind as well. 
"A vintage garment made of delicate or loosely woven fabric can show pulling along its vertical seams or even rip if worn too tightly," Wilds says.
Consumer Reports is an independent, nonprofit organization that works side by side with consumers to create a fairer, safer, and healthier world. CR does not endorse products or services, and does not accept advertising. Copyright © 2022, Consumer Reports, Inc.