Emirates' first class has long been lauded as among the best flight experiences in the world.
Individual suites with closing doors for privacy, gourmet on-demand dining, fabulous wines and spirits, a convivial onboard bar and must-try airplane showers (on Airbus A380s, at least). What's not to like?
Then, in November 2017, the airline raised its game even further, introducing all-new first-class suites.
The downside is that these suites are only available on a handful of the airline's Boeing 777-300ERs, none of which have the carrier's distinctive onboard bars or showers.
Additionally, these planes can be difficult for the average flyer to pinpoint which exact routes they'll be on.
However, the new suites more than compensate for those drawbacks with some unique features, their ultra-luxurious design and an all-around incomparable experience in the air.
After waiting nearly five years to see them in action, I finally had the chance to fly Emirates' new first-class suites late in 2022, and the experience did not disappoint.
Here's what it was like flying Emirates' new first-class suites on the 777 and how I tried to make the most of my too-brief flight between the Middle East and Europe.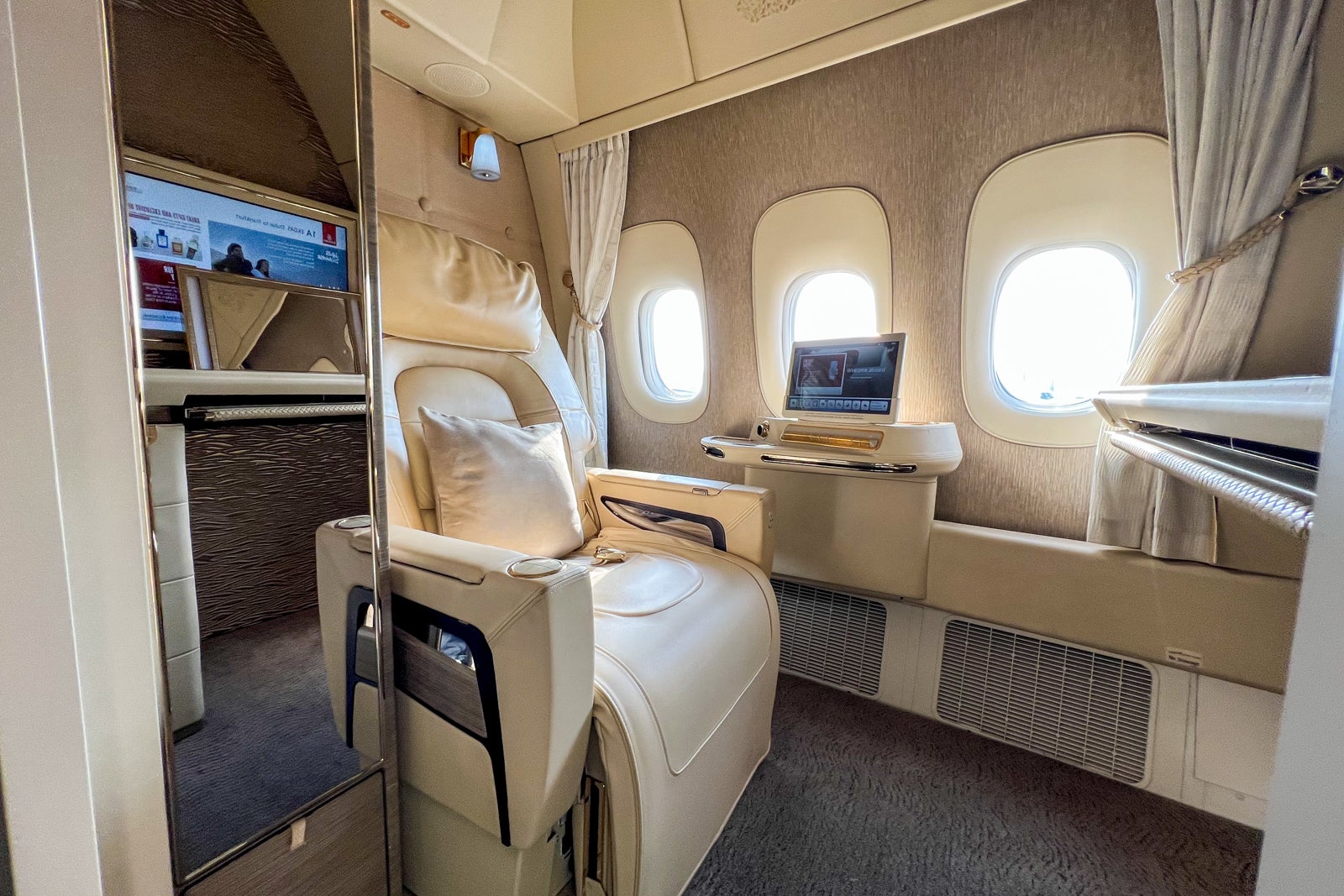 Booking
I'd been looking for a way to try Emirates' new first-class suites almost since the airline unveiled them.
Before their partnership ended, I used to scour Alaska Airlines' Mileage Plan for award seats on the few flights where they were available early on. I even considered transferring American Express Membership Rewards points or Chase Ultimate Rewards points to my Emirates Skywards account to try to book that way, despite exorbitant taxes and surcharges.
However, I could never seem to find availability on the flights from Dubai (DXB) to destinations like Brussels (BRU) and Geneva (GVA) that were being operated by the jets with the new suites on board. Then came the COVID-19 pandemic, making it hard to justify a trip to Dubai just to test out a new product.
As the world began to reopen to international travel, though, and I was planning a trip to Asia, I found a phenomenal deal flying from Bangkok (BKK) to Frankfurt (FRA) via Dubai.
The first leg would be operated by an Airbus A380 with the airline's older (but still excellent) first-class suites. The second leg would be my chance to finally experience the new suites aboard a Boeing 777. Both flights were about seven hours.
Side note: Emirates operates three daily flights from Dubai to Frankfurt. One is with an A380, while the other two are aboard 777s. However, only one of those — which departs in the morning and lands in the early afternoon — sports the new suites, so be careful what you book. I double-checked my plans using both the seating charts generated by a dummy booking on Emirates' site, as well as by viewing the seating chart on ExpertFlyer, which is owned by TPG's parent company, Red Ventures.
Airfare for the entire itinerary was $3,168, including taxes and fees. We ended up redeeming 158,400 American Express points for the trip by booking through Amex Travel and using points from TPG's Business Centurion account, which are worth two cents apiece when redeemed this way. Not bad for 14 hours in Emirates first class.
Airport experience
My flight departed Dubai International Airport at 8:25 a.m. Thanks to my first-class ticket, I was able to reserve complimentary chauffeur service from my hotel, the Edition Dubai, to the airport. My driver arrived in a Mercedes S-Class sedan promptly at 5:30 a.m. and dropped me off at the airport at 6:00 a.m.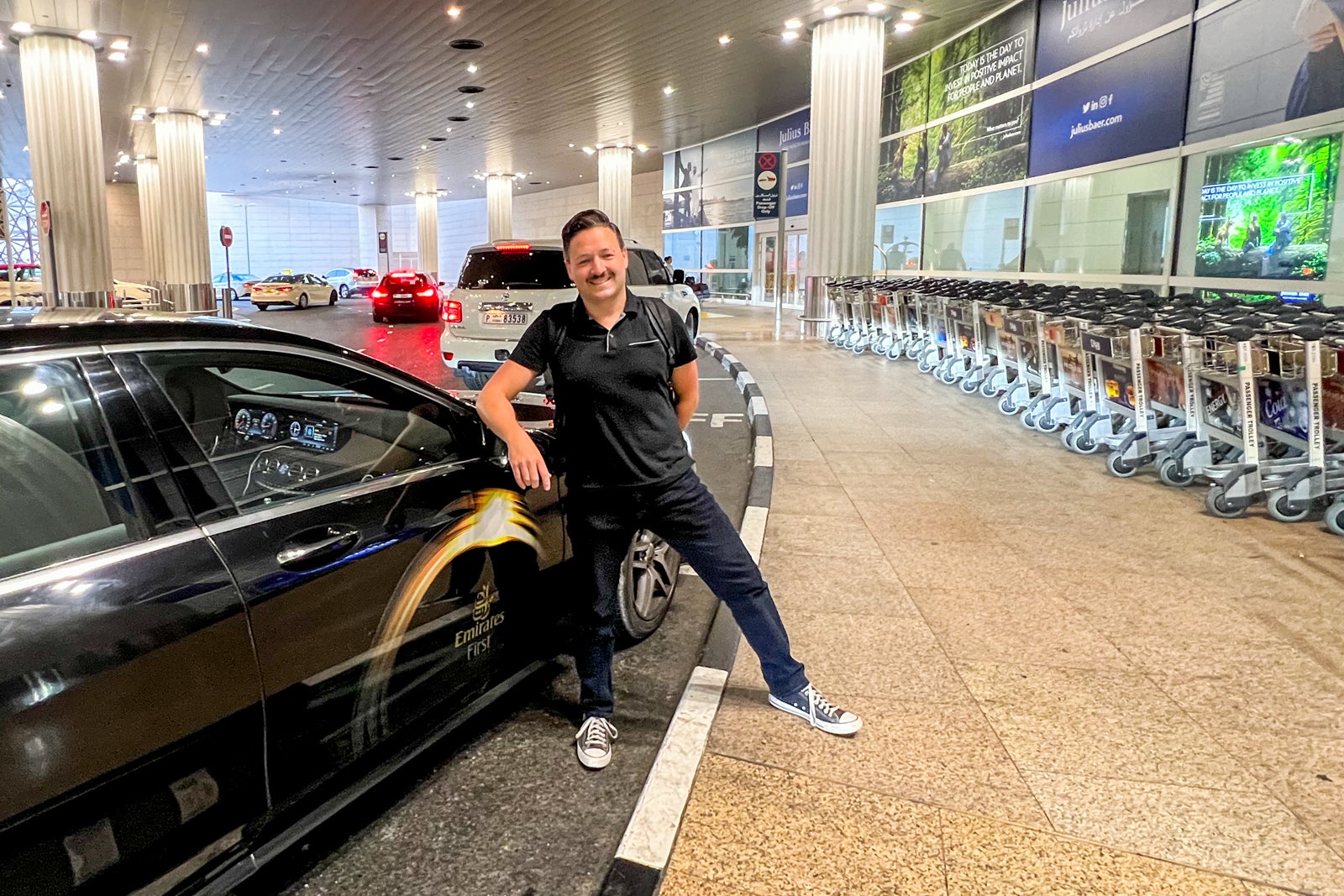 I was flying out of Terminal 3, which is enormous and has a massive hall of check-in counters for all classes of service.
However, I could use the ones near the entrance dedicated to first-class customers. Although there were other passengers checking in, there was no line. I walked right up to the counter, handed over all my travel documents and was checked in within a matter of moments.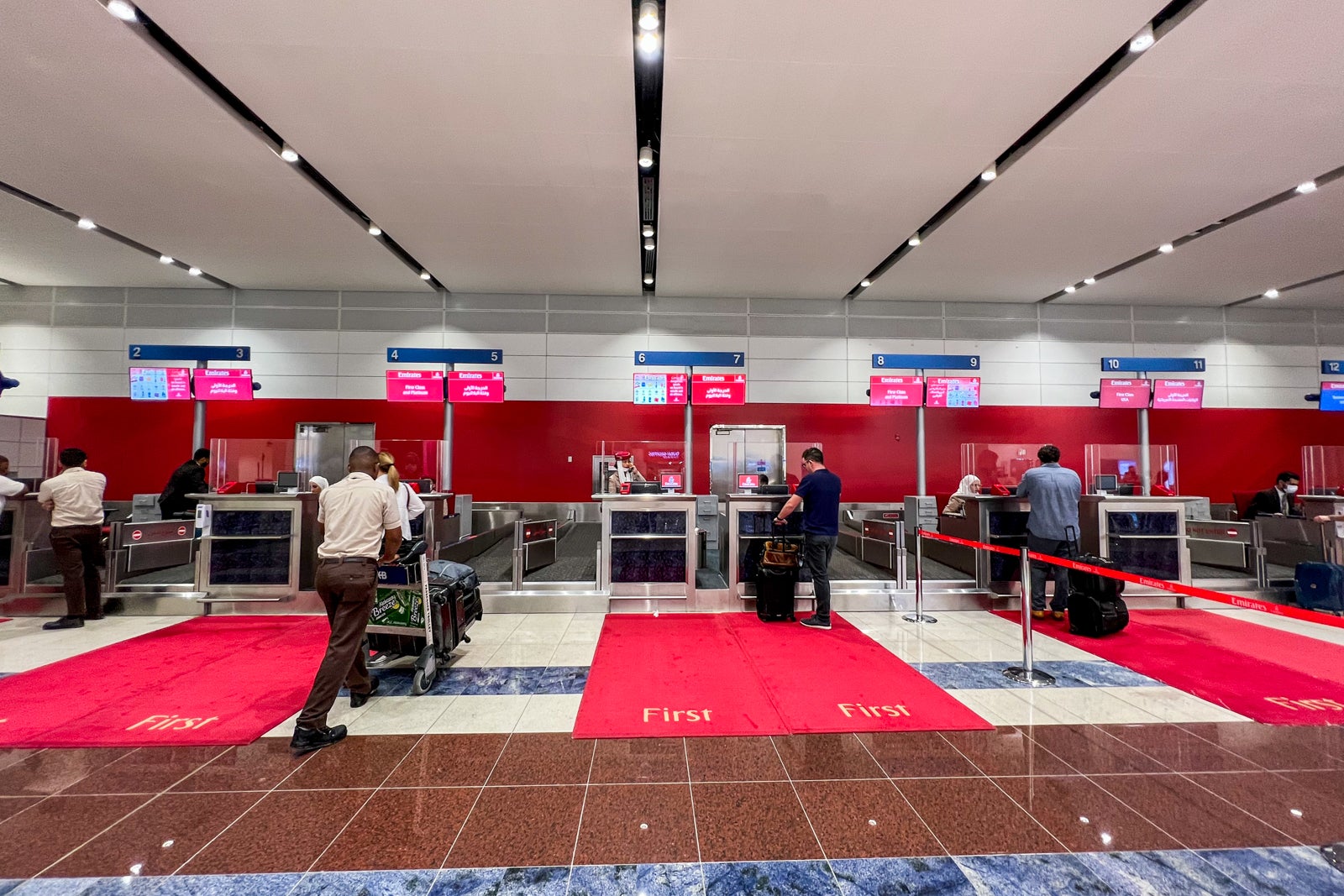 An airline representative was on hand to escort me through the terminal to the departure customs and immigration checkpoint, then through security and up one level to the airport's internal train. We rode it to the departure concourse where the airline's first-class lounge occupies an entire floor upstairs from the main hall.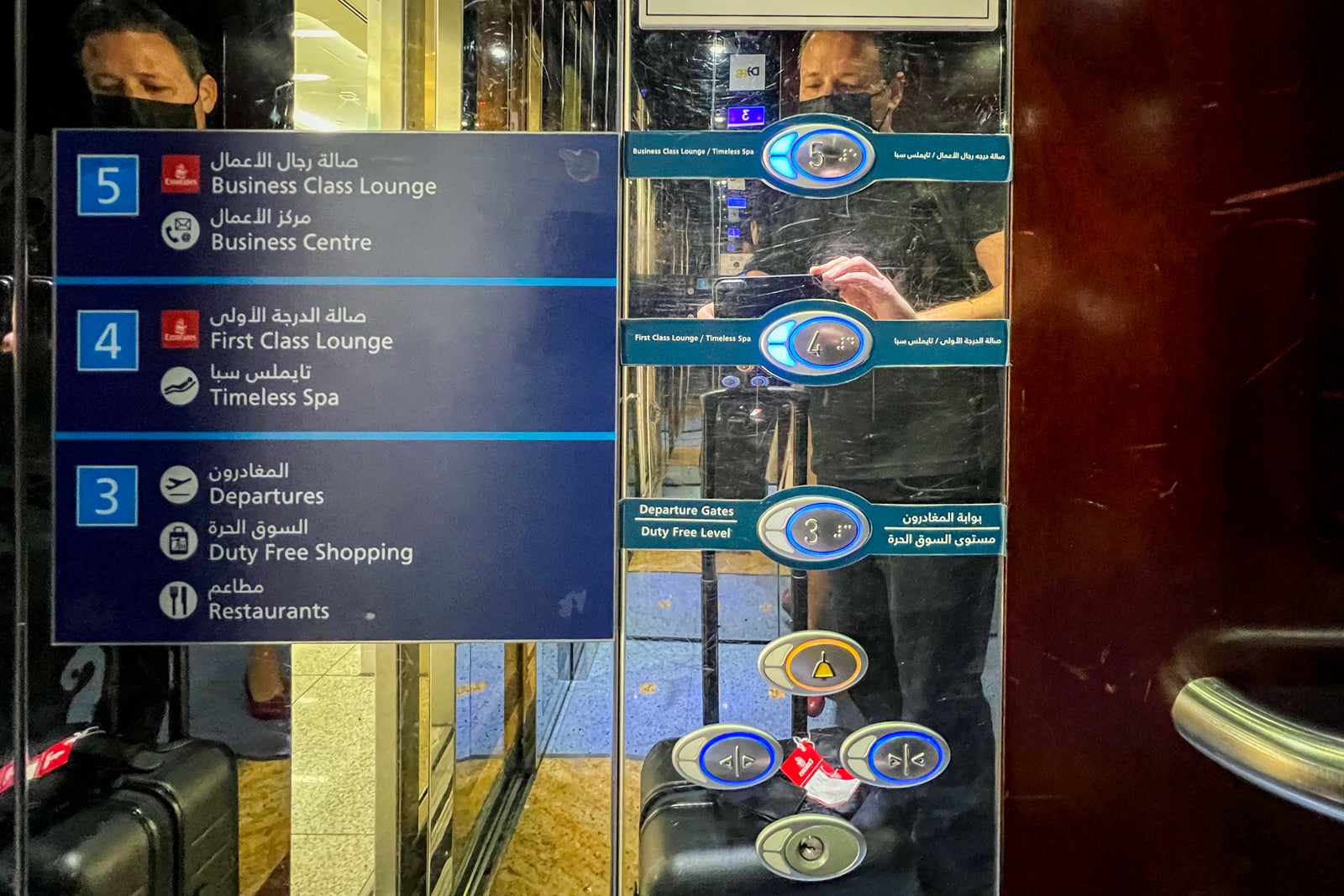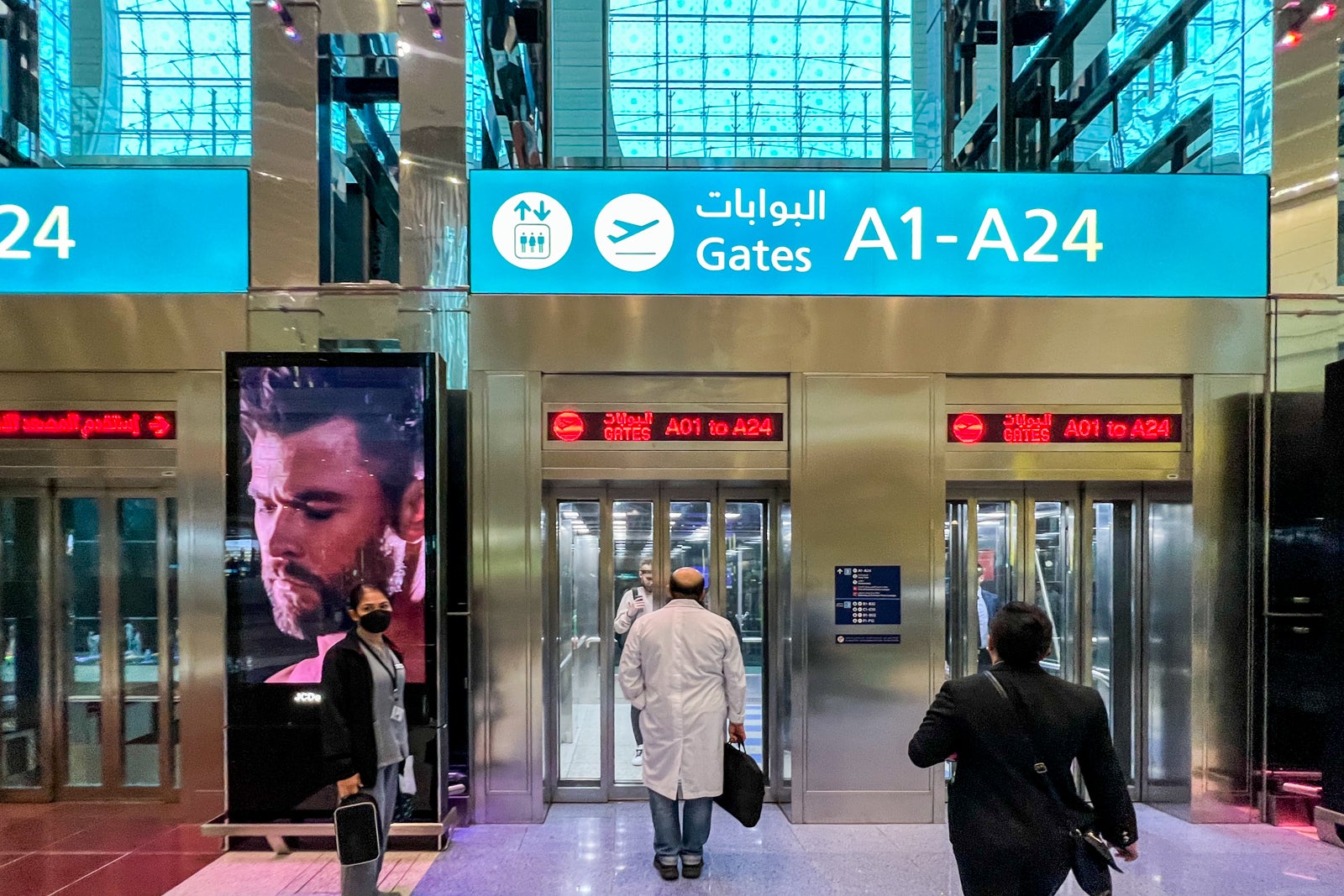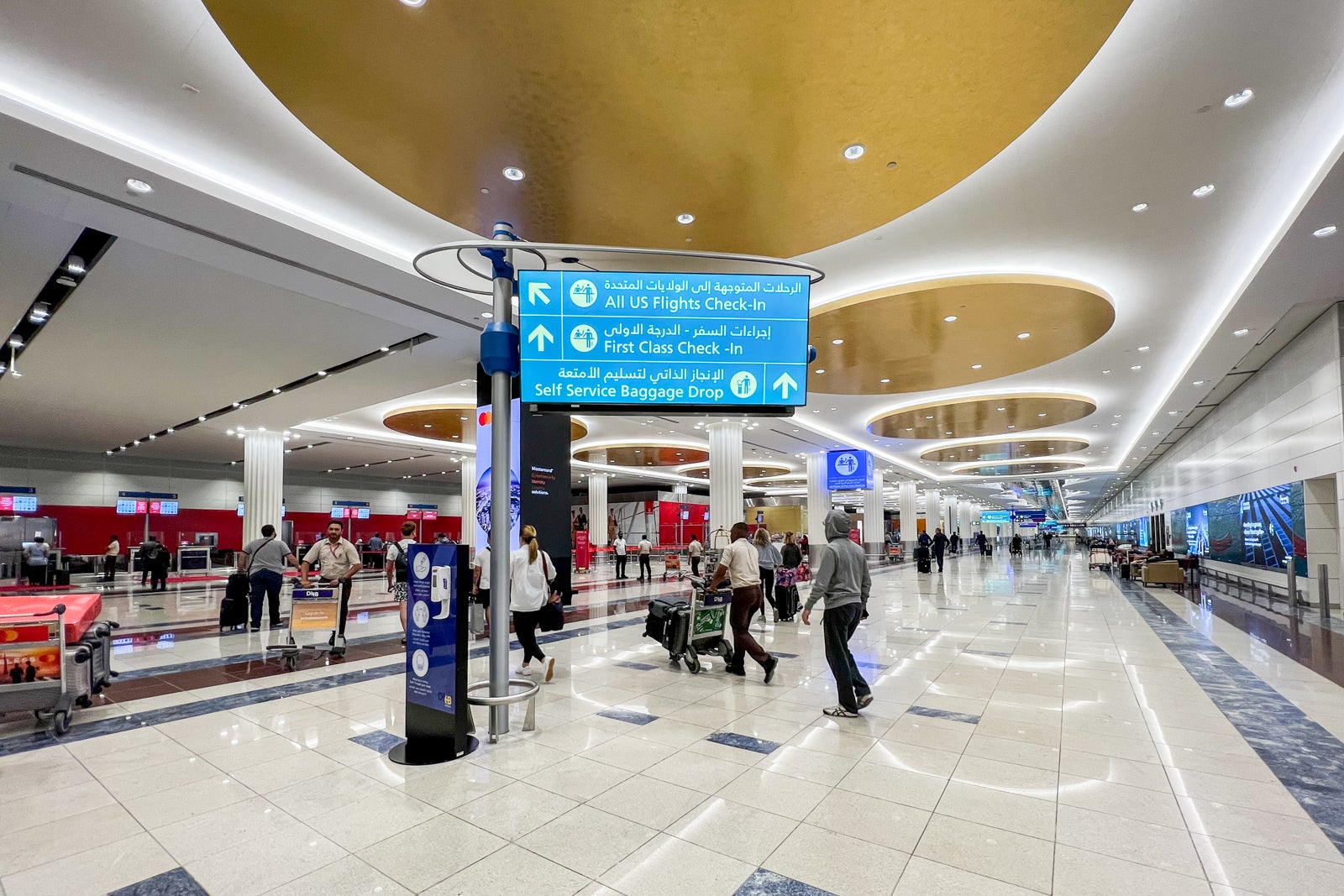 At that early hour, the sprawling facility was nearly empty. I spent about 20 minutes walking around snapping photos of the luxury shopping outlets (so first-class flyers don't need to mingle with the hoi polloi down in the public concourse, of course), including the impressive wine shop, plus various seating areas, the cafe section, the cigar lounge and the main dining area, where I was immediately seated and handed a menu.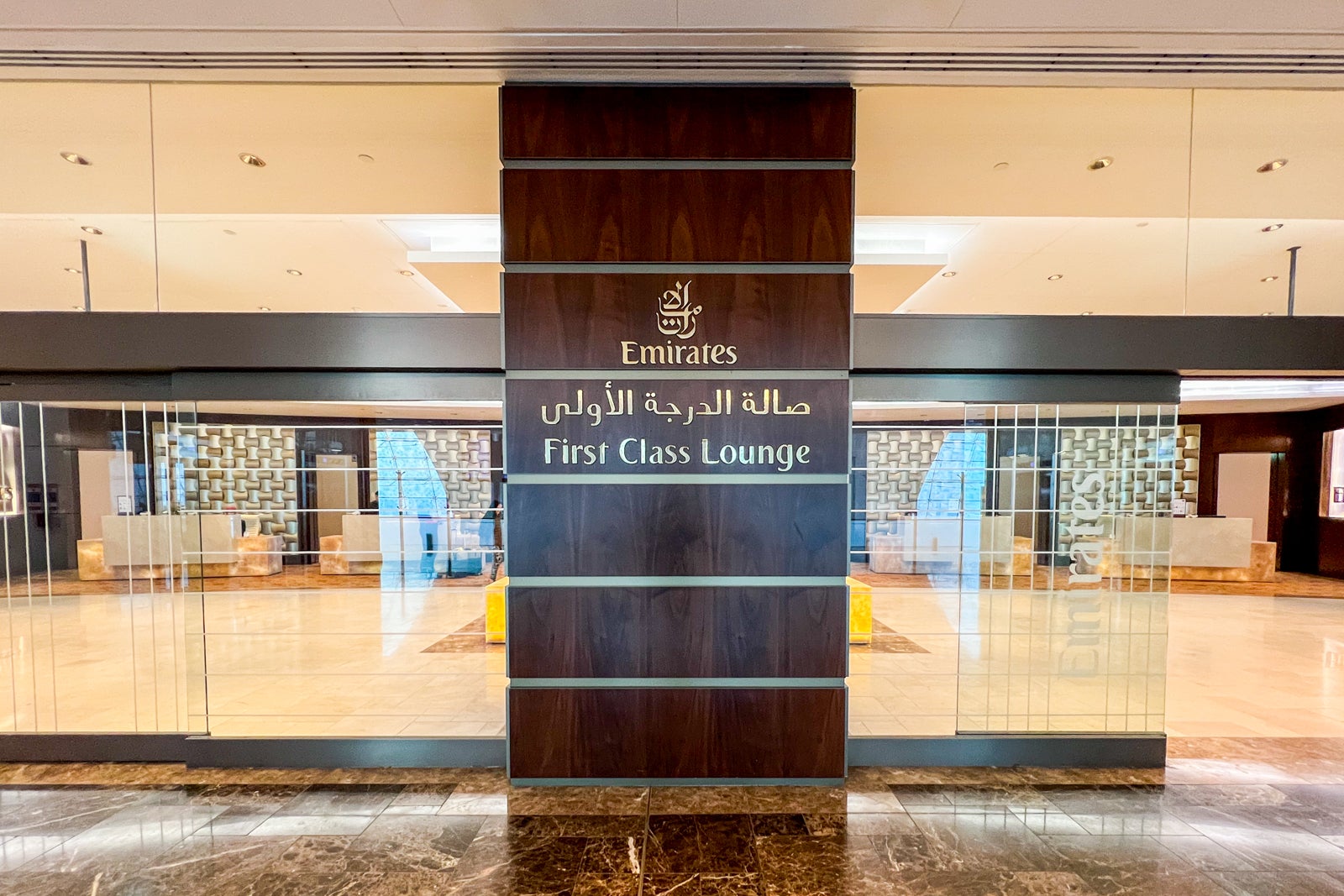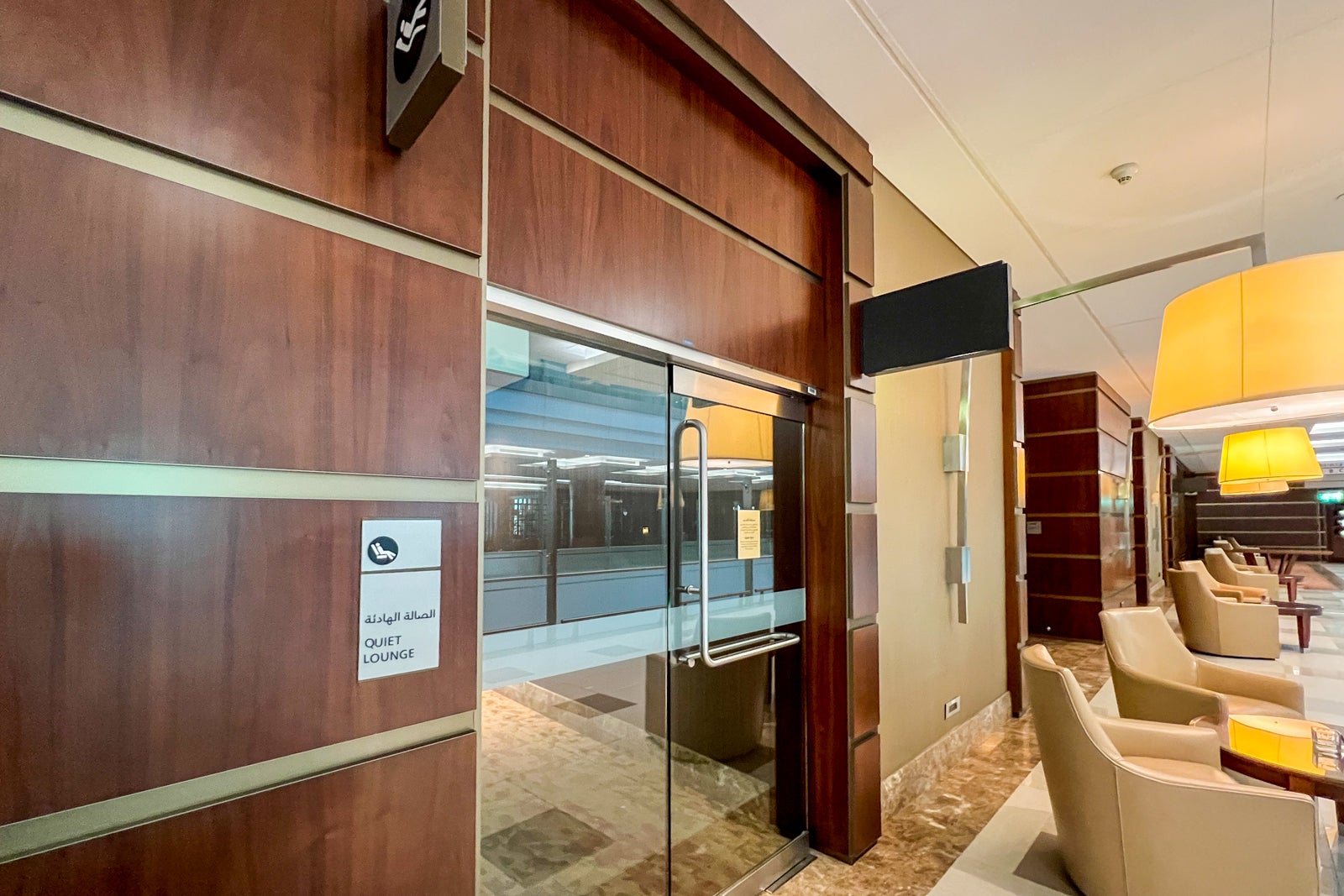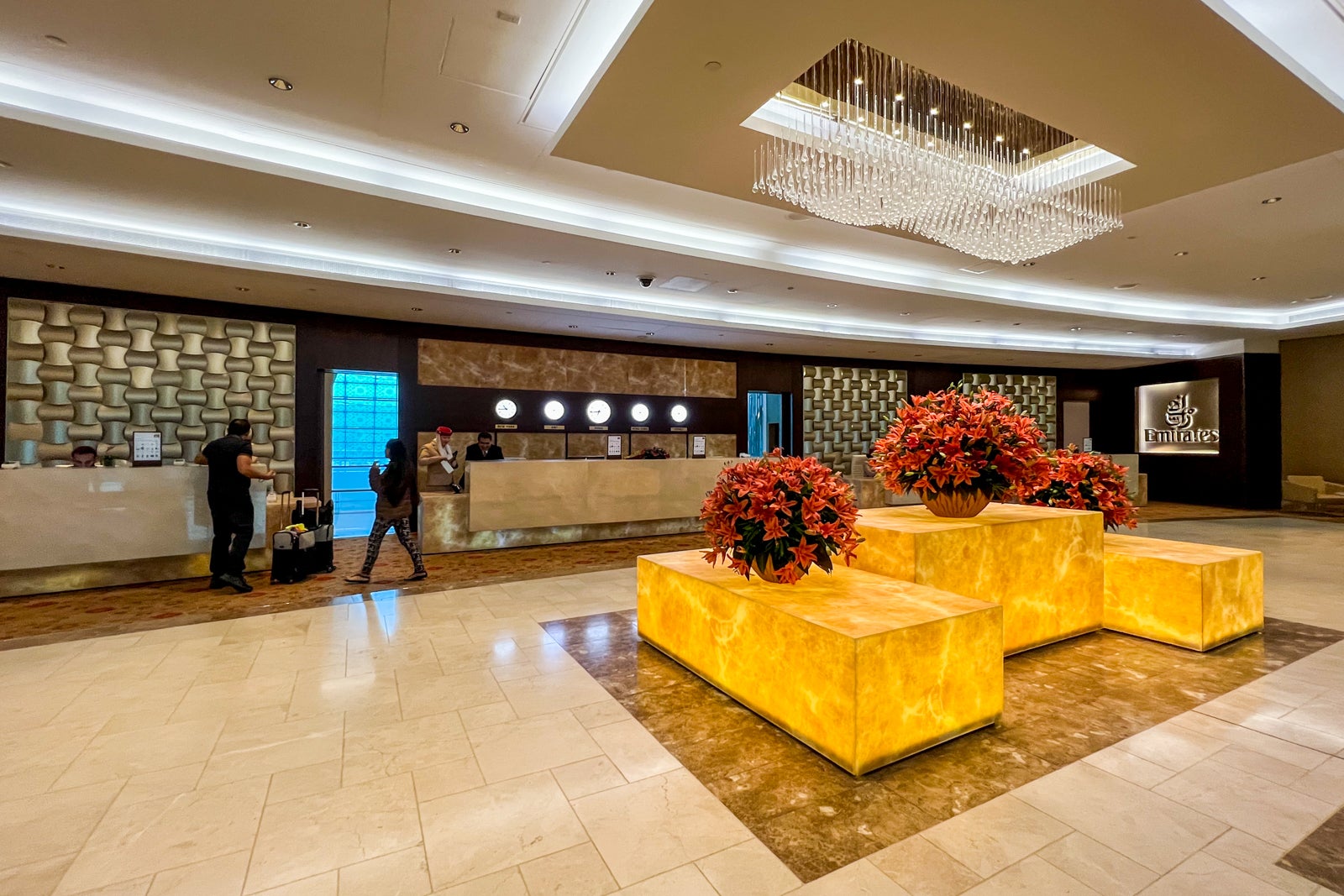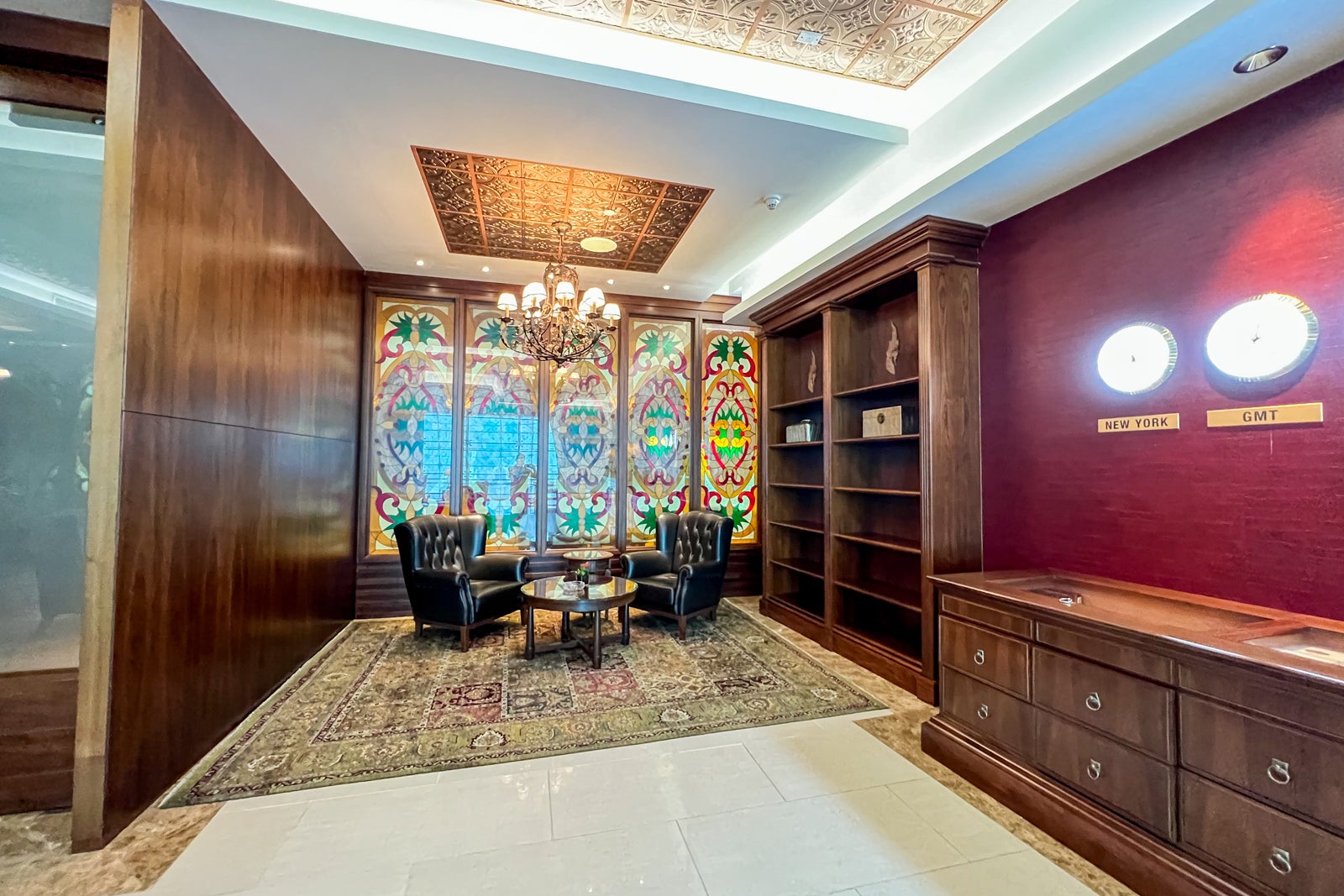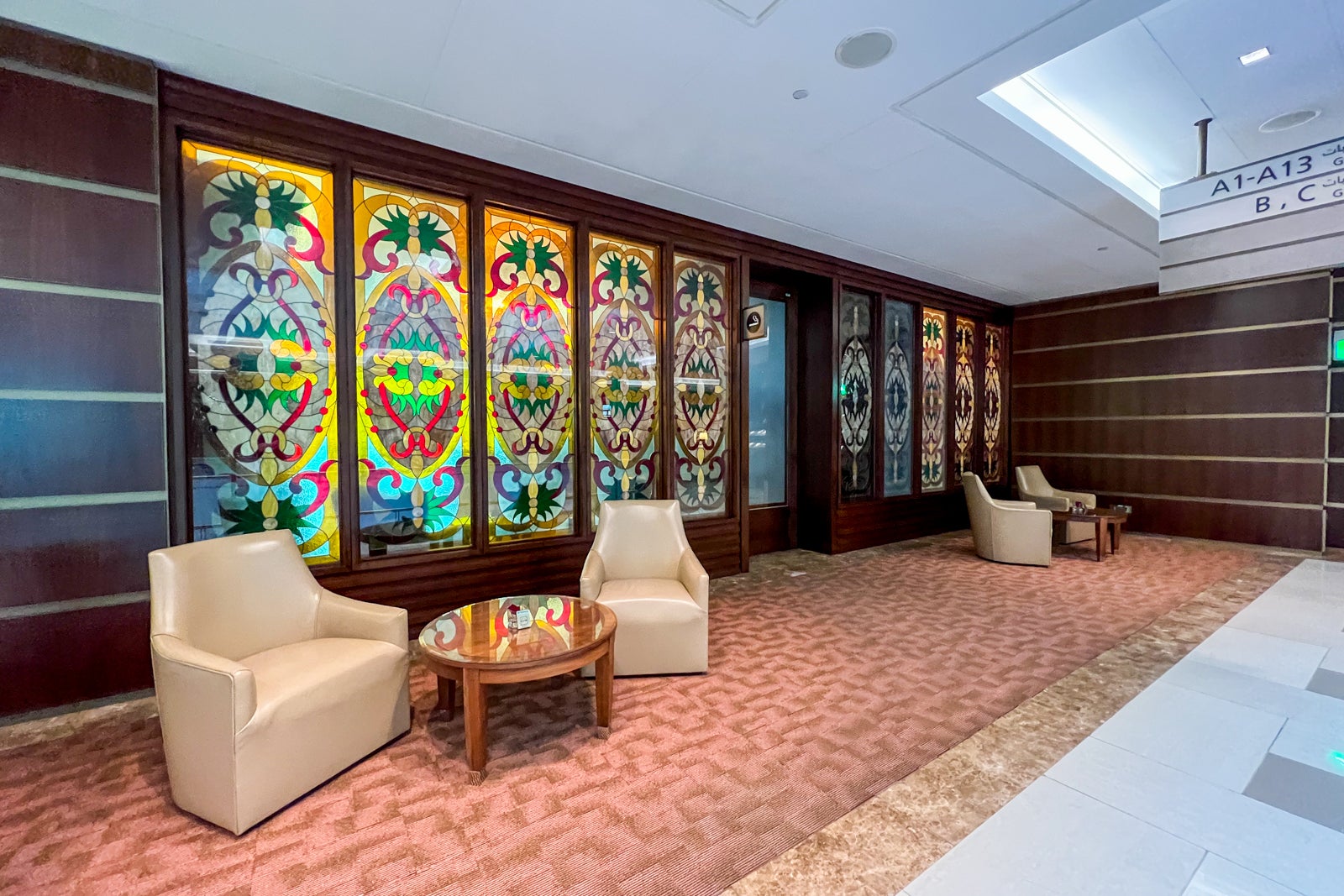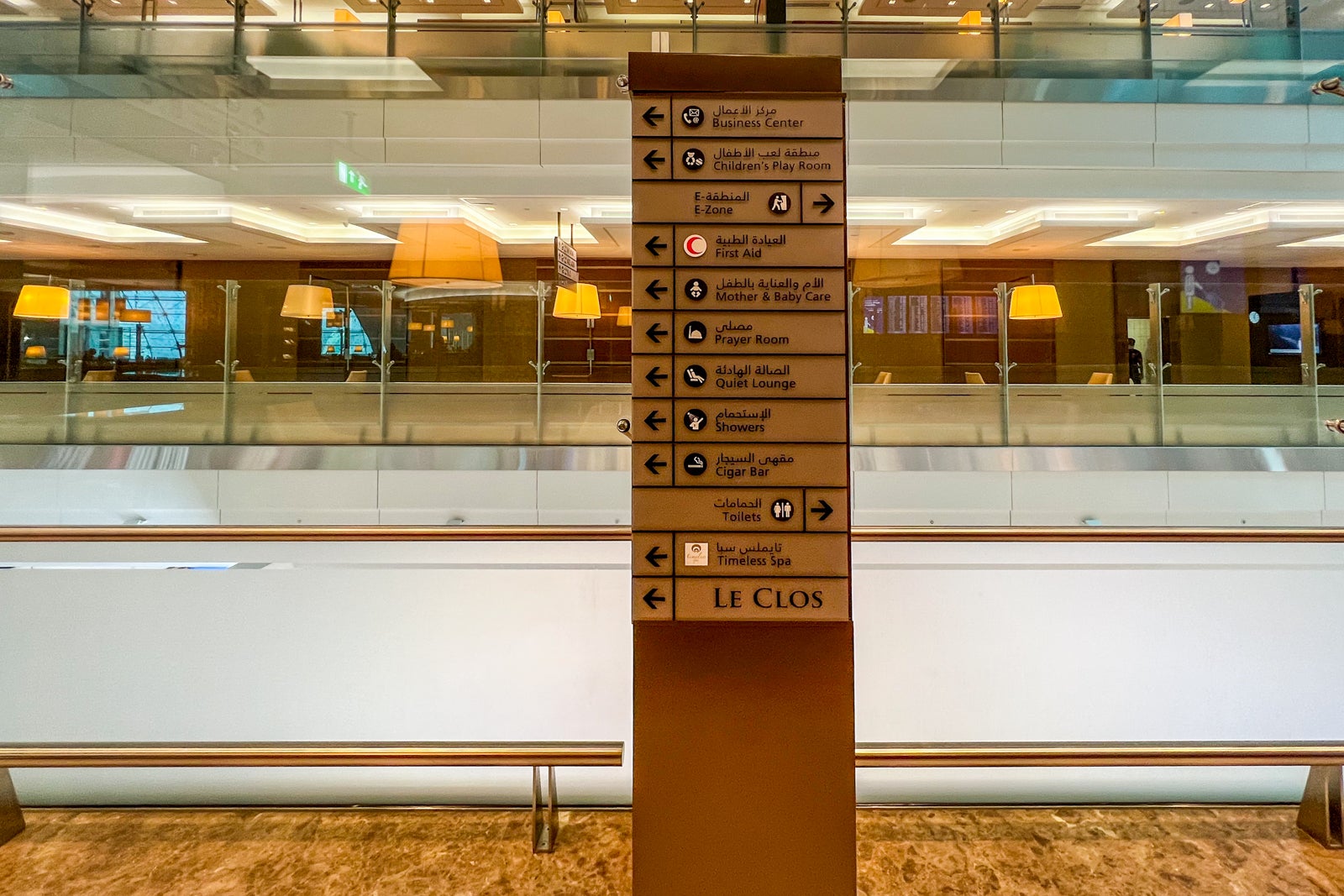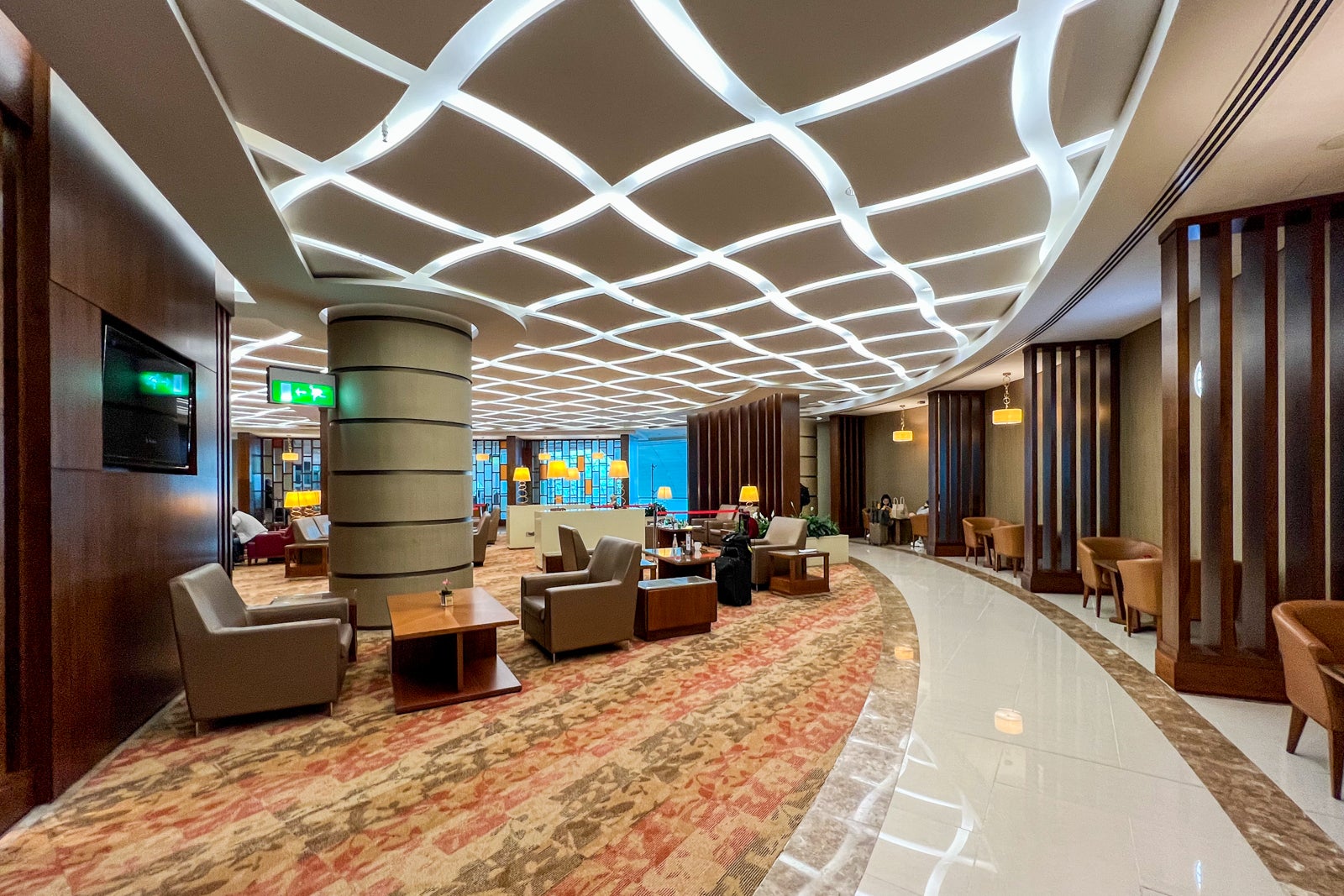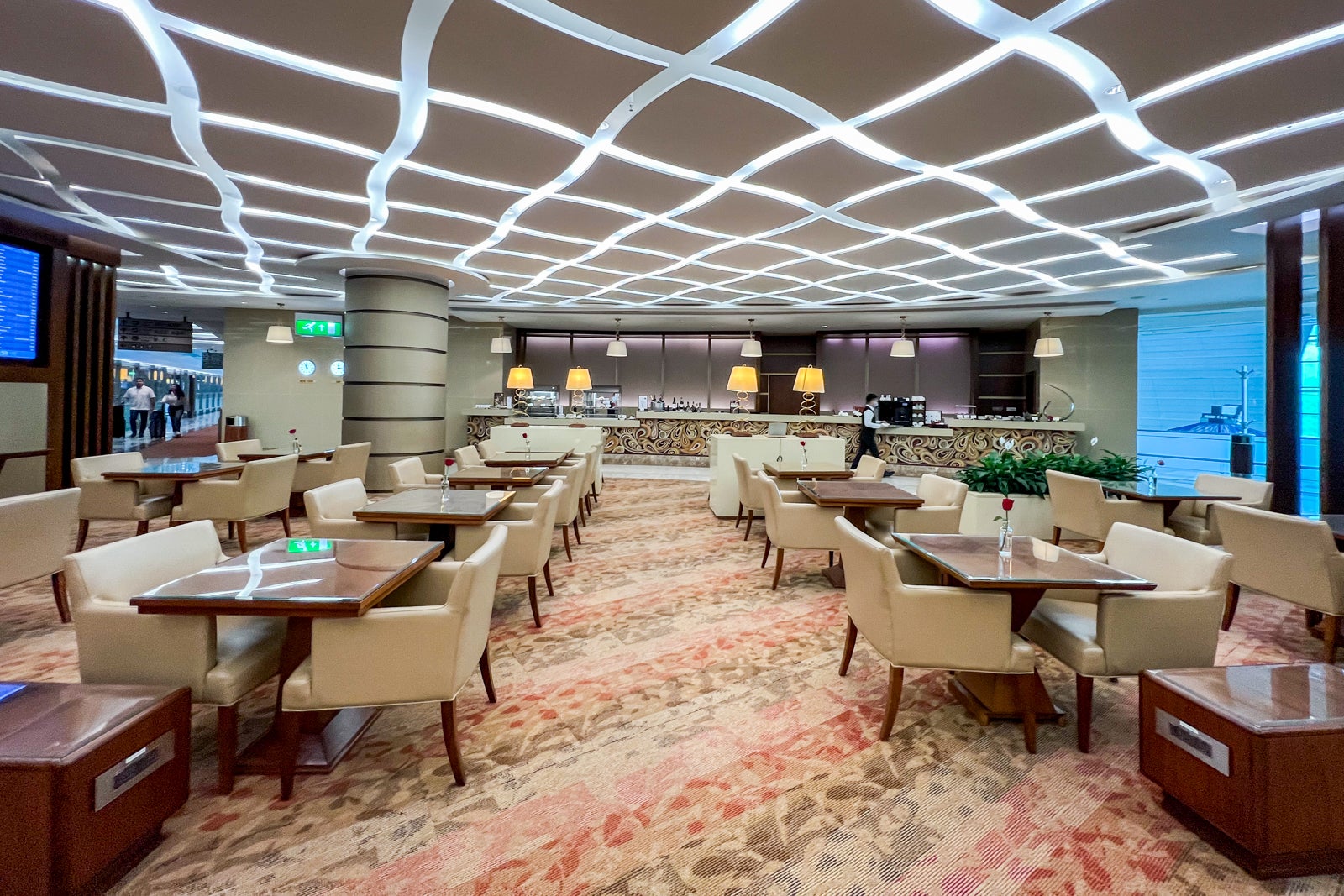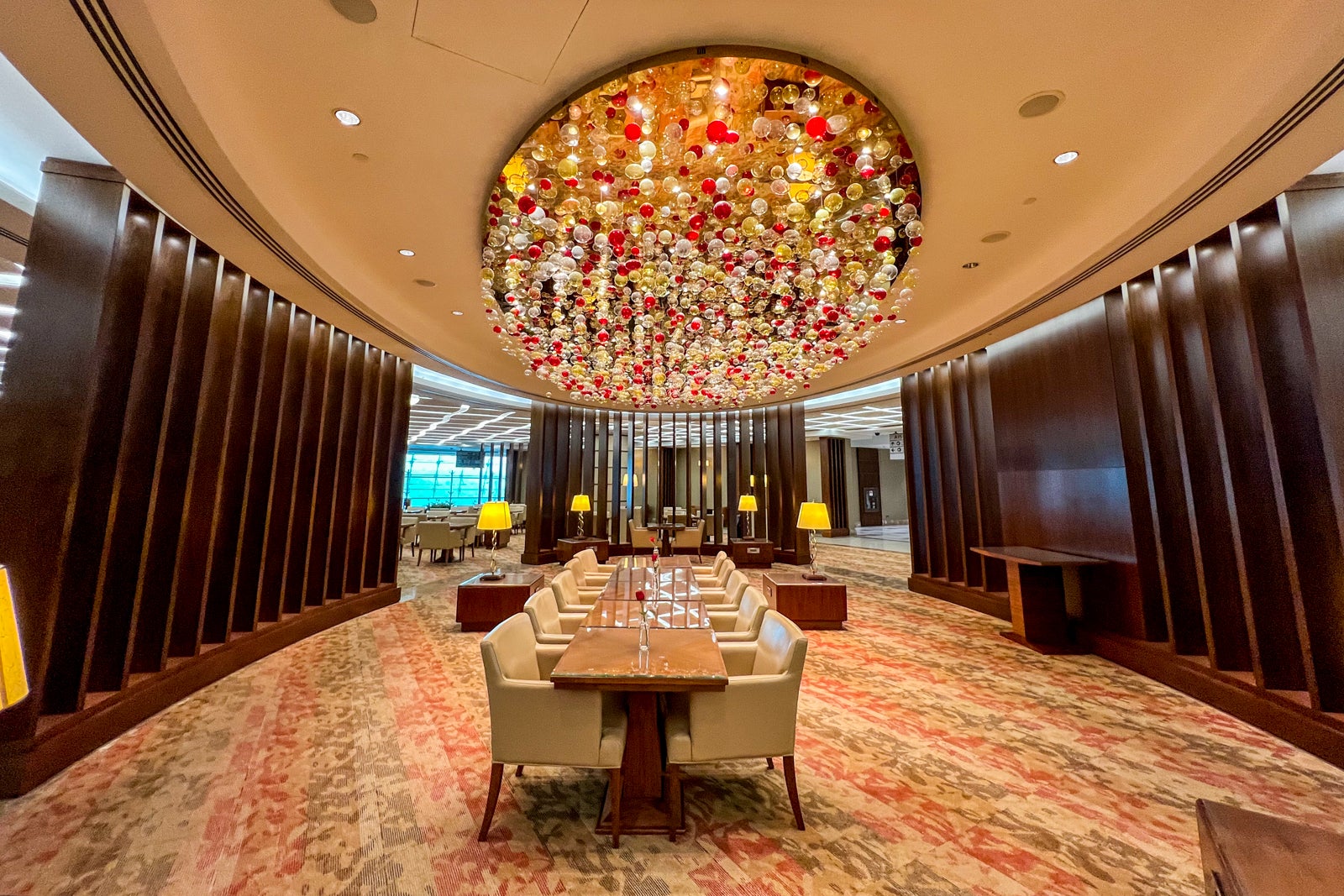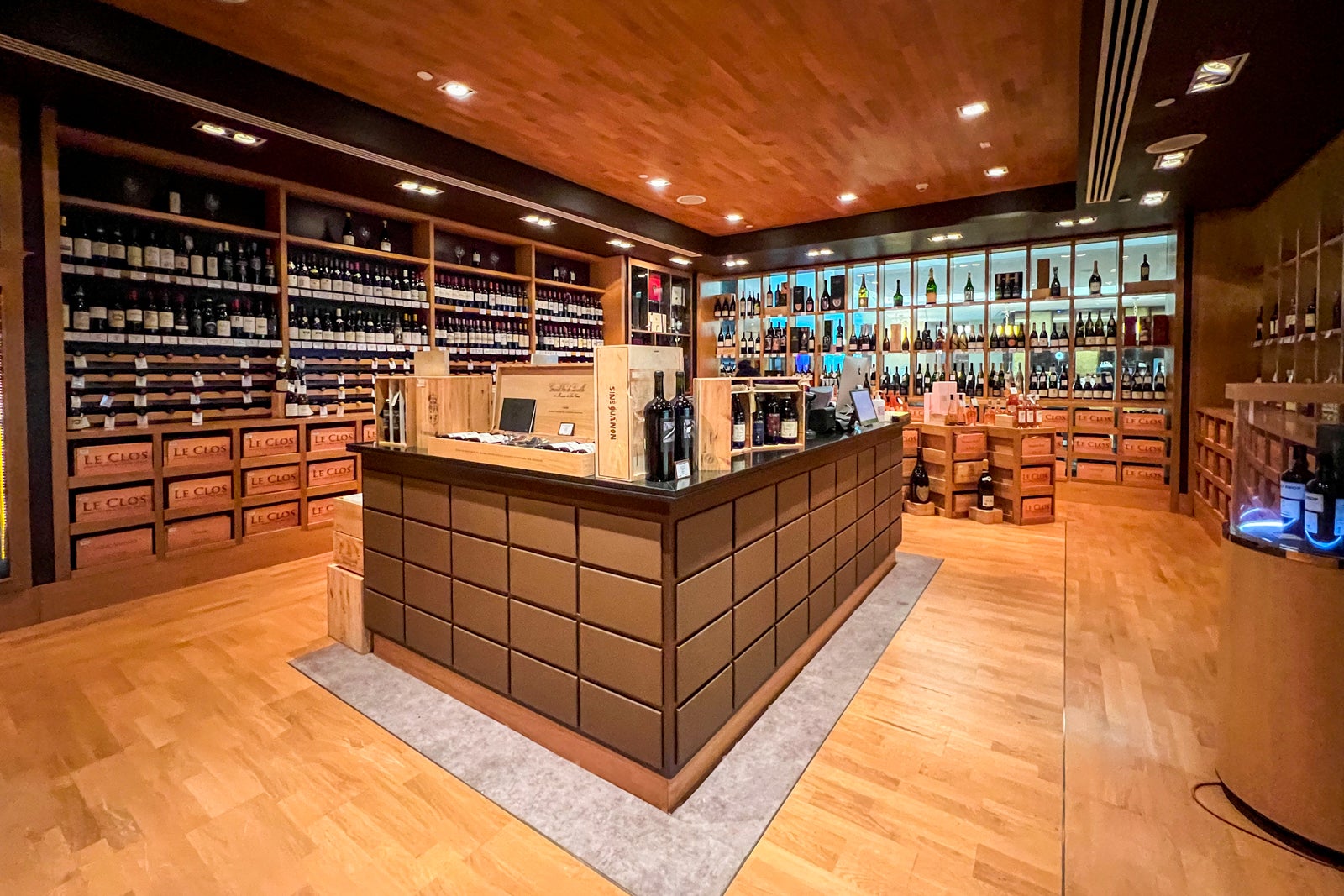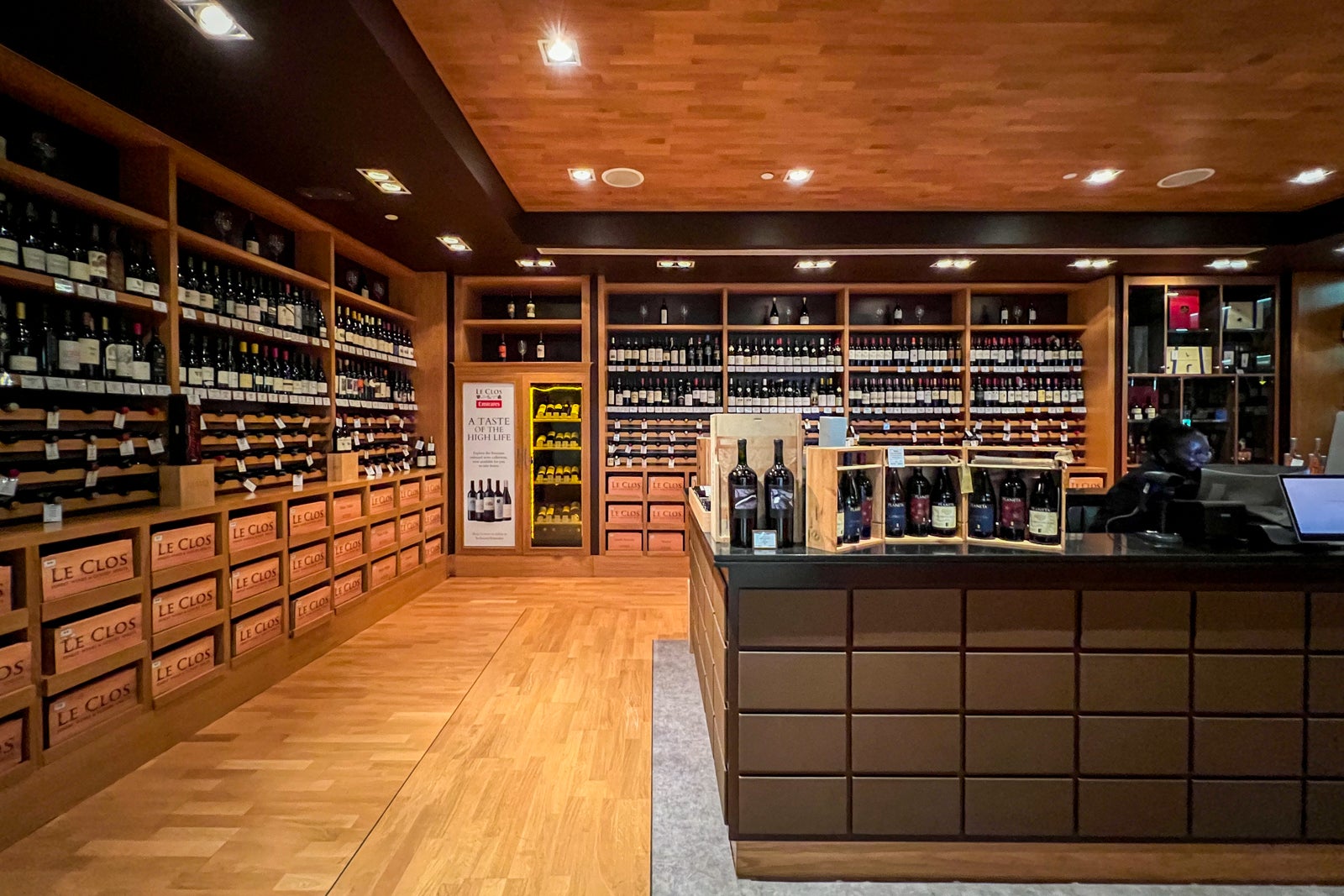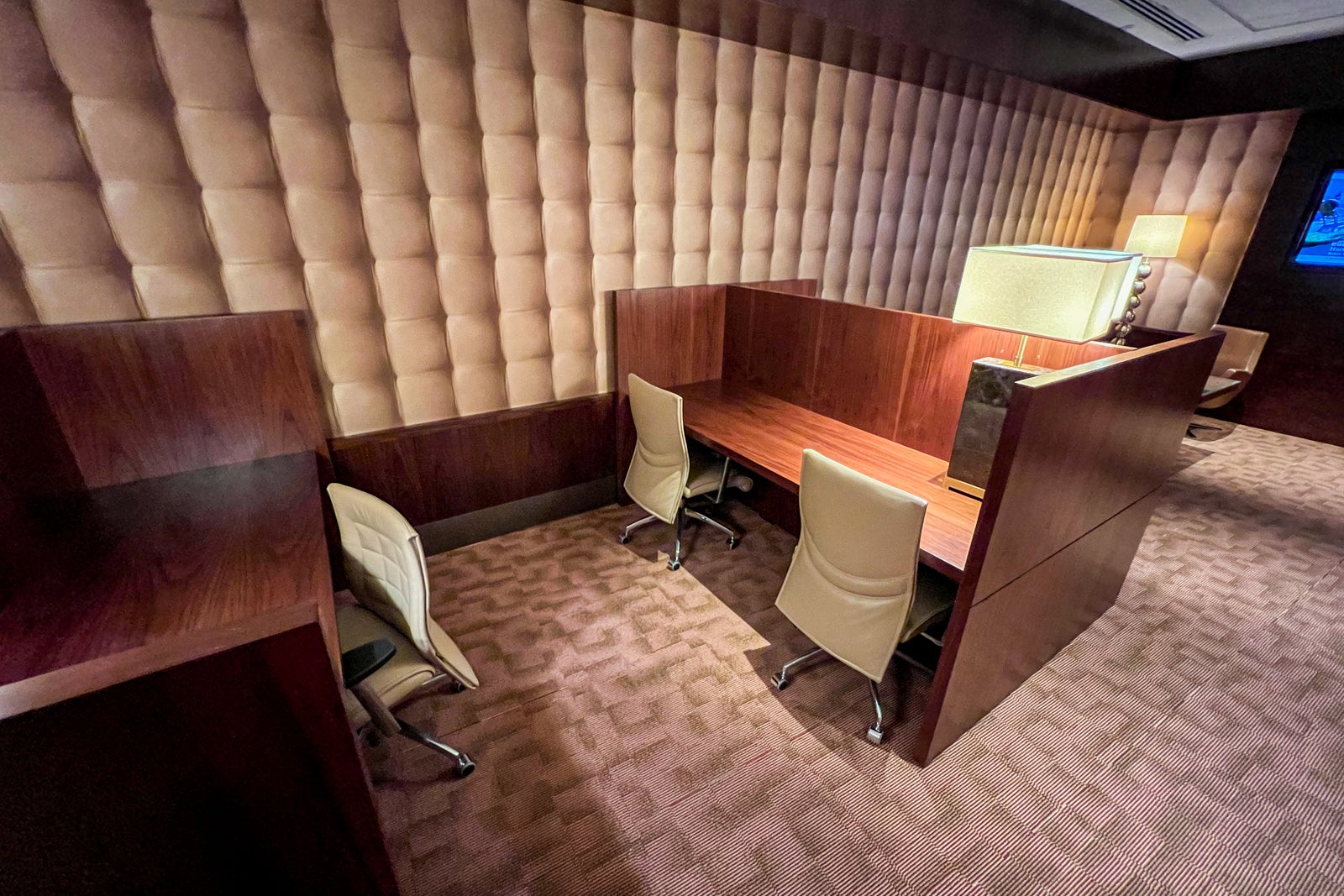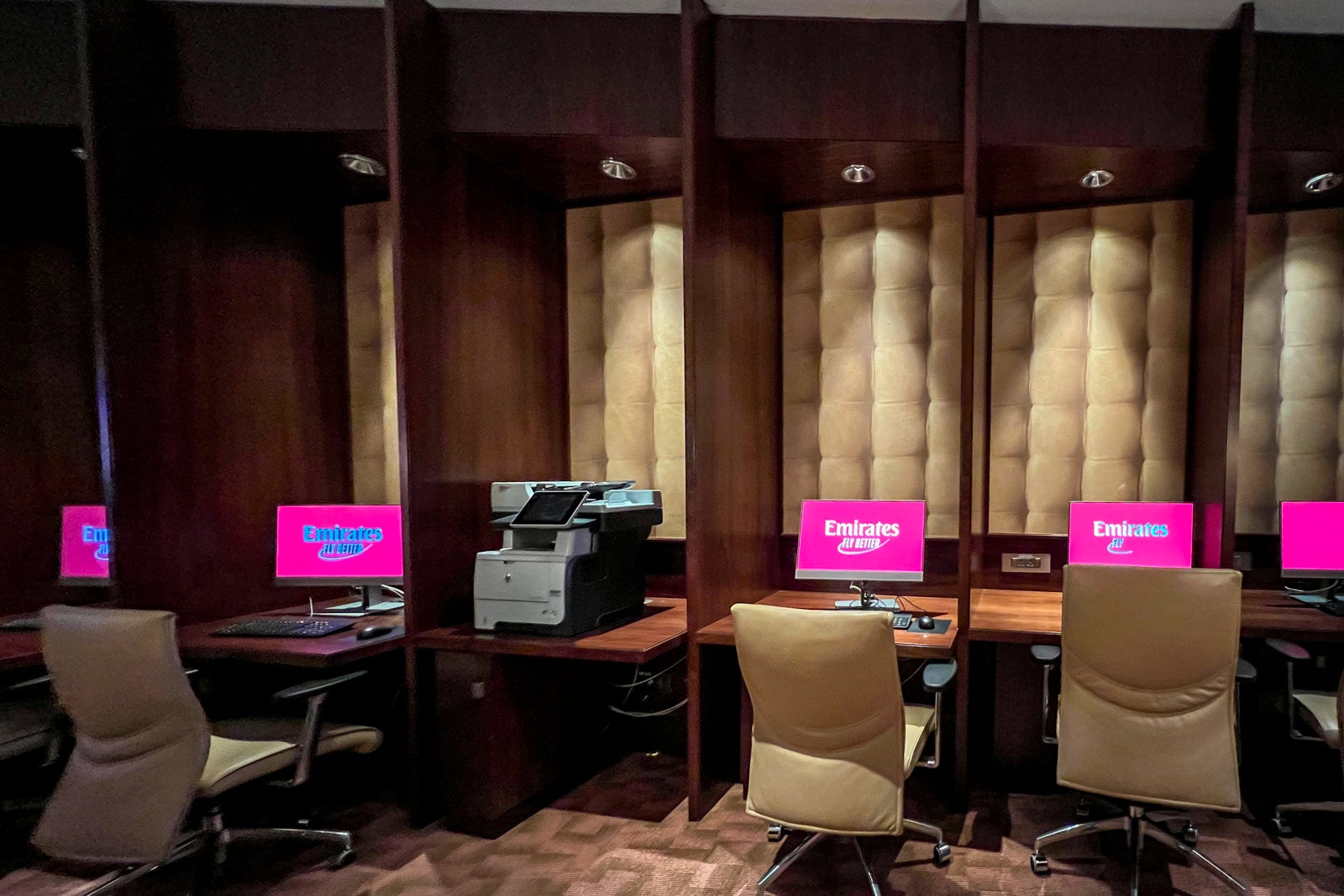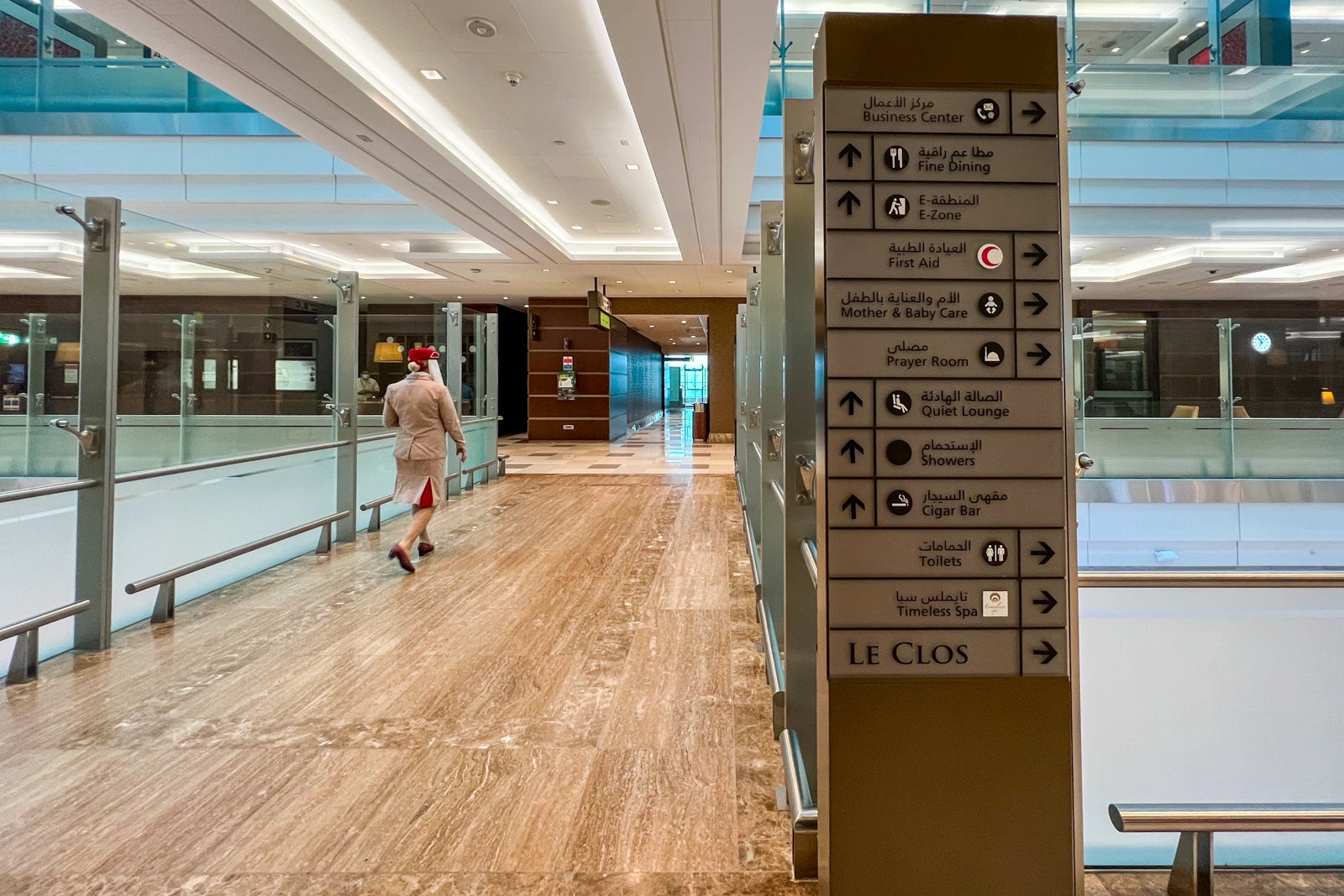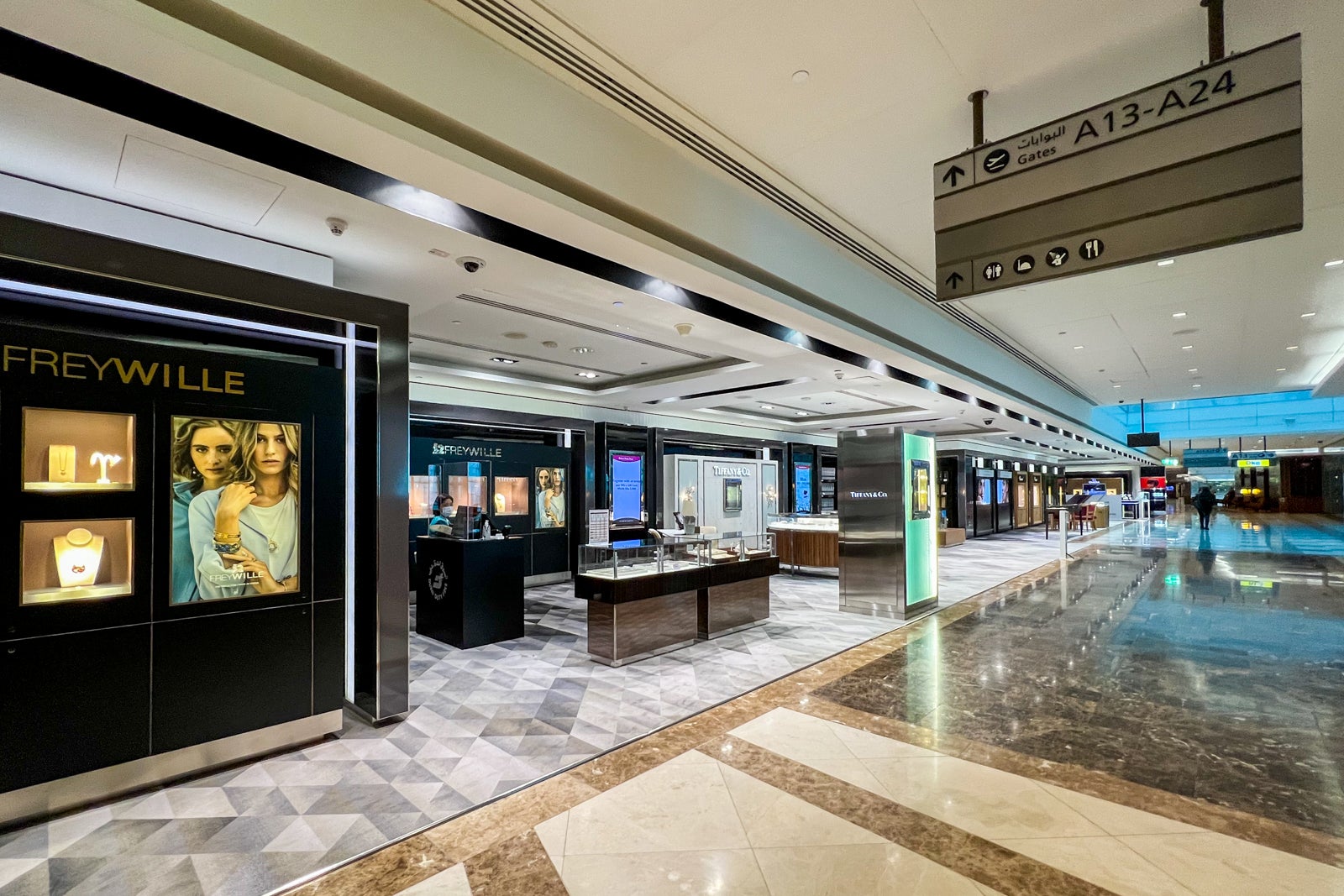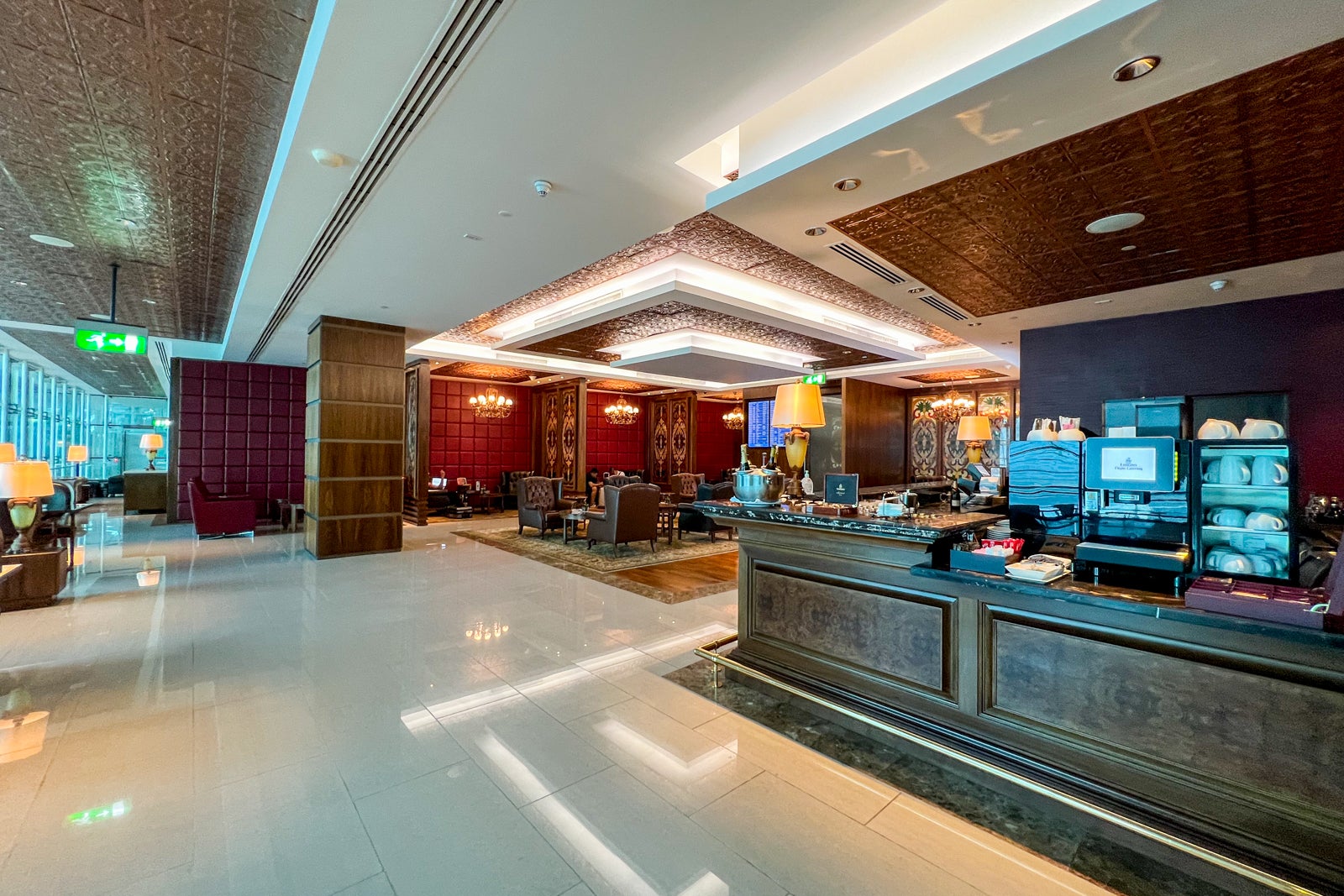 The dining room has a buffet with small plated items like fresh fruit and cold cuts. However, rather than taking items yourself, you can just tell your server what you'd like and they will bring it all to your table.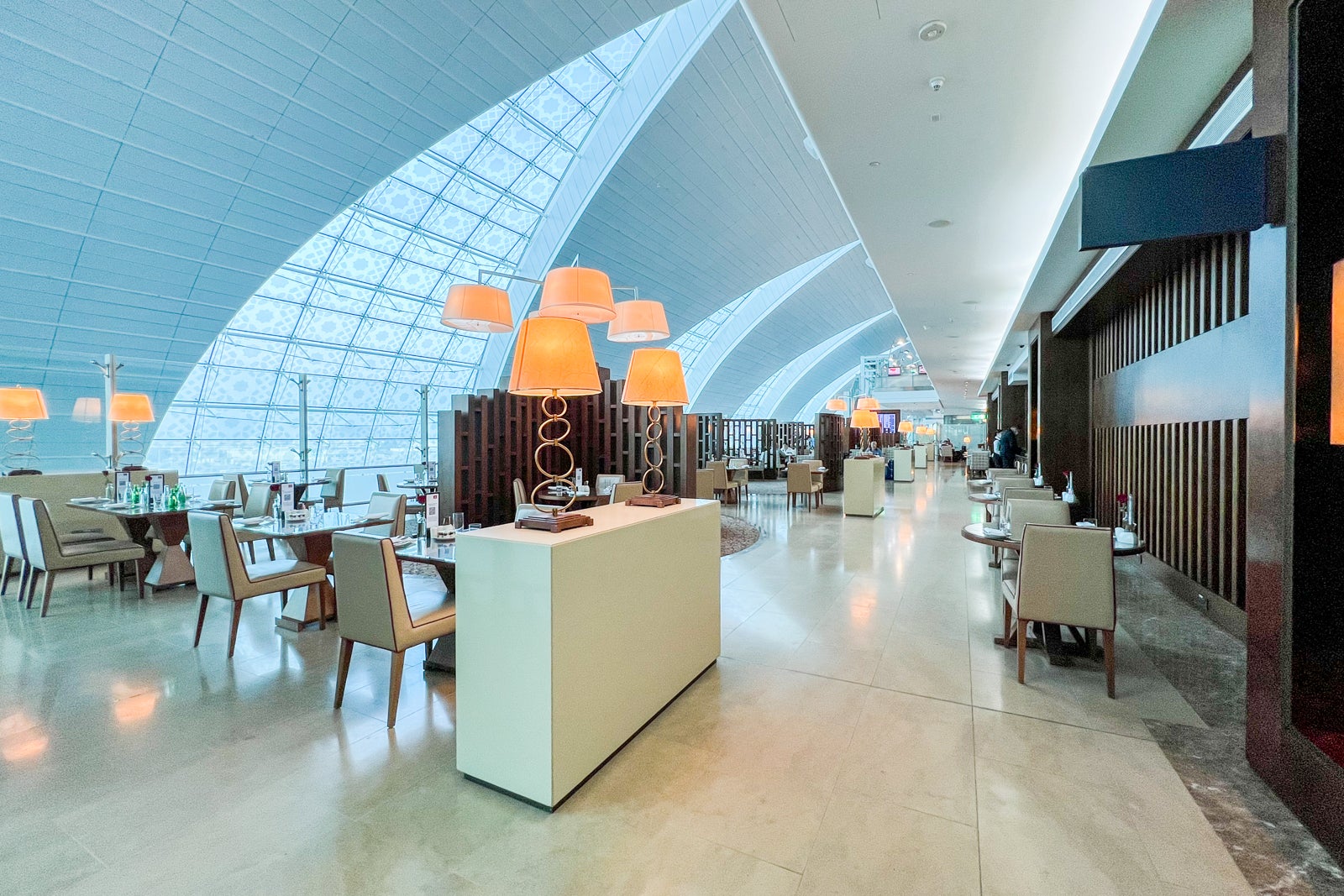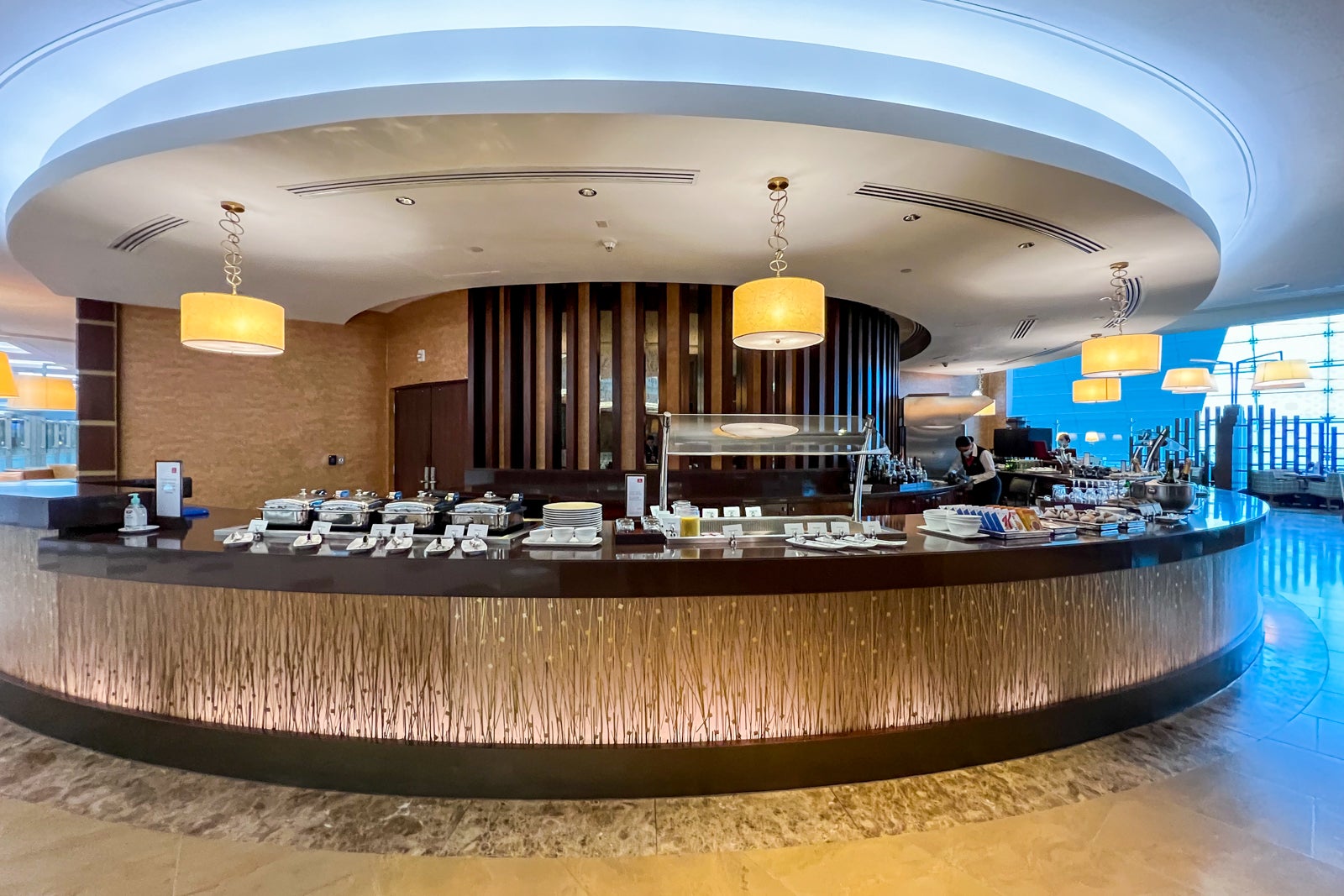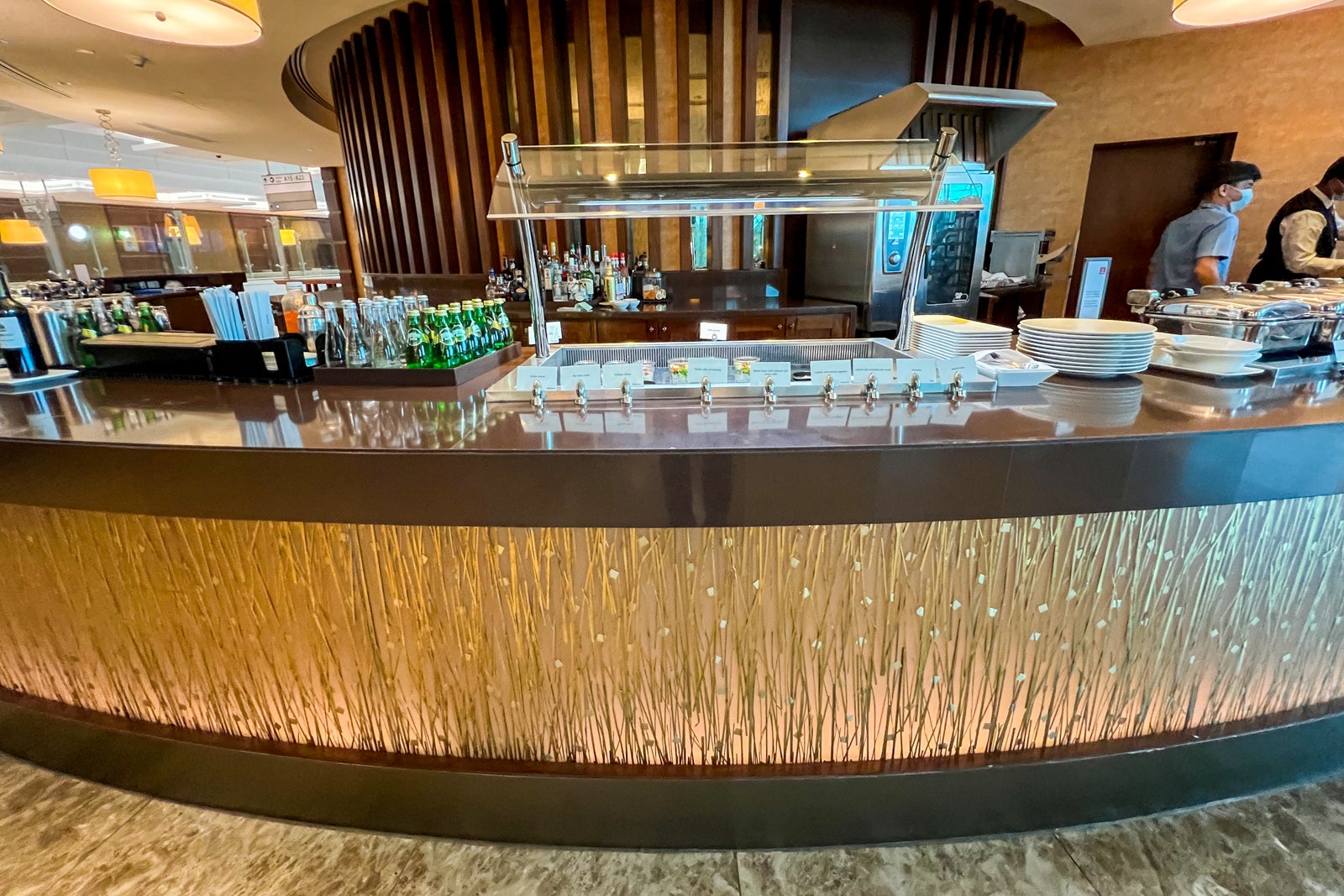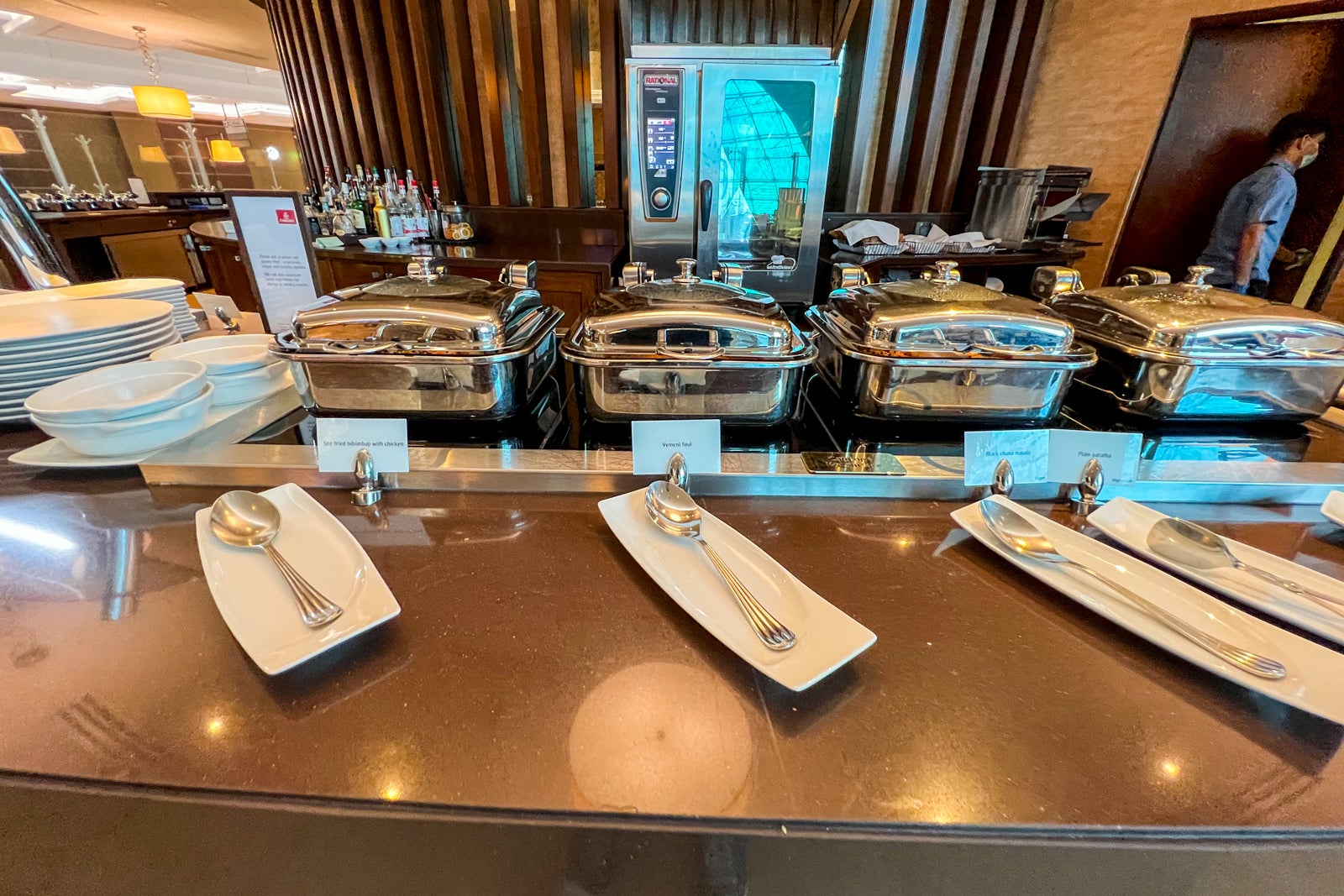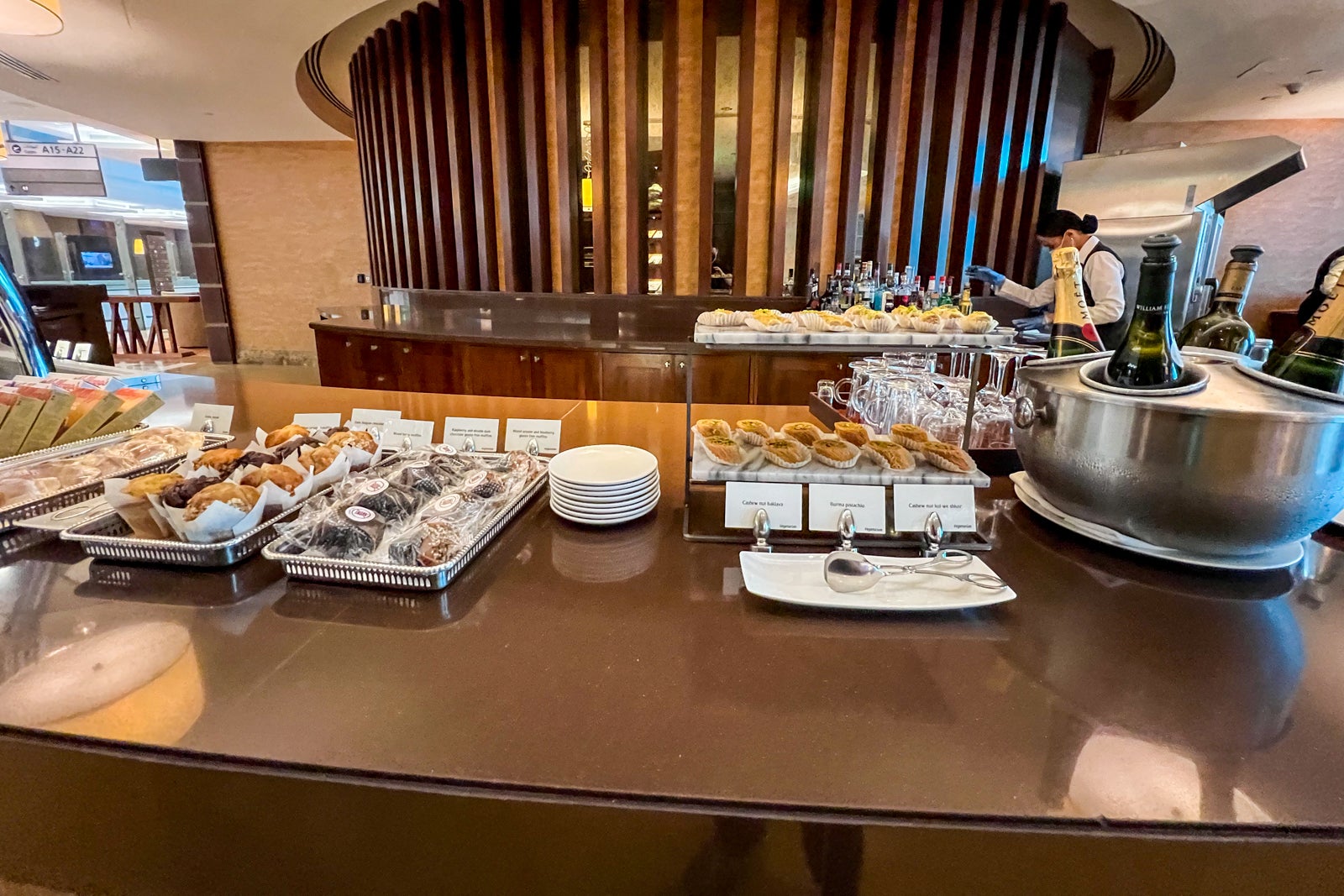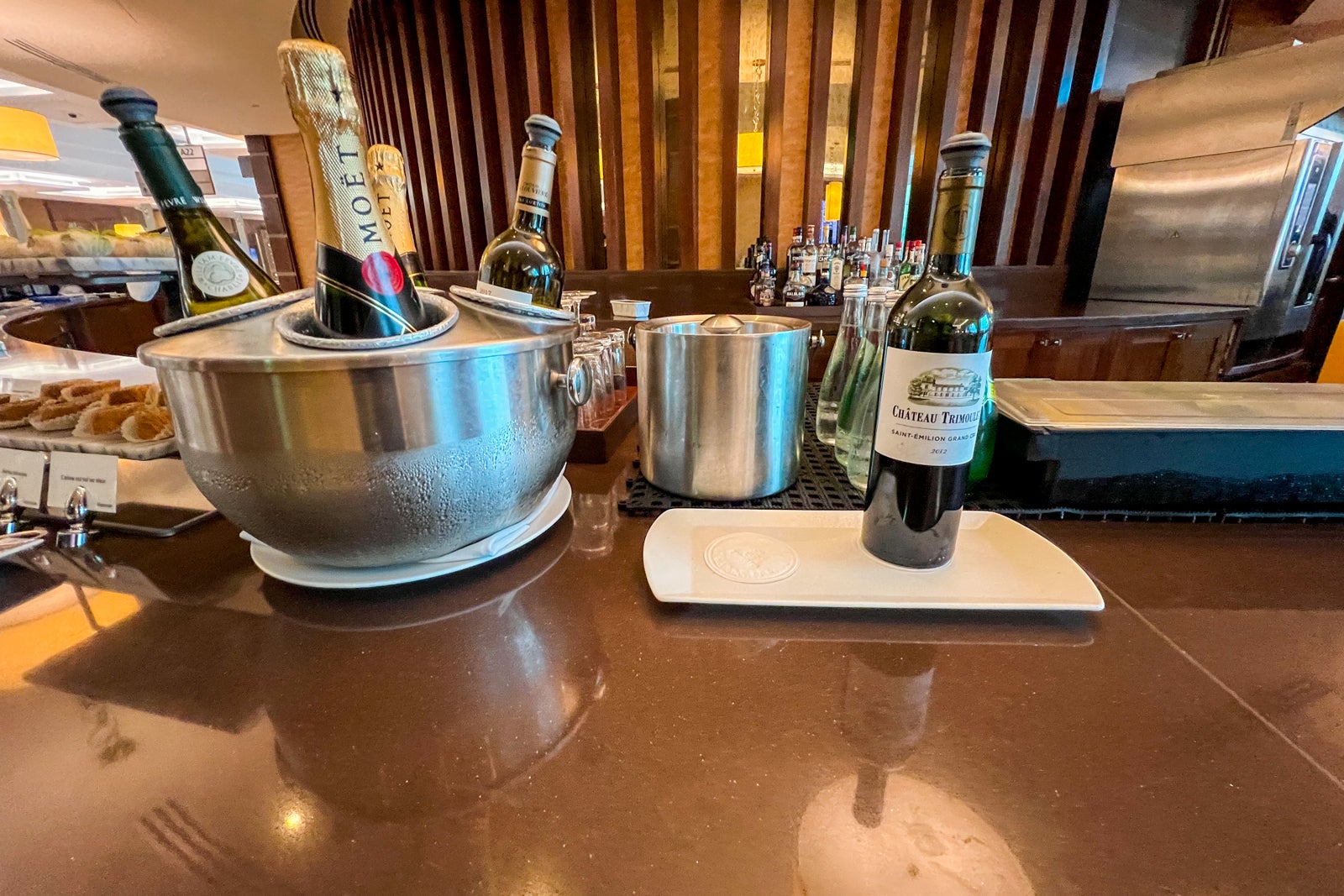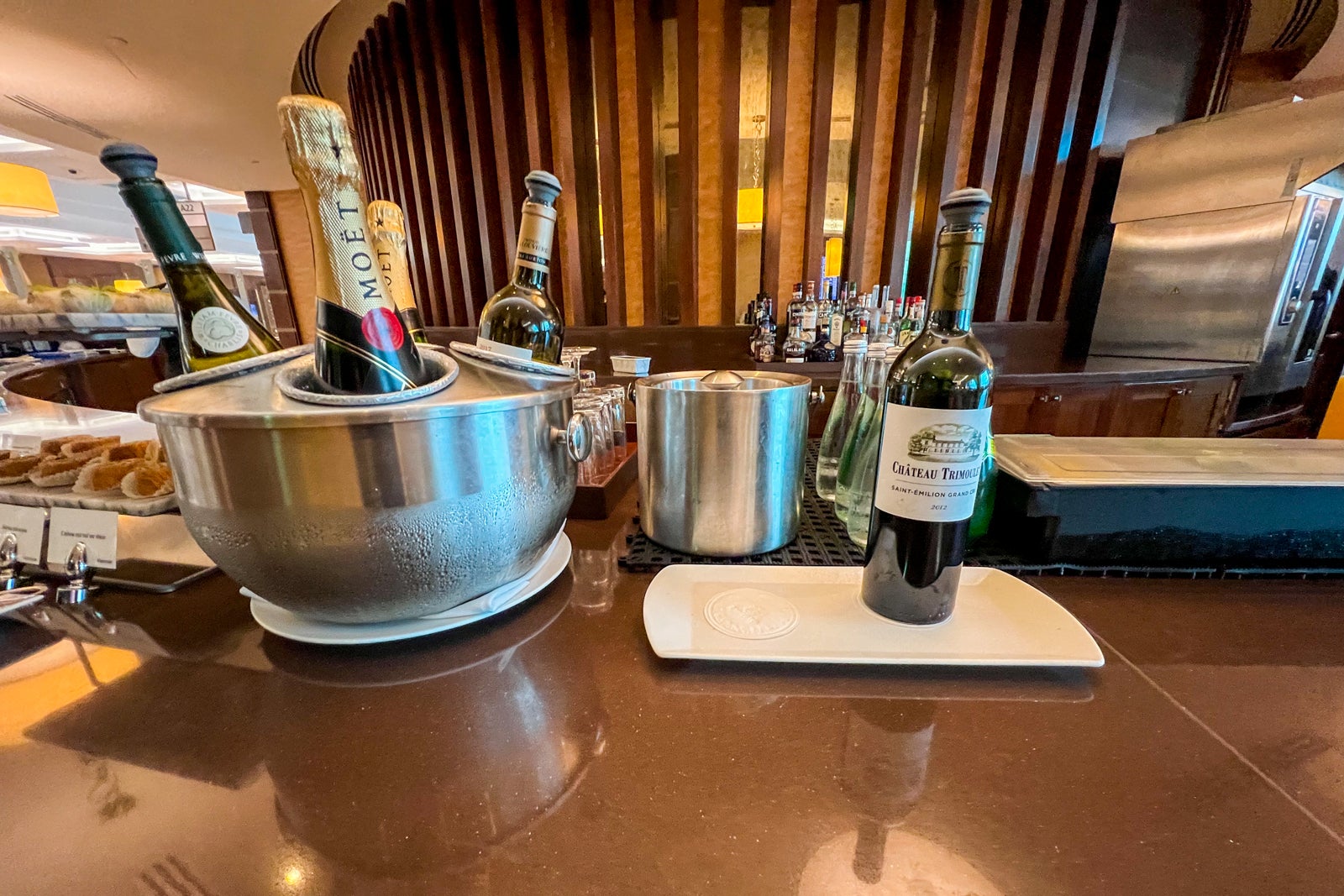 I asked for a cappuccino and a fruit plate then ordered scrambled eggs with tomatoes and spices, as well as a round of khameer bread with sesame seeds, which arrived within 10 minutes and was piping hot and delicious.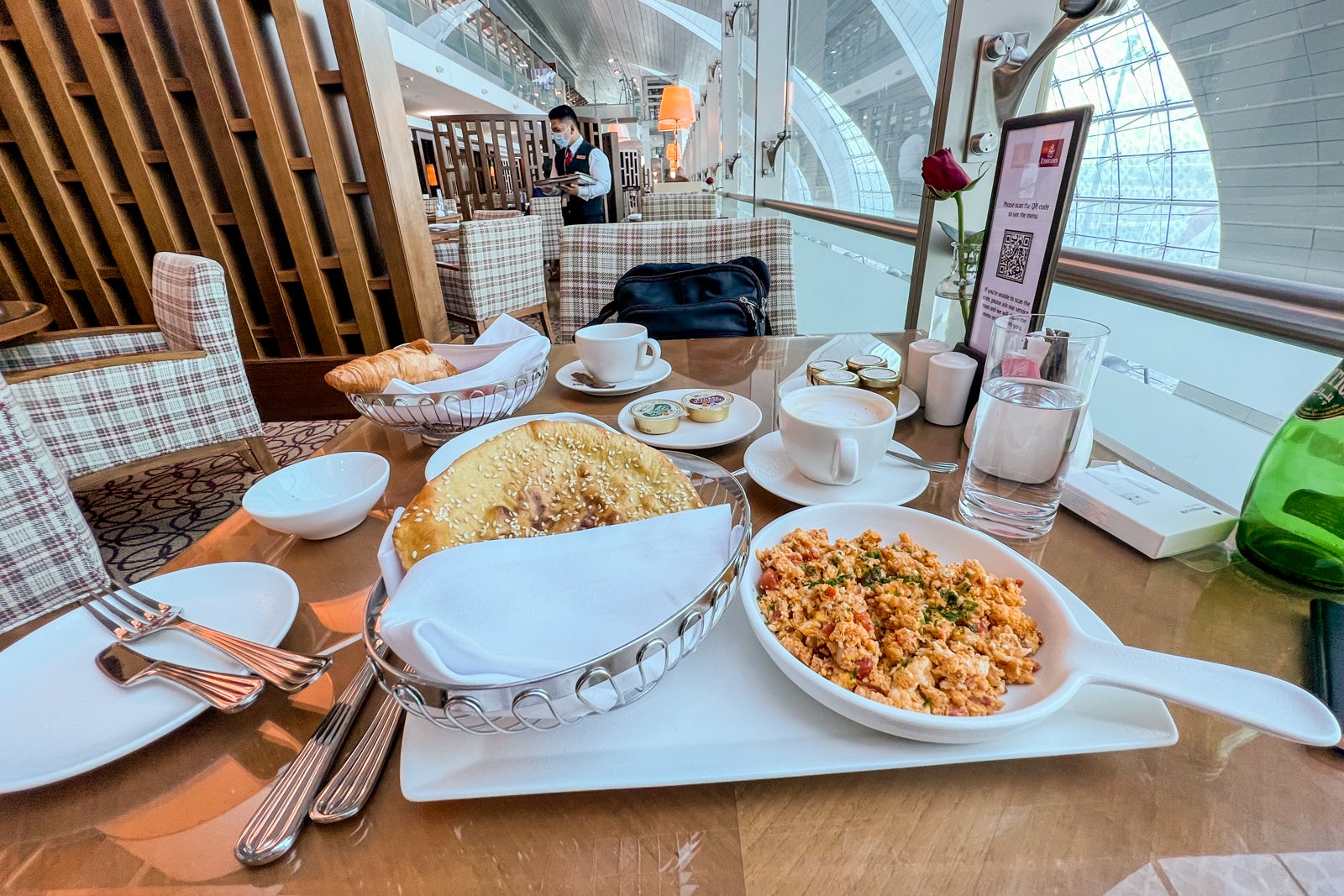 Before long, my escort collected me to take me to the gate area, where she whisked me past the other lined-up passengers and straight to the gate agent. He scanned my boarding pass and then directed me to a special shuttle waiting to take first-class passengers to our remote stand.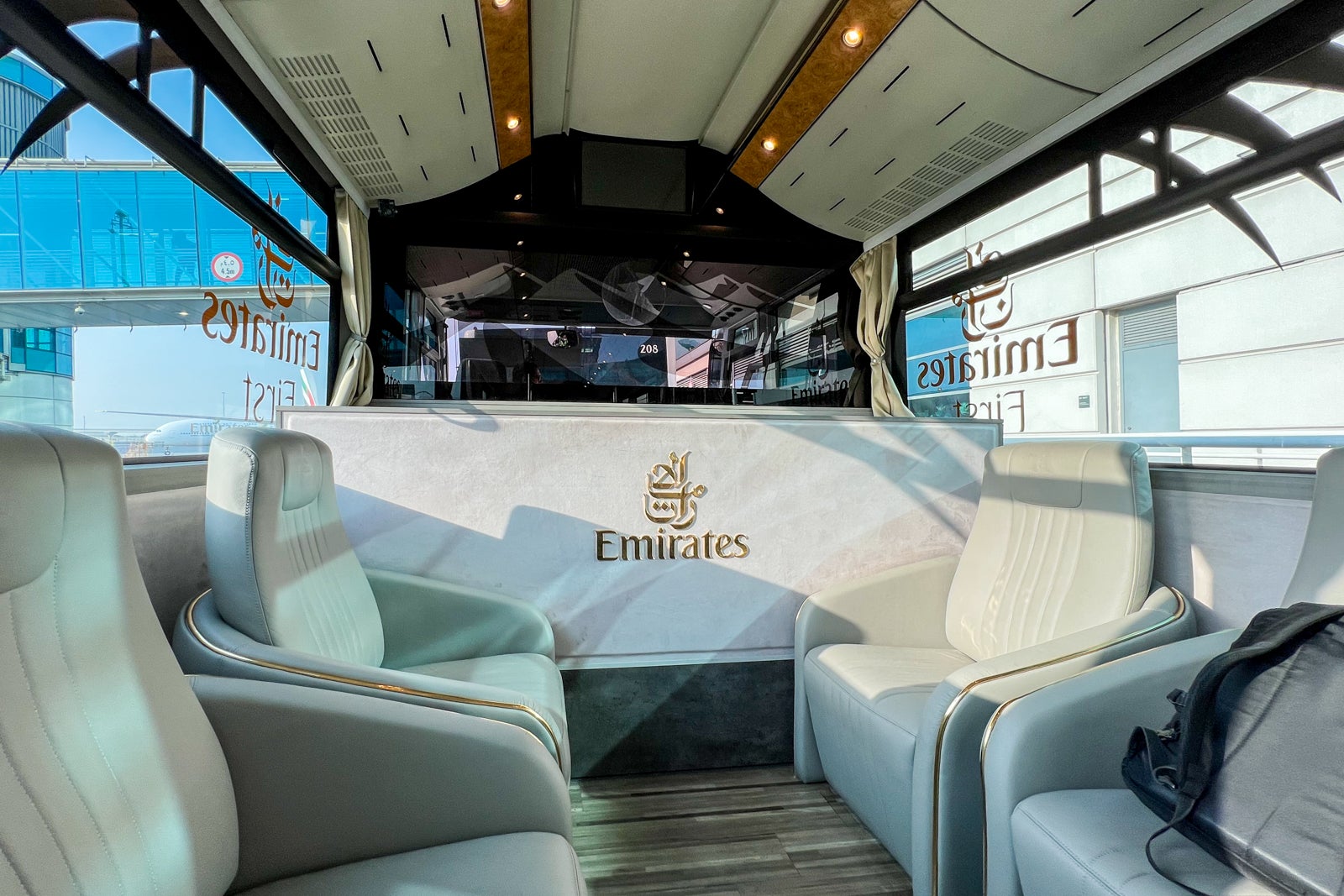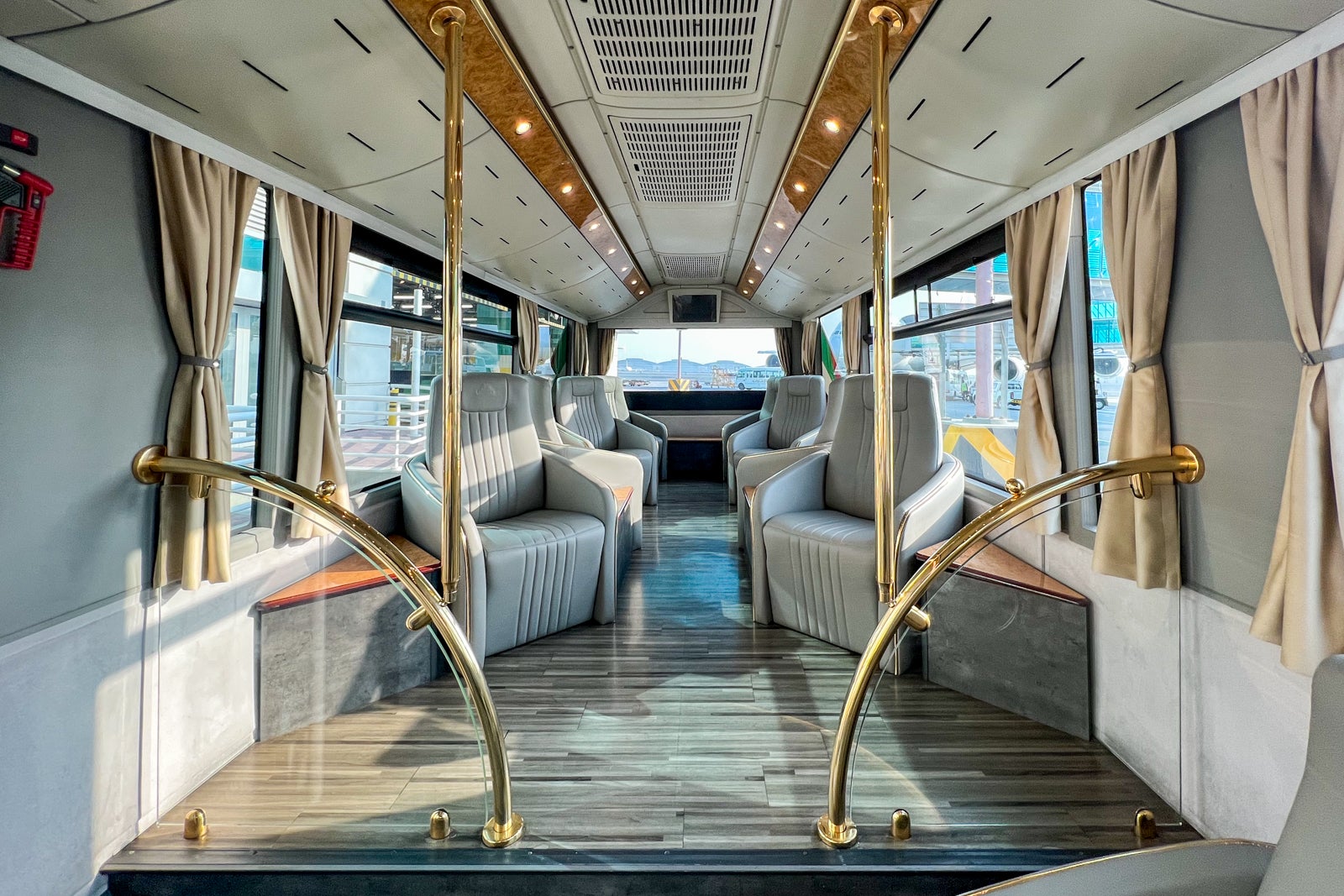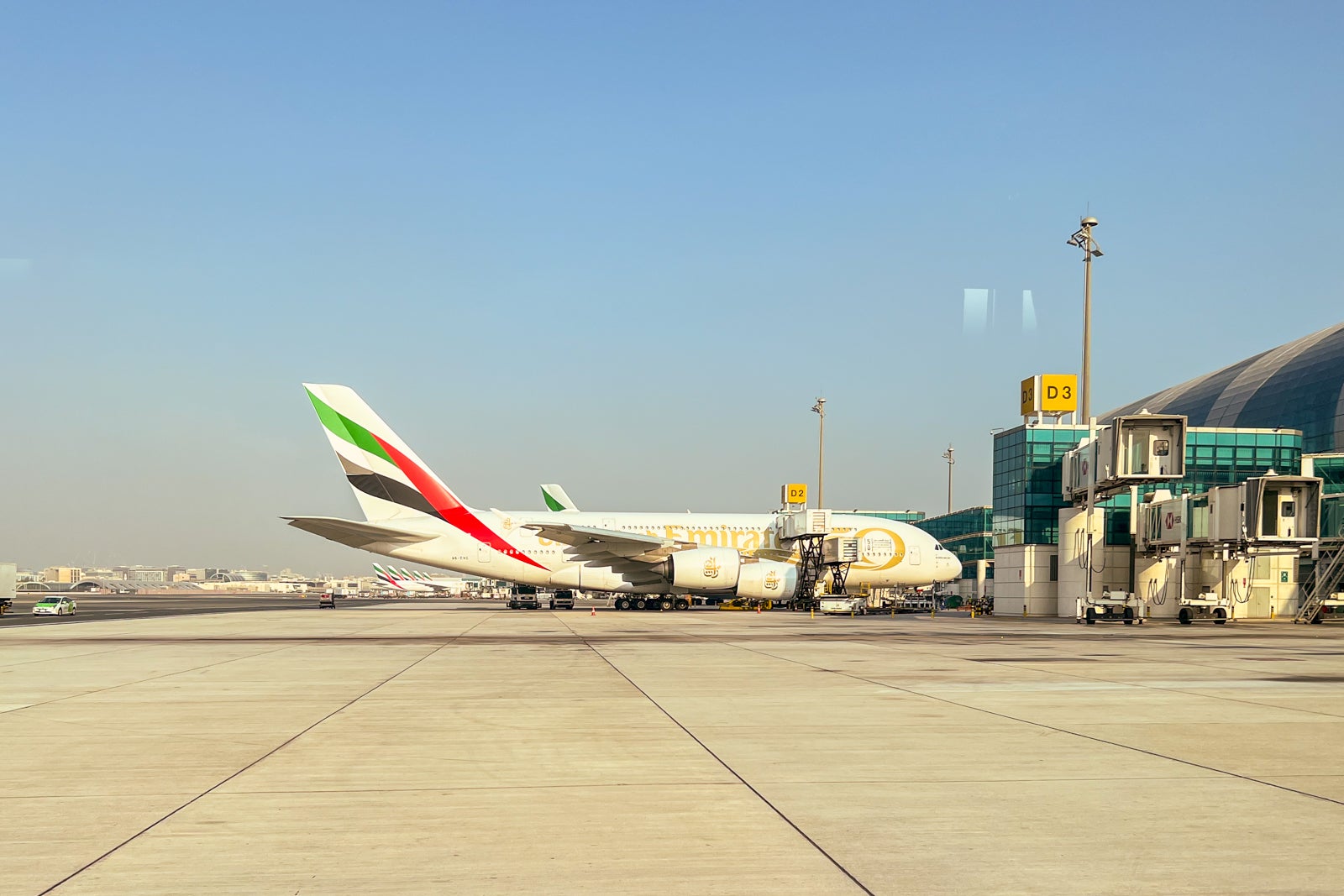 The shuttle was a like a luxurious minibus with leather banquette seating. The other first-class passengers must have been taking their time because I was the only one on board when we started driving to the plane.
As we did, I saw the passengers in other classes starting to board a larger bus in a big group to be driven out after me.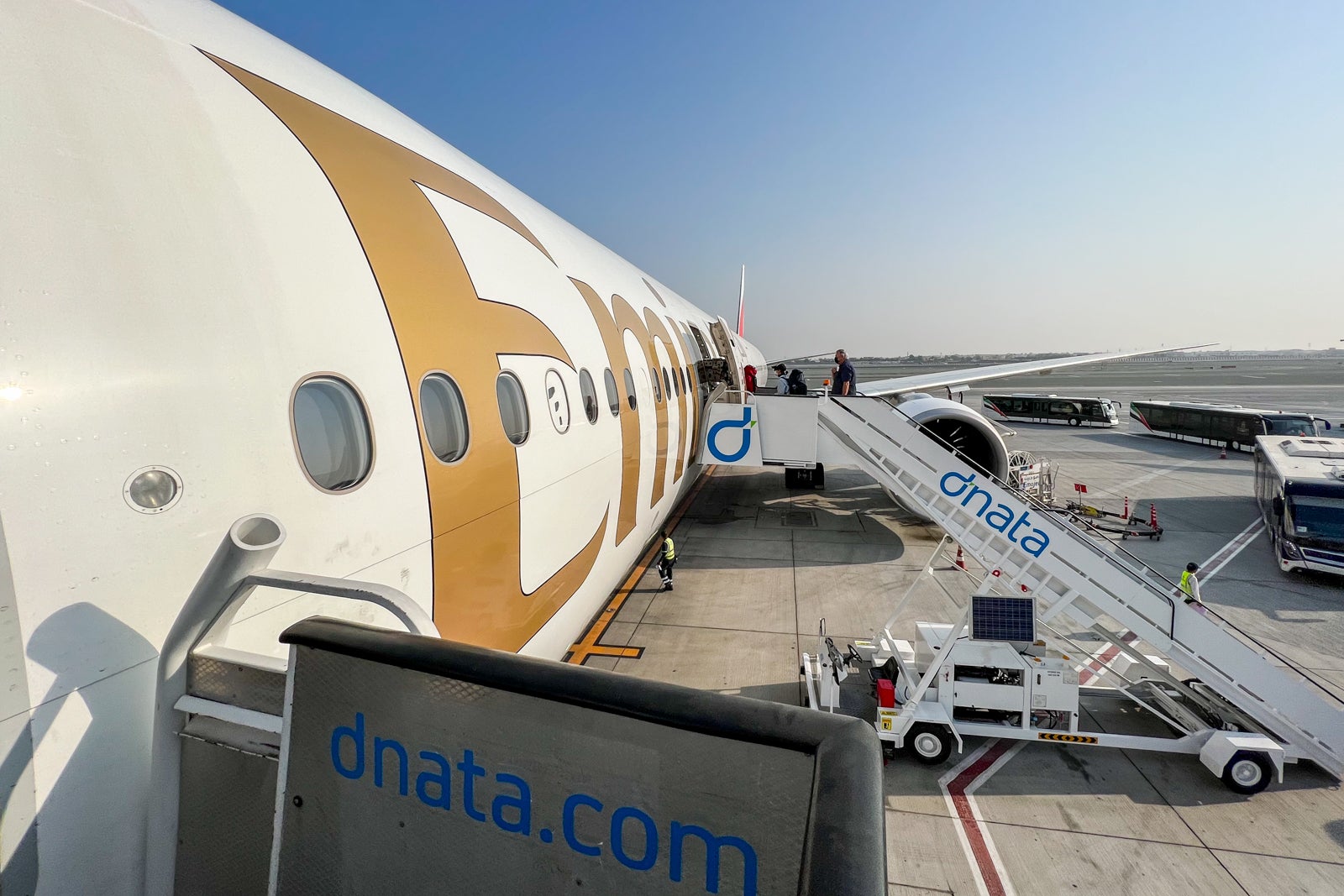 Cabin and suite
I boarded through the front left door and was greeted by name and welcomed aboard by the purser and the two first-class flight attendants who would be taking care of me and the other two passengers flying up front that day.
Since no one else was on board, I took the opportunity to case the cabin and get as many photos of the suites as I could, but I started with the striking motif of the ghaf tree (the U.A.E.'s national tree) emblazoned on the paneling just inside the entryway.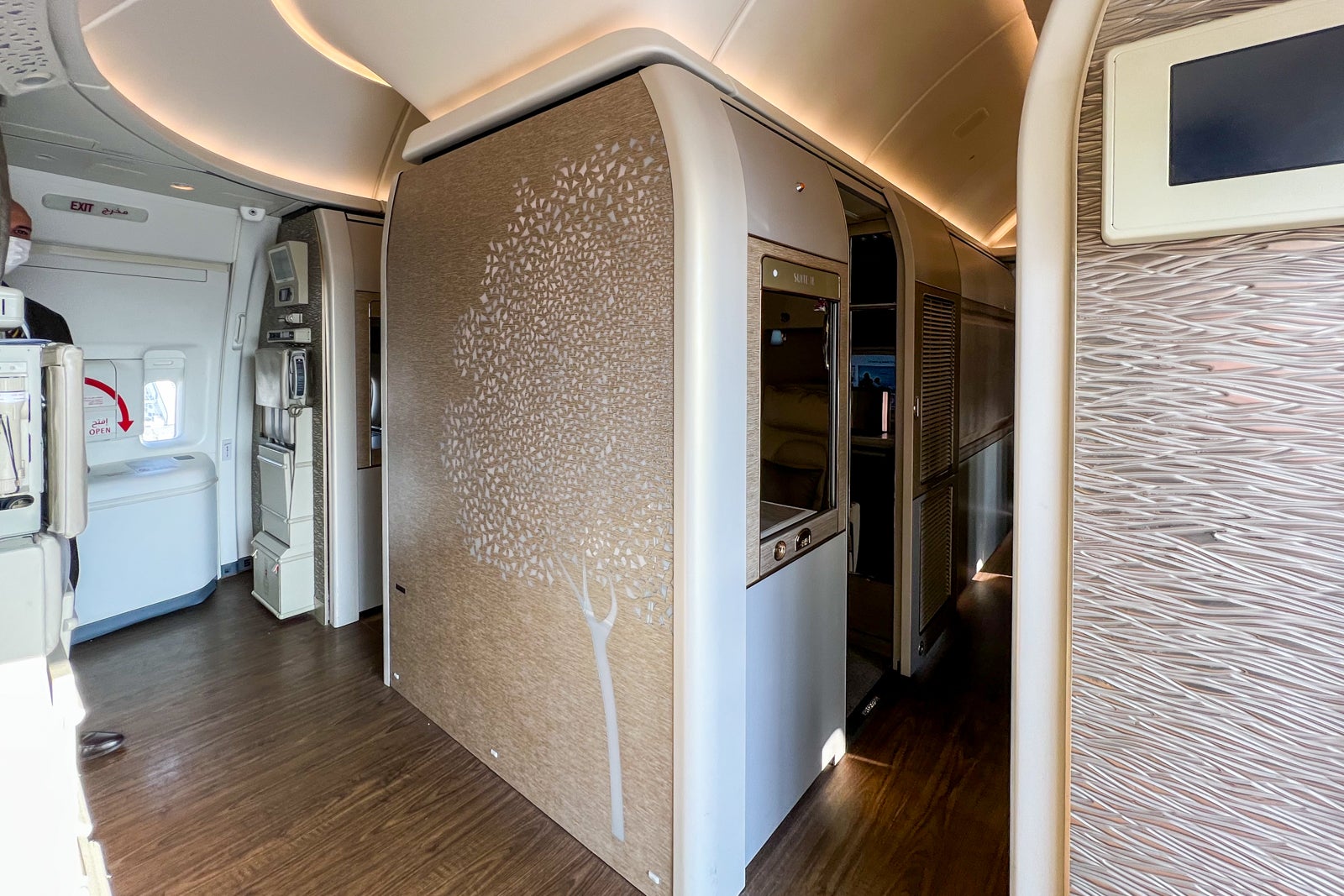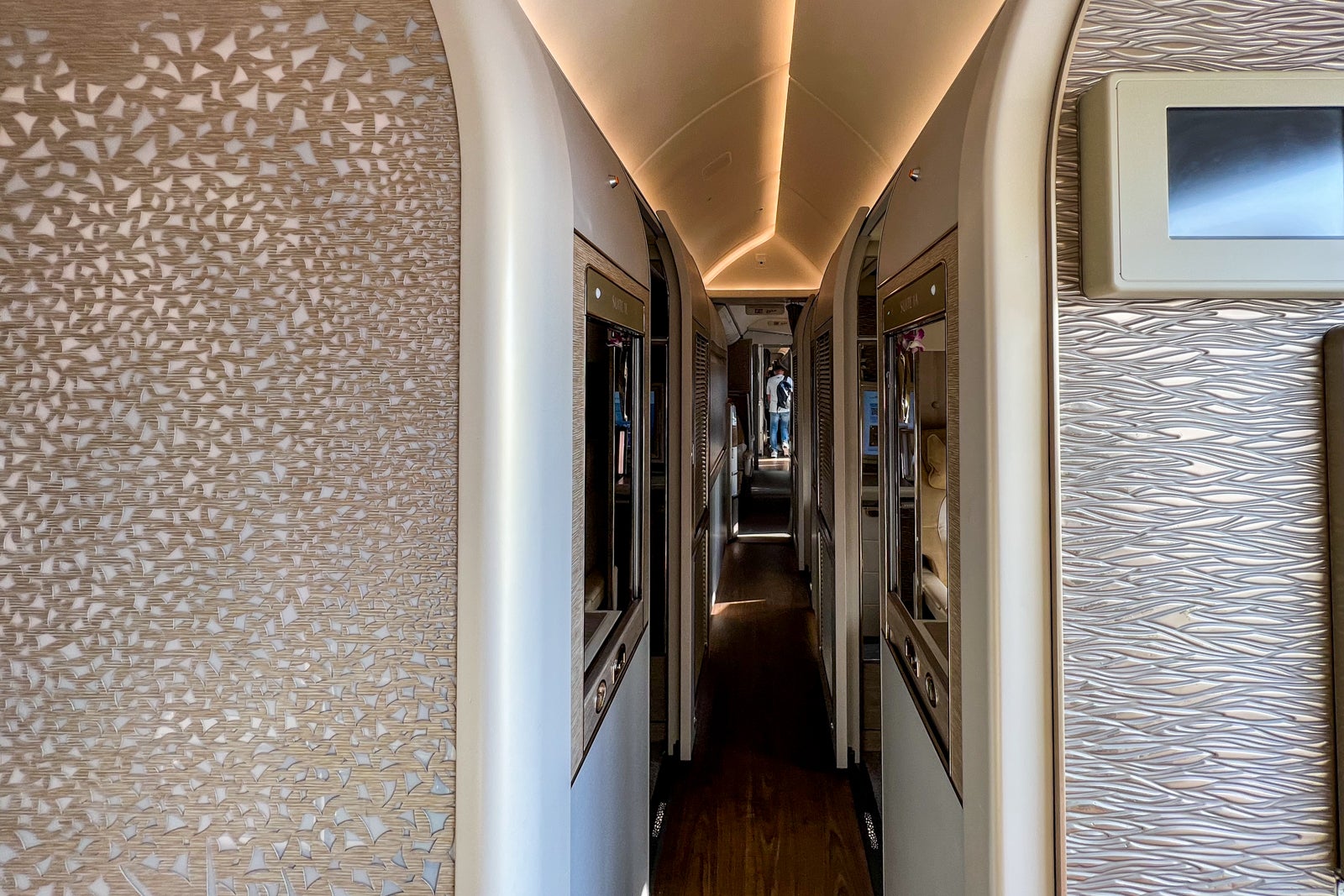 Other than the two other first-class passengers, who boarded about 20 minutes later, all the passengers entered the plane through the second door between the two business-class cabins, so first-class remained quiet before, during and after the flight.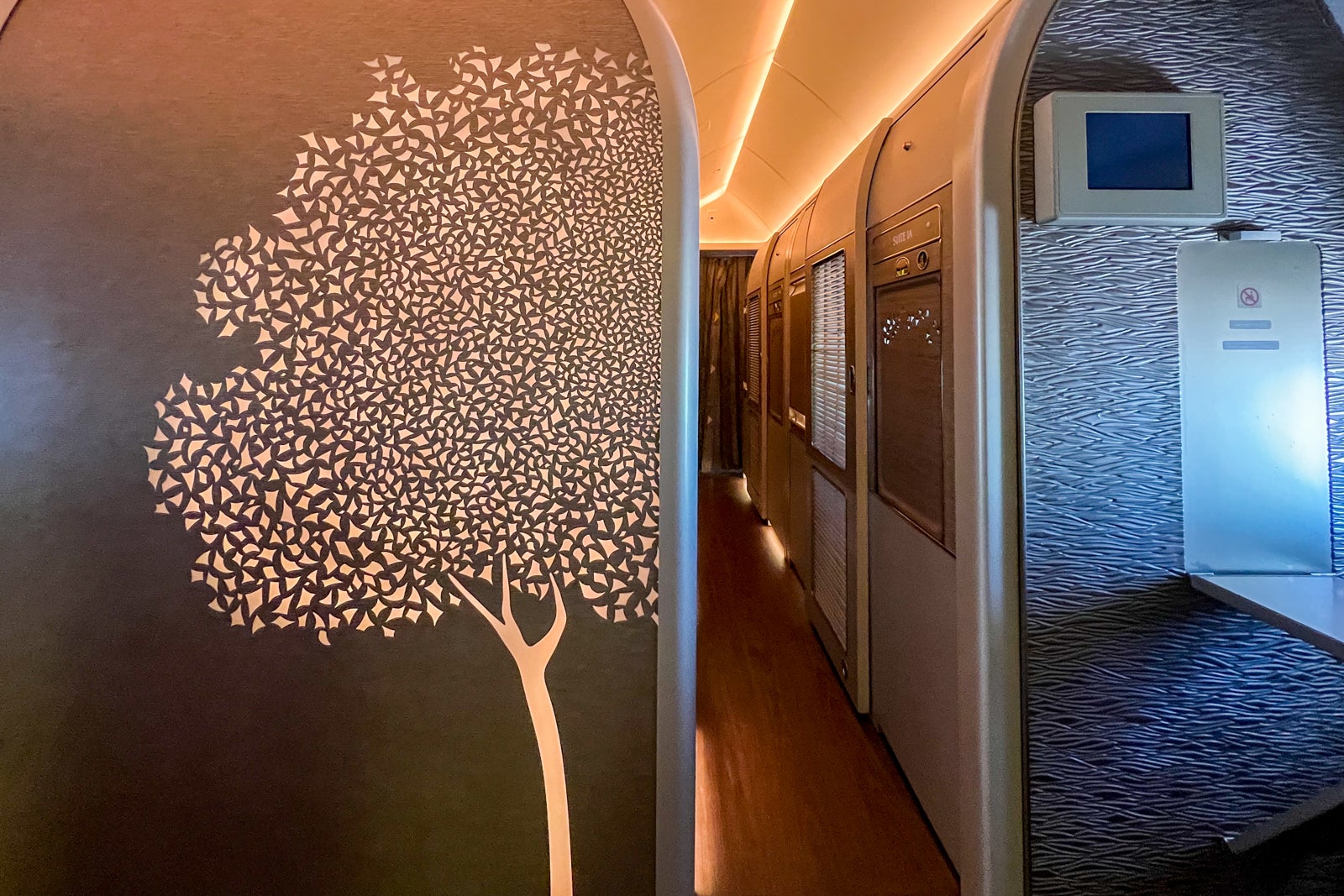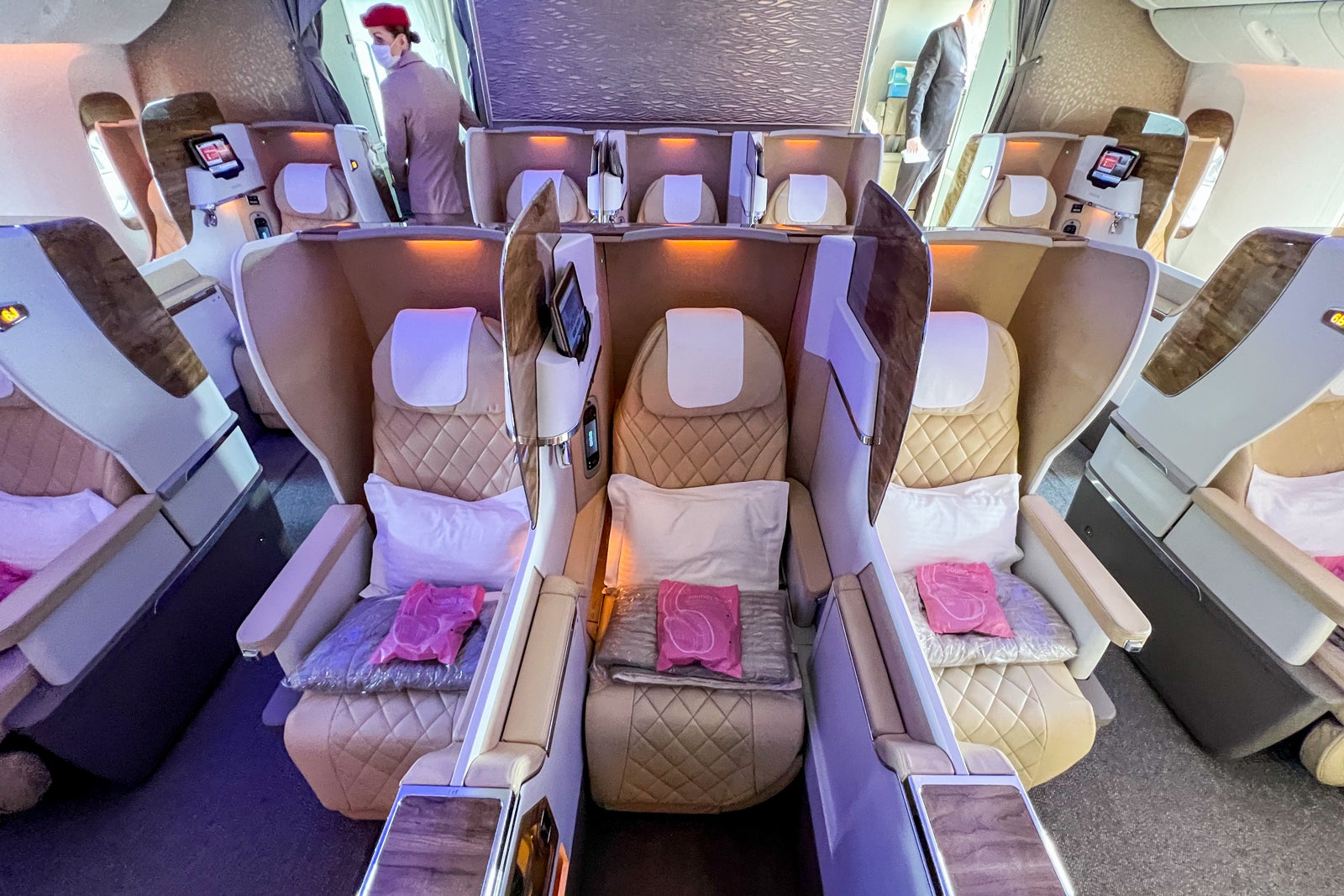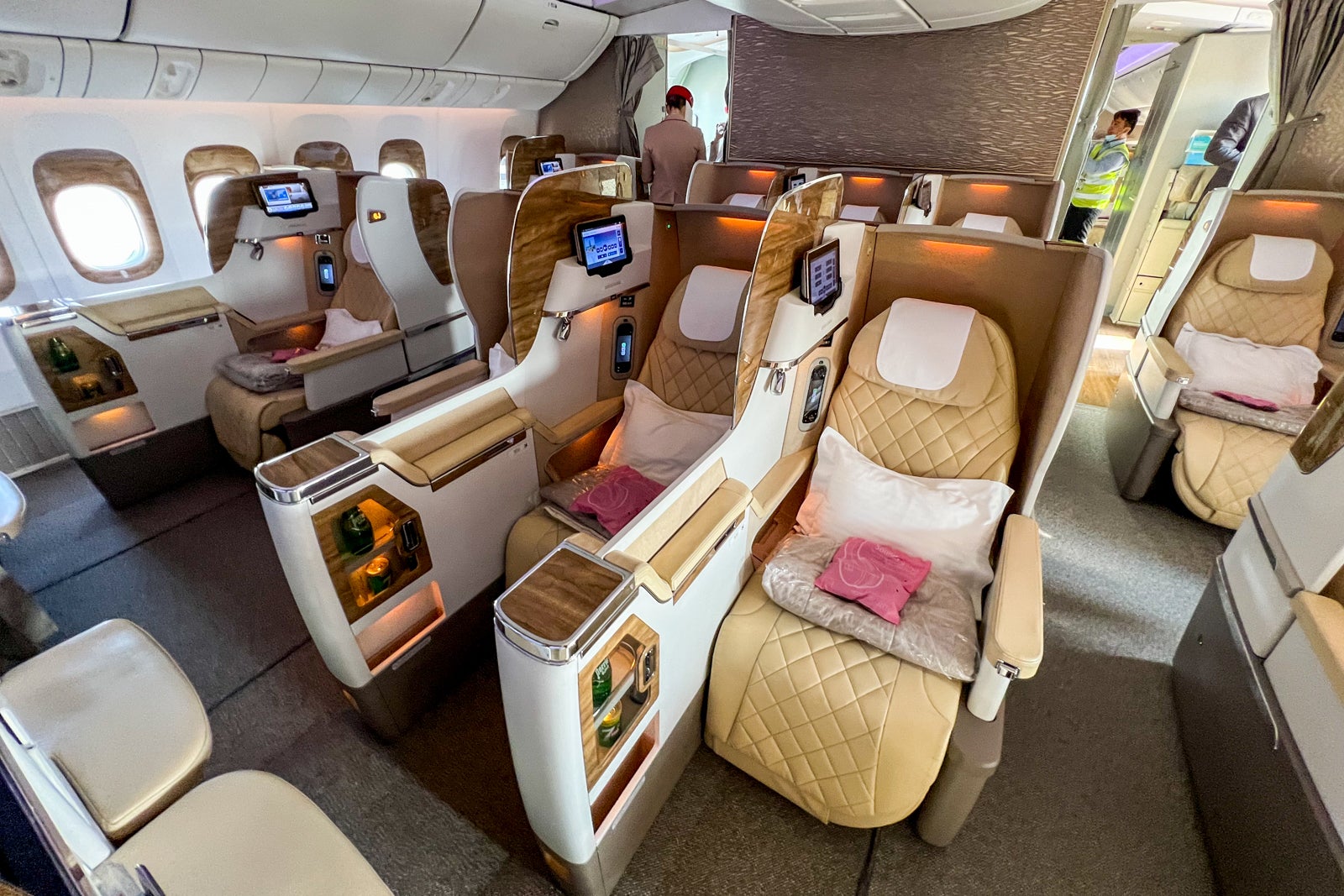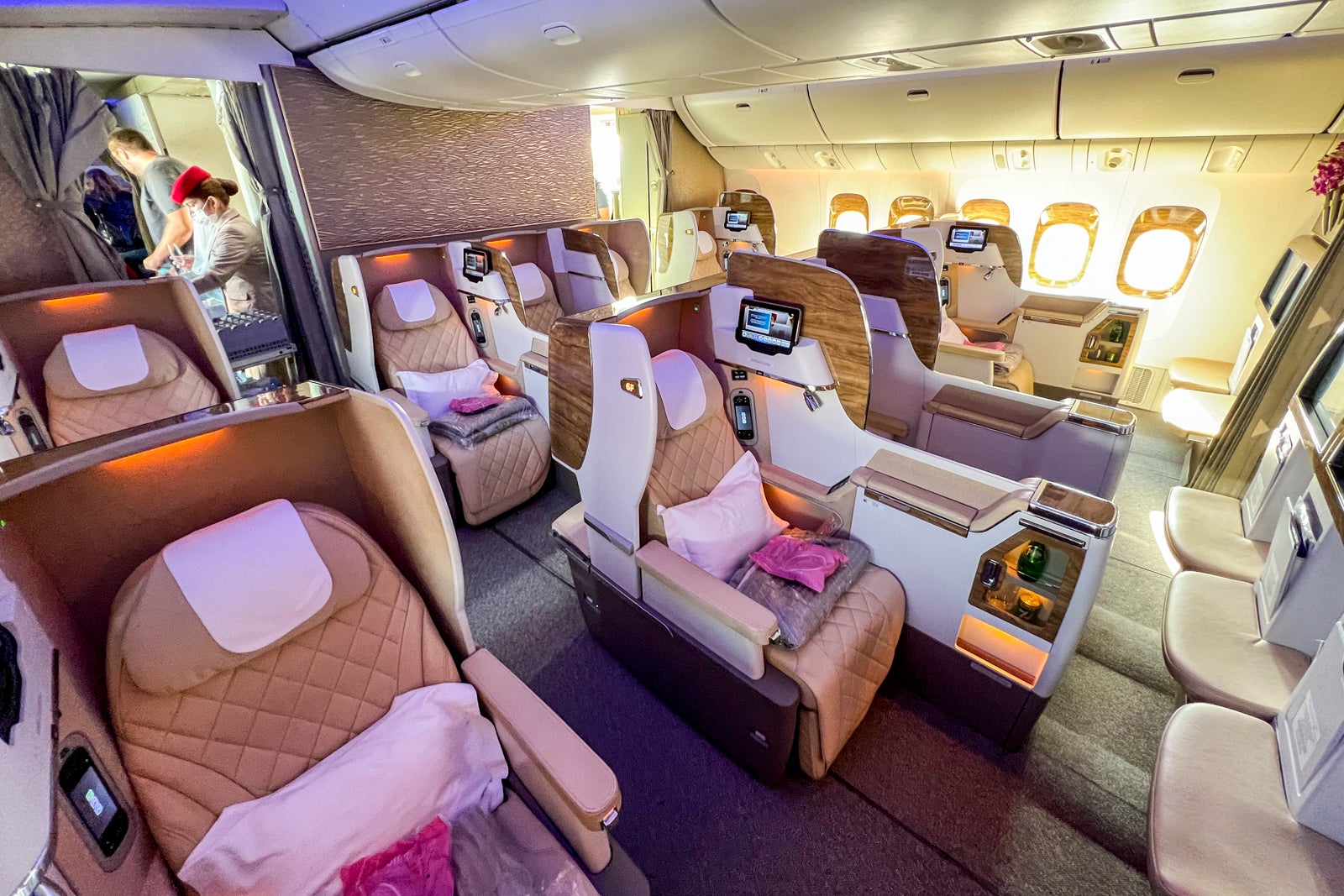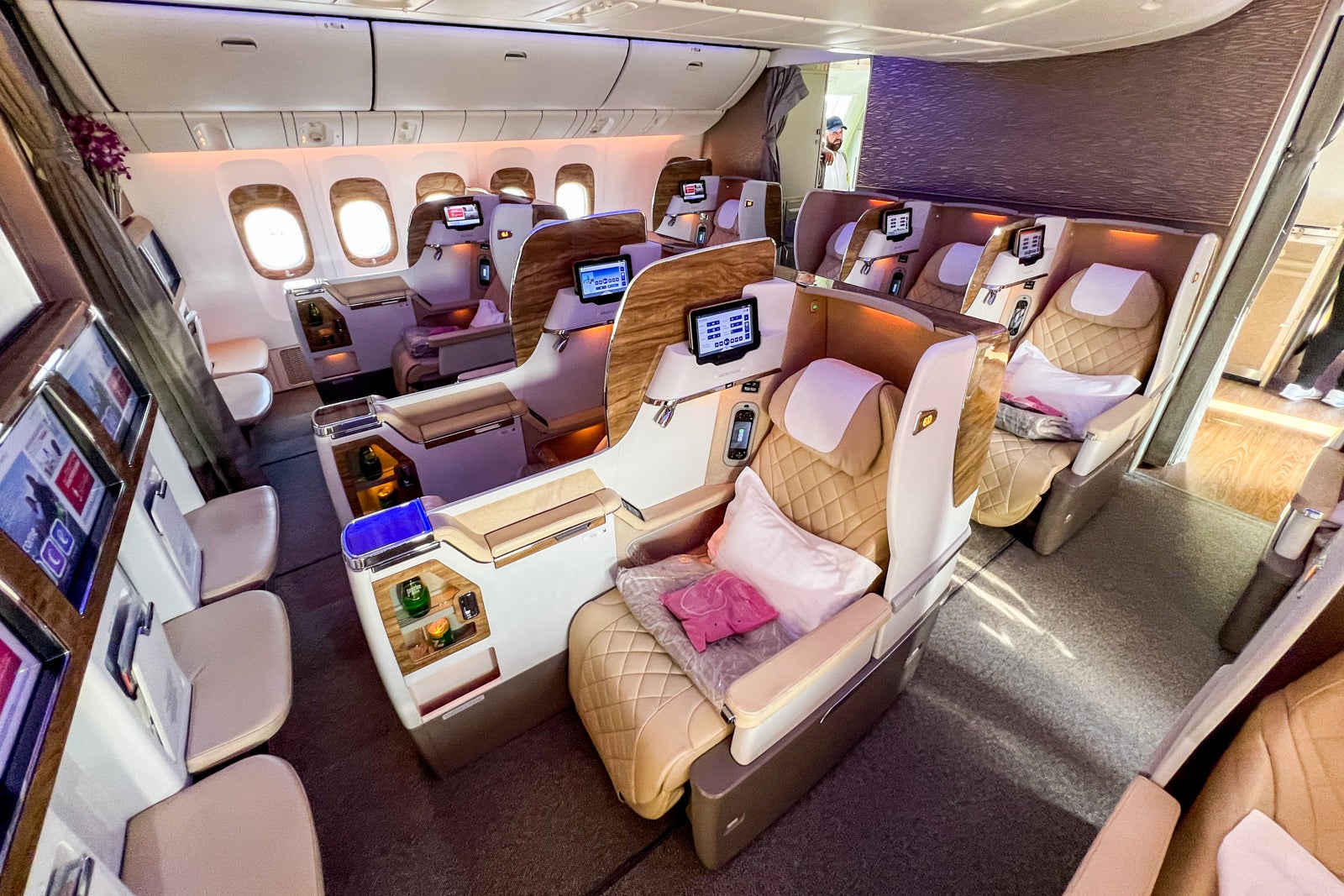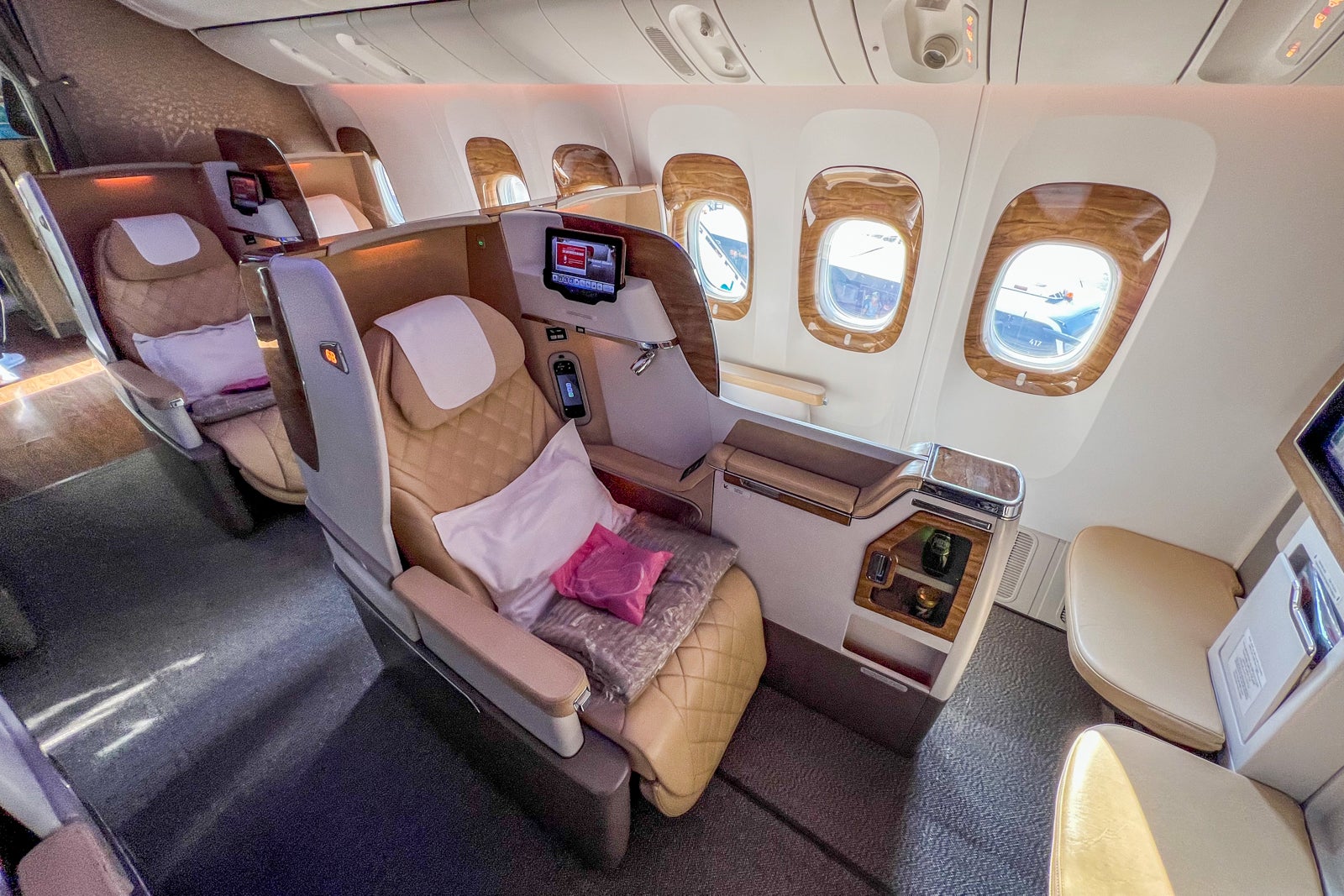 There are just six of the new first-class suites aboard the 777s that have them, arranged in a 1-1-1 configuration across two rows.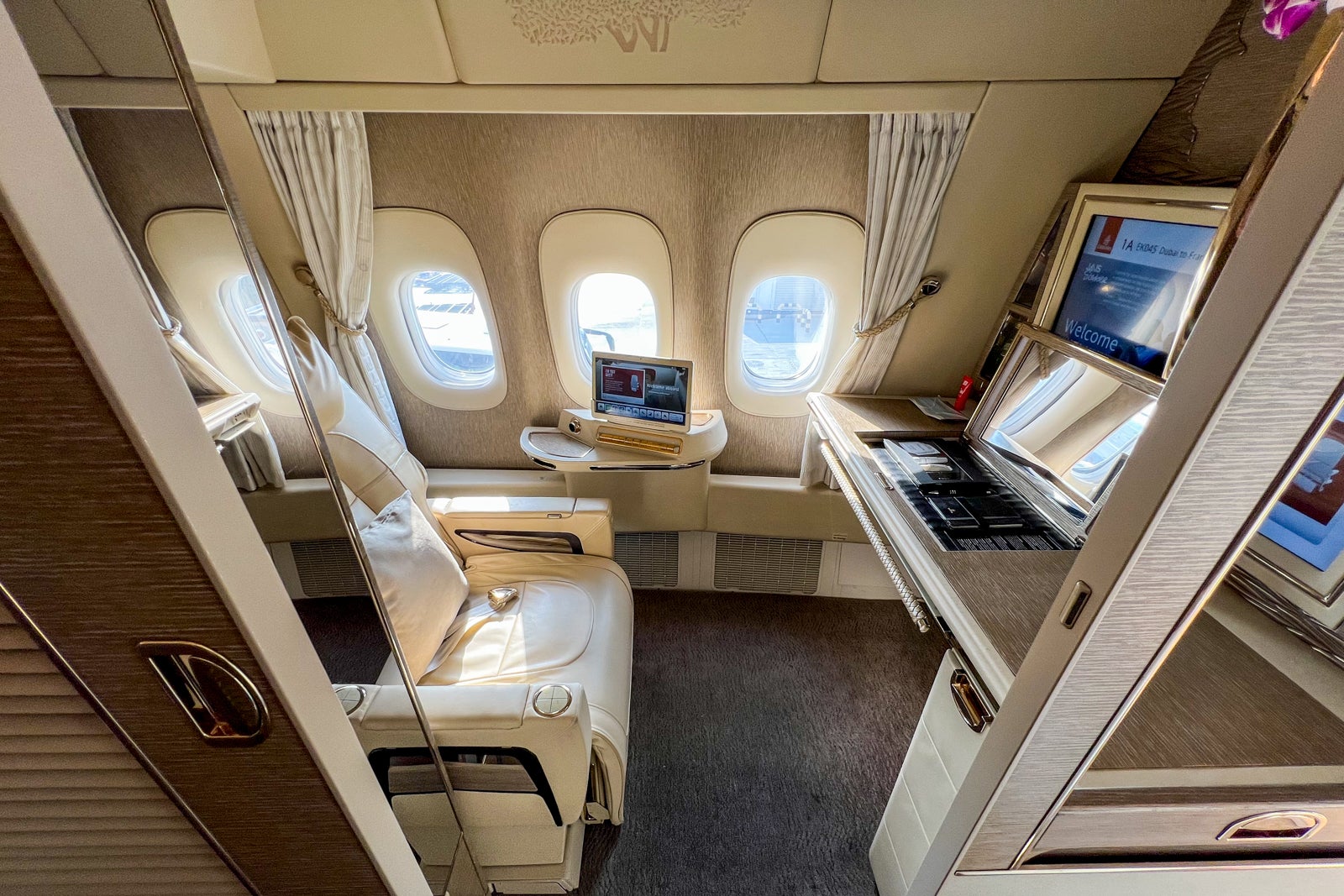 For context, Emirates 777s with the older first-class suites have eight of them in two rows of 1-2-1 seats each, and Emirates A380s have 14 of the older suites, also in a 1-2-1 arrangement.
The new setup feels much more exclusive and the updated suites feel both roomier and more private.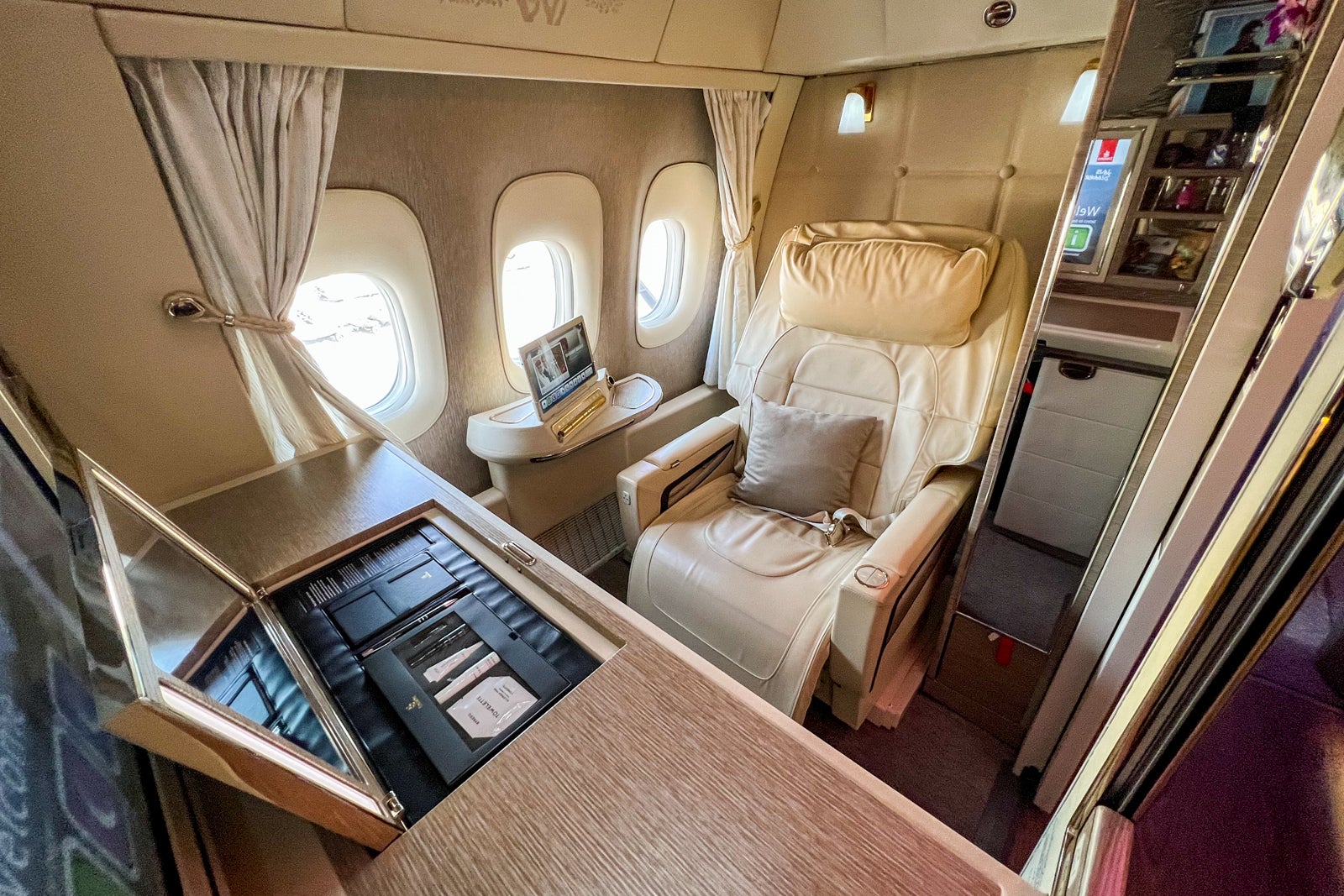 Each is essentially a self-enclosed unit with a floor-to-ceiling sliding door for privacy and up to 40 square feet of space, which is incredible for a commercial aircraft.
They also have fun features like starry in-floor lighting and overhead and accent lighting displays whose colors you can change with an electronic touchscreen wheel.
Although you'll still notice elements of polished wood and gold accents, these seats have a much subtler (some might say sophisticated) look than Emirates' older suites, with a palette that's a mix of platinum, champagne and cream.
Yacht designer Jacques Pierrejean was the lead designer of the new suites (as well as Singapore Airlines' newer first-class suites) and envisioned them as hotel rooms in the sky.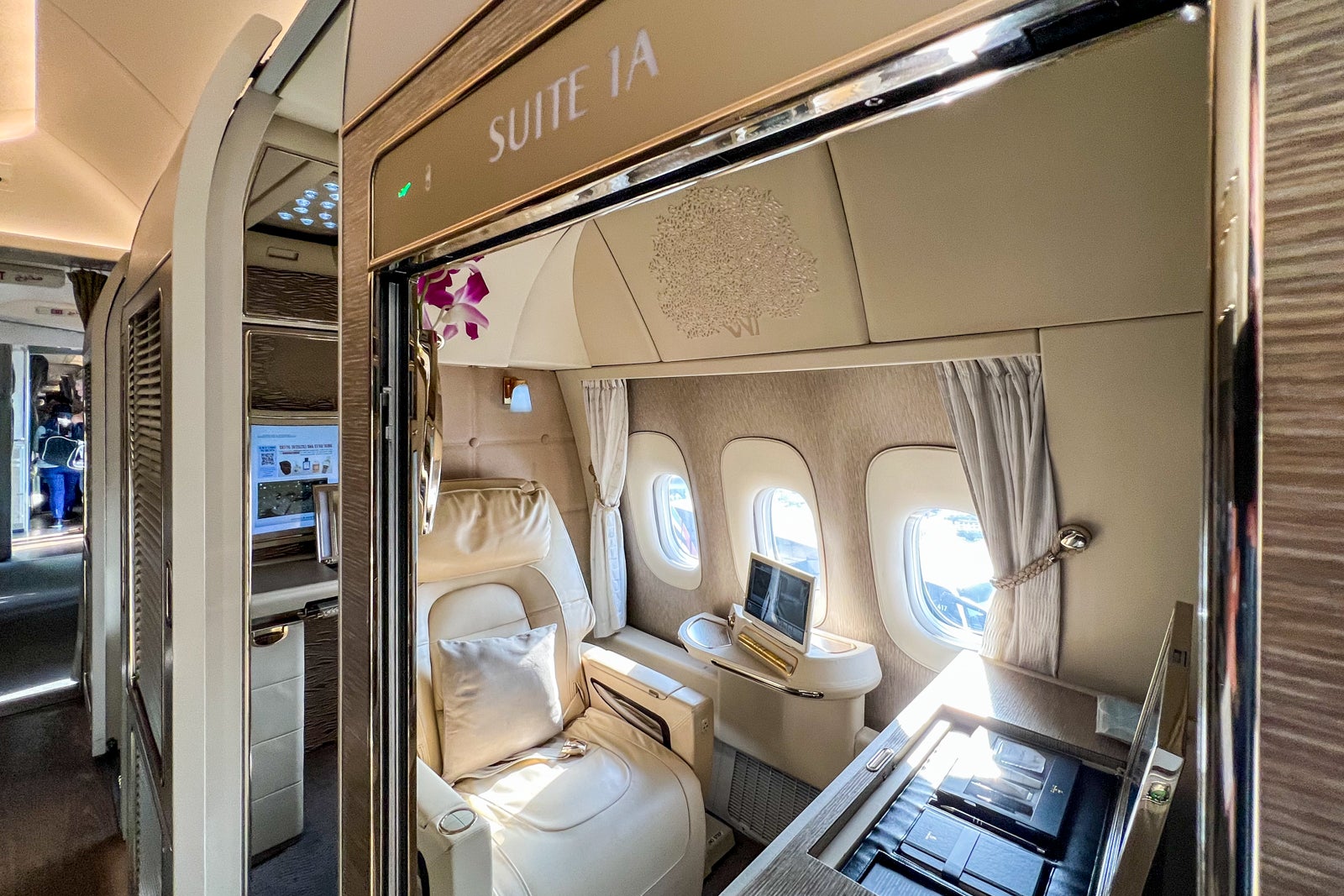 The centerpiece of each suite is a sumptuous leather armchair inspired by the Mercedes-Benz S-Class sedan. One armrest had a four-button control embedded in it to get the seat into various positions including upright for takeoff and landing, one for dining and one for a lie-flat position.
There is also an innovative zero-gravity cradle-like position along the way, which is very comfortable for lounging or dozing. Before you fall asleep, though, there are plenty of fun features and gadgets to play with.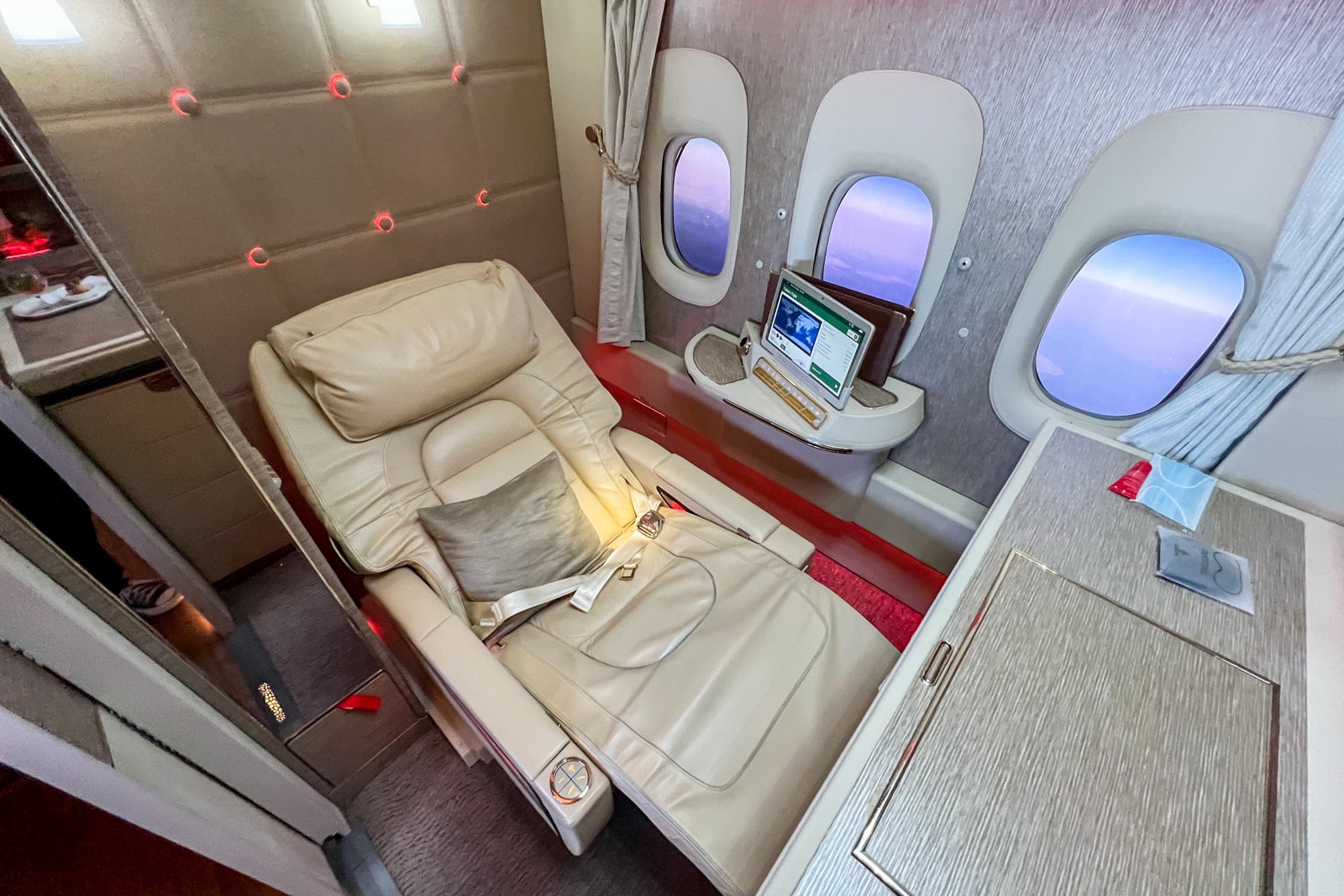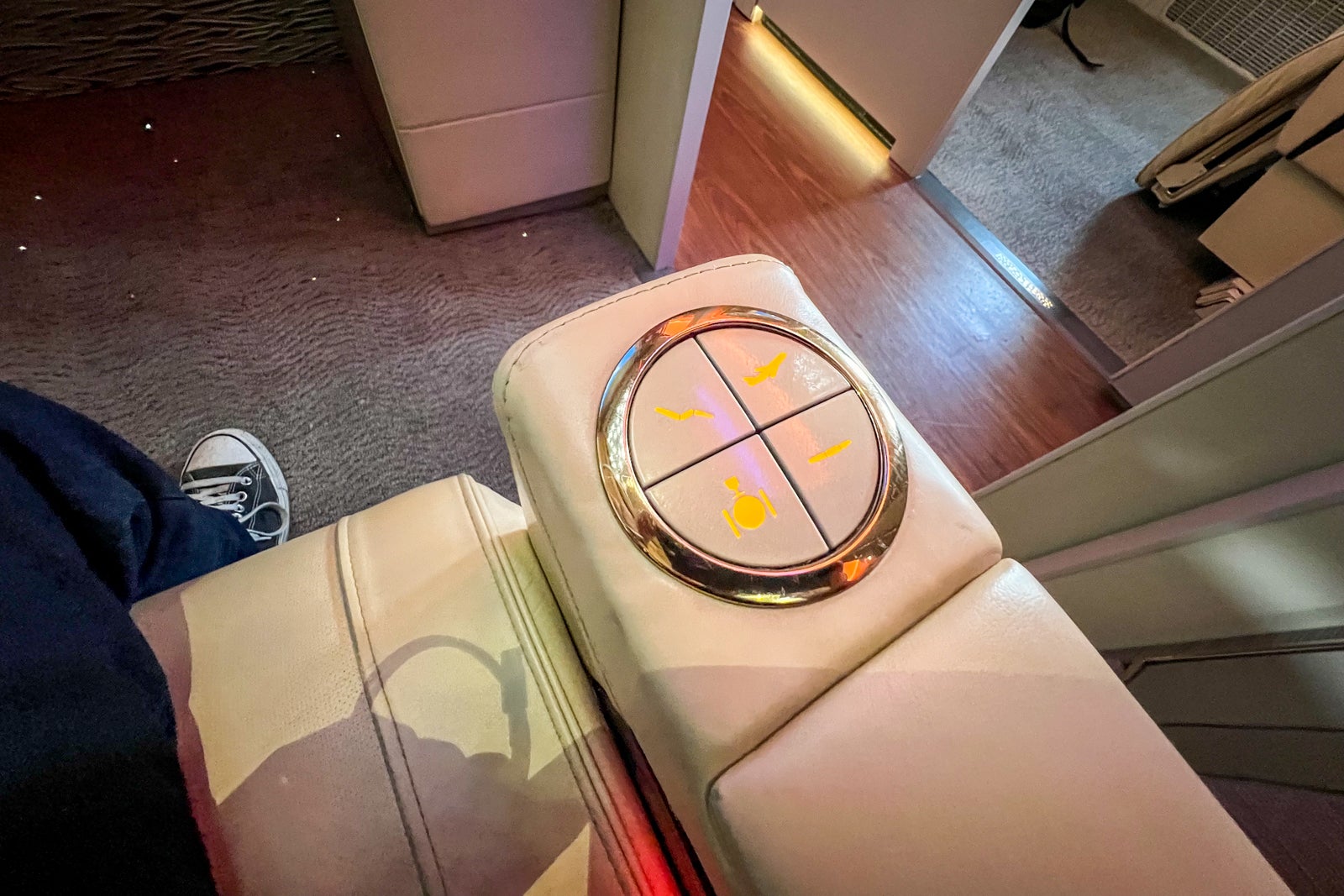 I chose suite 2F in the middle of the second row. Ordinarily, I wouldn't select a center seat, preferring a window one instead.
However, the two center suites, which are slightly wider than the side ones, have probably the most distinctive feature of this aircraft: digital windows that project what's happening outside the plane, framed by curtains that add a classy touch.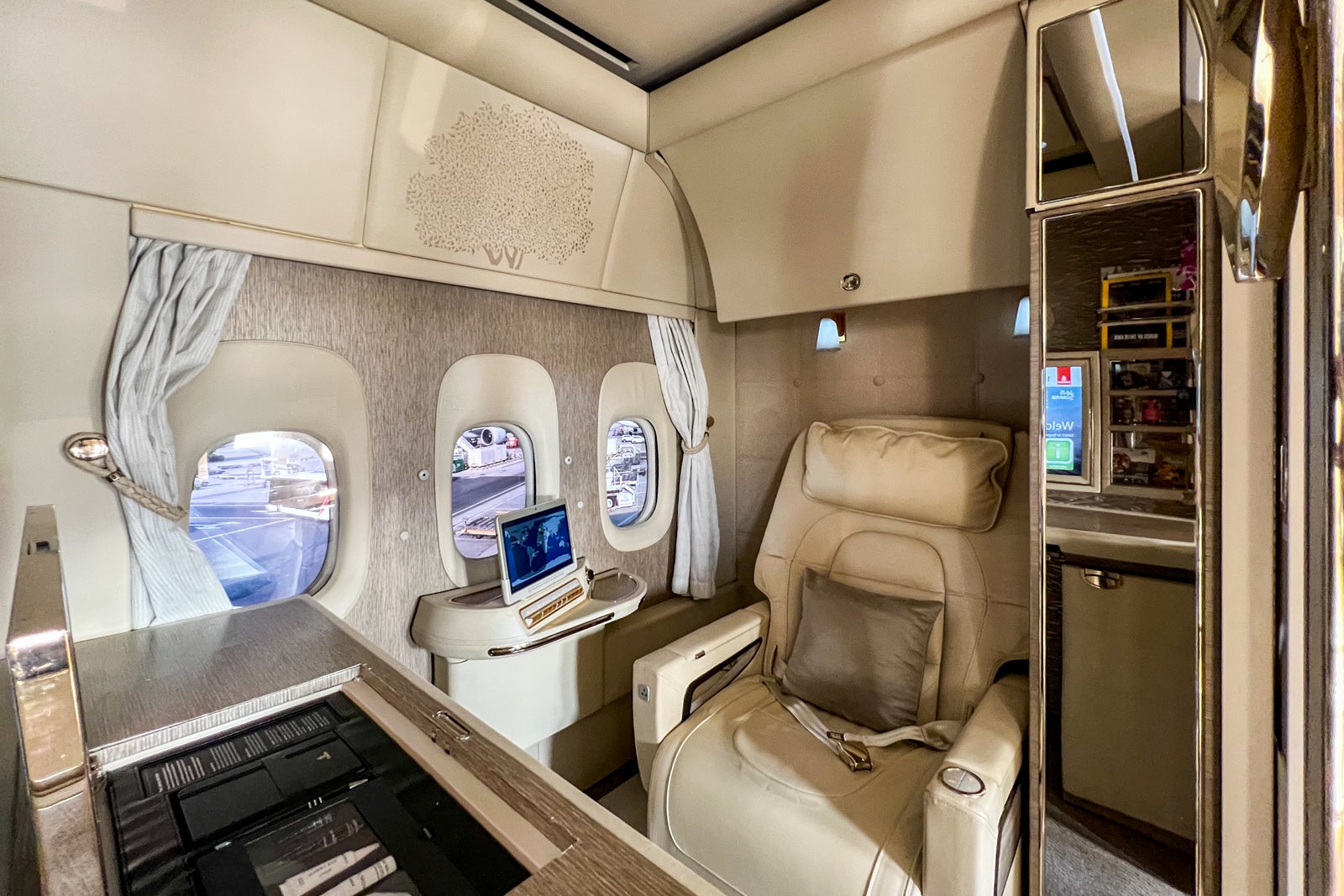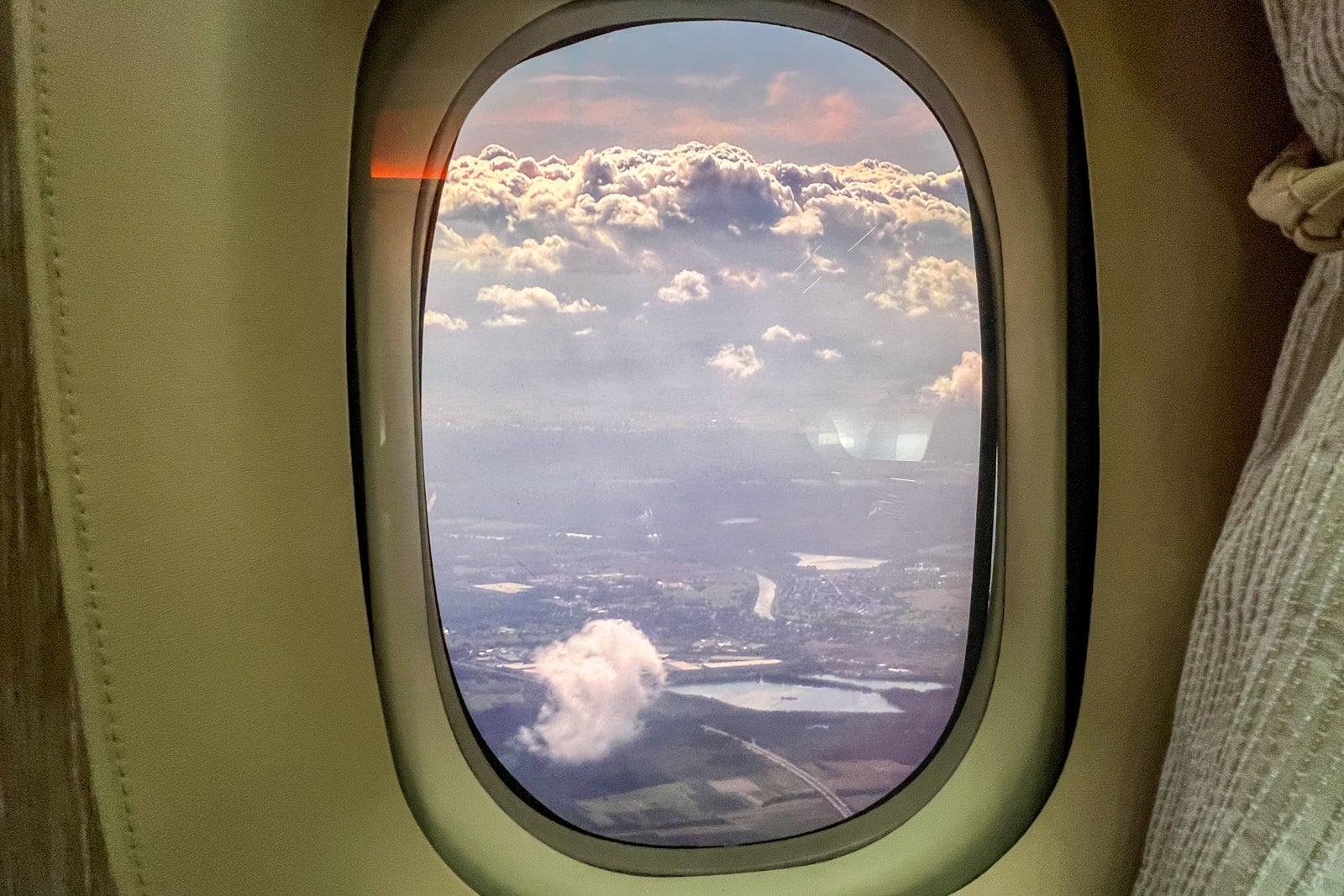 It's kind of like looking through normal windows, only high-tech ones with a lot more detail than your naked eye can probably generate.
That said, suites with real windows are provisioned with sets of Steiner binoculars so passengers can get good views of the landscape passing by, or planespot around the tarmac during taxi.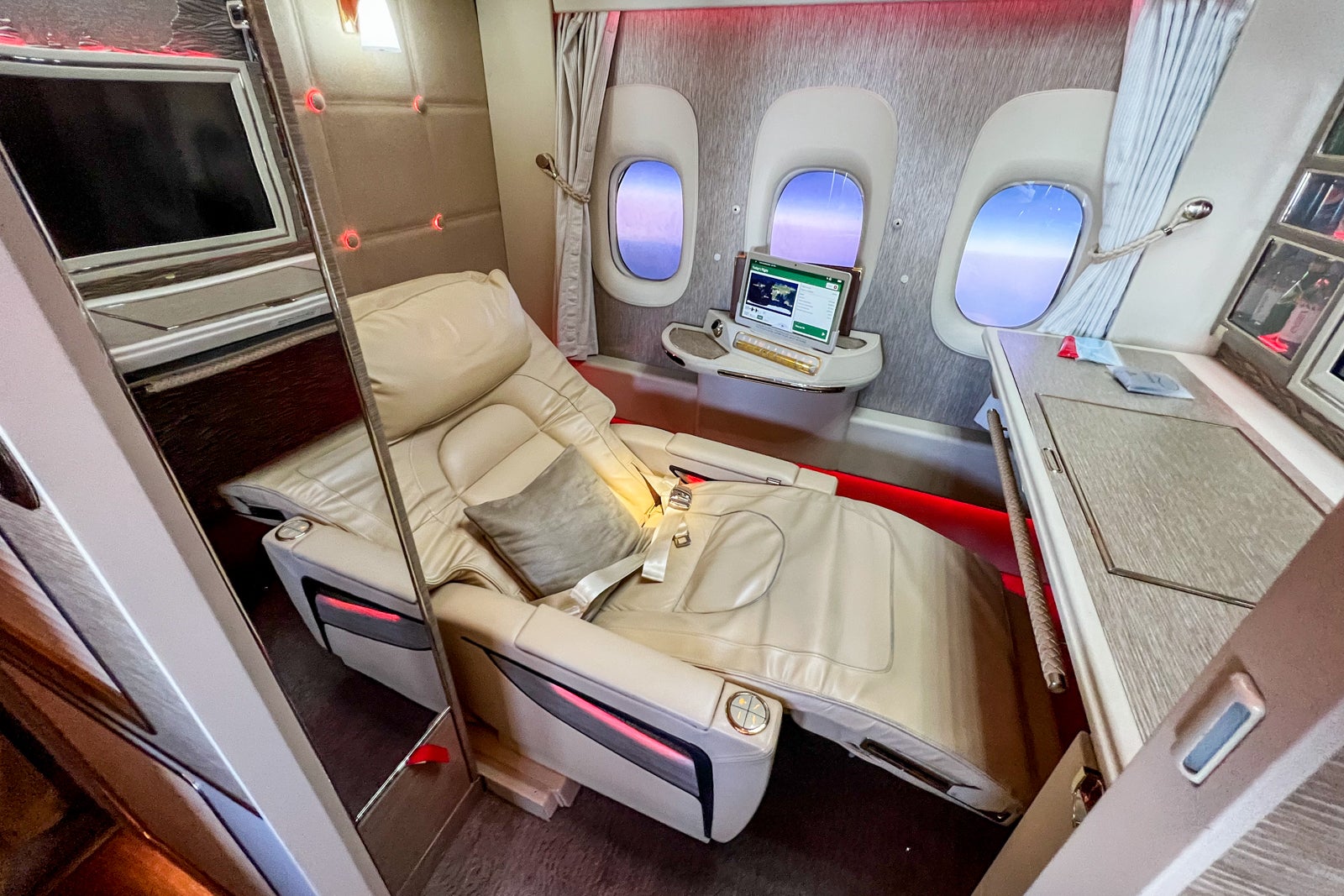 Anchored on a console just next to the windows is a tablet that you can use to control the airline's ICE inflight entertainment programming on the suite's main screen and to adjust the suite's lighting.
Perhaps the most fun feature of the tablet? You can use it to make a video call to the galley and request anything you might need from the flight attendants.
Unfortunately, the volume wasn't working properly on my plane's system during my flight, though I could see the flight attendants when I called, and they were at my suite within seconds after we figured out the sound was an issue.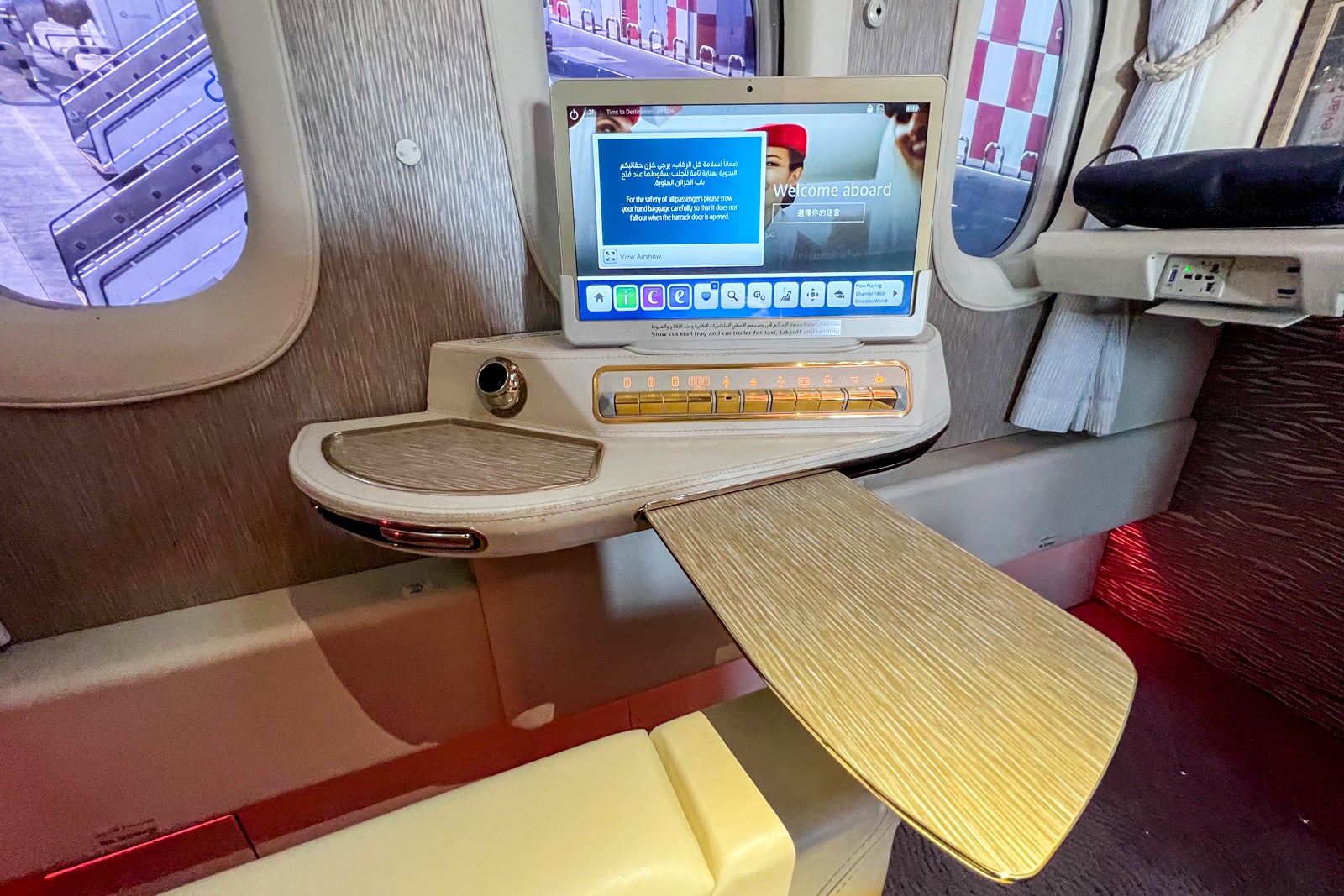 Beneath the tablet is a row of buttons that can adjust the suite's window shades and lighting or call the flight attendants.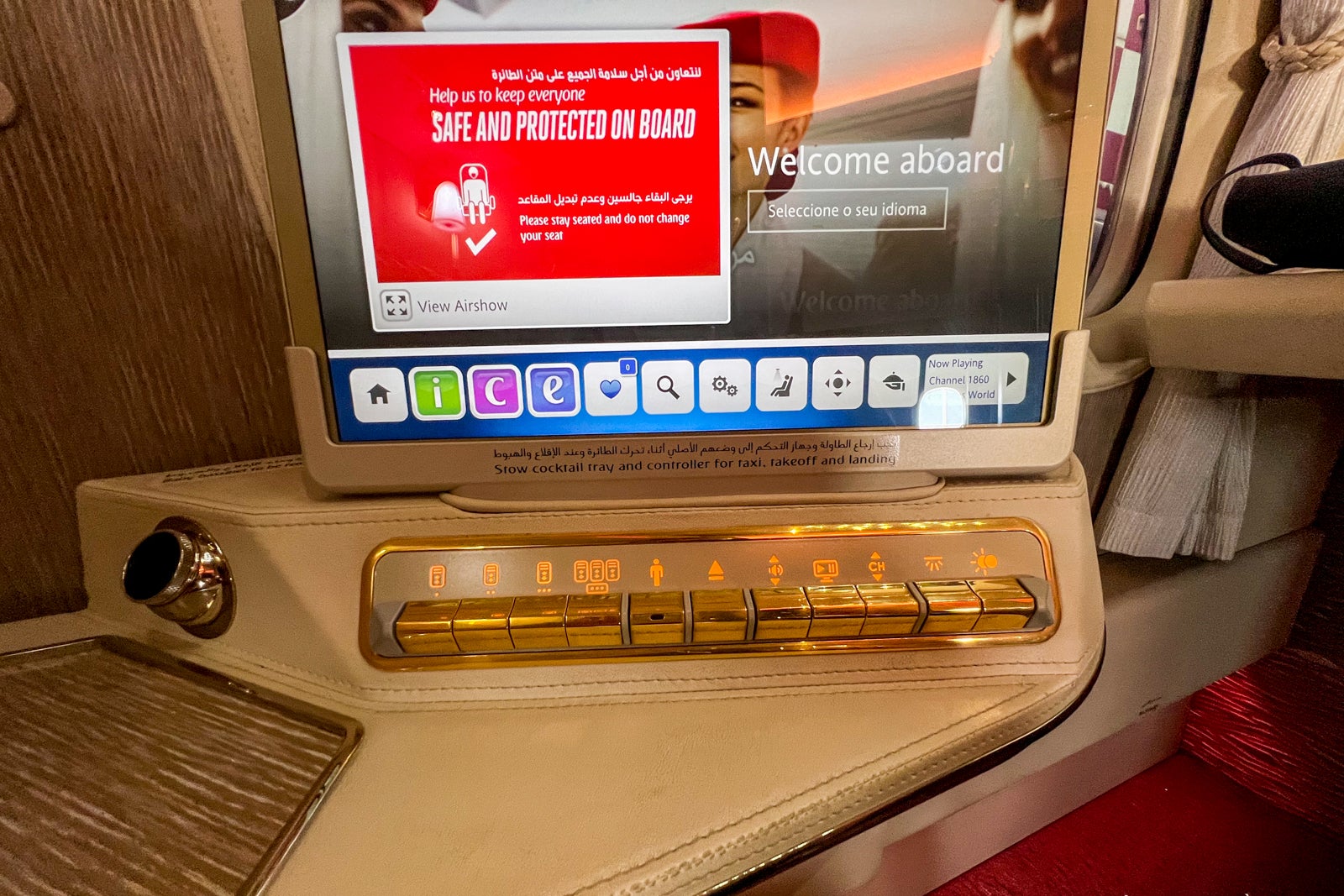 Tucked into the suite's armrest is a wireless remote to control the large entertainment screen as well.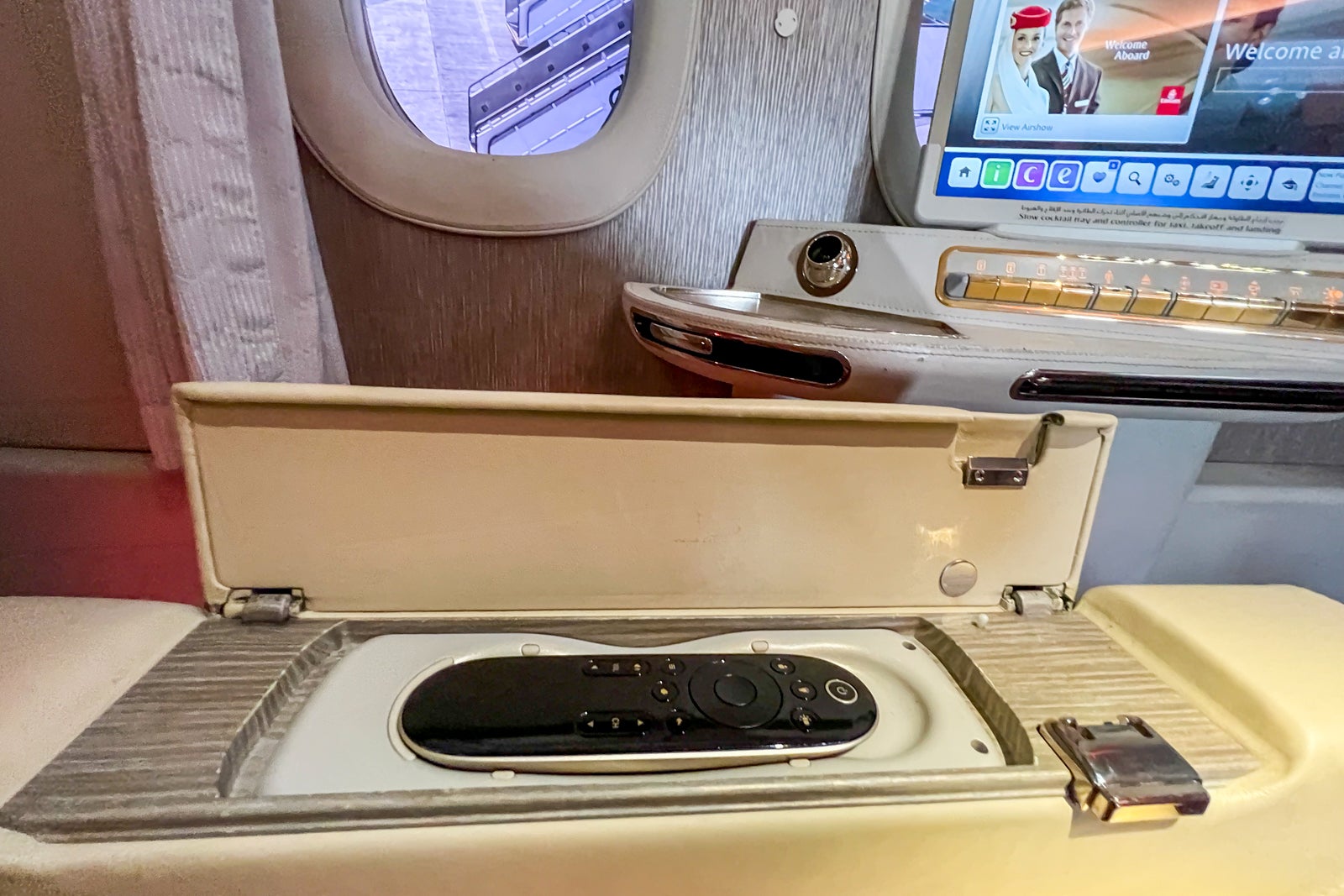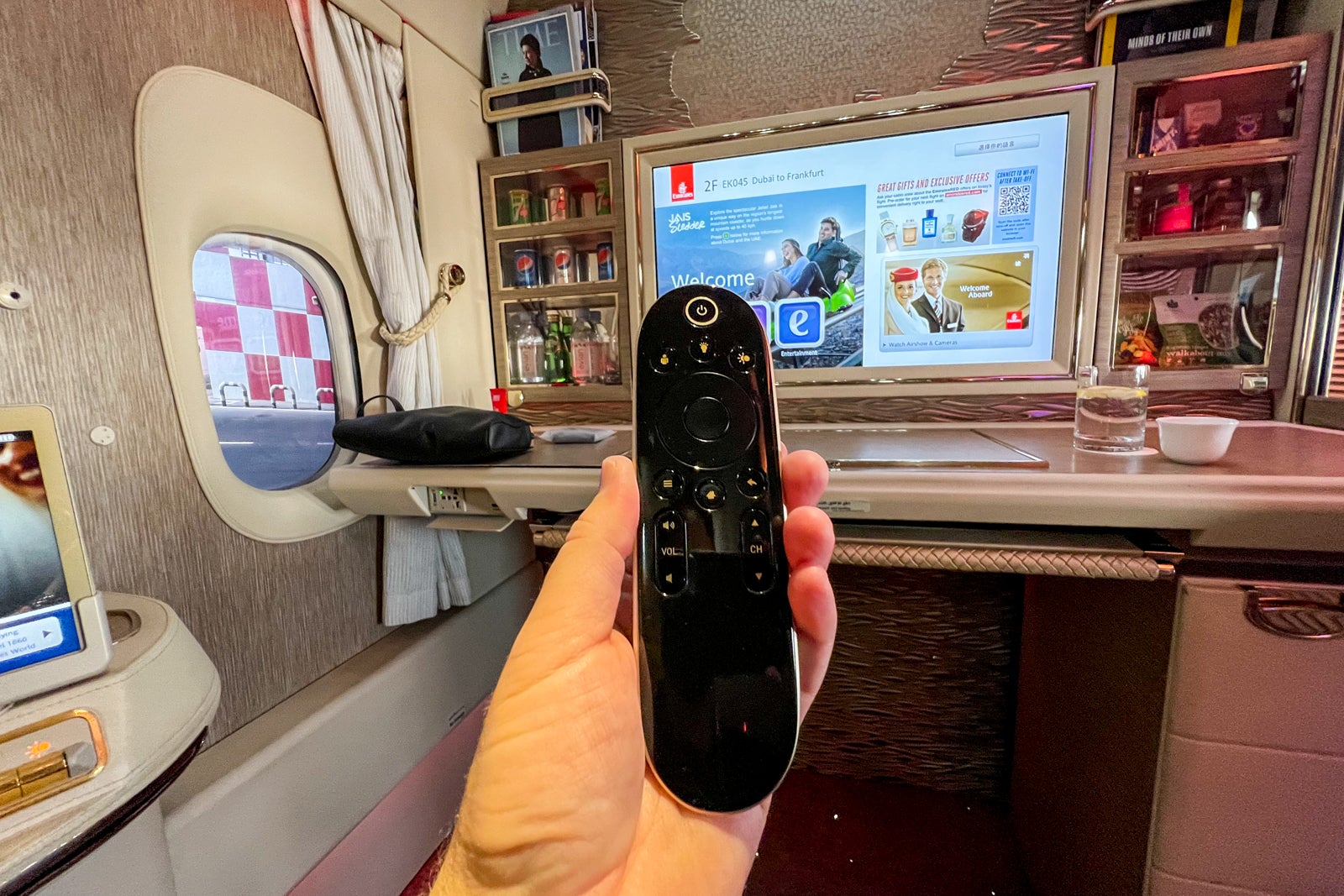 Speaking of which, the suite's main screen is located directly across from the seat for easy viewing and is a whopping 32 inches wide.
The ICE system is loaded with hundreds of movies, including new releases, television shows, and music playlists and albums. You can get information on Dubai and your specific flight, watch a moving map as your trip progresses and even do a little inflight duty-free shopping.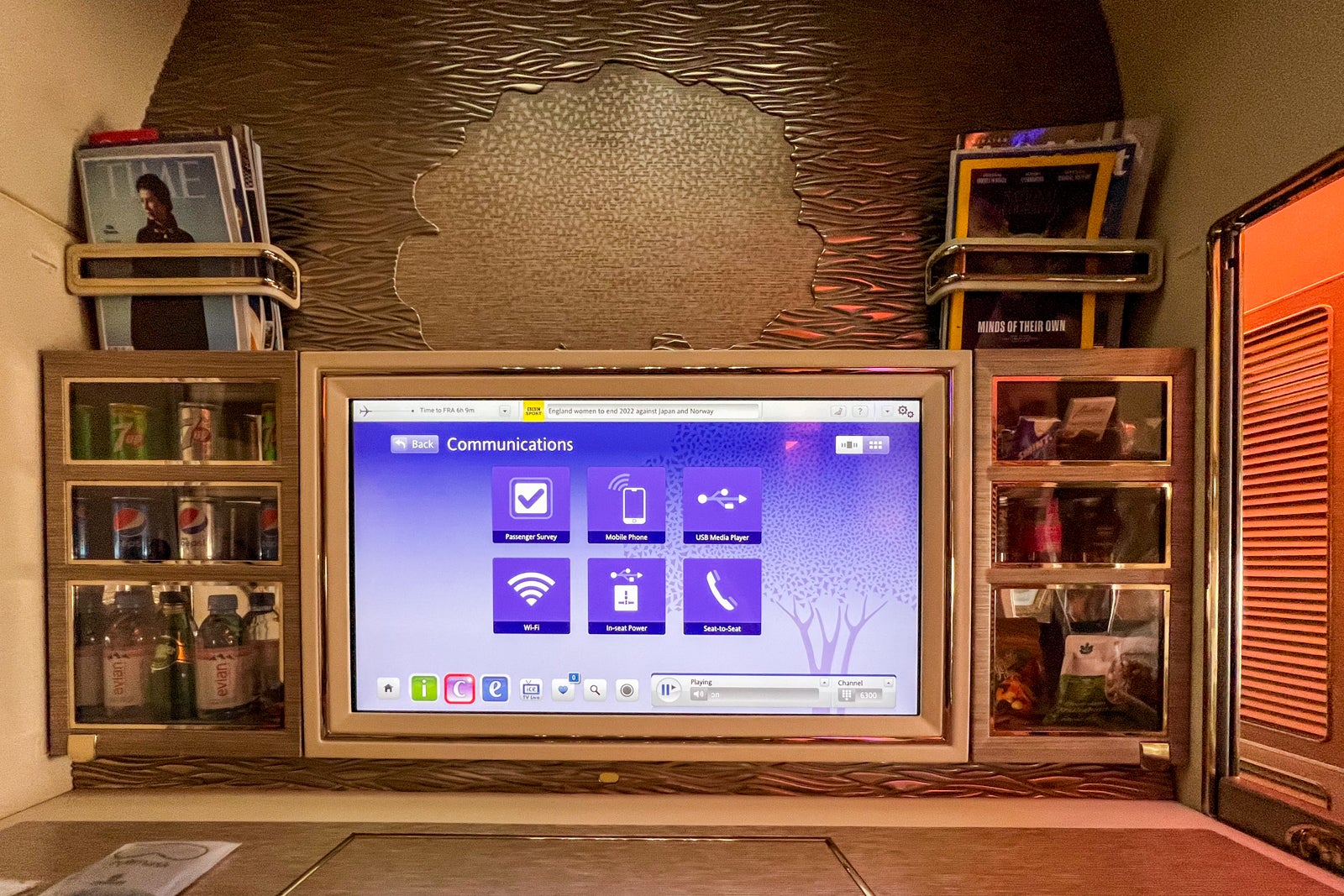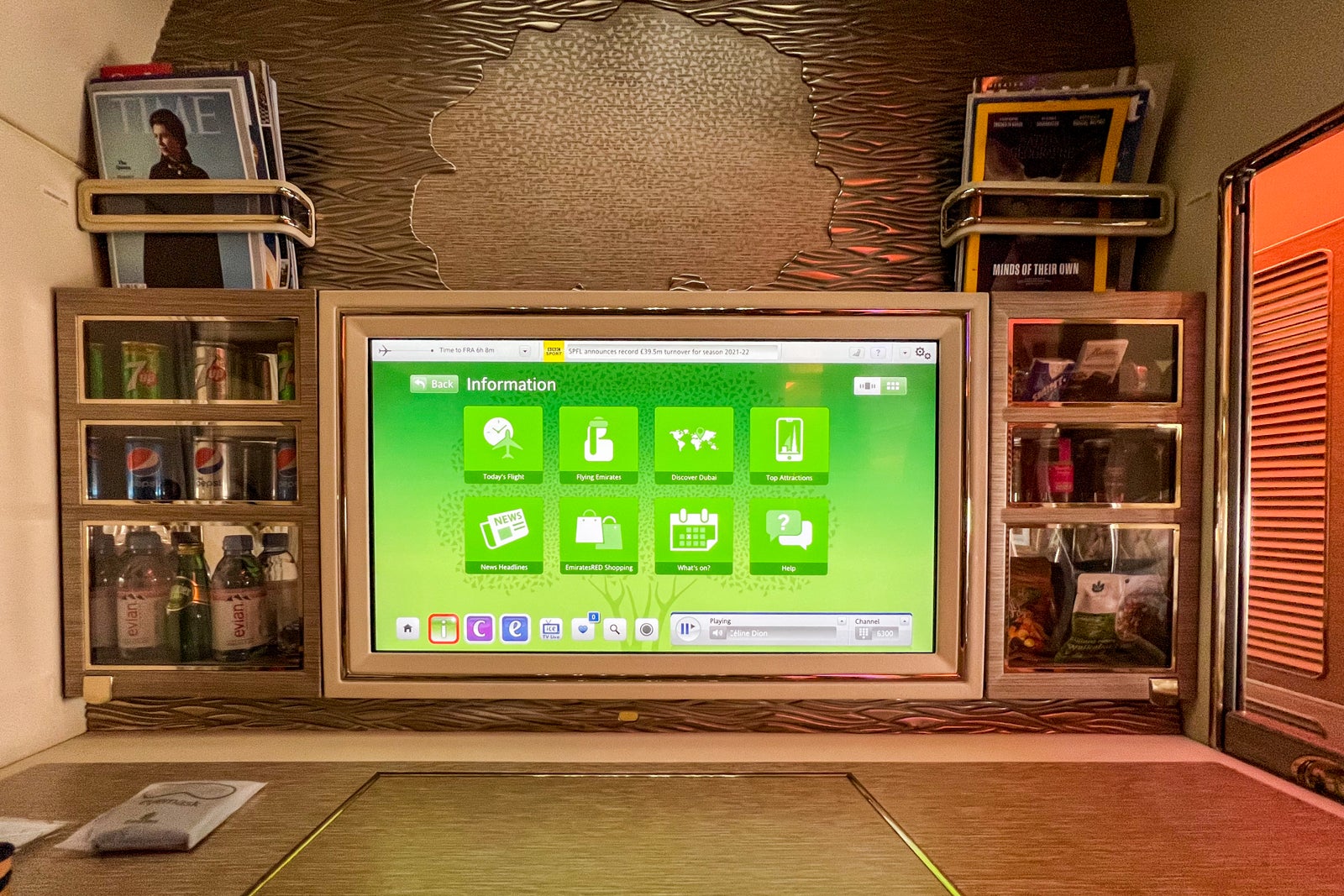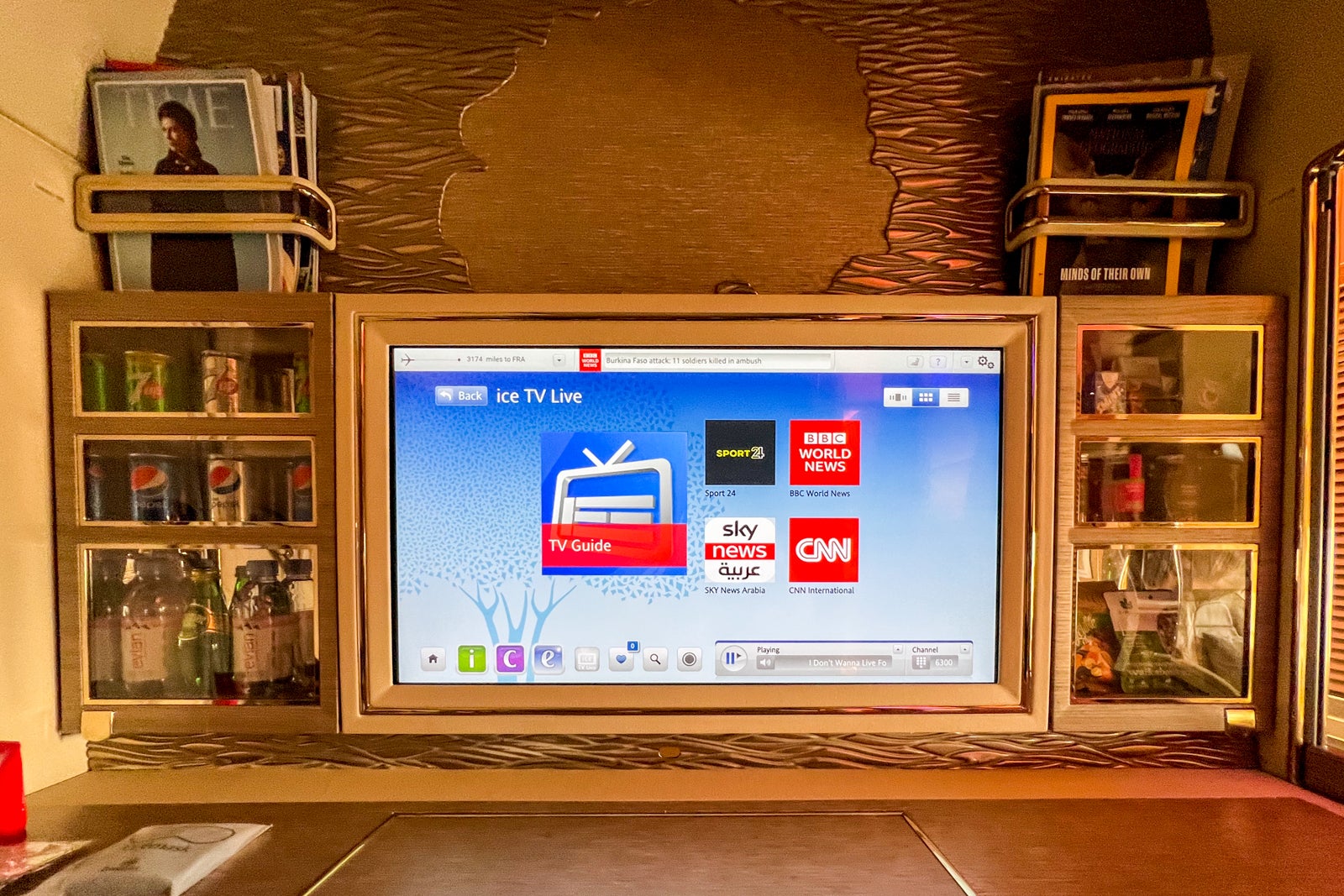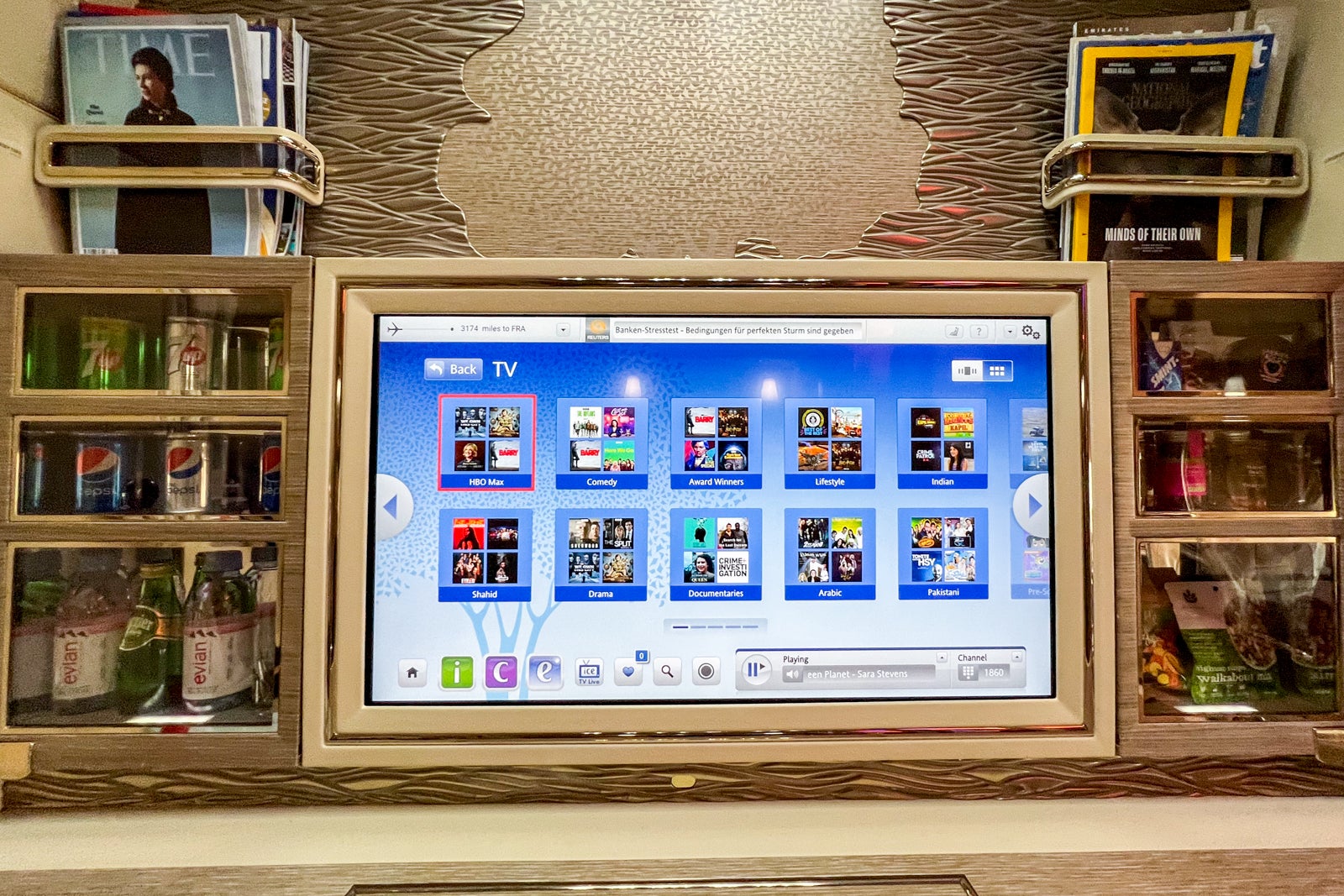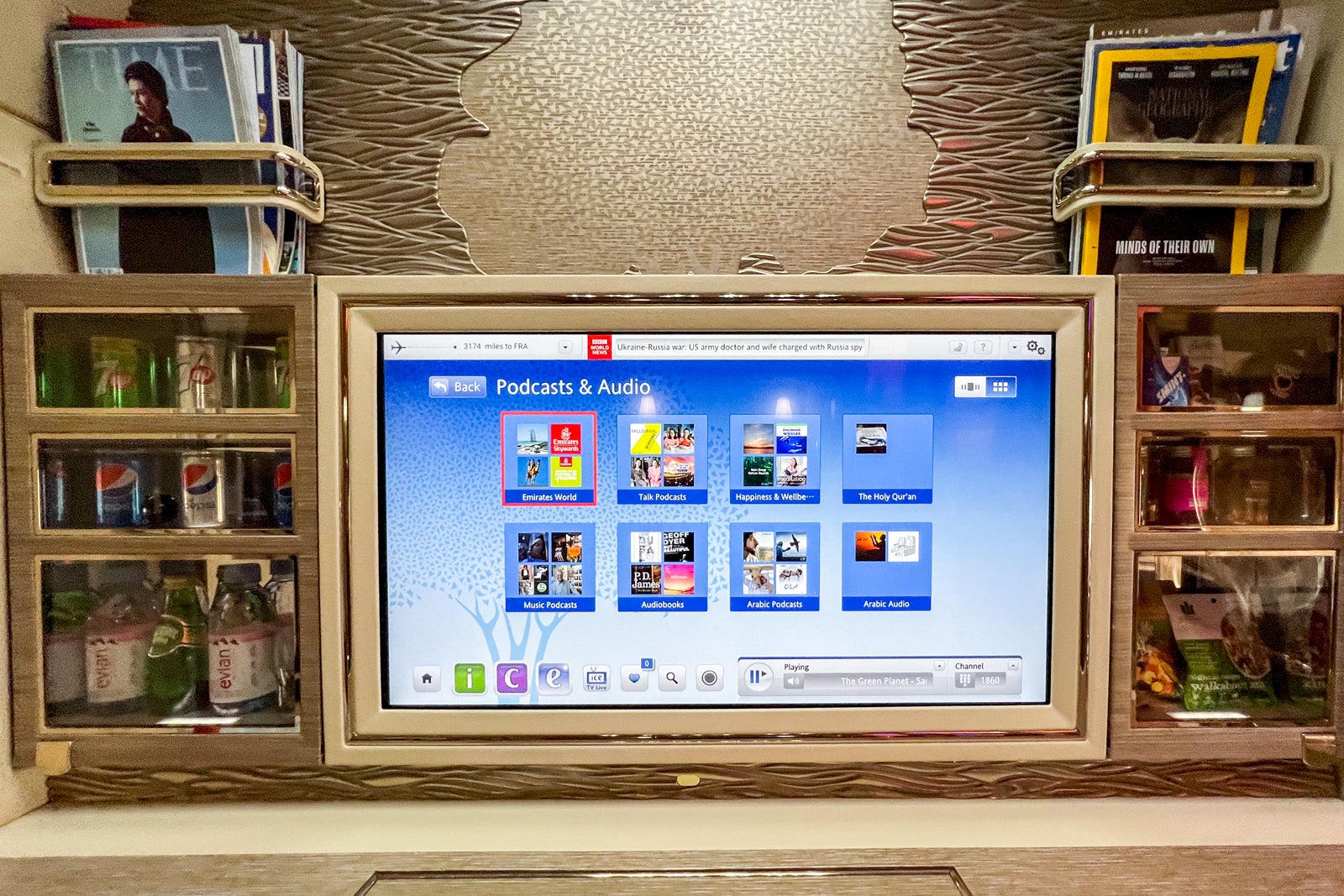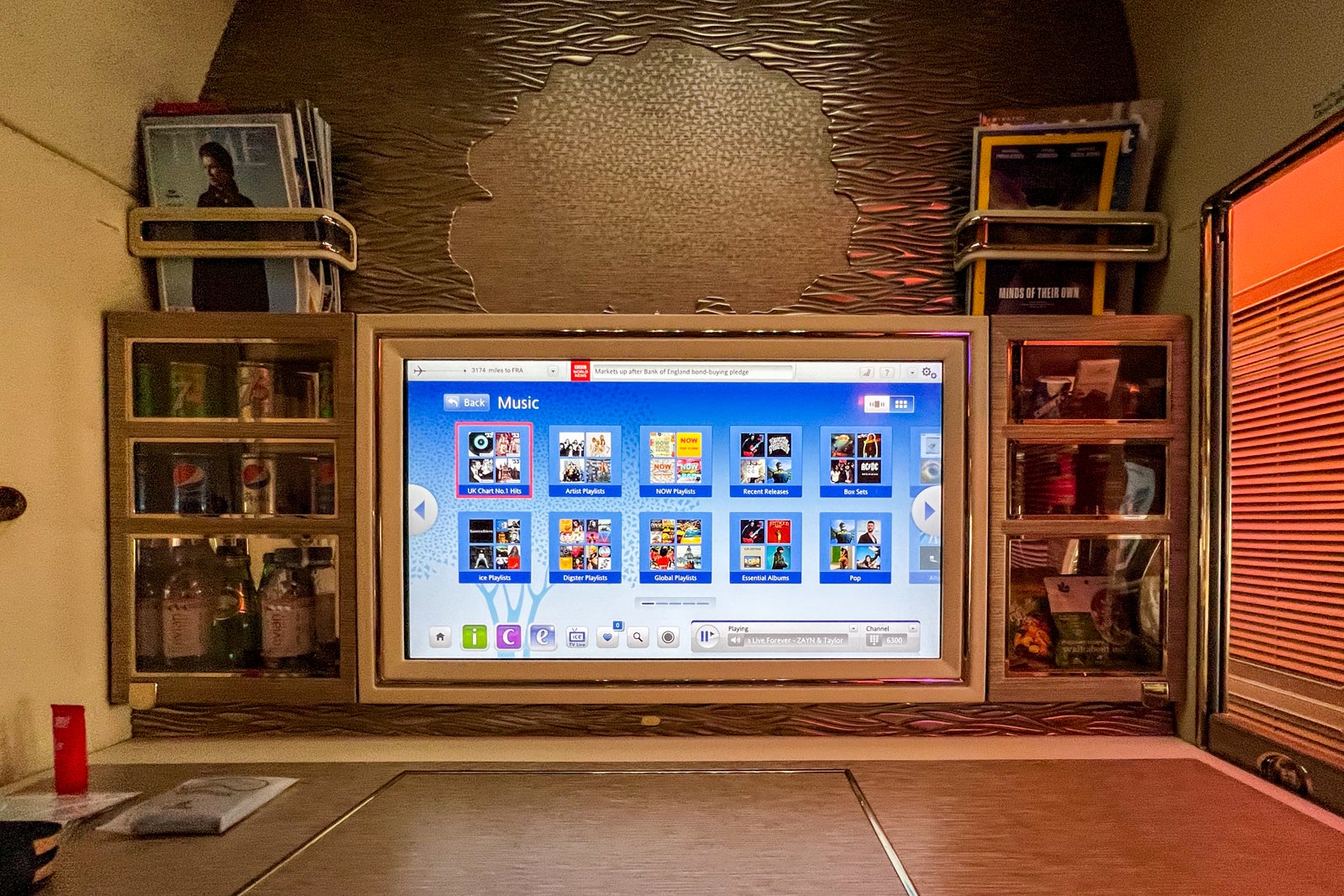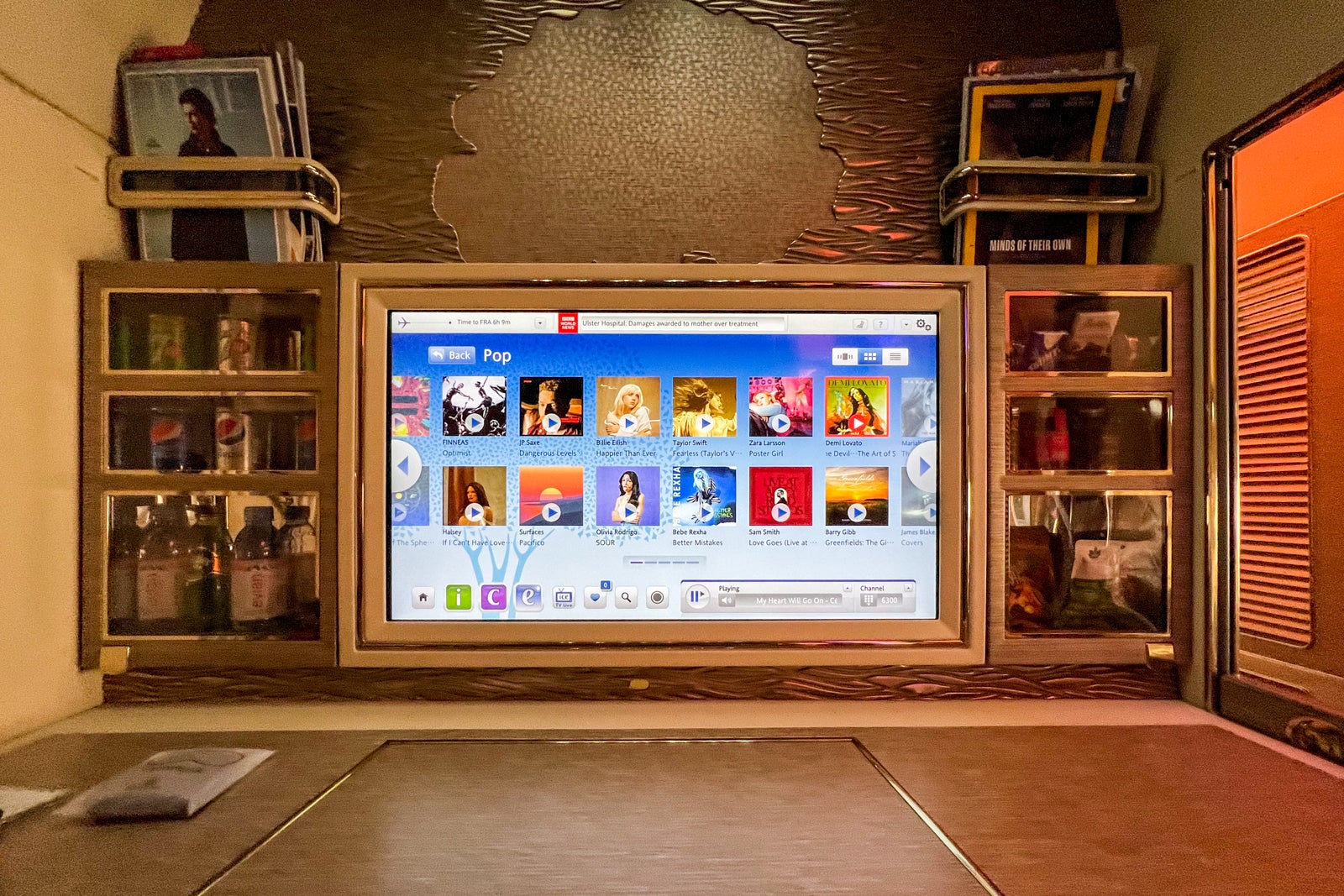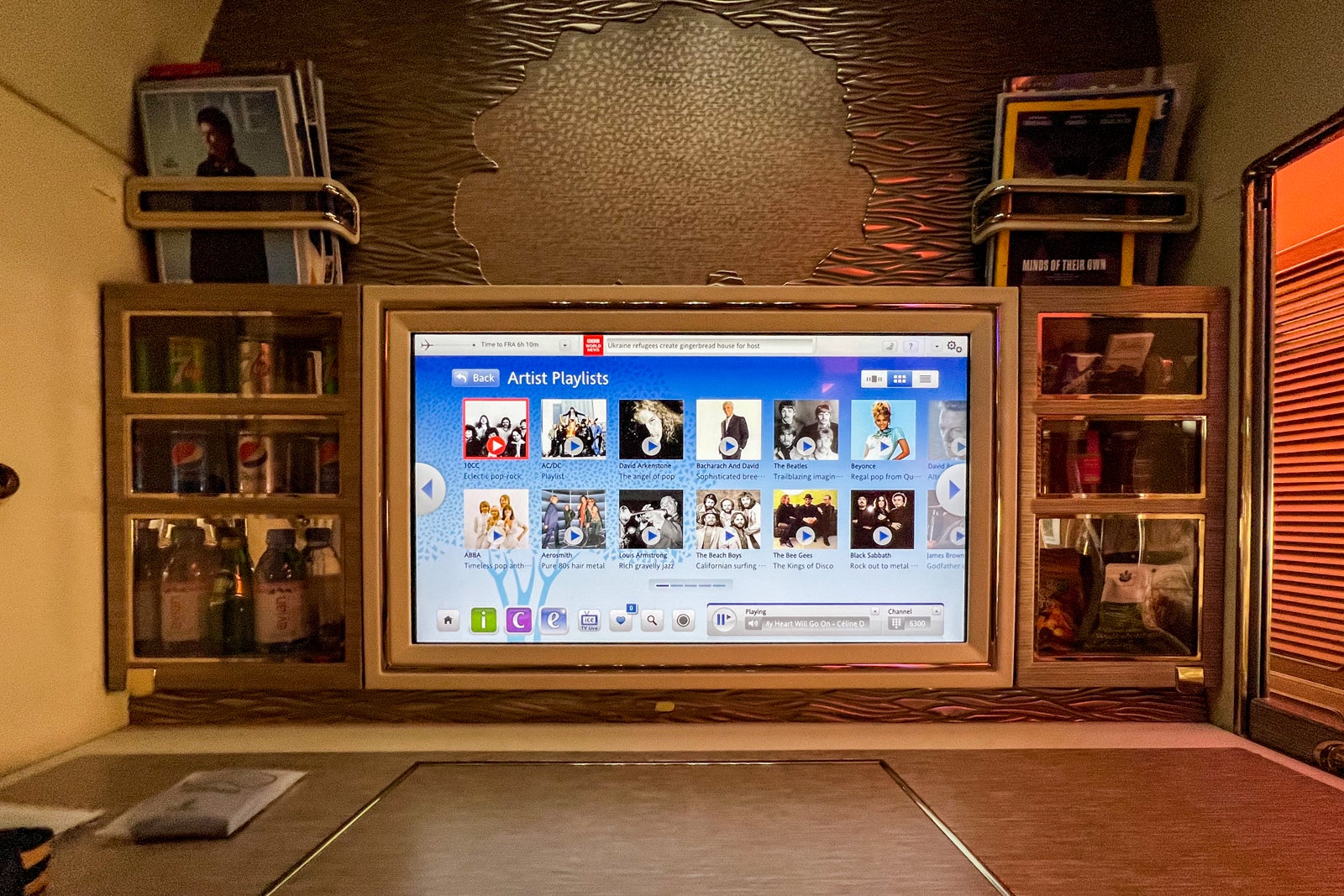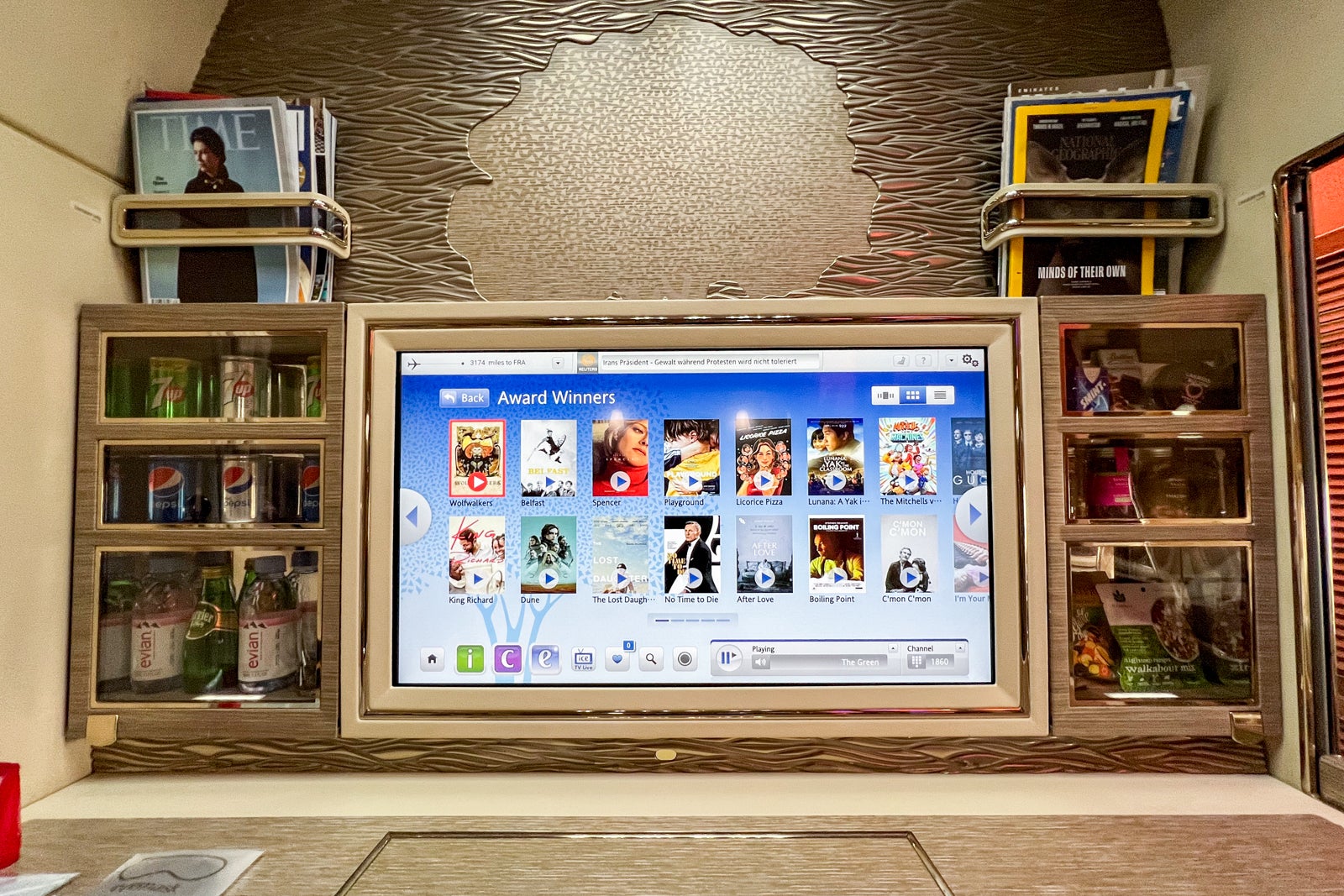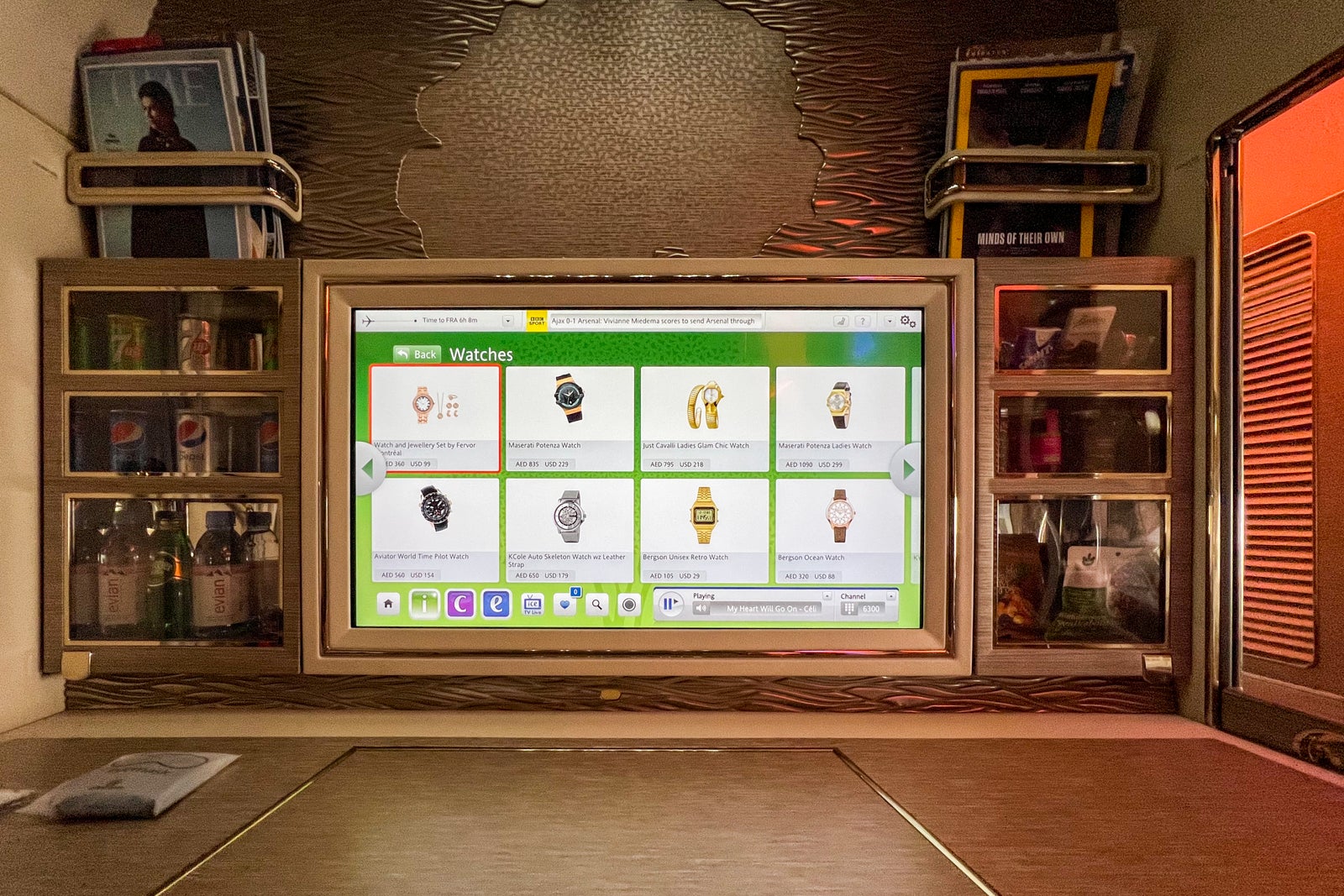 To either side of the screen is the suite's complimentary minibar, and beneath it is a lighted pop-up vanity with a cubby holding various amenities, all of which we'll get to below.
The counter in which the vanity is embedded has a panel that opens up to reveal a universal power point and USB ports, which is convenient. On the other side of the space is a large cubby with a closing door that's big enough to stow a carry-on bag.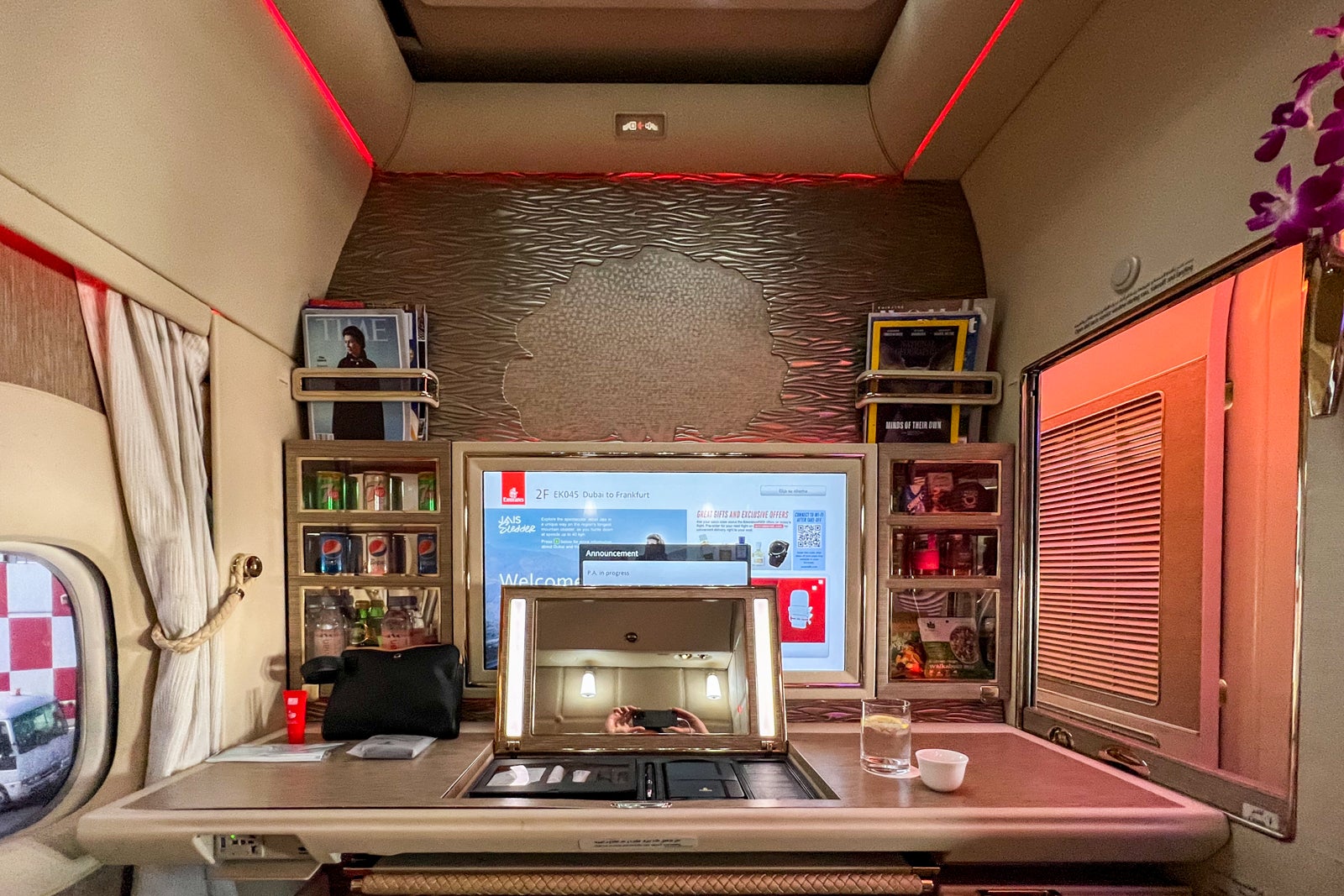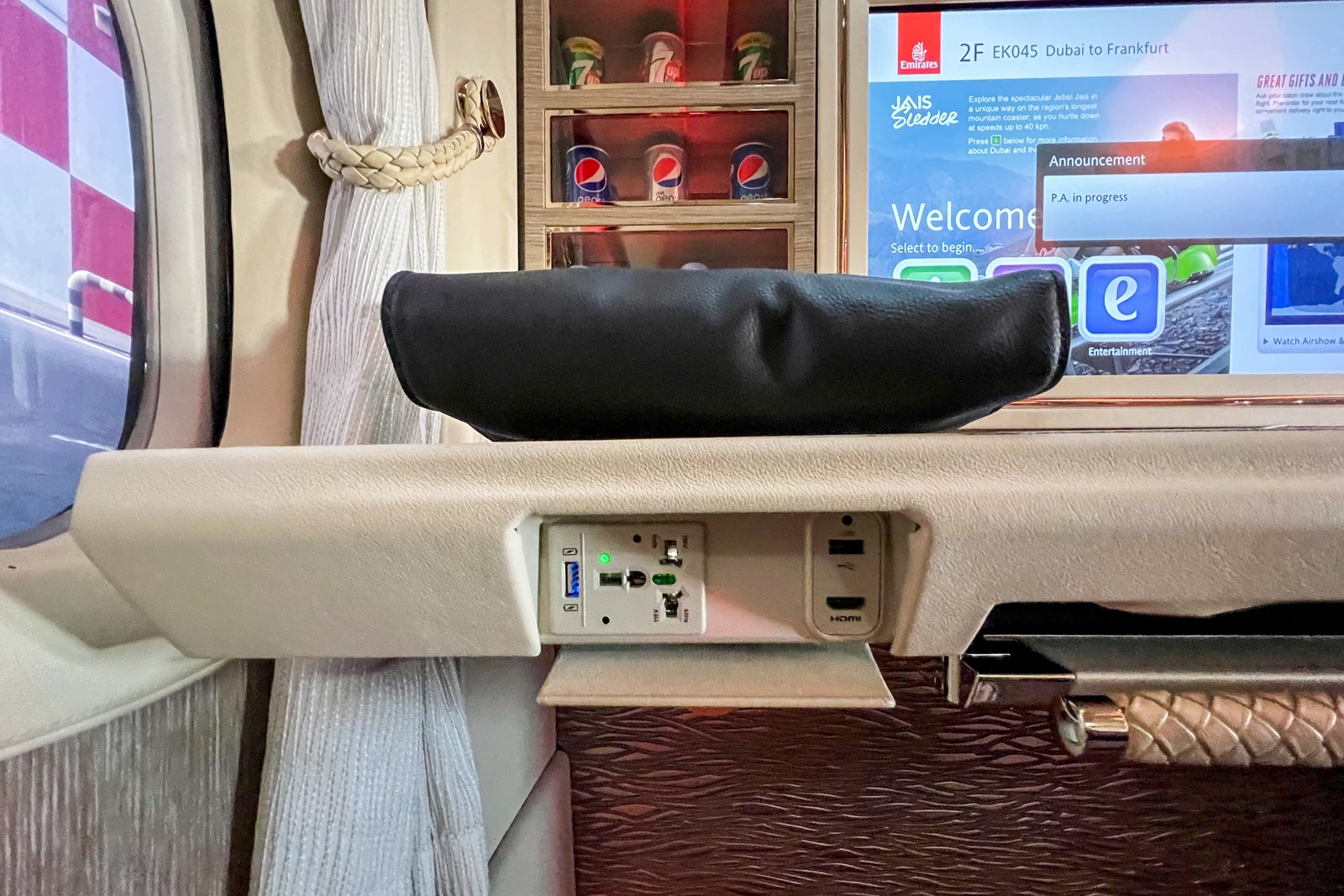 The suite's table pulls out from below the screen console and has an attractive woven leather handle for easy maneuvering.
It's an enormous surface that's excellent for the carefully plated meal service you can expect on Emirates, as well as for laying out your laptop and other gadgets you might need if you choose to work instead.
Also, since it rolls forward and back, it's easy to get in and out of the seat, even with the table deployed.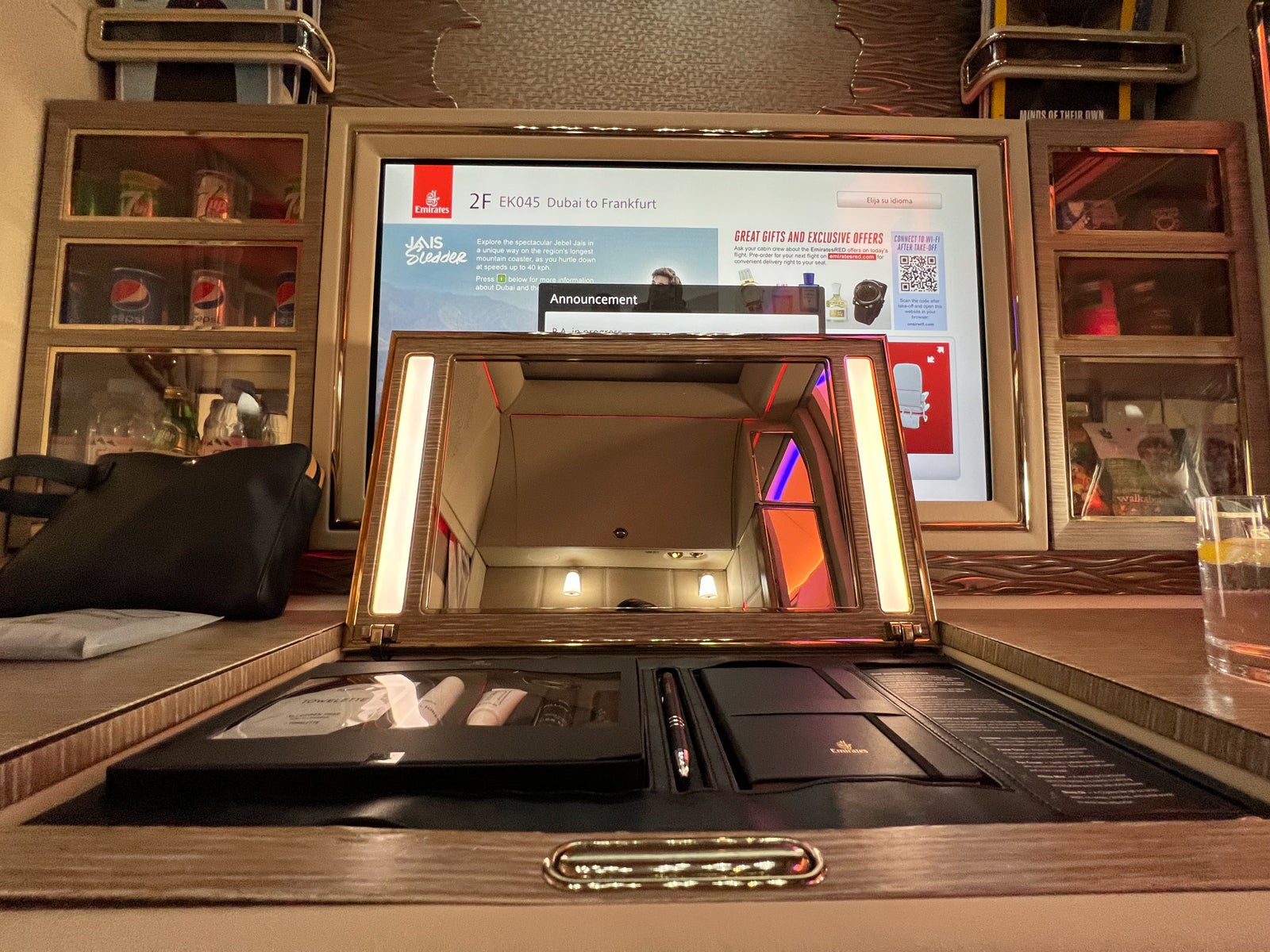 Next to the seat, there's a small touchscreen at eye level with which you can control the suite's temperature and lighting, including changing the hue of the various accent lights with the use of a digital color wheel that's particularly fun to play with (and pretend you're the lighting designer of a trendy nightclub).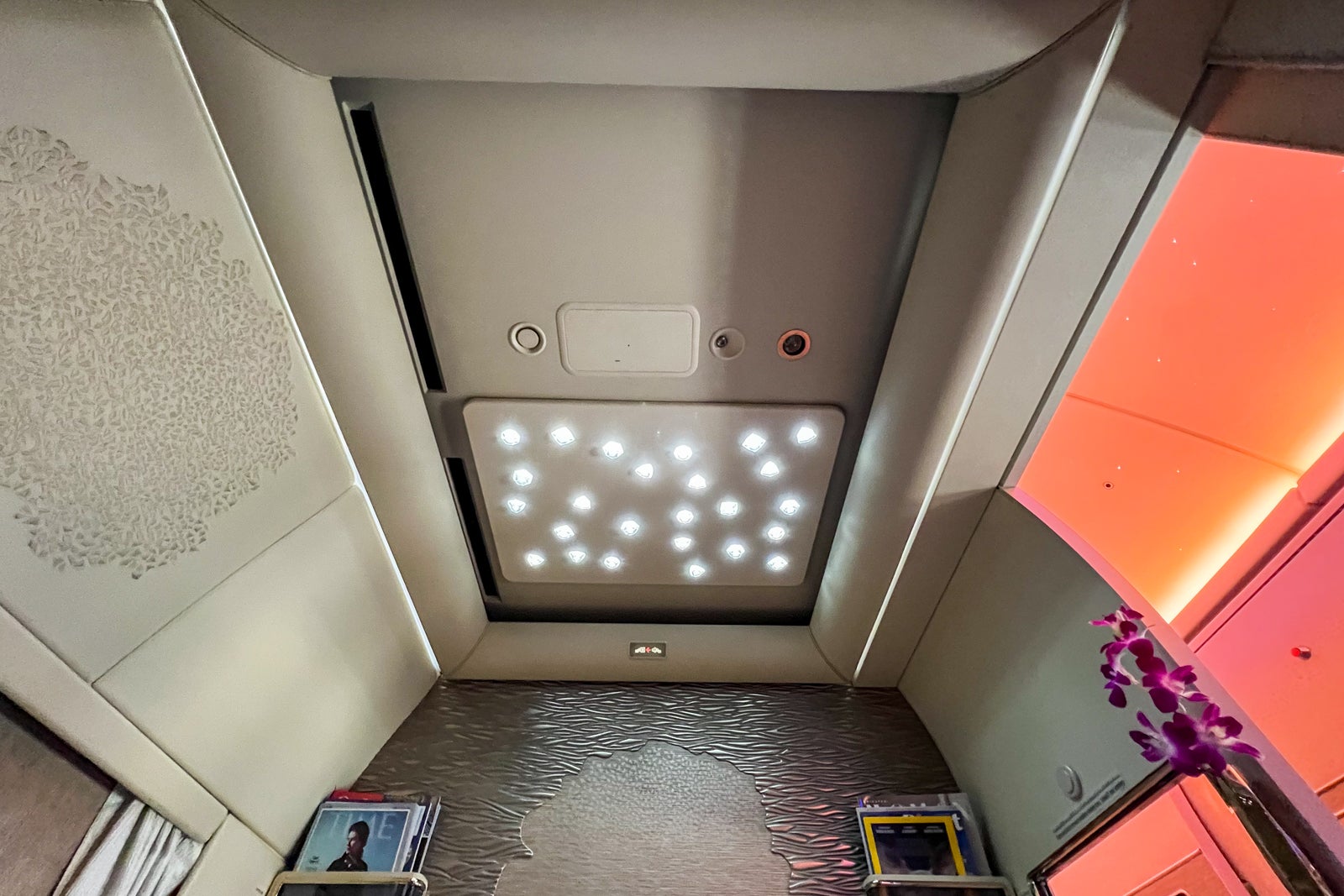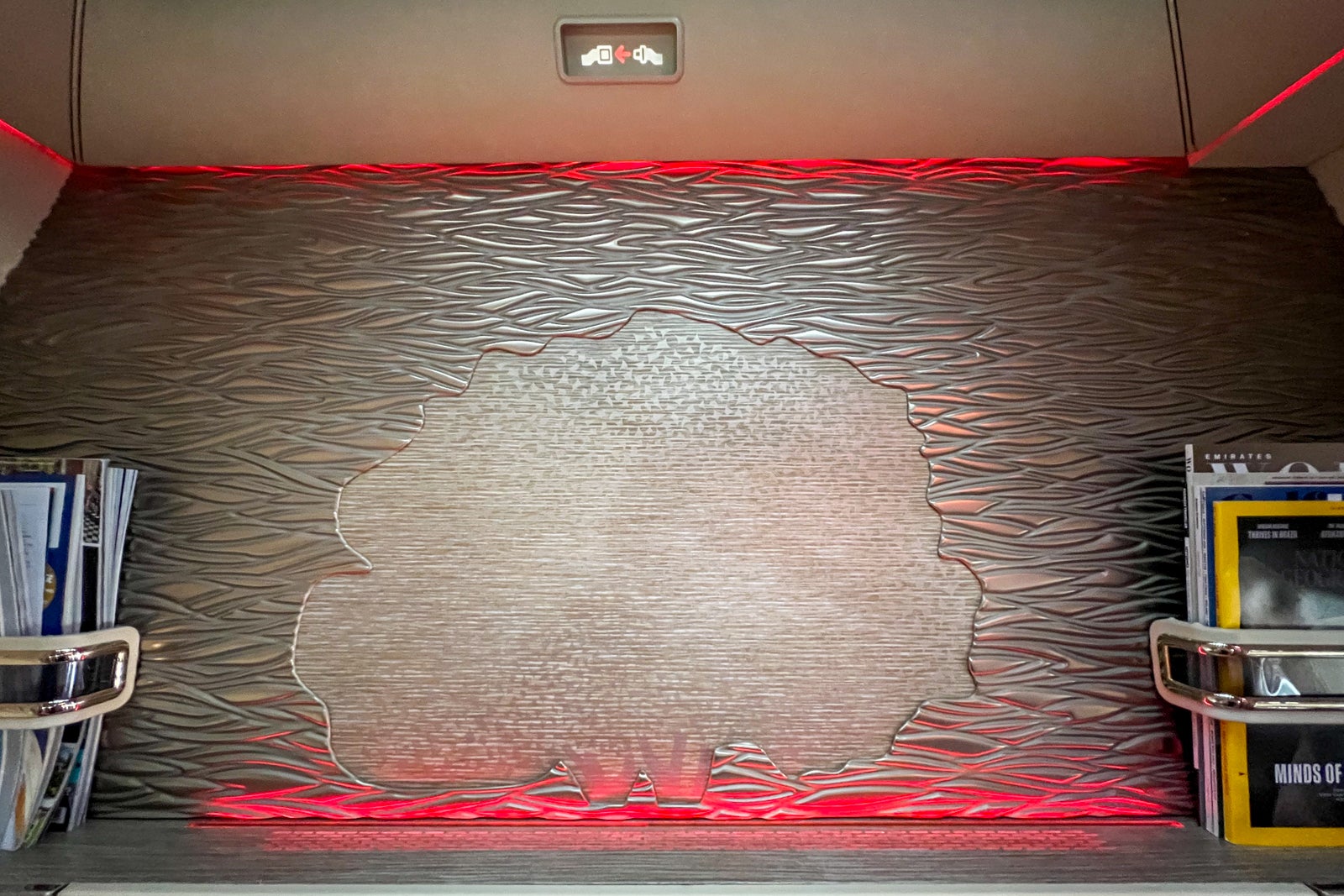 Opposite from where the suite's door pulls out is a mirrored panel that hides a small closet where passengers can hang their clothes after changing into the provided pajamas if they like.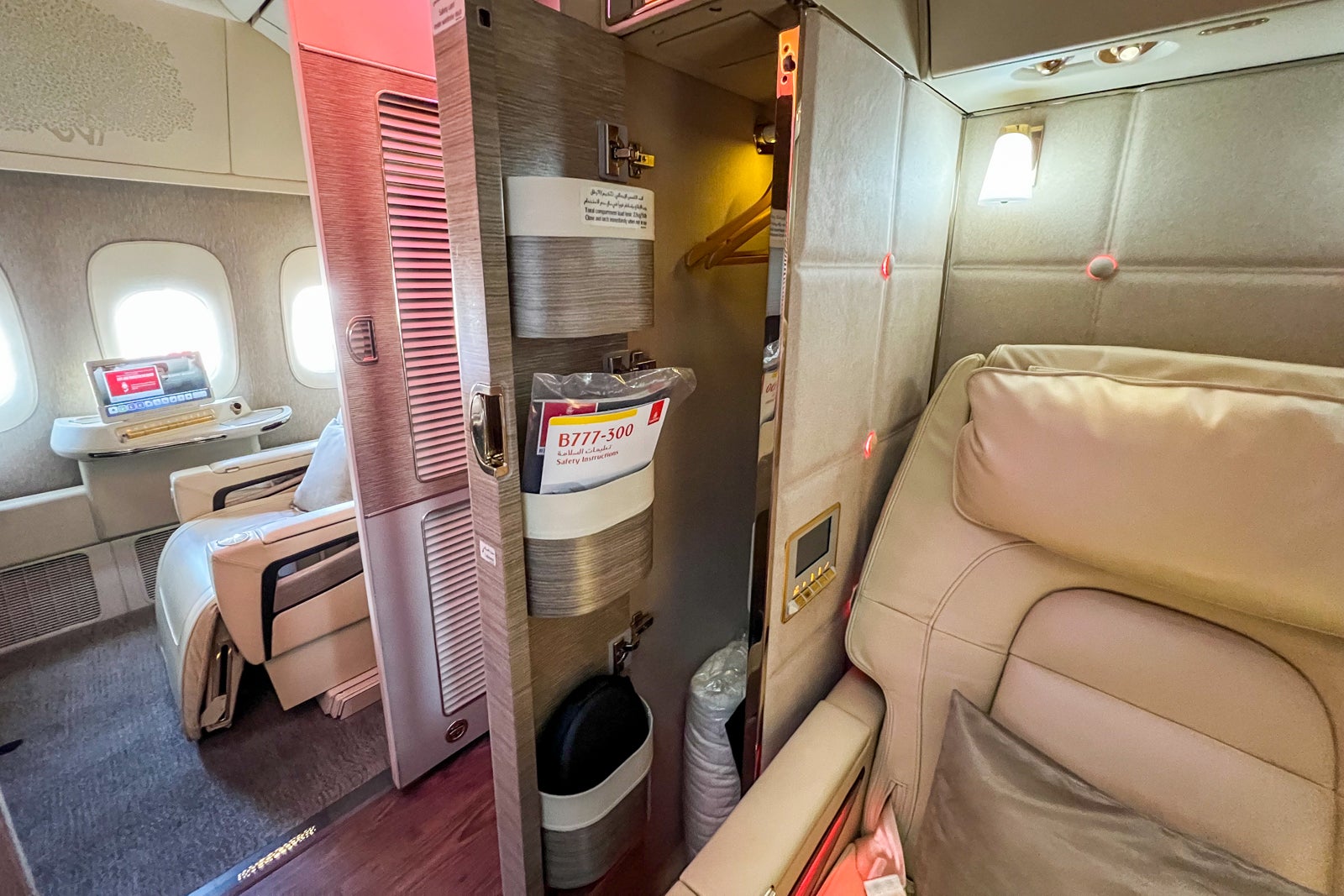 The door was latched for takeoff and landing, but I could roll it open and closed throughout the flight.
It wasn't the easiest fixture to manipulate, and I had to pull rather hard to get it closed. However, I did like the privacy it provided a lot, even though the panels are more like blinds than a solid wall.
The front one by the suite's table pulls down so flight attendants can drop off or pick up service items through the aperture without entering the suite itself.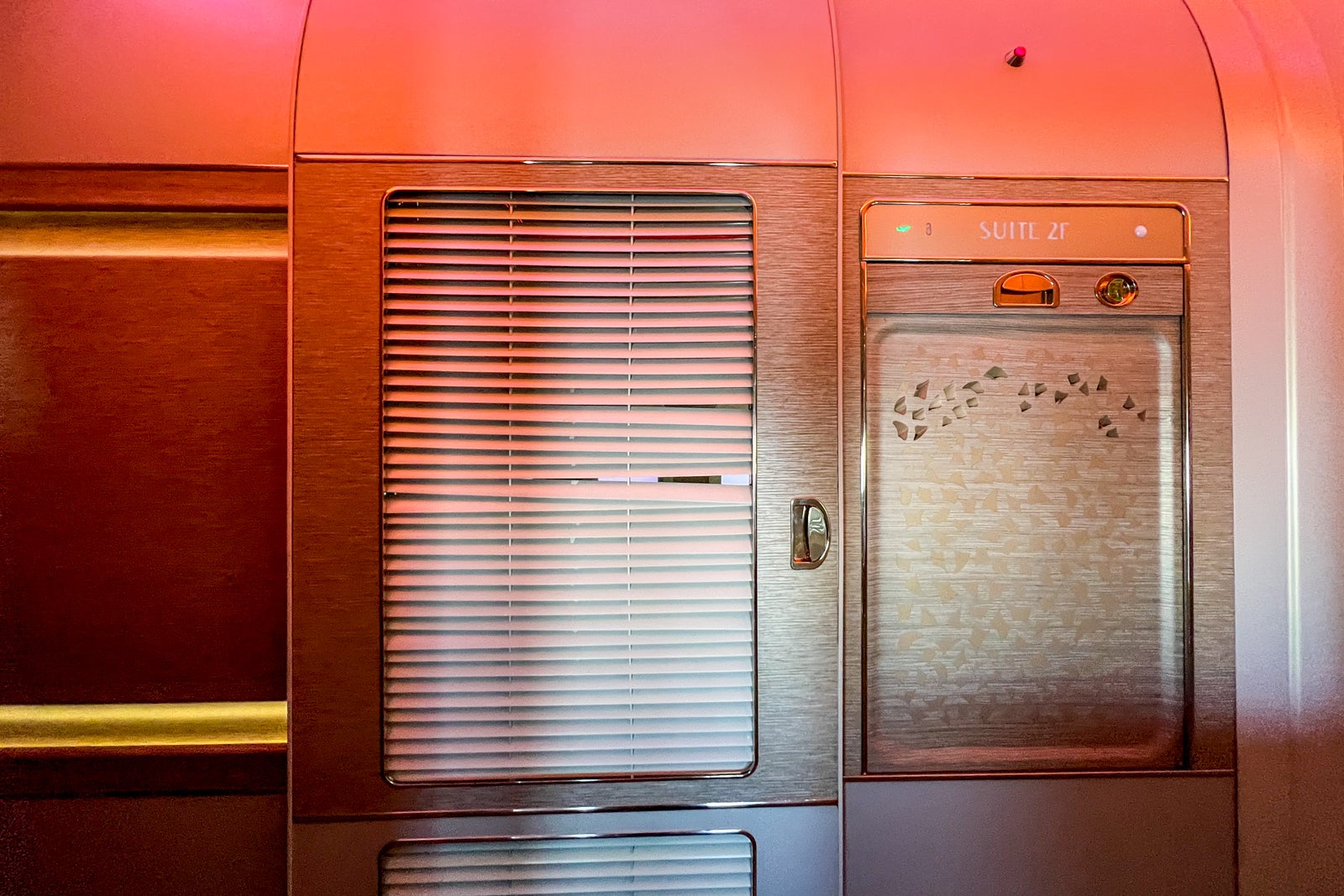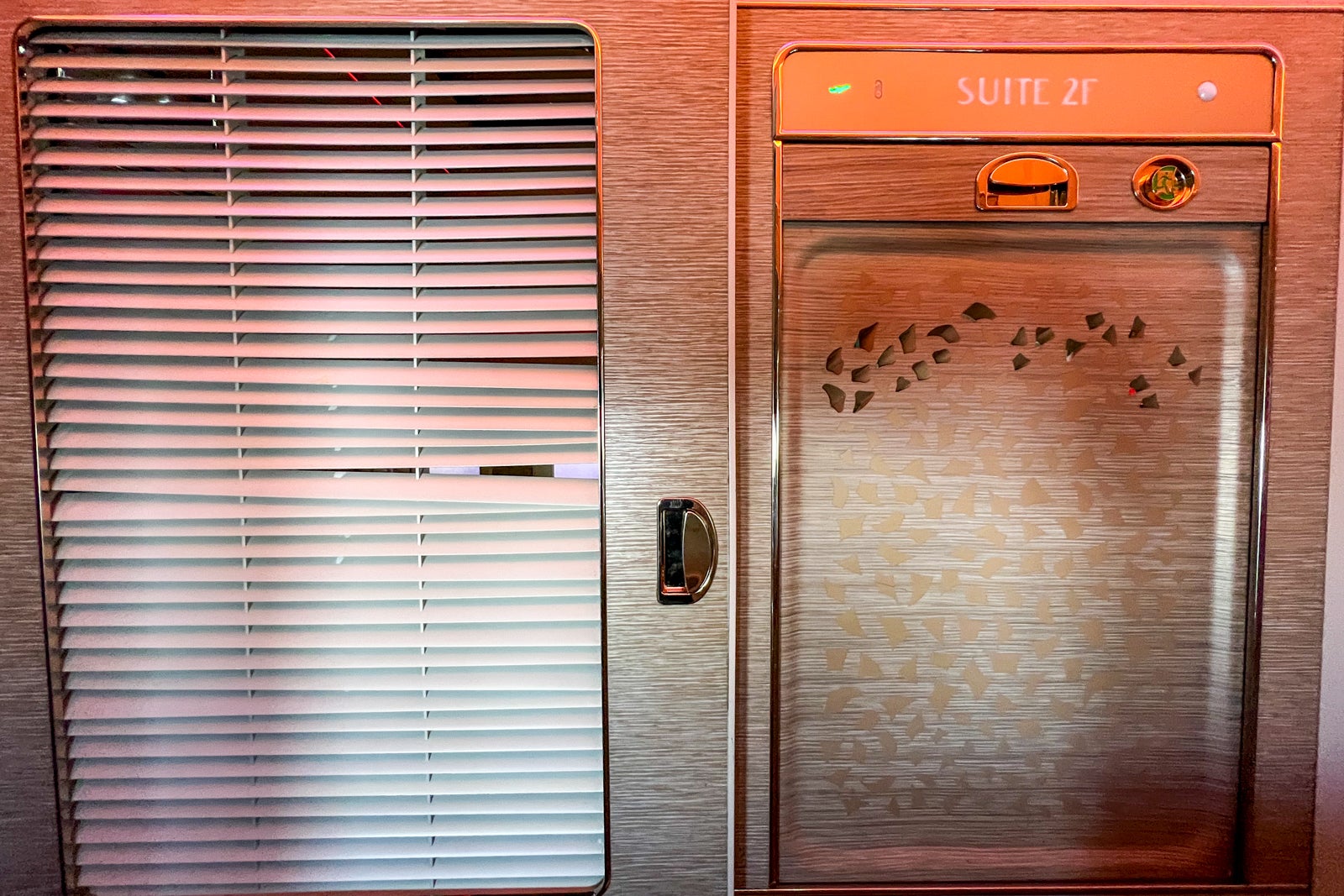 Aside from all the high-tech touches and buttons to play with, what might just be most impressive about the suite are all the elegant design elements that have been incorporated.
Among them, the ghaf tree motifs embossed in the paneling around the entertainment screen and in the leather above the windows were lovely echoes of the larger one at the plane's entrance.
The tufted backboard with two understated but very handy lighting sconces, as well as accent lighting embedded in the buttons and the overhead constellation-style lights all created a very chic yet comfortable ambiance.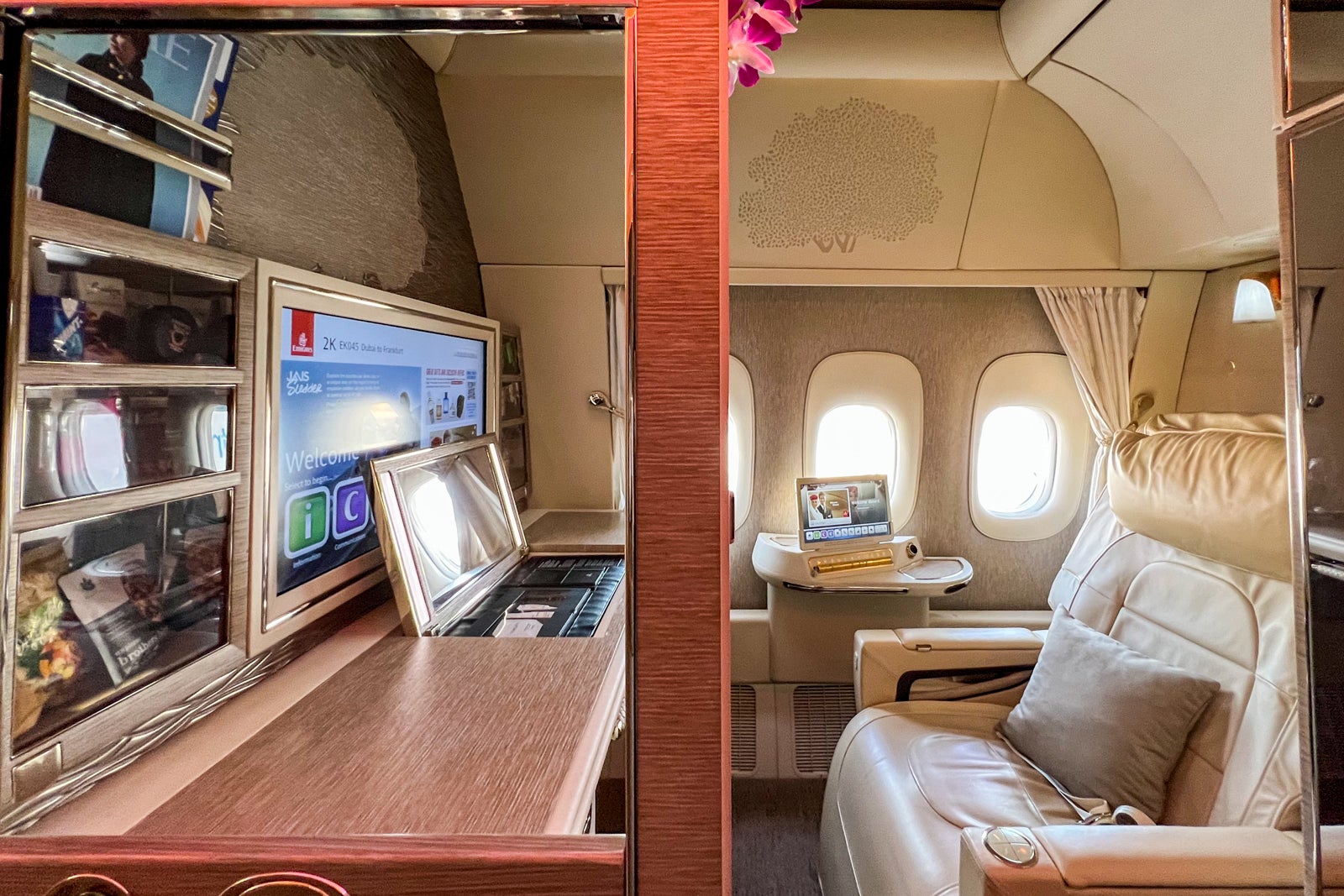 All in all, this is a very attractive first-class cabin and suite, and exploring its various features kept me busy for a significant portion of the flight.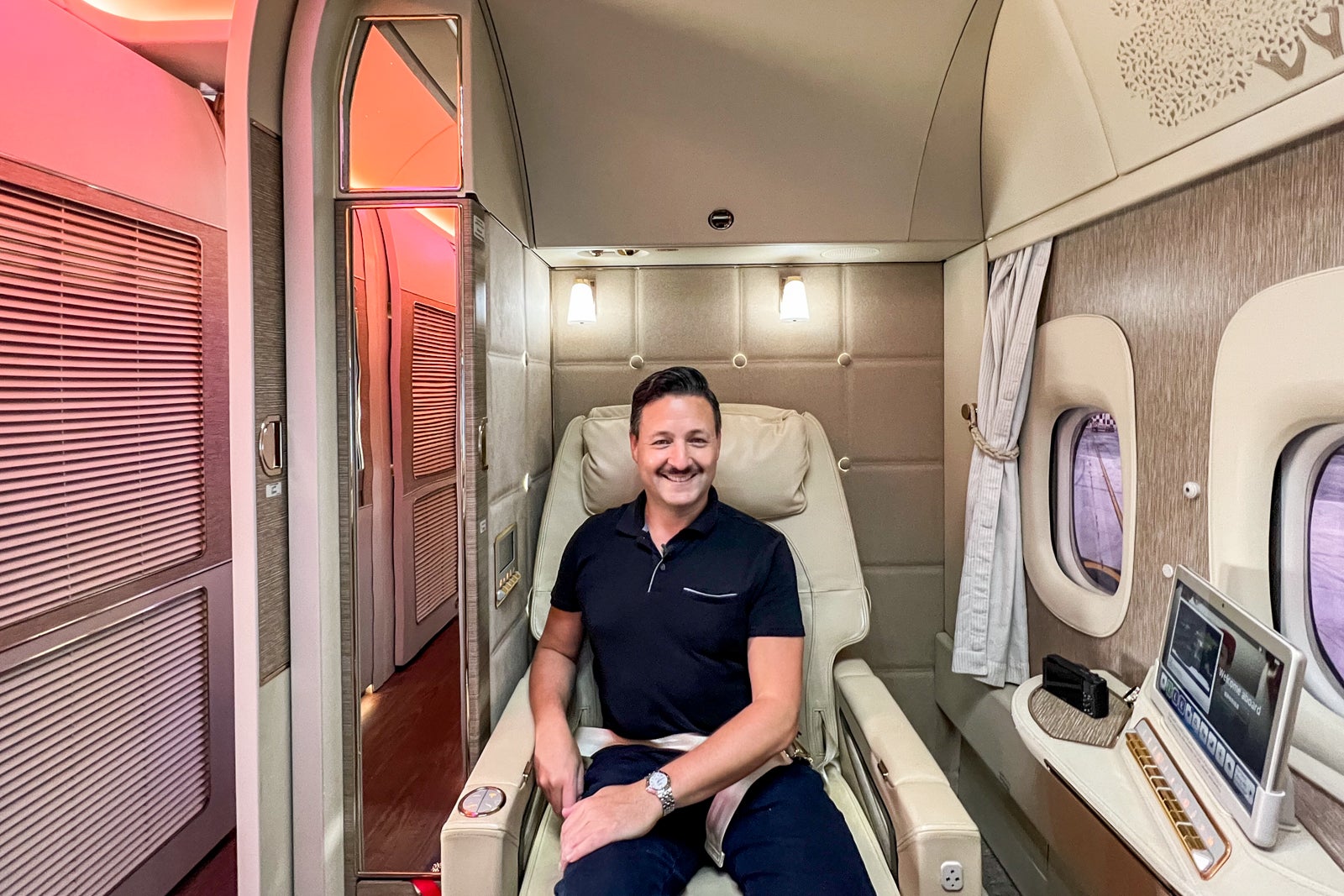 Amenities and service
Flying first class on Emirates feels like Christmas thanks to the sheer number of goodies and extras you are given almost as soon as you set foot on board.
Sure, you have to hand some of them back at the end, like those Steiner binoculars and the Bowers & Wilkins E1 noise-canceling headphones you're given to use with the entertainment system. You get to keep quite a few, though.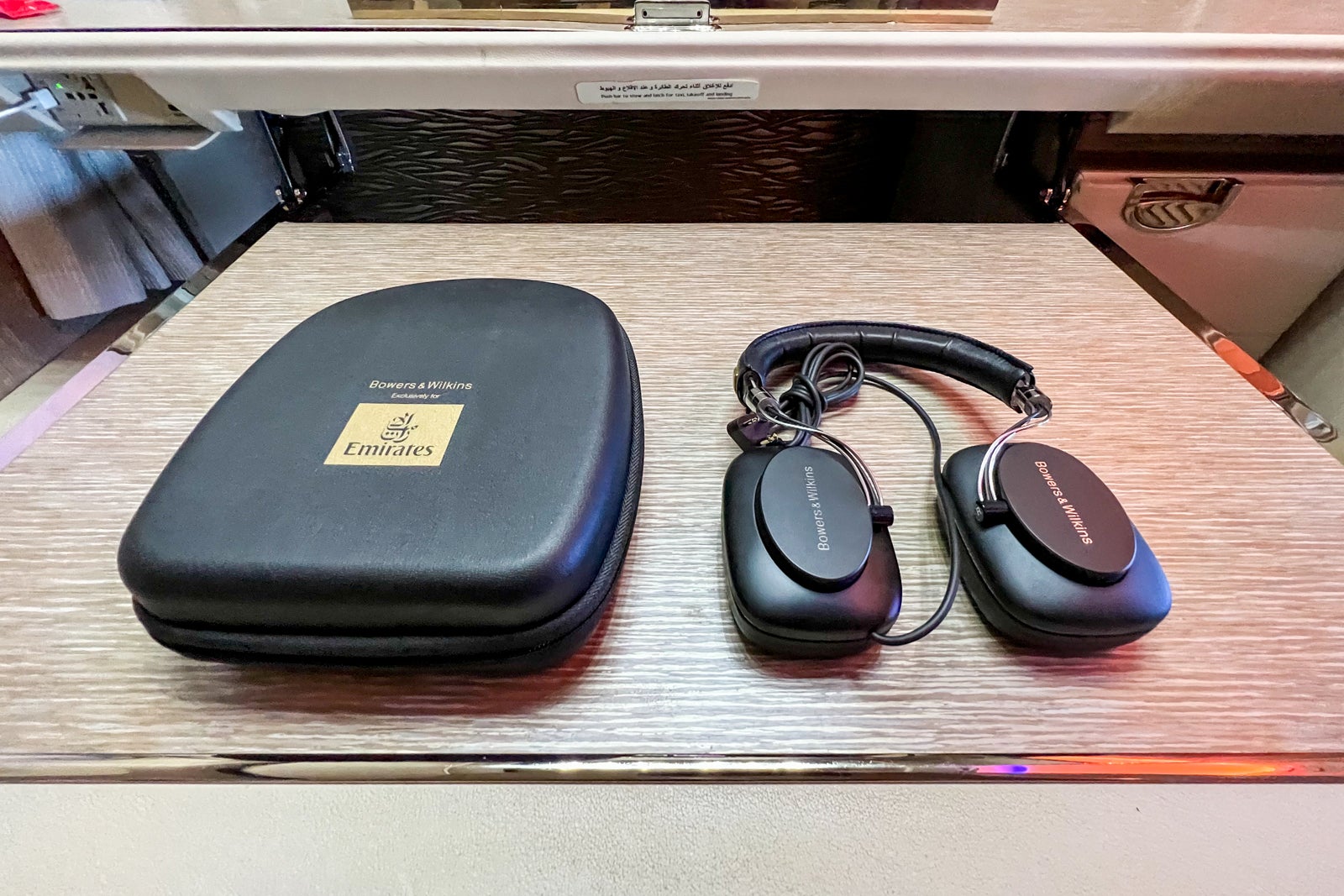 When I arrived at my suite, there was a small back pillow waiting on the seat, and an orchid placed in a small sconce on the wall, which was a fun touch.
The lighted vanity was open and inside was a variety of high-end Byredo products including facial cleanser, eye cream, pillow mist and soothing sleep oil to rub on your temples or wrists. There was also an Emirates-branded Moleskin notebook and a handy pen.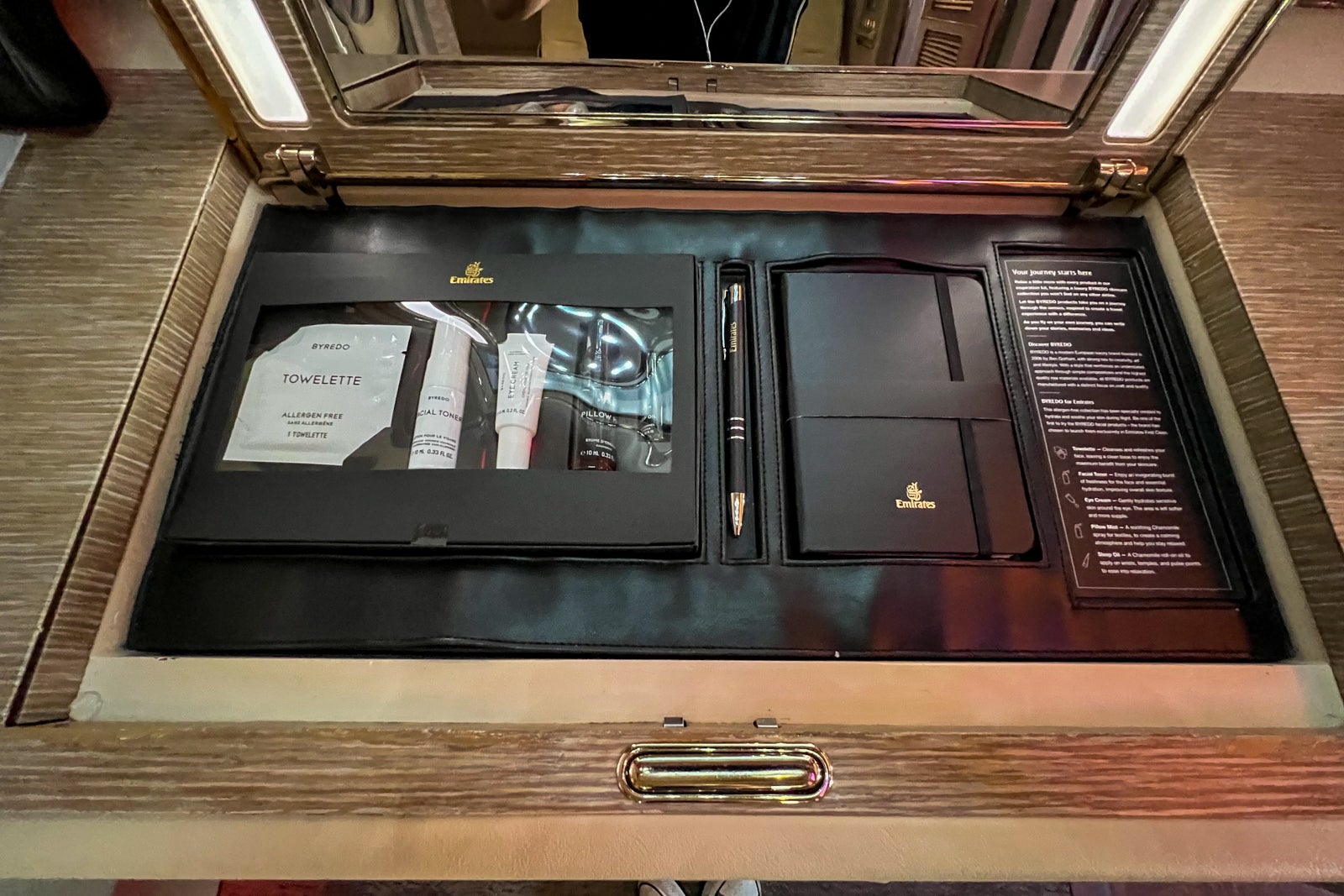 As soon as I was settled in, the flight attendants came by to offer me a welcome cup of strong Arabic coffee and a selection of fancy Bateel dates.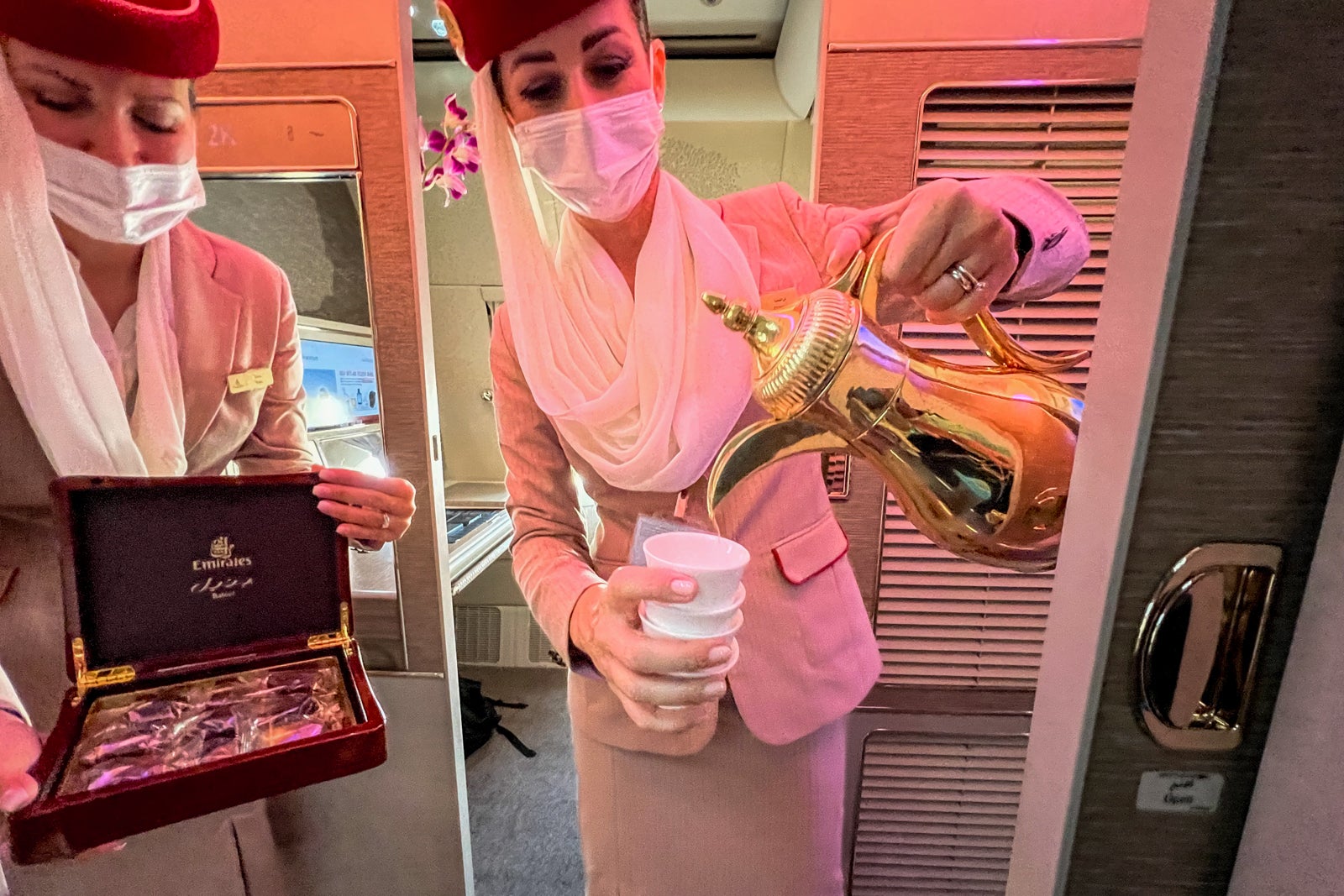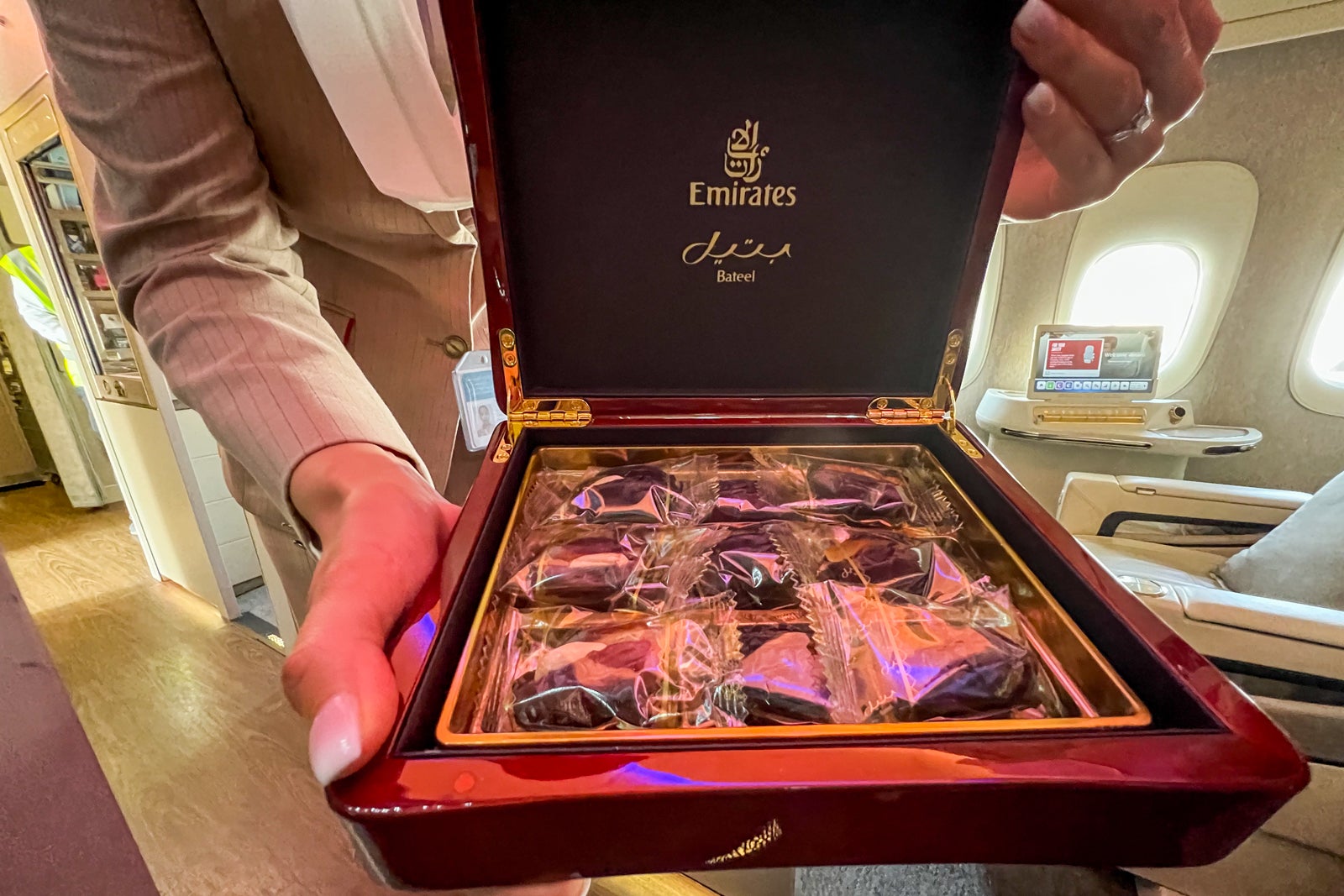 Next, they returned with a selection of international newspapers and magazines and handed me a beautiful, black leather Bulgari amenity pouch with a zippered closure.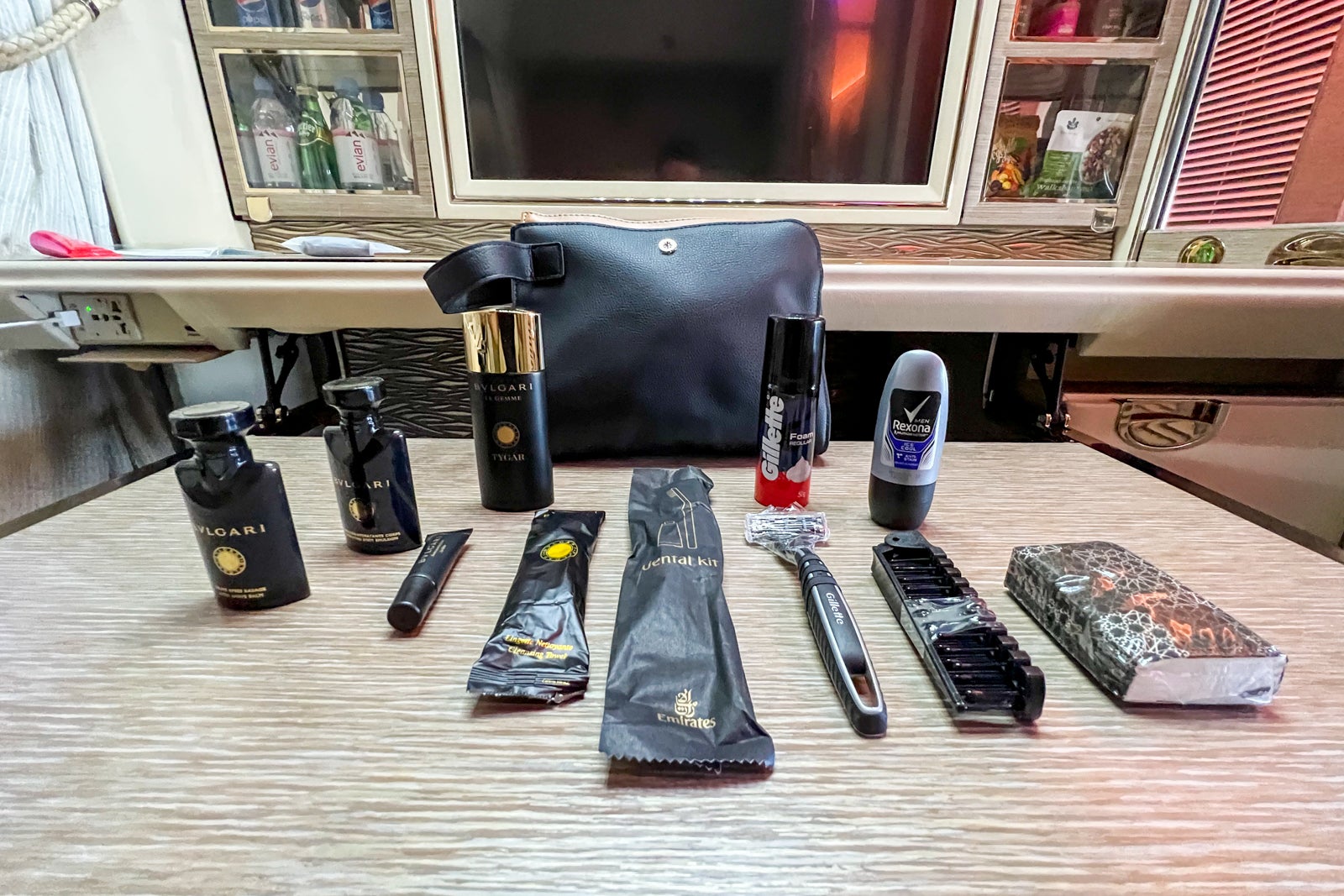 I opened it to find a selection of products from the brand's Tygar line, including hydrating skin cream, aftershave lotion, cologne, lip balm and a cleansing towelette.
There was also a Gillette razor and shaving cream, Rexona antiperspirant, a packet of tissues and a brush-comb combo.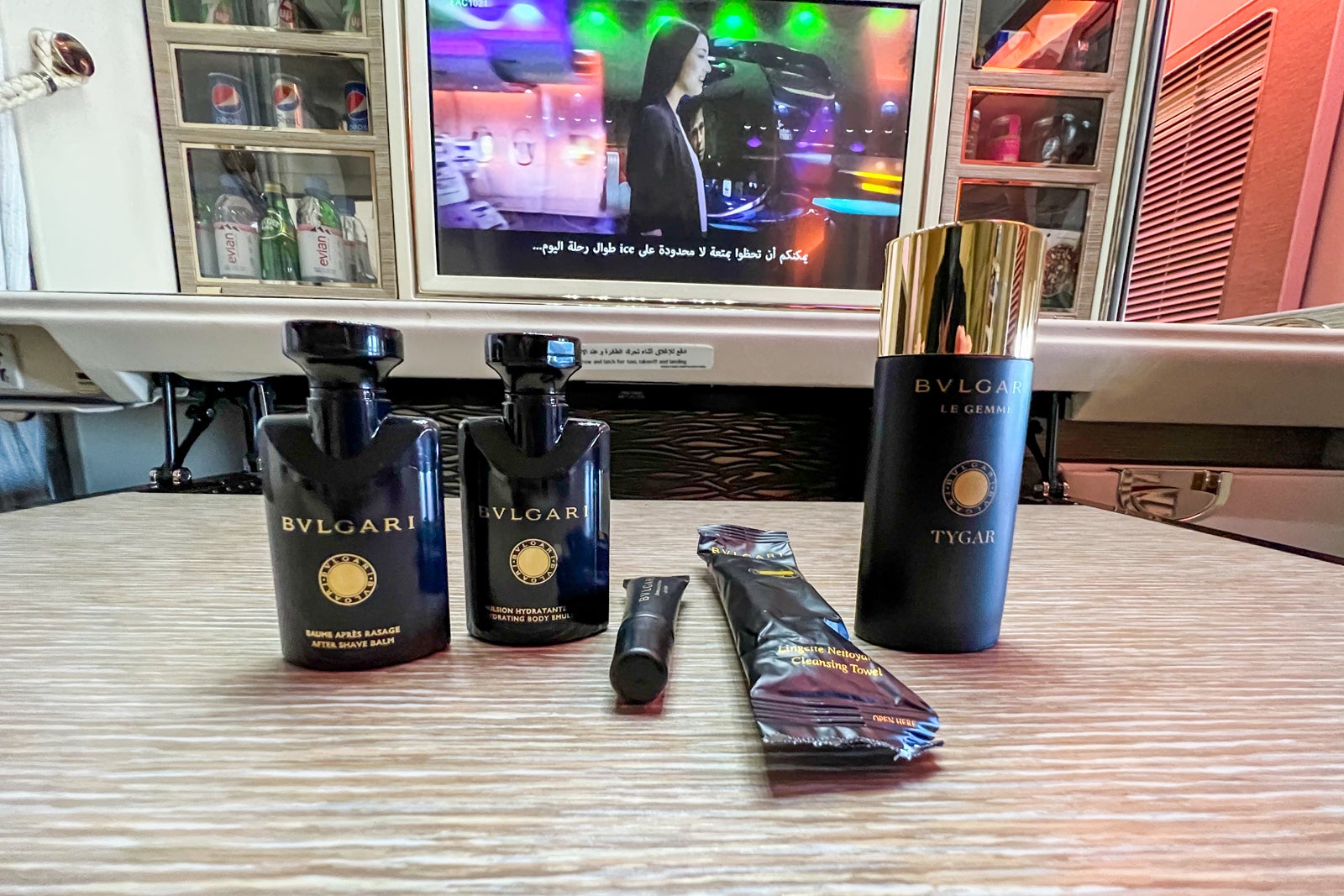 I received a set of the airline's Hydra Active moisturizing pajamas, which are ultrasoft and breathable — perfect for a long flight. I especially like the shawl collar, which is distinctive from other airline sleepwear, and the pants since they have a drawstring and tapered cuffs, so they fit well.
I also received a soft eye mask and a pair of felt slippers in the pajama pouch.
There were two lavatories located at the front of the cabin just for first-class passenger use. The attendants kept them spotless and provisioned with still more Bulgari products.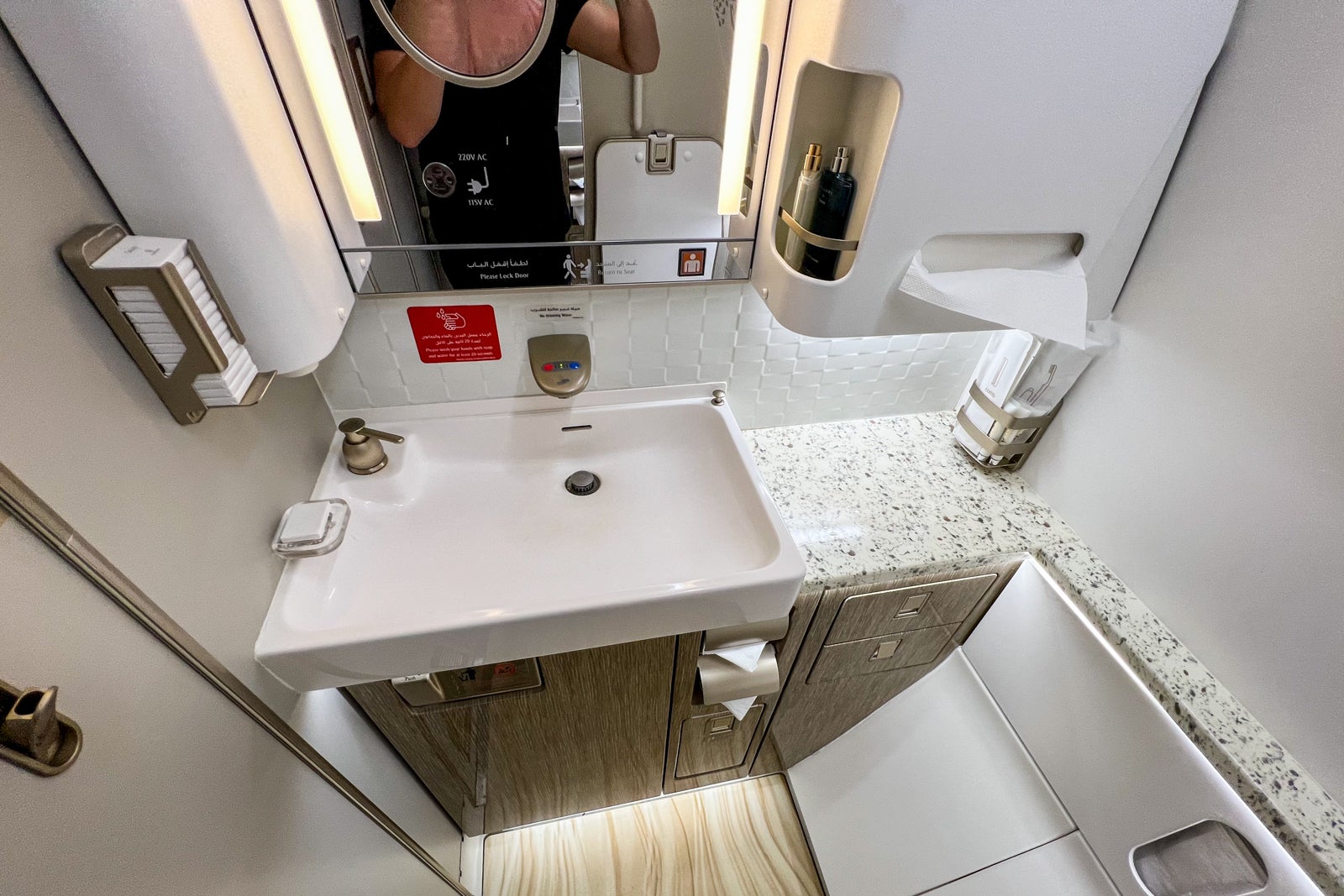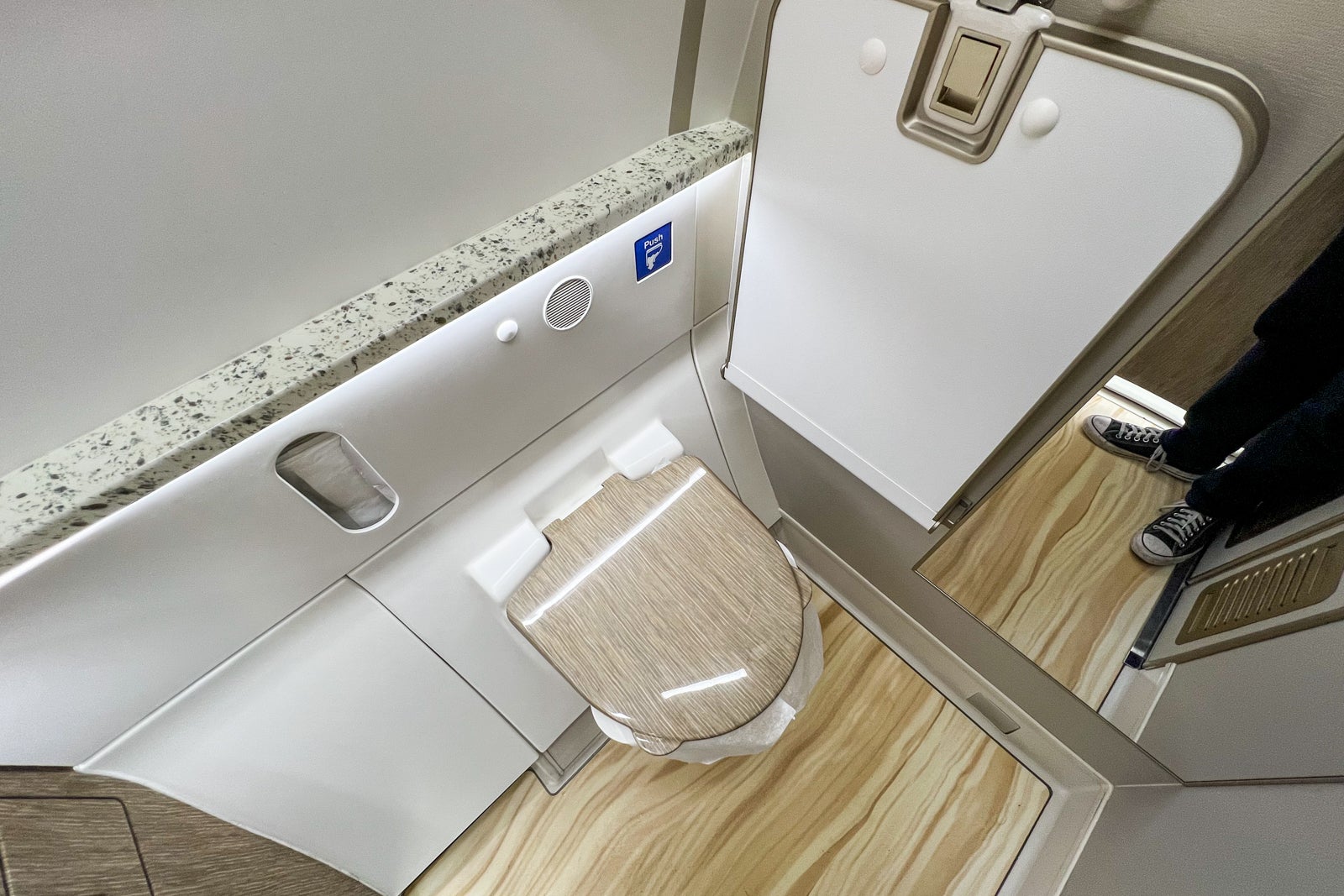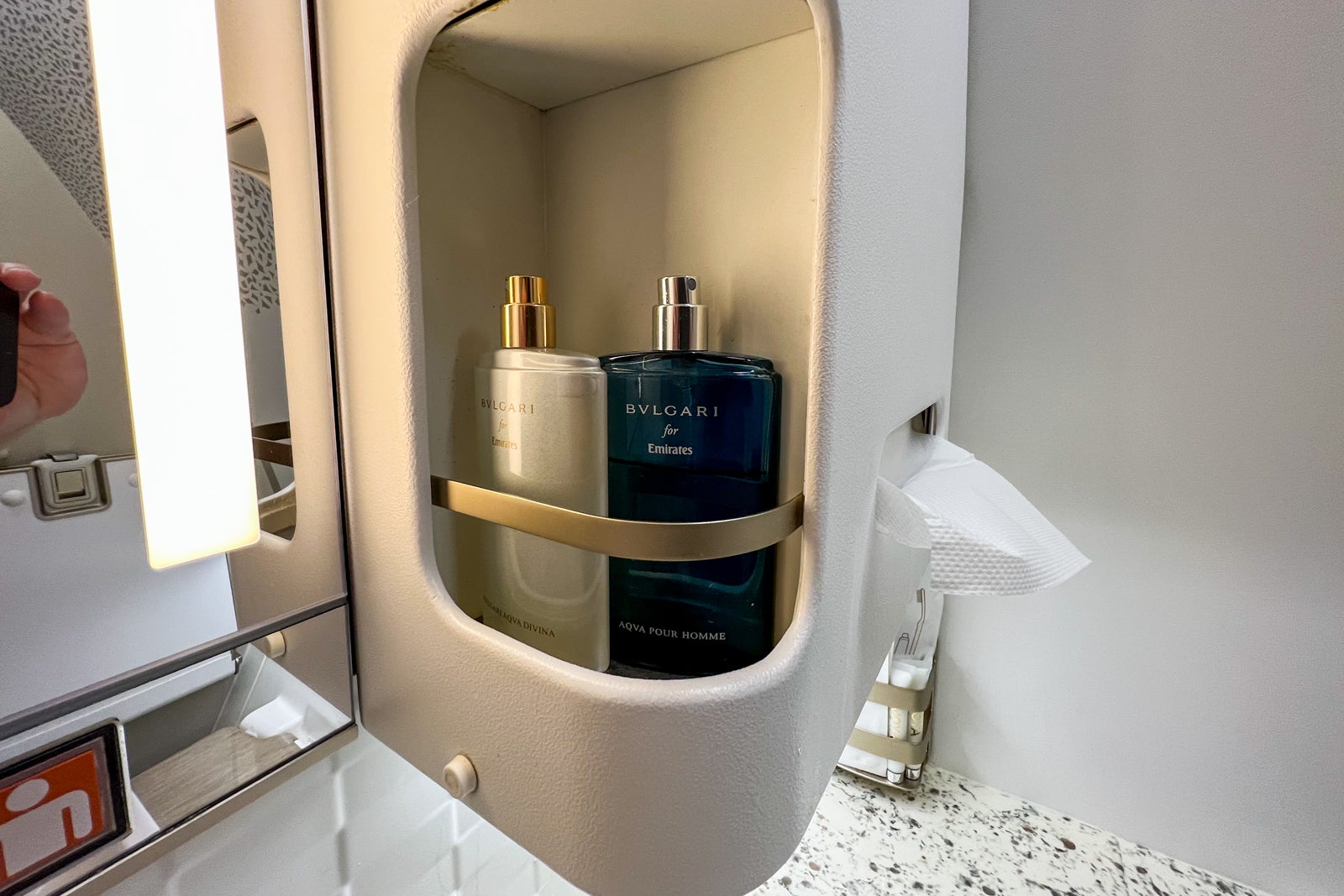 Perhaps my favorite first-class amenity on Emirates, however, is the in-suite minibar. In the new suites, it comprises two attractive, glassed-in cabinets, one to either side of the entertainment screen. One cabinet holds beverages including various soft drinks and bottles of Evian and Perrier.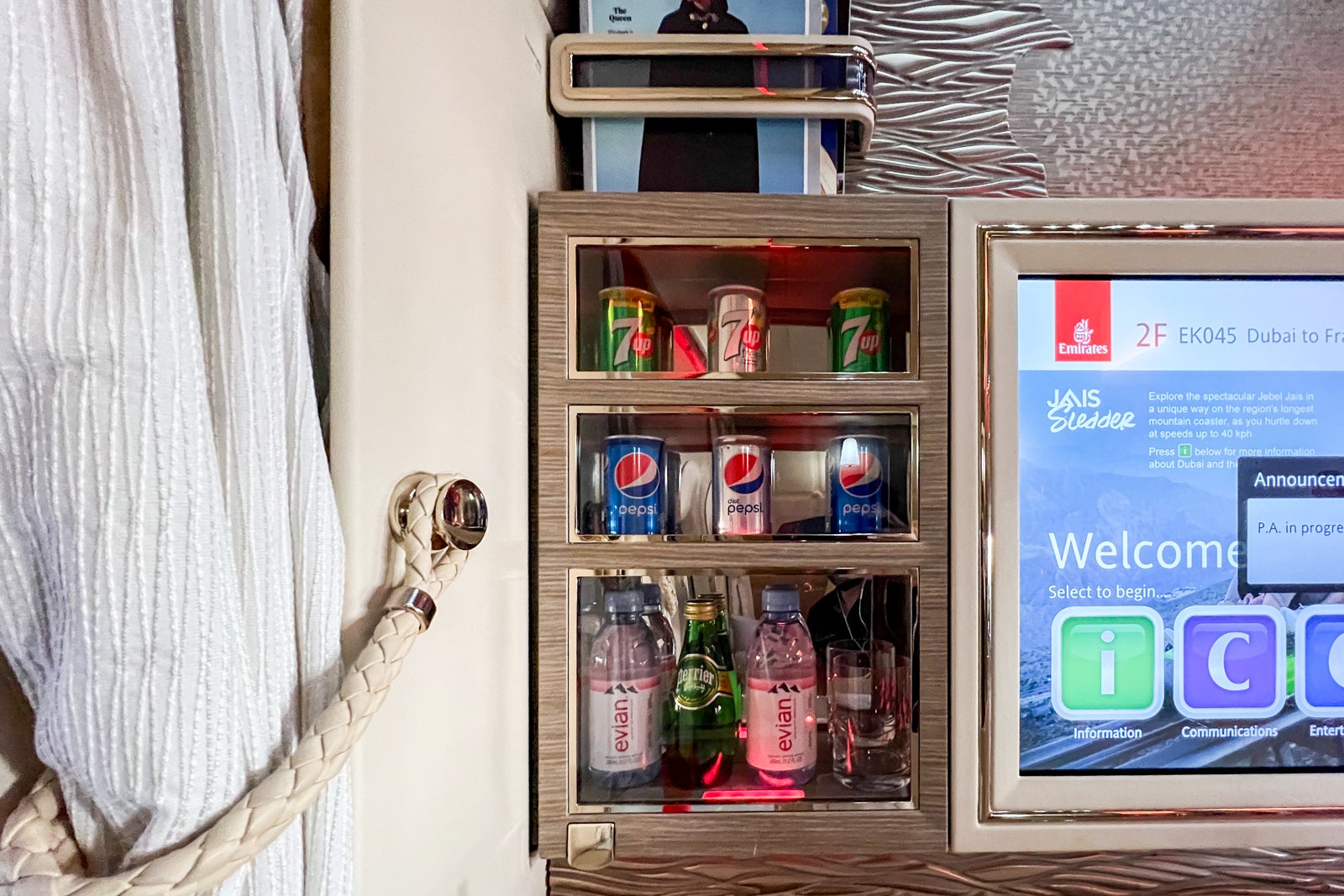 The other holds candies and snacks such as Hunter Gourmet vegetable chips, Lakrids by Bulow licorice bites (my favorite Danish delight), spiced nuts from Bennet's Snacks, M&Ms, Haribo Goldbears and more.
I literally felt like a kid in a candy shop and not the least bit guilty squirreling a few of them away in my bag to enjoy later on my trip.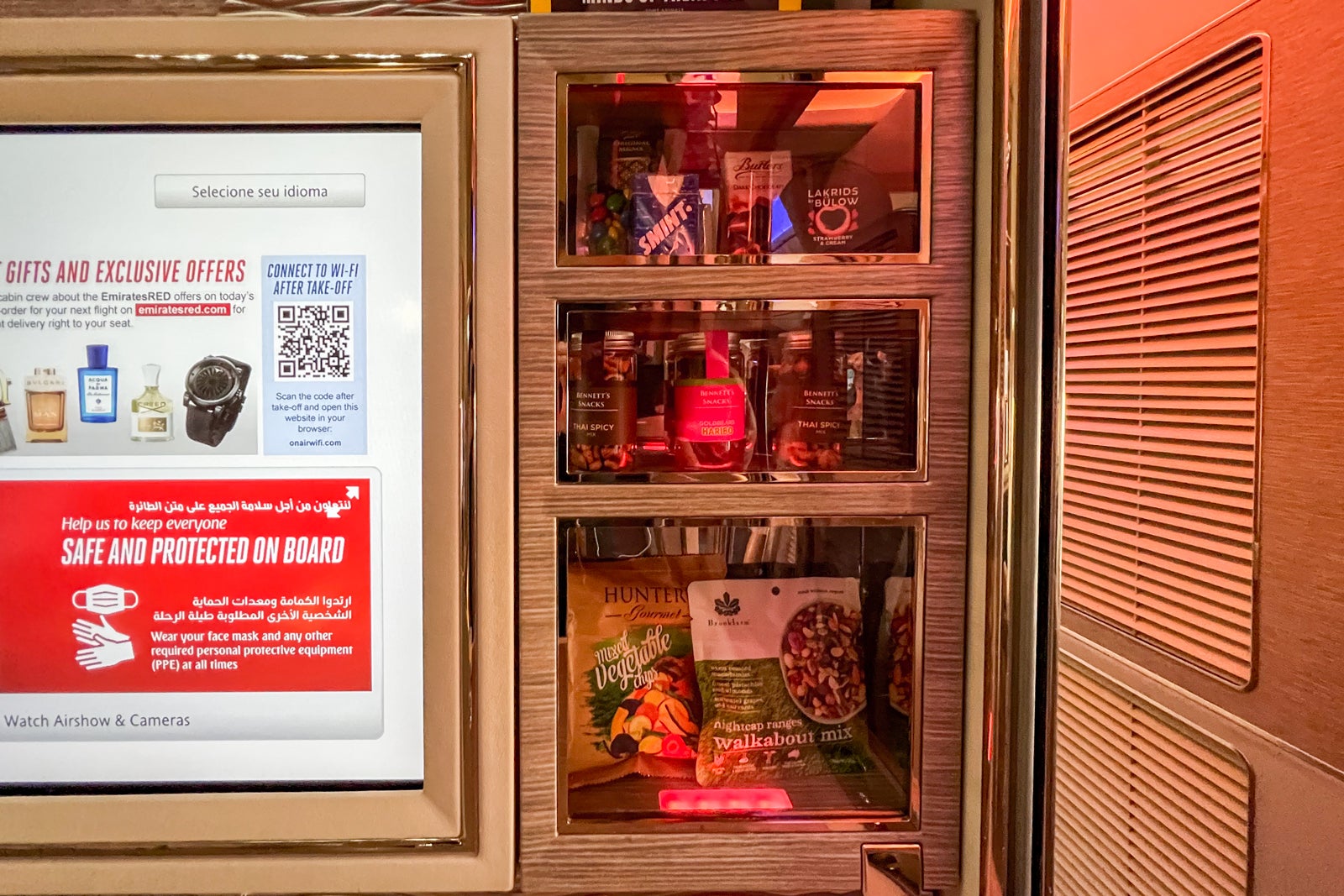 Emirates offers inflight Wi-Fi and had I attached my Emirates Skywards number to my reservation, I could have used it throughout the flight for free.
However, because I credited my flight to another program, I would have had to pay anywhere from $4.99 for a texting plan, $9.99 for a 30-minute plan, or $16.99 for a full-flight plan with no data limits.
Instead, I just worked offline. It would be great if the airline offered first-class passengers free inflight Wi-Fi, no matter which frequent-flyer program they had attached to their reservation.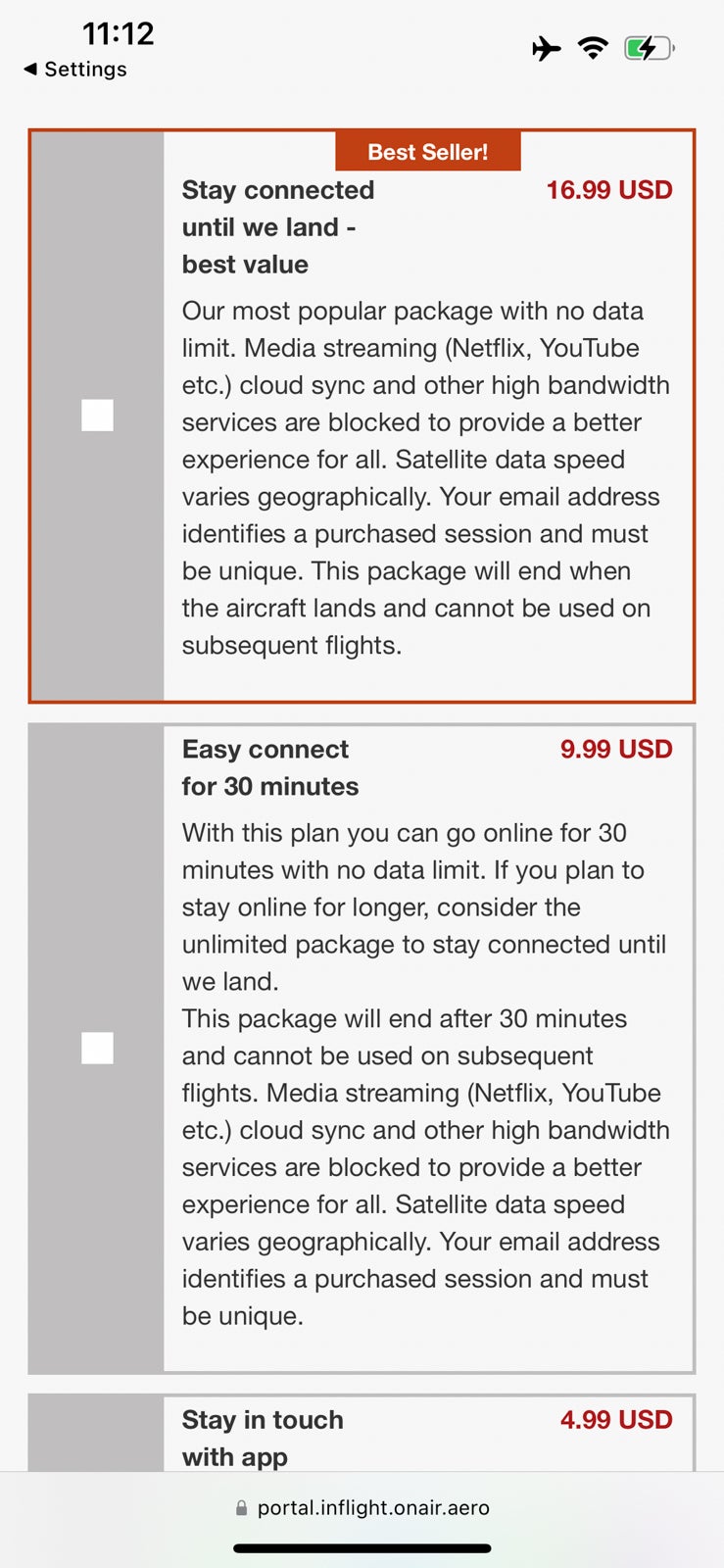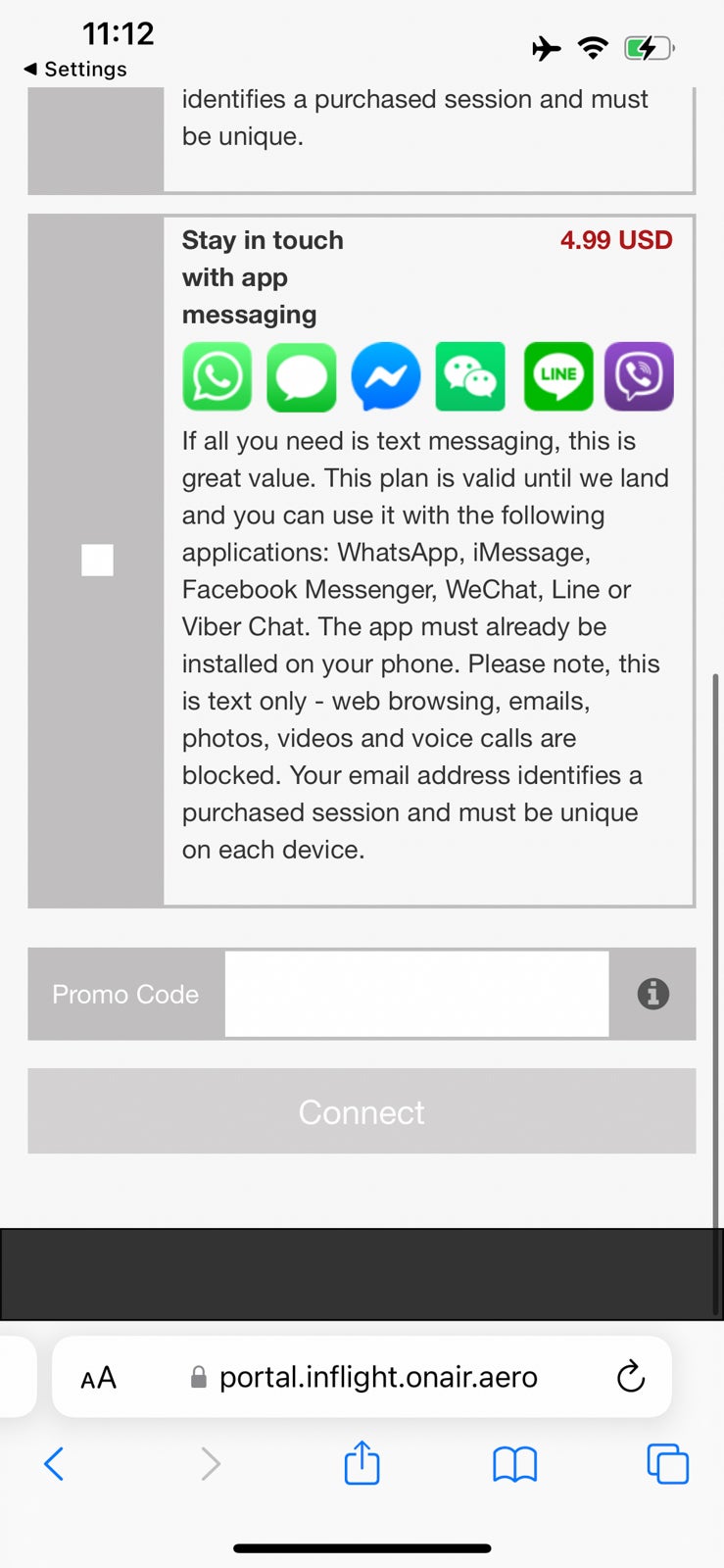 There were only three passengers in first class (including me) and the other two occupied suites 1A and 2A, so I had the entire right side of the cabin to myself.
I also had the nearly undivided attention of the two extremely helpful and friendly flight attendants, who not only obliged me with a full wine-tasting while on board but also served me a multicourse meal and set up one of the other suites for me to take a nap in after lunch.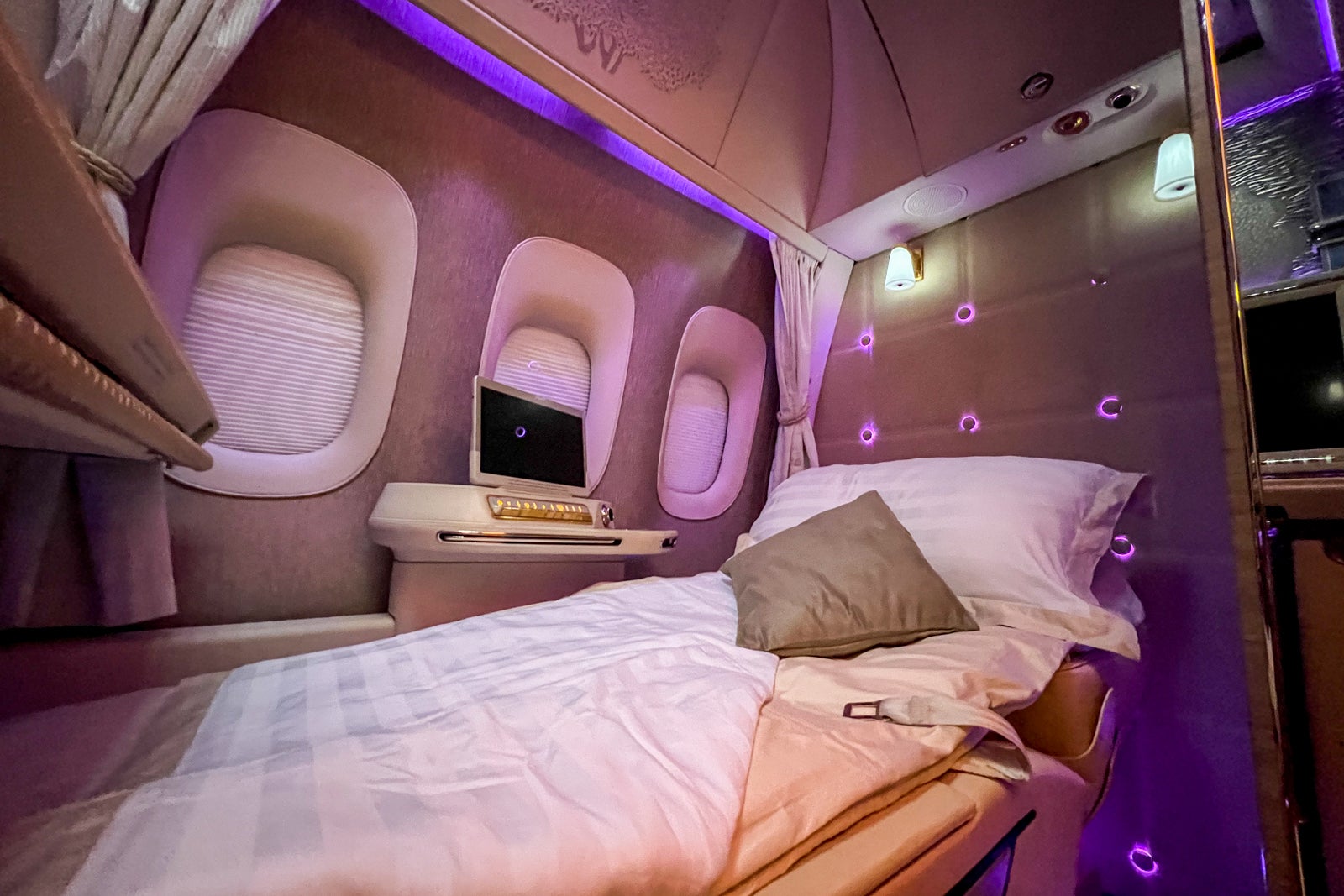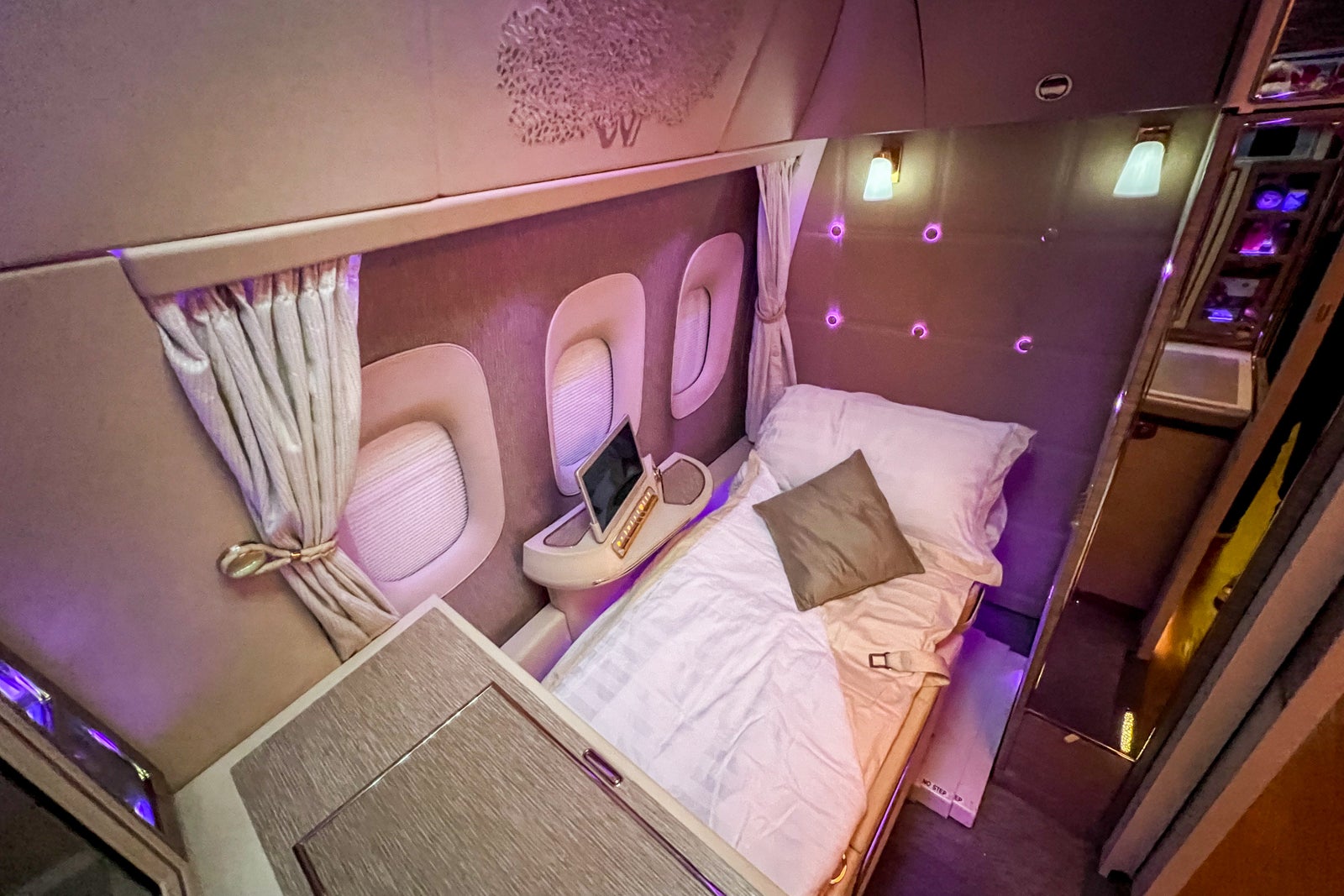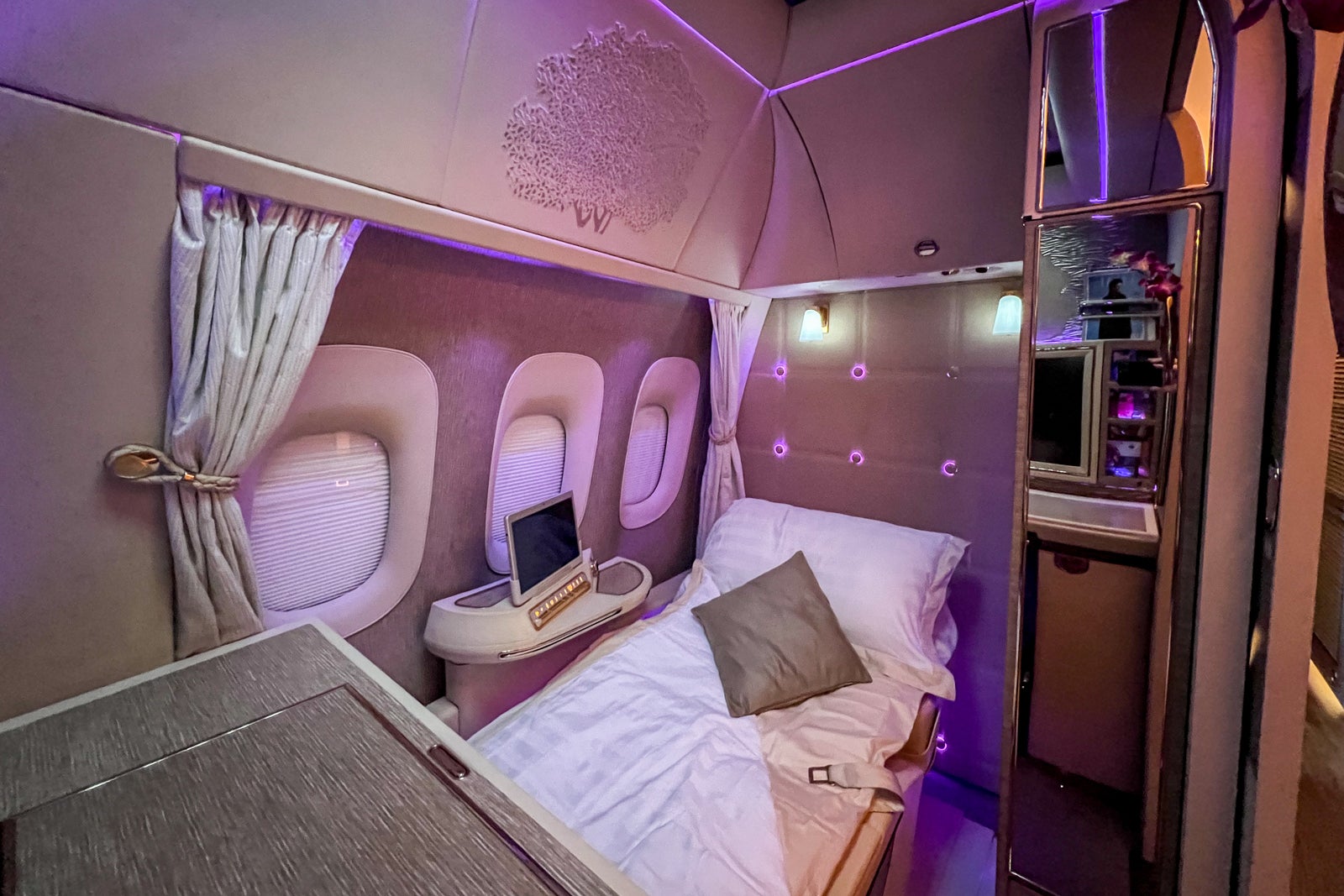 They shifted the seat into a lie-flat position and then dressed it in the airline's white-on-white linens, including a mattress pad, duvet and full-size pillow.
Nearly as soon as I laid down, I was off to dreamland, only waking about 40 minutes before landing, at which point, they whipped up a cappuccino for me and made sure all my belongings were stowed away.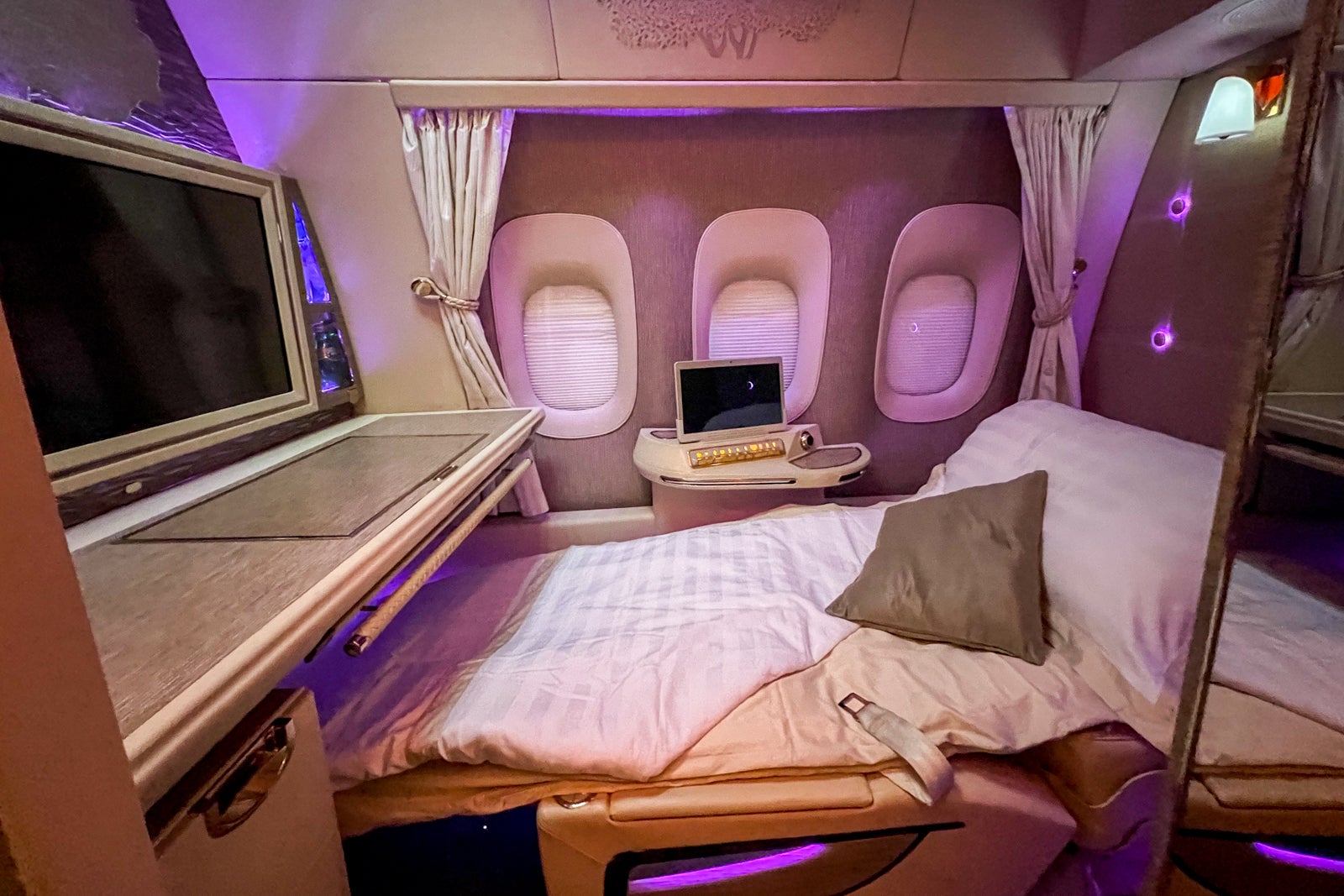 In short, the service I received on this flight was excellent — diligent and attentive without being oversolicitous — and it was just plain fun talking to them about the suites, how passengers react to them, and how folks like to pass the time on long flights.
One of them had only recently trained to serve the first-class cabin, so she was especially excited to show me all the suite's features and to make sure I got to try everything I wanted from the menu. Even at seven hours, the flight felt too short, in part thanks to how welcoming they were.
Food and beverage
The flight was long enough, however, to sample a good portion of what was on the menu that day.
Shortly after takeoff, the flight attendants came to check on me and take my drink order. I asked for Champagne and was served a glass of 2012 Dom Perignon.
Unfortunately, Emirates was not serving Dom Perignon P2 on this flight (possibly because of high taxes flying to or from Europe), but I had quaffed quite a lot of it on my flight from Bangkok a few days earlier, so I wasn't too disappointed.
I was also served an amuse bouche of tomato with burrata in a glass and prosciutto over a piece of cantaloupe.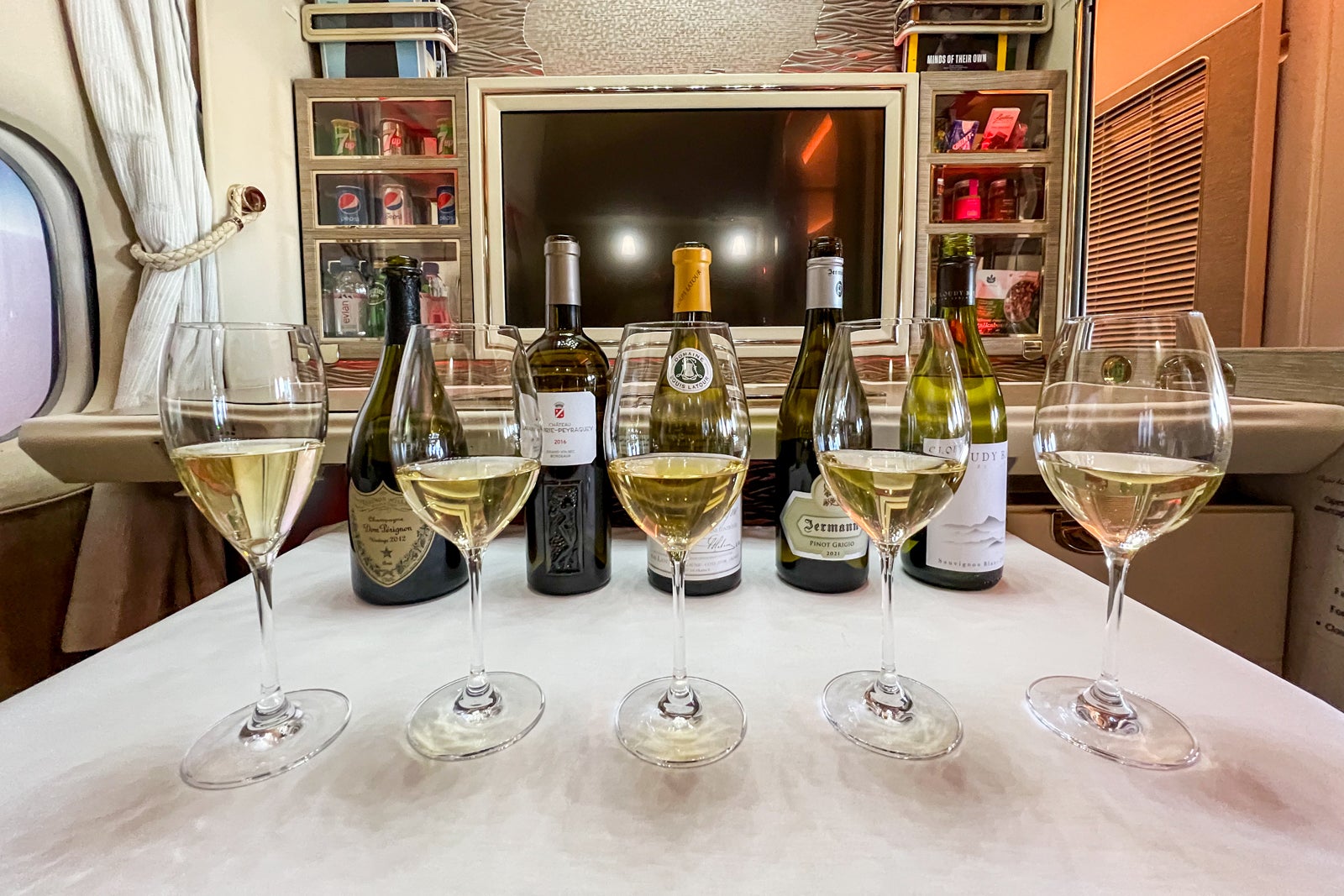 As I mentioned, I actually asked for a wine tasting since … well, why not? The cabin was half-full, the other passengers were doing their own thing, and the flight attendants were only too happy to oblige.
First, I tasted a flight of white wines, which included a luscious Corton Charlemagne Grand Cru Louis Latour from Burgundy and a crisp and bright Pinot Grigio from Jermann in Friuli Venezia Giulia.
The four reds I tried included a berry-forward Cote Rotie from the Rhone Valley in France and a robust Super Tuscan called Oreno from Tenuta Sette Ponti.
I couldn't skip the dessert wines, so I tried both the nectar-like 2005 Chateau d'Yquem Sauterne and Sandeman's complex 40-year-old tawny Port. Both were phenomenal.
I skipped a taste of Hennessy Paradis Cognac, which first-class passengers can sample, since I'd had some on my previous flight (and it was even better than advertised).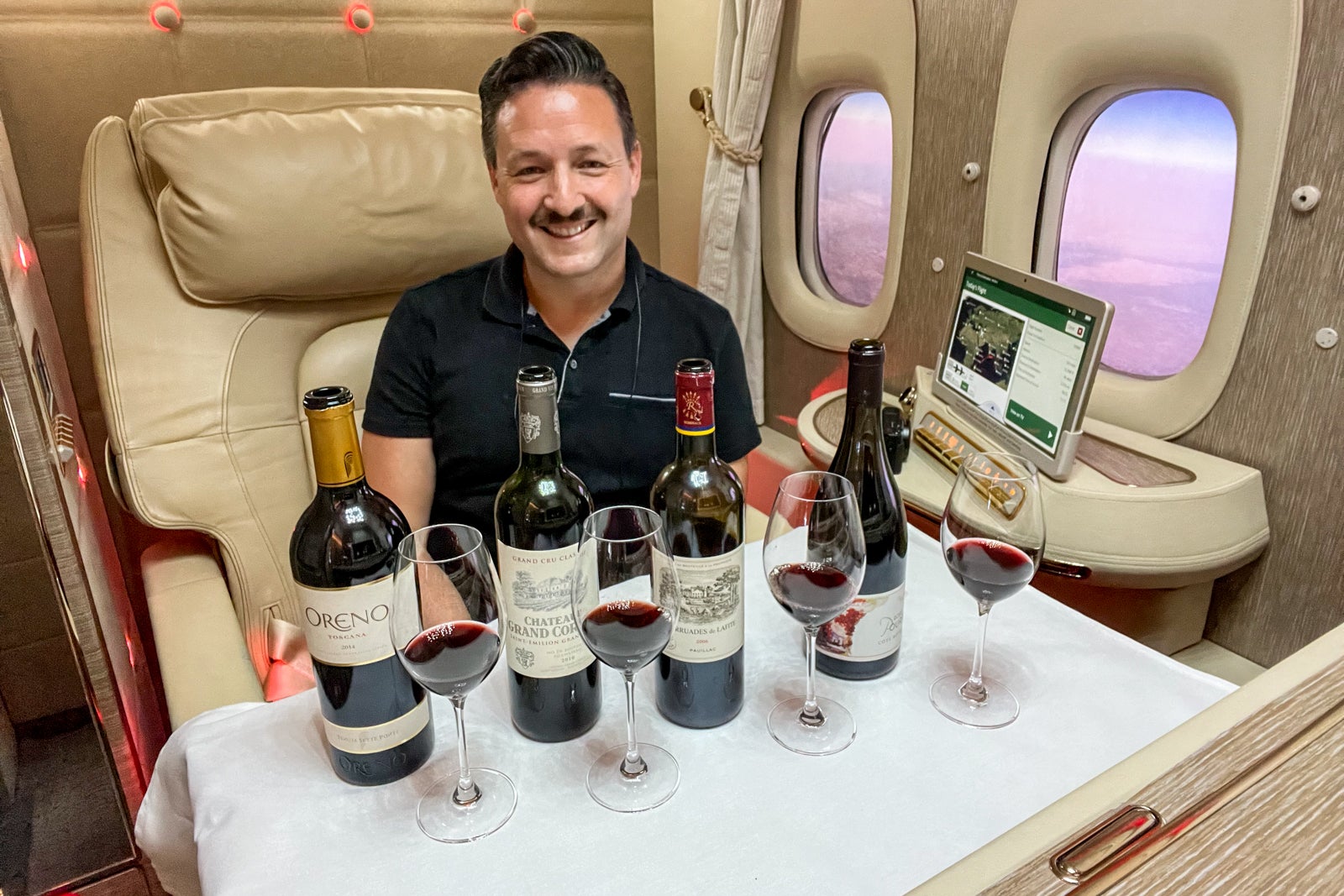 After tasting (not drinking!) all that wine, I was finally ready for something to eat and, thanks to Emirates' dine-on-demand service, the flight attendants were ready to comply as soon as I rang my call button.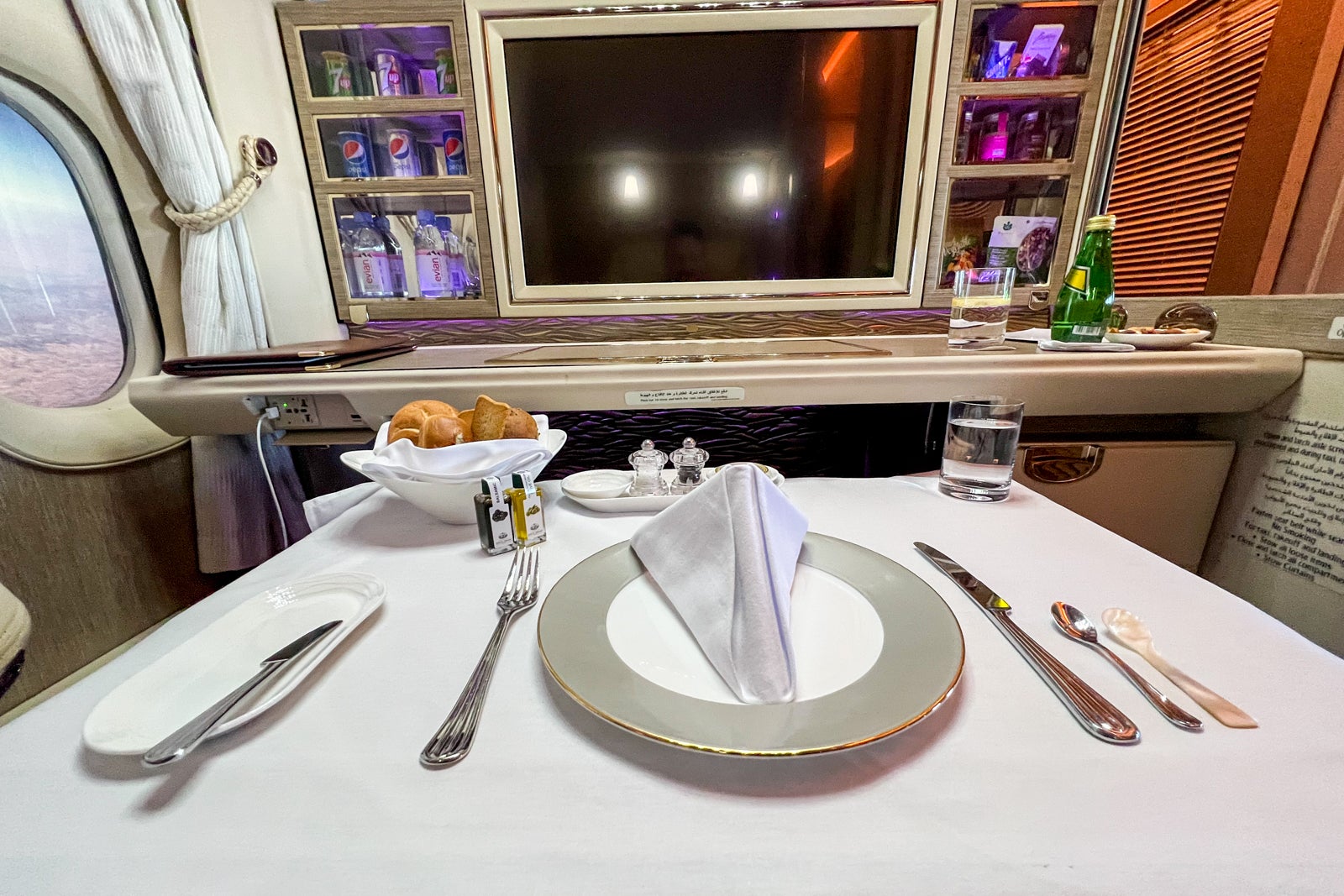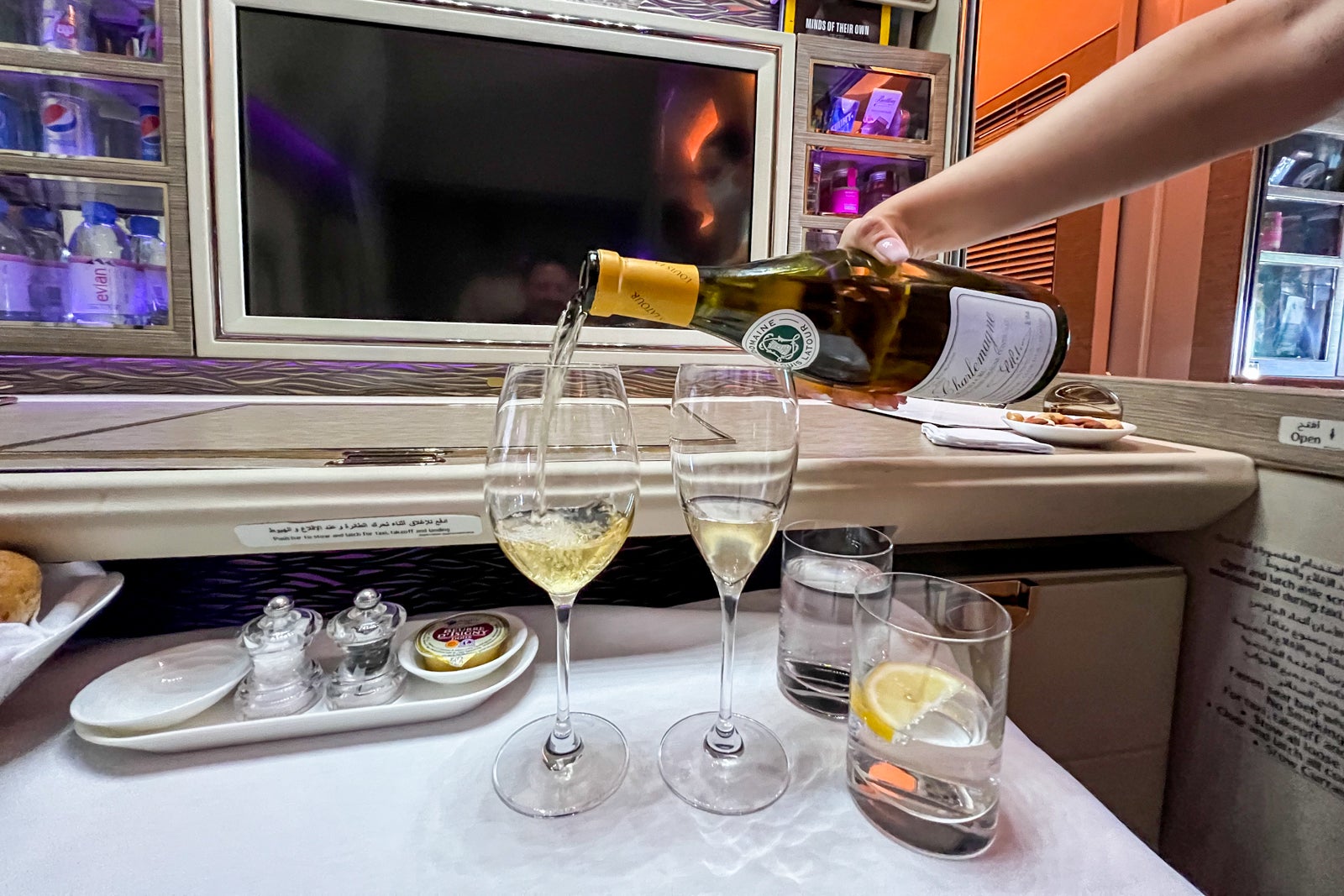 The menu, which came in a leather-bound folder, included both breakfast and lunch options. Since I'd scarfed down a quick breakfast in the lounge, I chose to start with the signature caviar course, and it was beautifully plated on the airline's bespoke Royal Doulton bone china with all the fixings.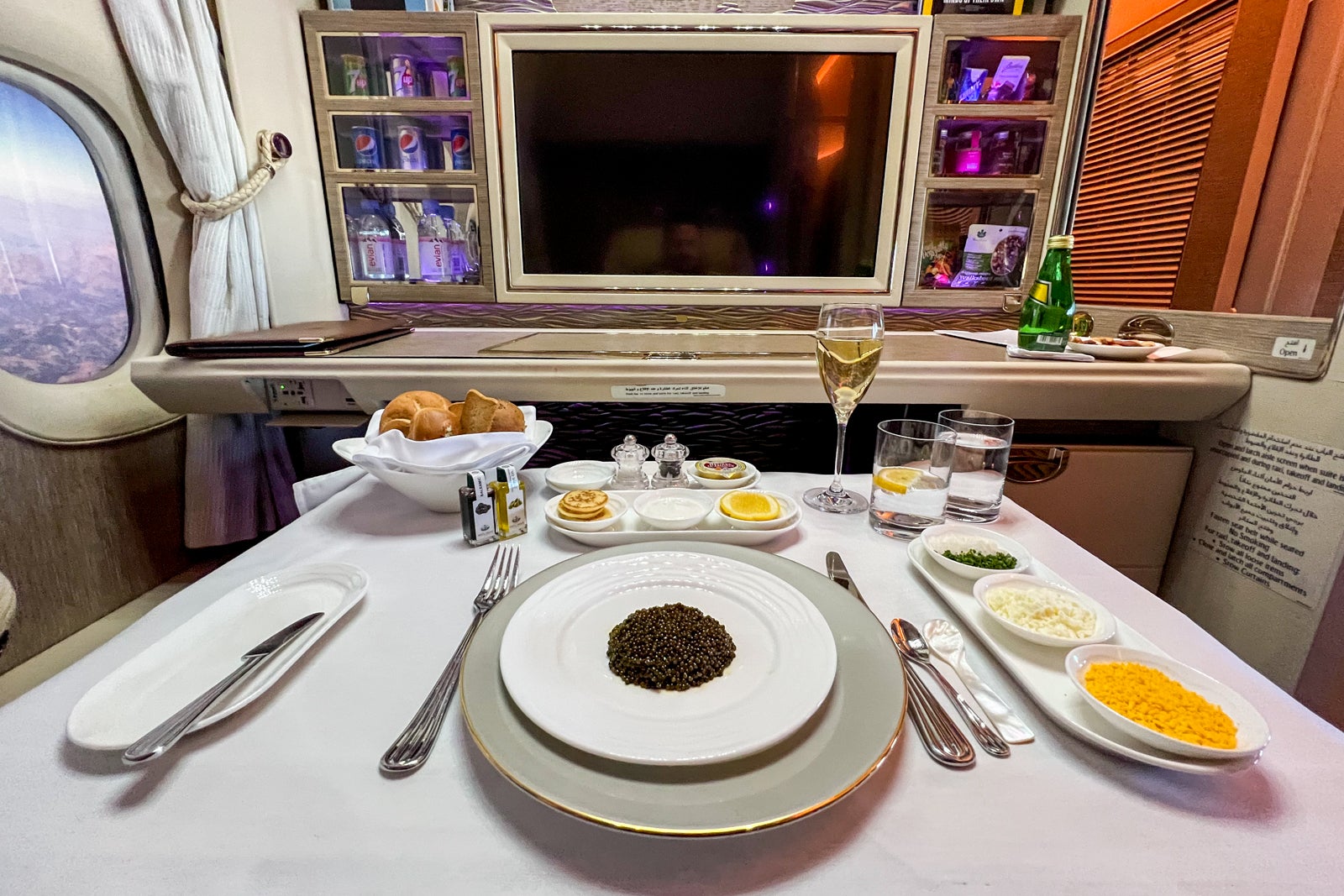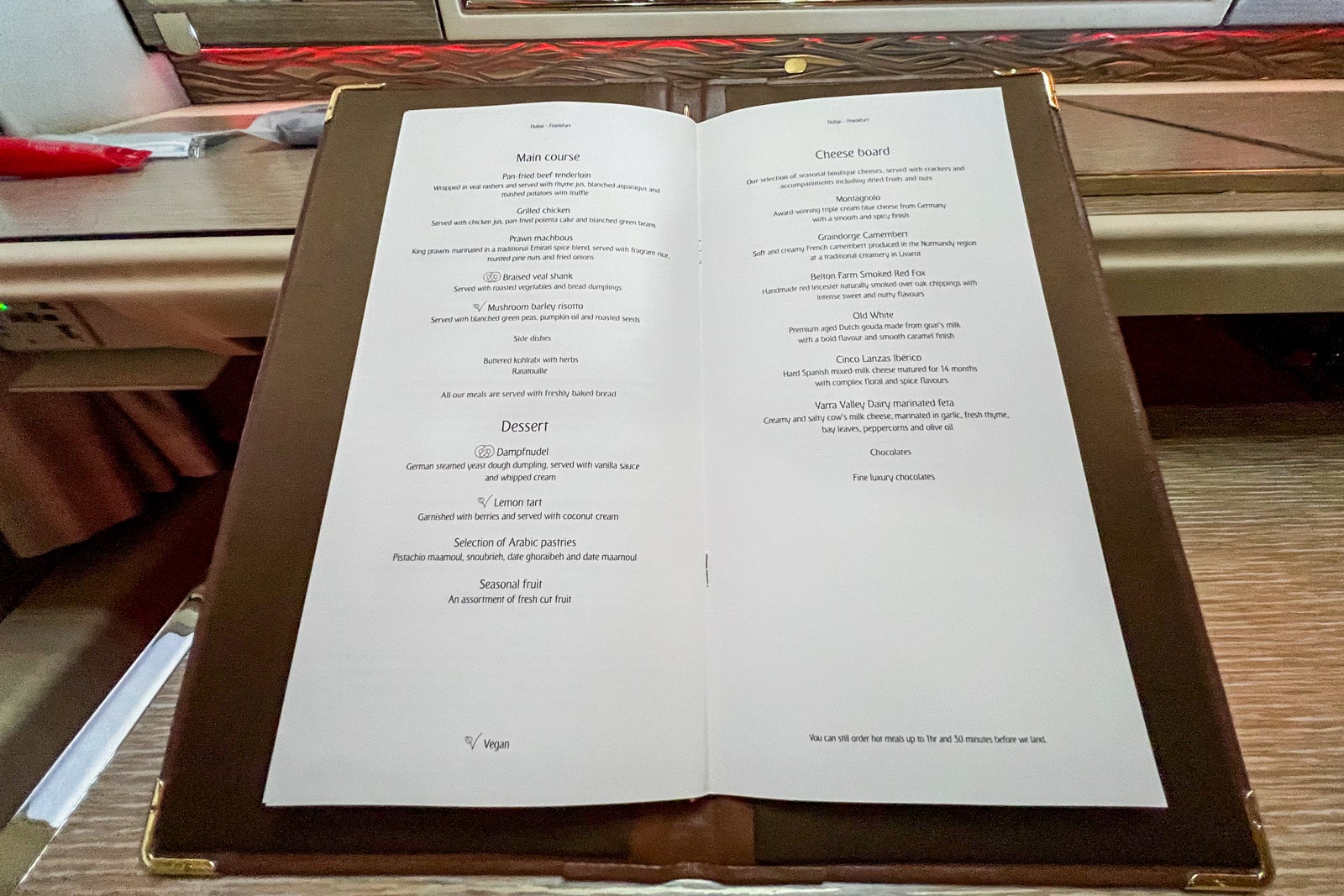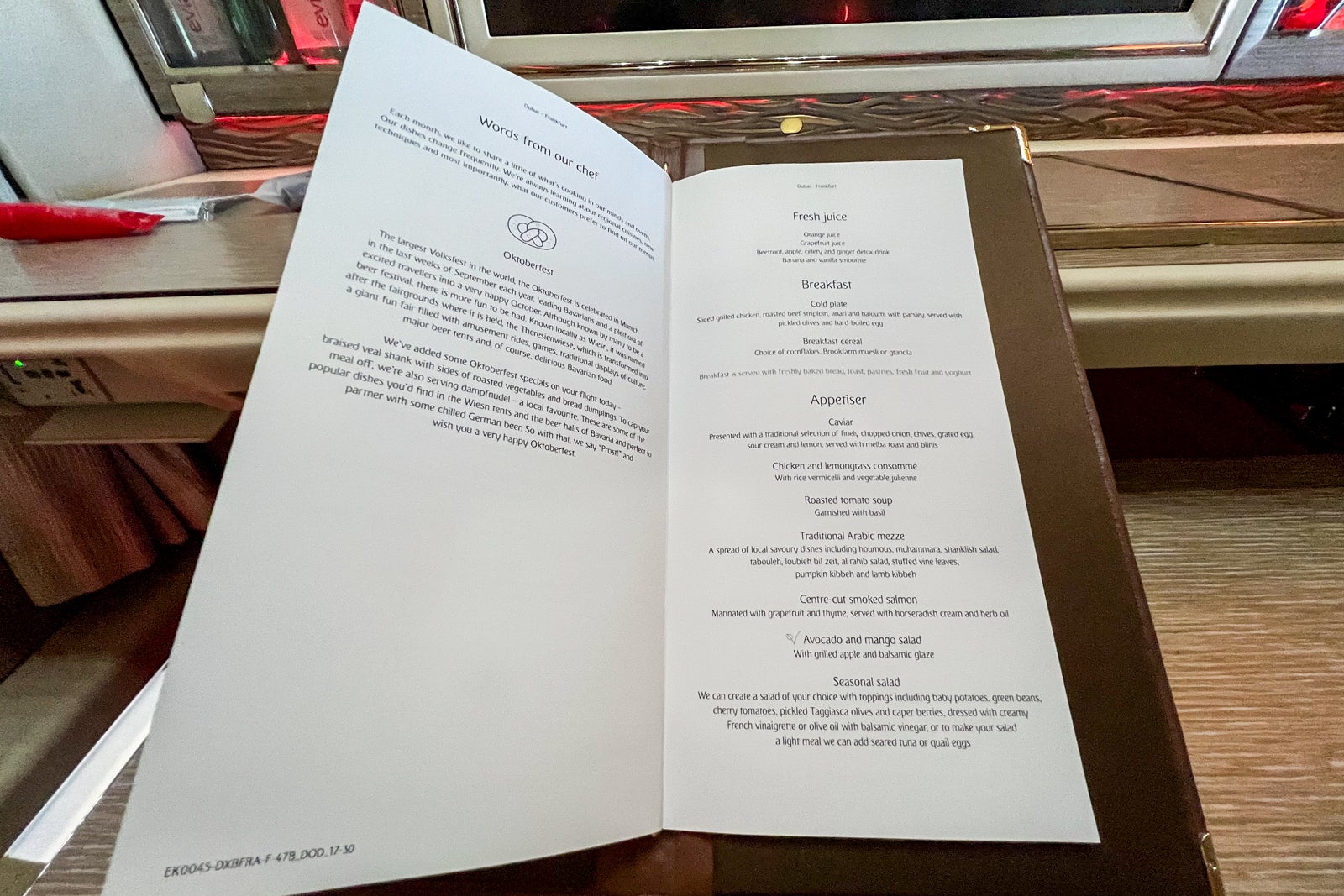 I skipped the two soup selections, including a lemongrass chicken consomme, as well as the traditional Arabic mezze, and just jumped straight to the appetizer of smoked salmon marinated with grapefruit and thyme and served with horseradish cream and a pipette of herbed oil that you could squeeze onto the fish, which was silky and succulent.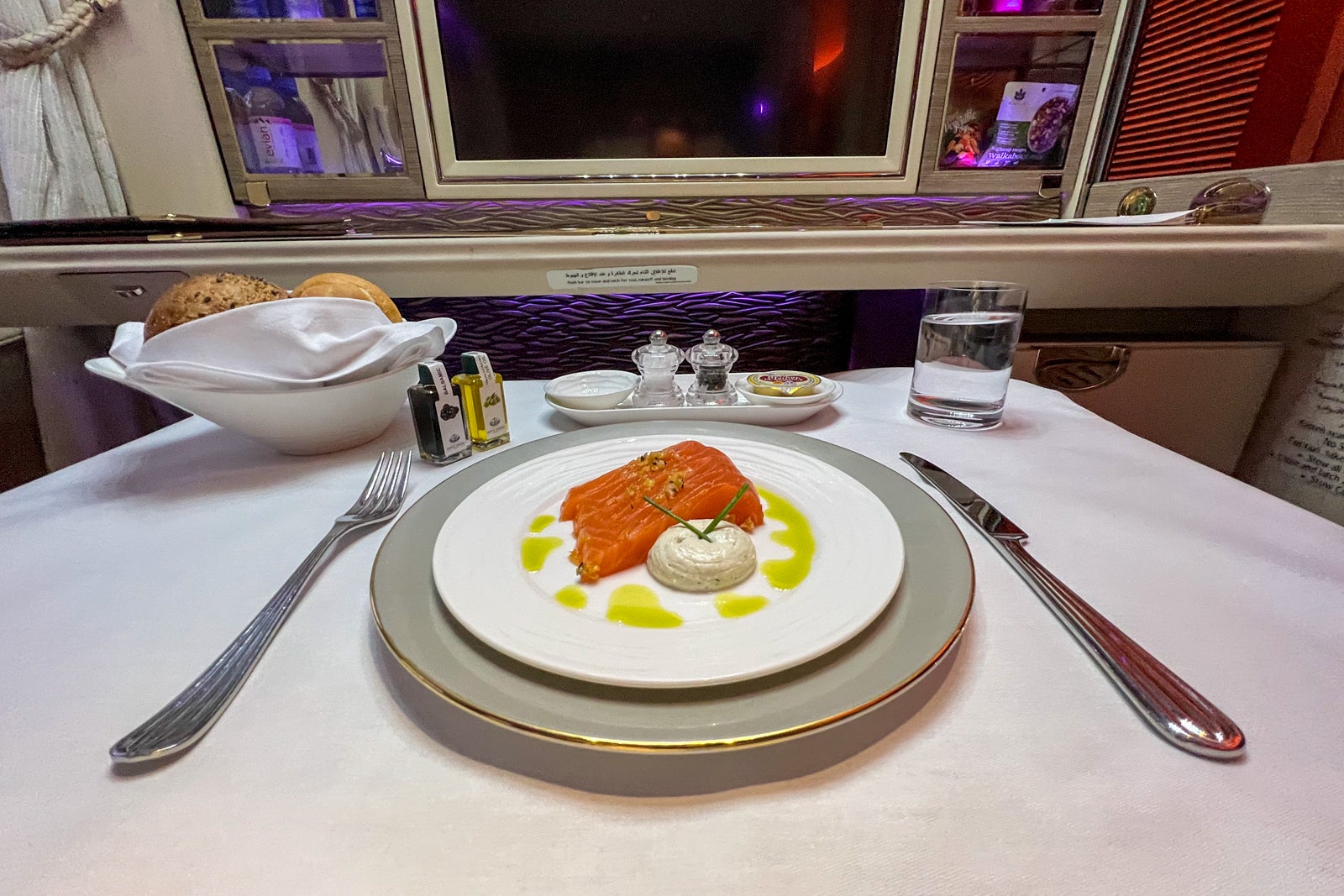 In October, when my flight took place, the airline proffered Oktoberfest specialties like a main of braised veal shank and dampfnudel dumplings for dessert.
However, I wanted something lighter, so I ordered the spice-rubbed king prawn machbous served over rice with roasted pine nuts and fried onions. It was very tasty.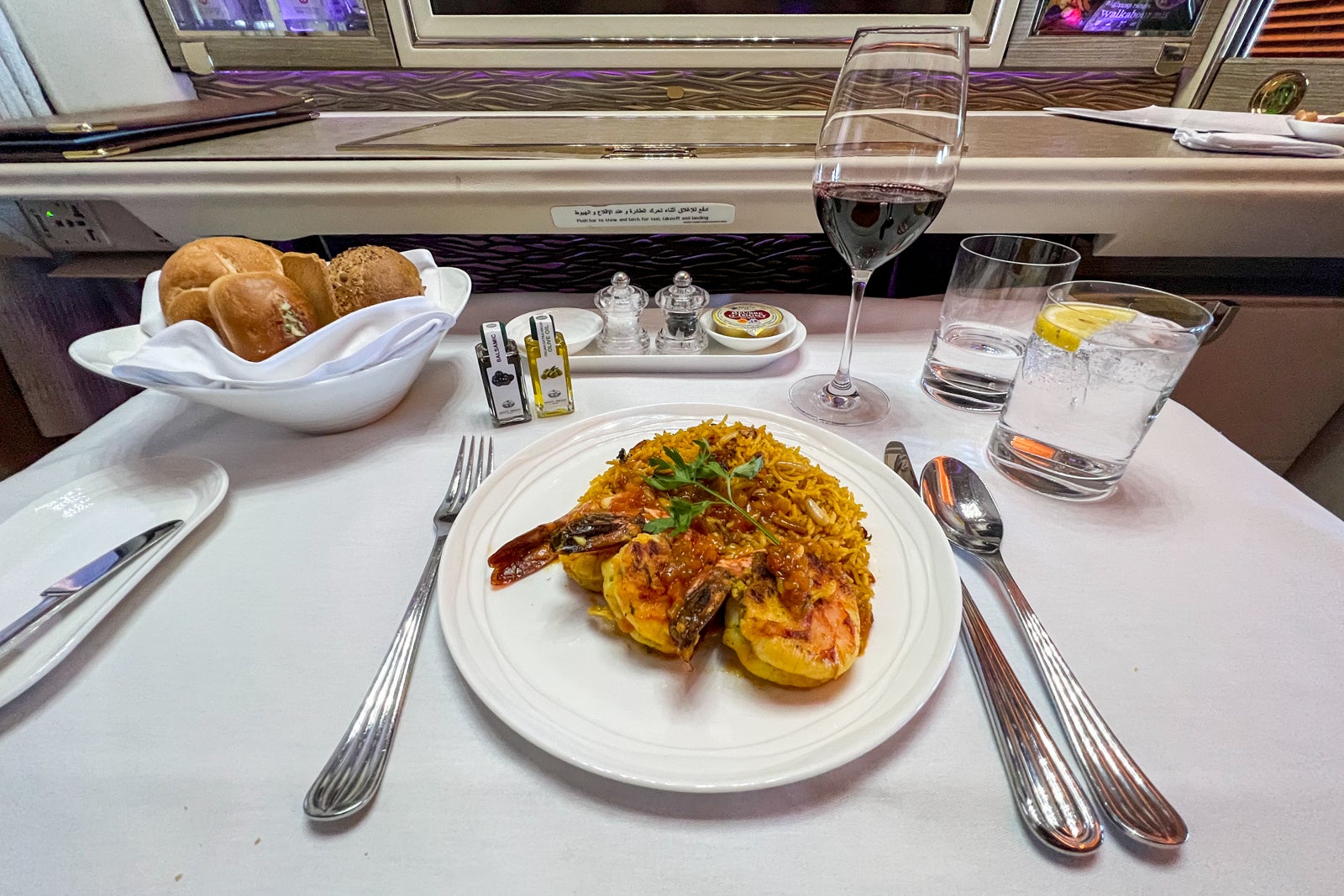 To end, I tucked into a slender slice of lemon tart with berries and coconut cream, which was sweet and satisfying.
I didn't have room for the cheese board, which included wedges of Graindorge Camembert, Montagnolo triple-cream blue cheese and Belton Farm Smoked Red Fox red Leicester, among other options.
Once meal service got underway, I asked for it to proceed at a quick clip, so it only took about 50 minutes from start to finish, which I appreciated.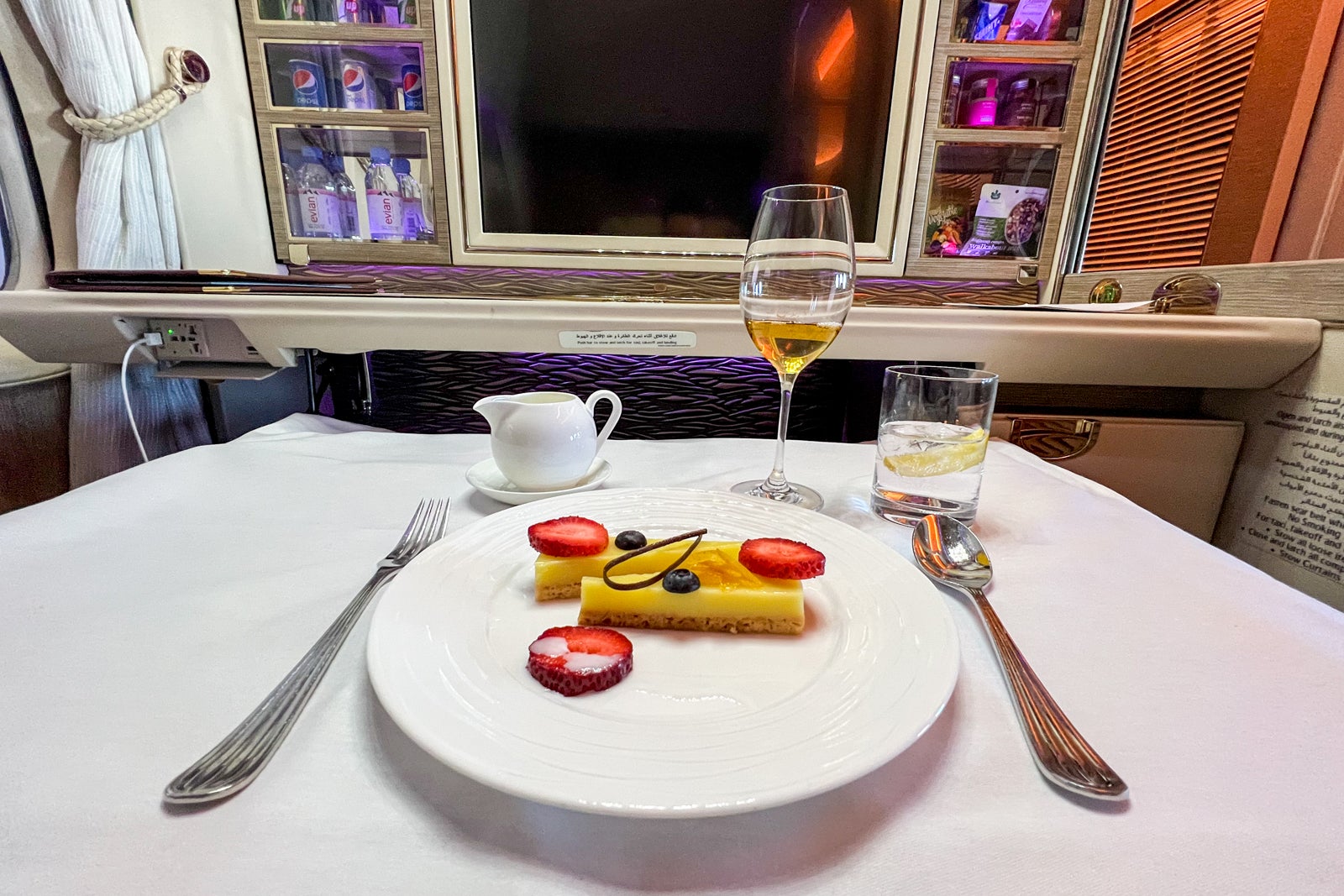 After the meal, I took a two-hour snooze and had just enough time for a cappuccino with the Emirates logo stenciled in cocoa powder on top of the foam to perk me up before we landed, which was the perfect way to end the flight.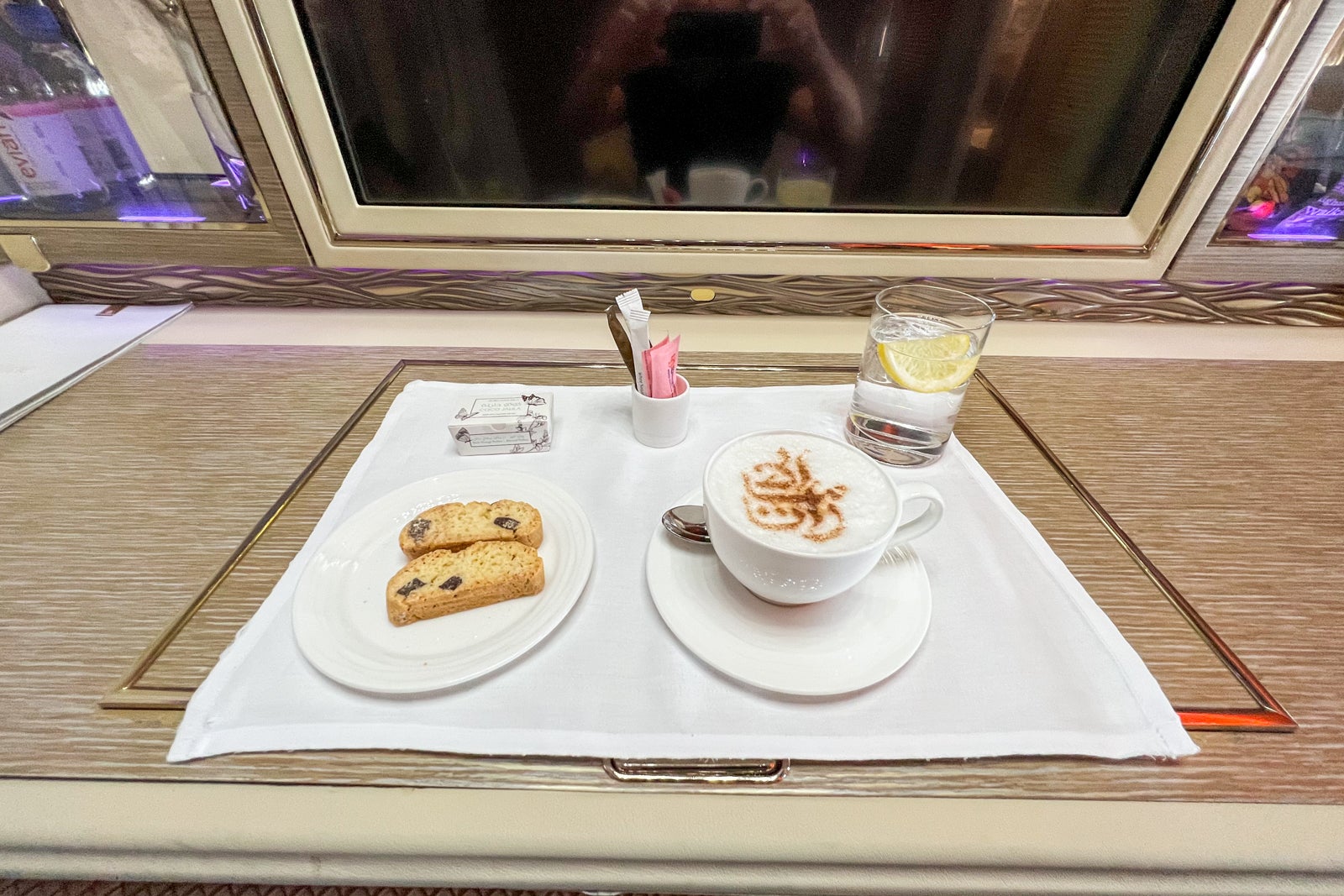 Final approach
Even after five years of crescendoing anticipation, Emirates' new first-class suites lived up to and even exceeded my expectations.
While the actual door to the suite was slightly difficult to operate and was beginning to show some signs of wear, it still created an ultra-exclusive vibe.
I wish I'd been able to experience the novelty of video calling the flight attendants, but the upside was more face time and more personalized interactions with them. What's more, I had an entire second suite in which to stretch out and sleep.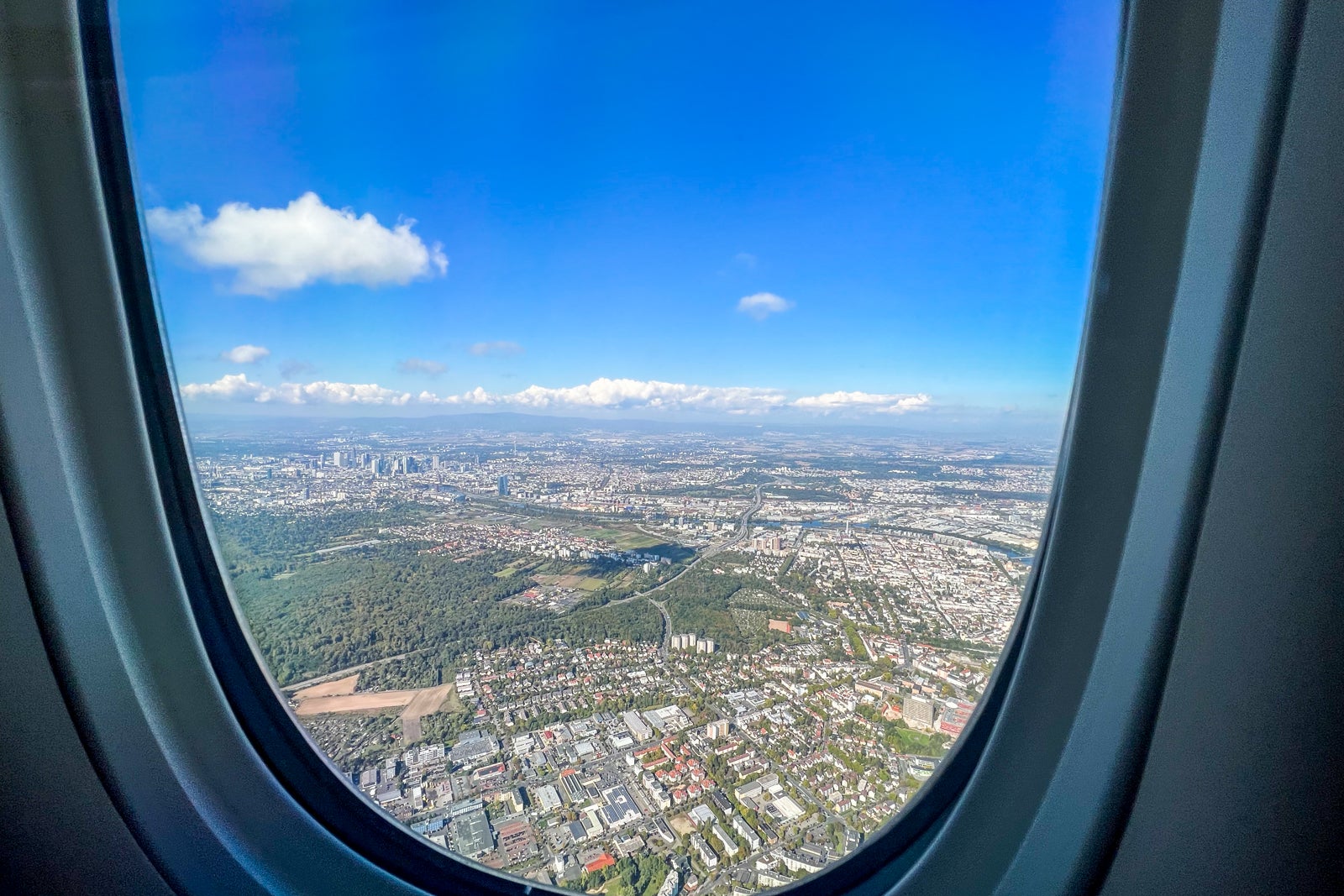 The thoughtful design touches, elegant motifs and finishes, and technological bells and whistles were fabulous in and of themselves.
However, the less-quantifiable elements — the beautifully presented meal, the luxury amenities and, of course, the outstanding but unstuffy service — all combined to marvelous effect.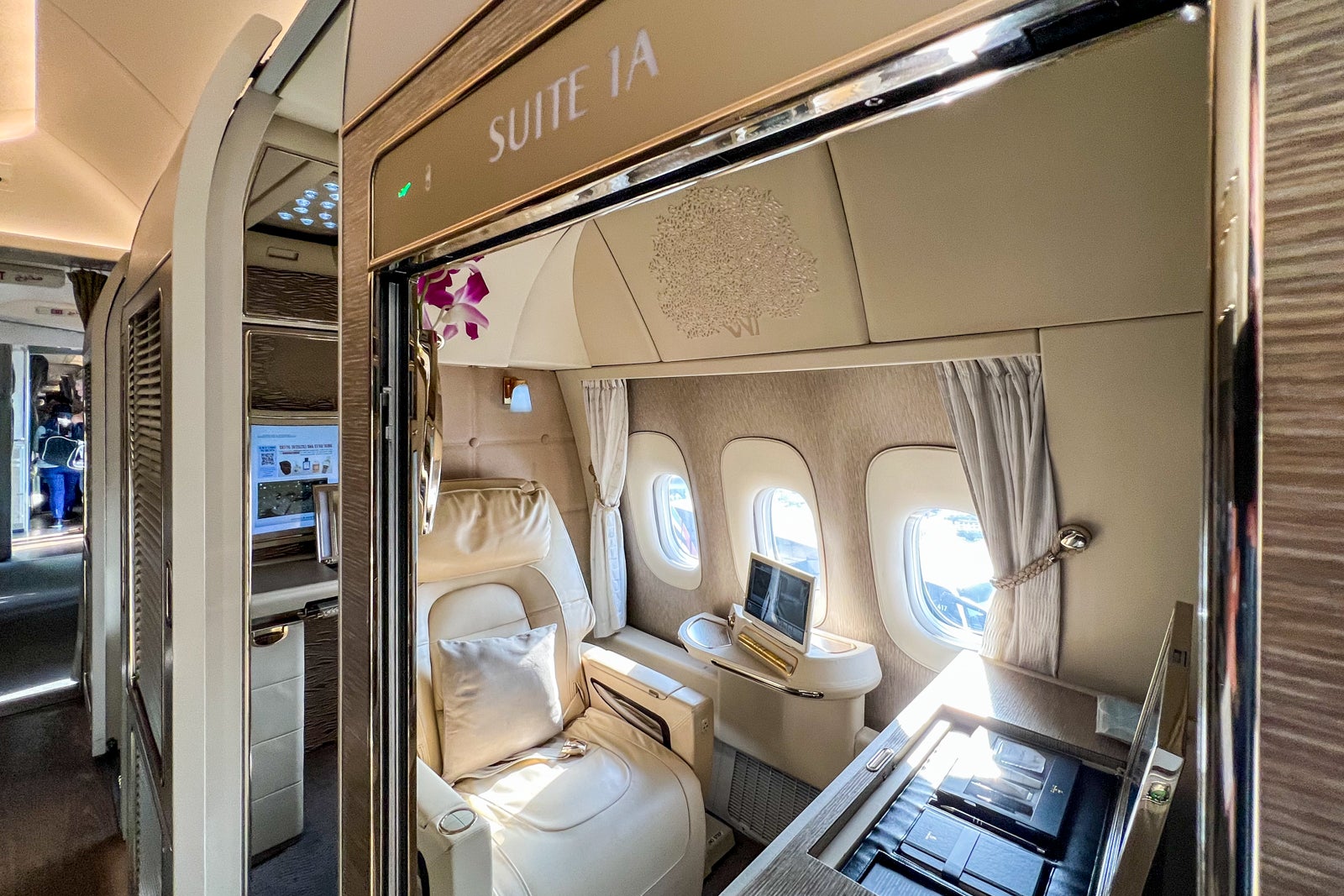 My only regret is that I couldn't spend more time on board. Next time, I'll have to find a longer-haul route on which to enjoy Emirates' new first-class suites.