Editor's note: TPG's Ashley Kosciolek experienced Half Moon Cay's Beach Villa as a guest of Holland America Line, which paid for the cost of the villa rental. The opinions expressed below are entirely Ashley's and were not subject to review by Holland America.
_________________________________________________________________________________________________________________
Looking for an exclusive experience within an exclusive experience that doesn't require you to be a billionaire? Do what my friends and I did, and rent a villa on a cruise line's private island.
Most cruise lines operate private beach destinations in the Caribbean and Bahamas that you can only visit if you're sailing on a ship that calls there. If that's not exclusive enough, you can up your VIP status for the day by renting a cabana or villa — a dedicated space where you and your gang can hang out during your time in port, rather than mingling with your shipmates in the main lounge chair-strewn beach area.
At the most basic level, these extra-exclusive areas provide shaded space with seating for occupants to leave their belongings and enjoy each other's company for the duration of the rental. At a higher level, some of the most lavish ones include TVs, beds, air-conditioning, hot tubs, private bathrooms, alcohol and butler-catered lunches that beat the pants off what you'll find at the free beach BBQs to which all passengers have access.
As you would imagine, the structures are limited in number and book up quickly, despite the fact that they don't come cheap.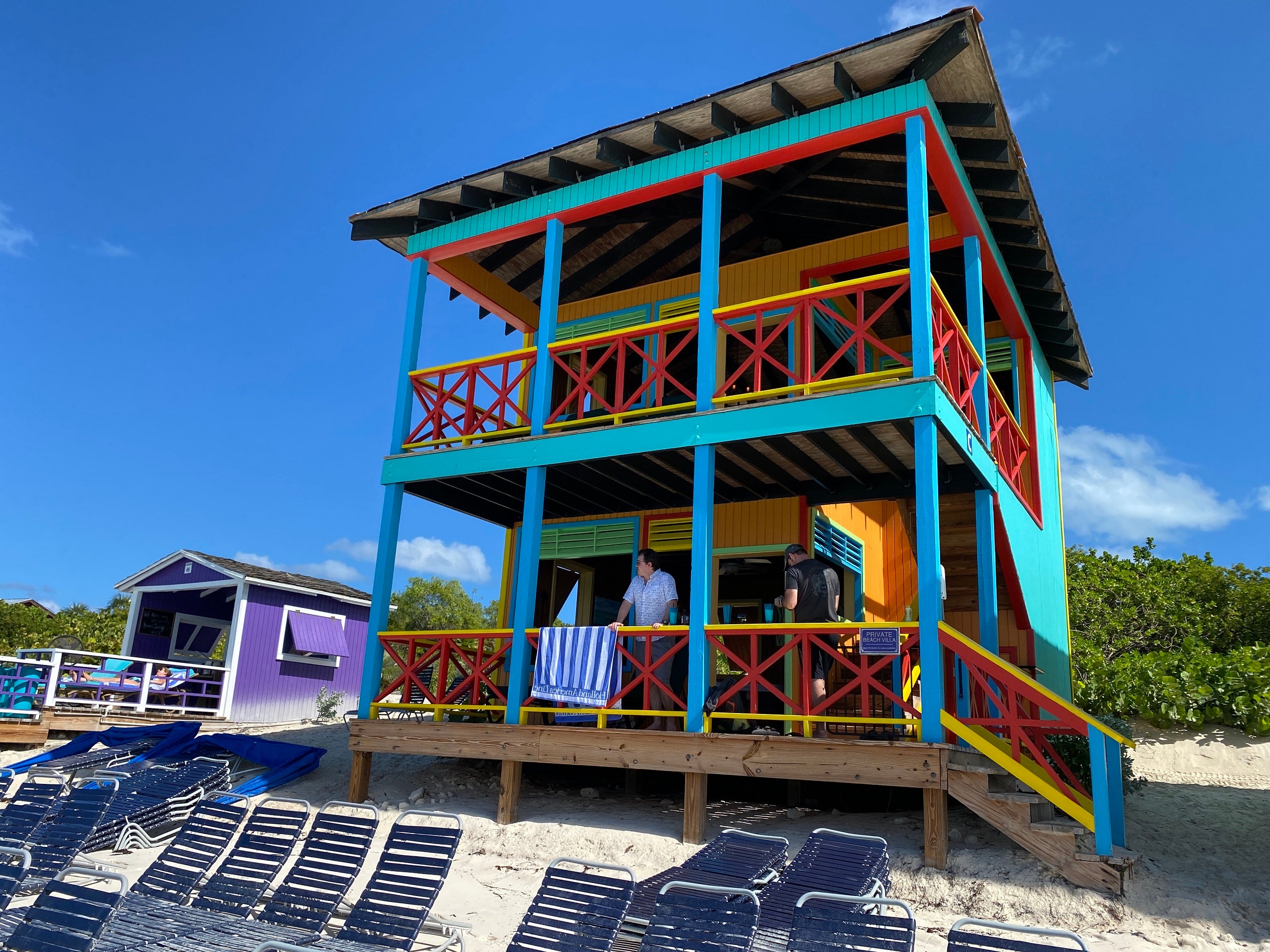 During a recent sailing on Holland America's Rotterdam, I visited Half Moon Cay, a private island that the cruise line shares with Carnival. For the first time, I got to experience the swanky VIP lifestyle in an air-conditioned Beach Villa.
I accepted an invitation from a friend to share the space with seven of my travel companions. While the space was given to us at no charge, it usually comes at a cost of $1,000 ($125 each) for 5 hours. The price starts at $600 per group of eight but varies from voyage to voyage, based on demand, amount of time ashore and add-ons like butler service. The two-story space holds up to 18 people, with an additional per-person charge for each cruiser after the first eight.
Do I think it is worth the money? Definitely. Even though I didn't use all of the amenities, I got a lot out of the villa stay. Here's why I enjoyed the experience overall.
For more cruise news, reviews and tips, sign up for TPG's new cruise newsletter.
Food without the lines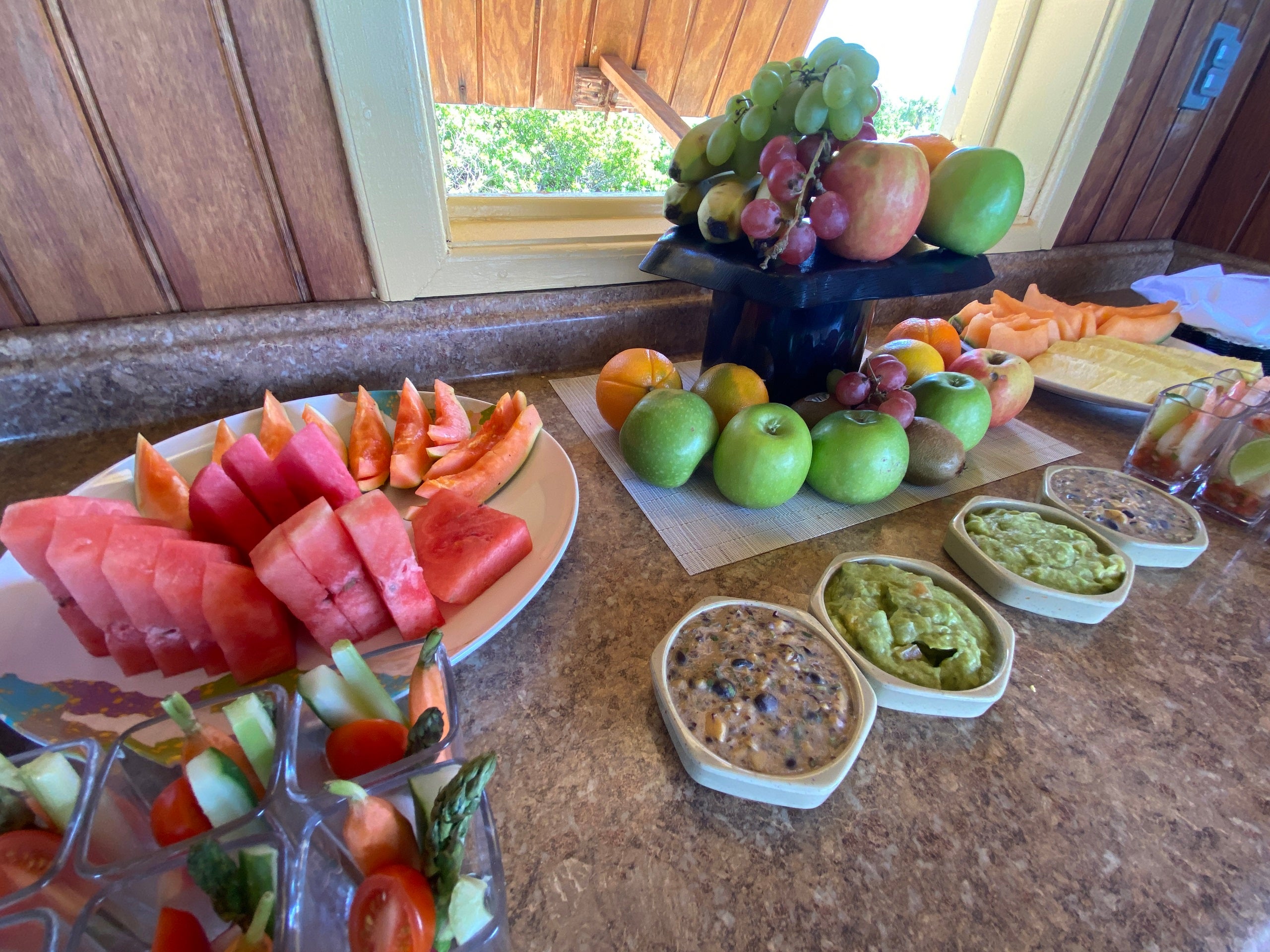 All Beach Villas come with complimentary snacks that include an assortment of fruit, crudite, and chips with guacamole and salsa. The items are placed on a counter in the villa's kitchenette, which includes a sink and minifridge.
If you'd rather skip the shoreside beach buffet lines and opt instead for butler service — which includes a served lunch for an additional fee — you'll also get an appetizer, main course and dessert for each person. In our case, they included mango gazpacho and sandwiches (a choice of fish or beef, with chicken tacos and veggie burger selections for picky eaters or folks who don't eat meat). Oddly, we didn't receive dessert.
The dishes weren't super fancy but they were tasty. The main perk was we didn't have to venture back to the more populated parts of the island (the villas are set a distance away, with tram service) to wait in line at the buffet.
Our villa was also equipped with an eight-person table and chairs, so it was easy for all of us to dine together.
Alcohol
If you purchase an alcohol package for your cruise, it doesn't carry over to the island. If you're looking to booze it up, you'll either have to purchase your own beverages a la carte or buy a shoreside package for use at the bars on Half Moon Cay.
Your third option, however, is to purchase a butler add-on for the Beach Villa.
We had a butler during our visit. With this upgrade, we had unlimited access to bottled water, soda, wine, beer and drinks made with house-brand liquors, as well as the aforementioned lunch.
I'm not a huge alcohol drinker, but it was convenient to have someone bring drinks to us, and several of my travel companions did get their money's worth. After a single pina colada, I turned to water and didn't have to worry about being nickel-and-dimed for each bottle or trekking to a bar every time I got thirsty.
Butler service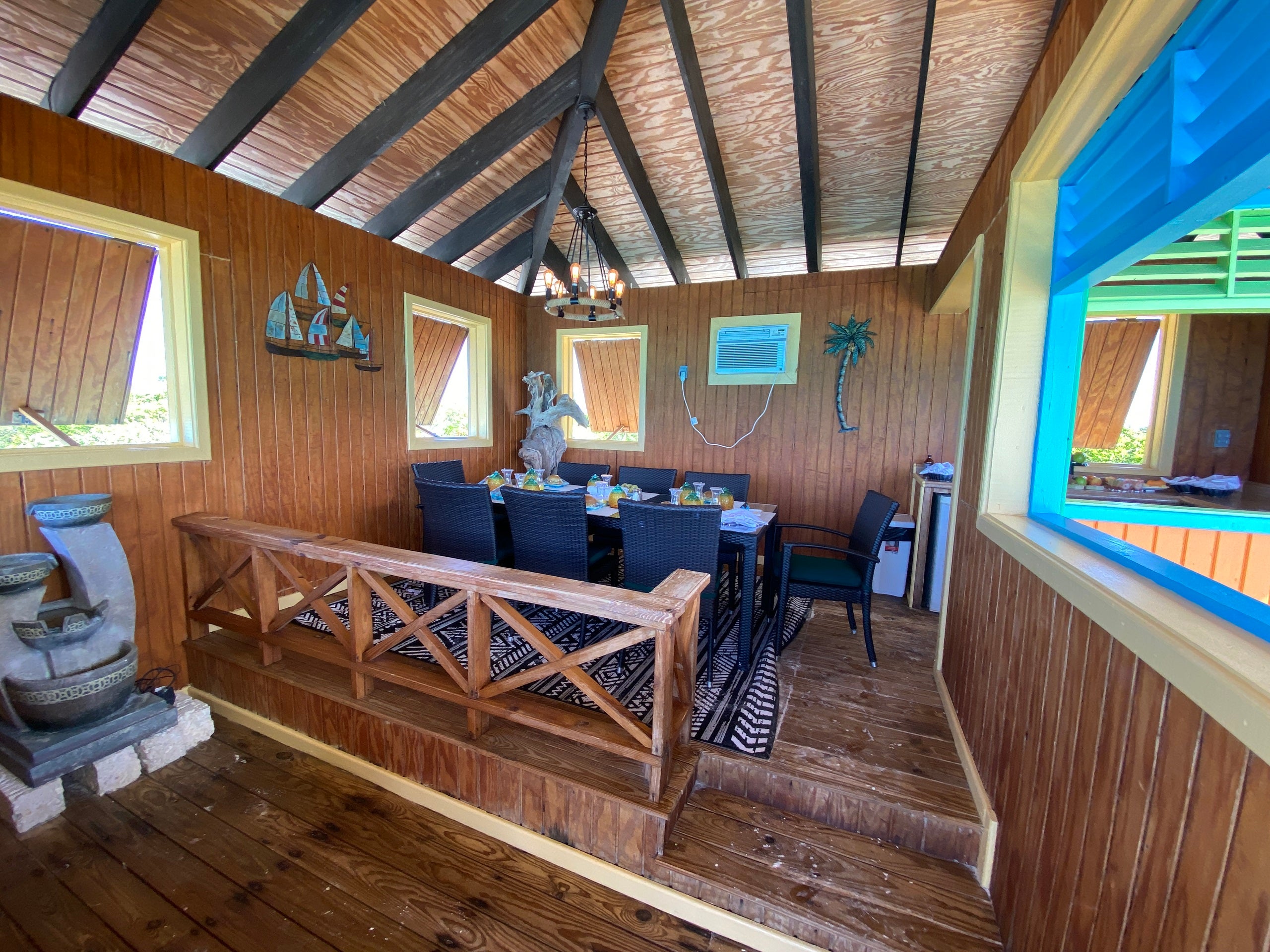 In addition to bringing lunch and unlimited drinks, your butler can also escort you to your villa at the start of your day, pick up items for you from the onboard shops and help with shore excursion bookings.
Our butler was friendly and immensely helpful, juggling multiple drink orders and pivoting quickly to procure a suitable lunch for a member of our party who forgot to report in advance that he's vegetarian.
Plentiful equipment
For a beach day, you don't need much besides a lounge chair, a float and maybe some snorkel gear. Lucky for me, our villa offered access to all three for free. Plus, there was enough gear to go around, ensuring I didn't have to worry about paying extra, duking it out with other passengers for the best selection or missing out completely.
Lounge chairs are available on the sand or on the villa's covered open-air porch so you can relax in the sun or the shade without sacrificing the superb ocean view.
I took full advantage of the villa's proximity to the ocean, but I appreciated my ability to retreat to the shade whenever I needed a breather or a sunscreen reapplication.
Uncrowded beach space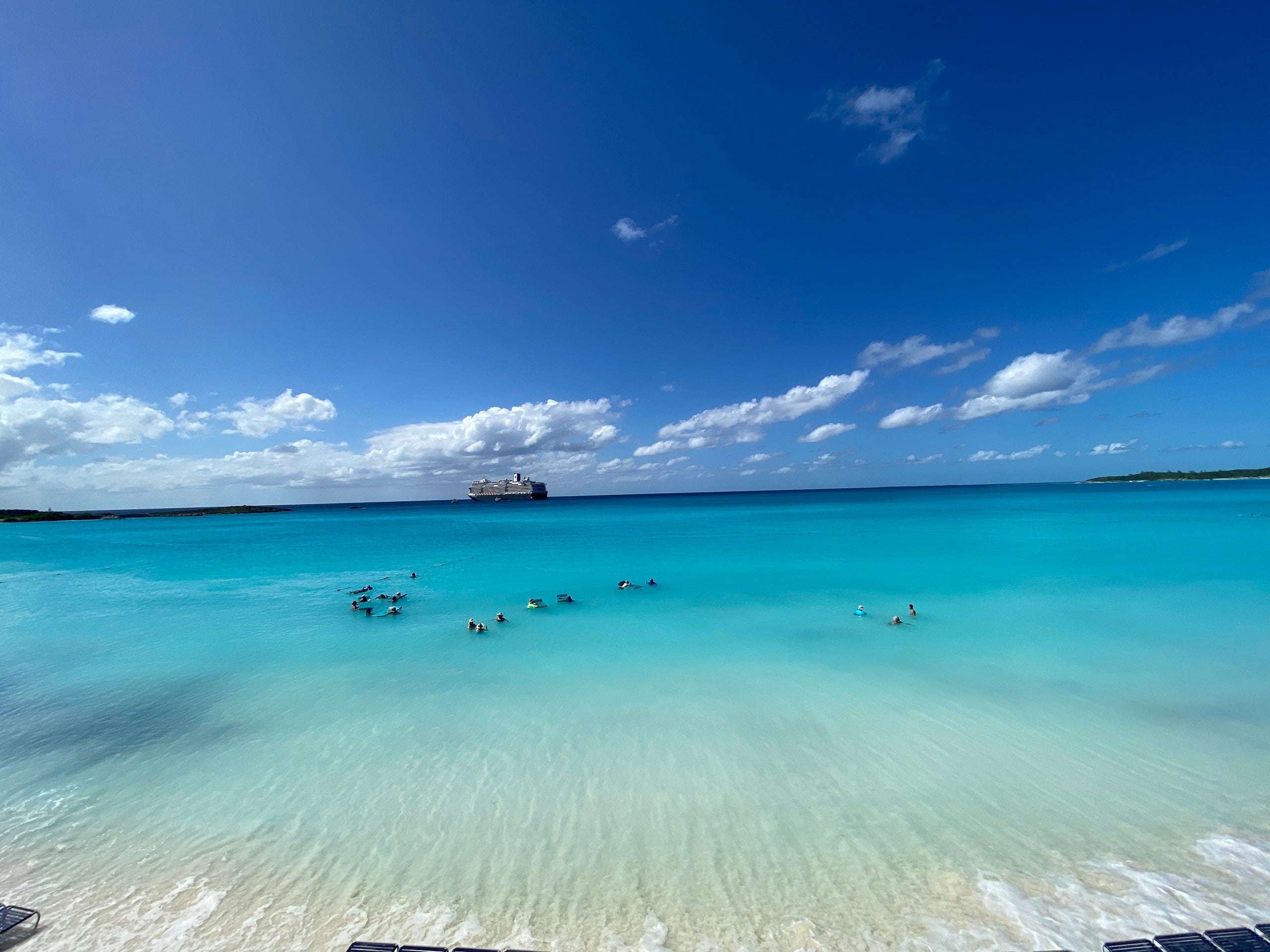 With megaships carrying several thousand passengers to the island on each sailing, it can feel crowded in the areas that are freely accessible to everyone. On particularly busy days, you might find yourself wishing you had gone ashore early enough to snag an umbrella or to stake out a prime spot by your favorite bar.
Although the beach space in front of each of the island's five villas isn't technically reserved for the people in the villas, other cruisers generally don't hike down the beach far enough to bother you. And if they do, it's generally just as they're making their way past on a walk to the island's horse farm. (Yes, riding on the beach — with a horseback swim at the end — is a shore excursion option.)
Private hot tub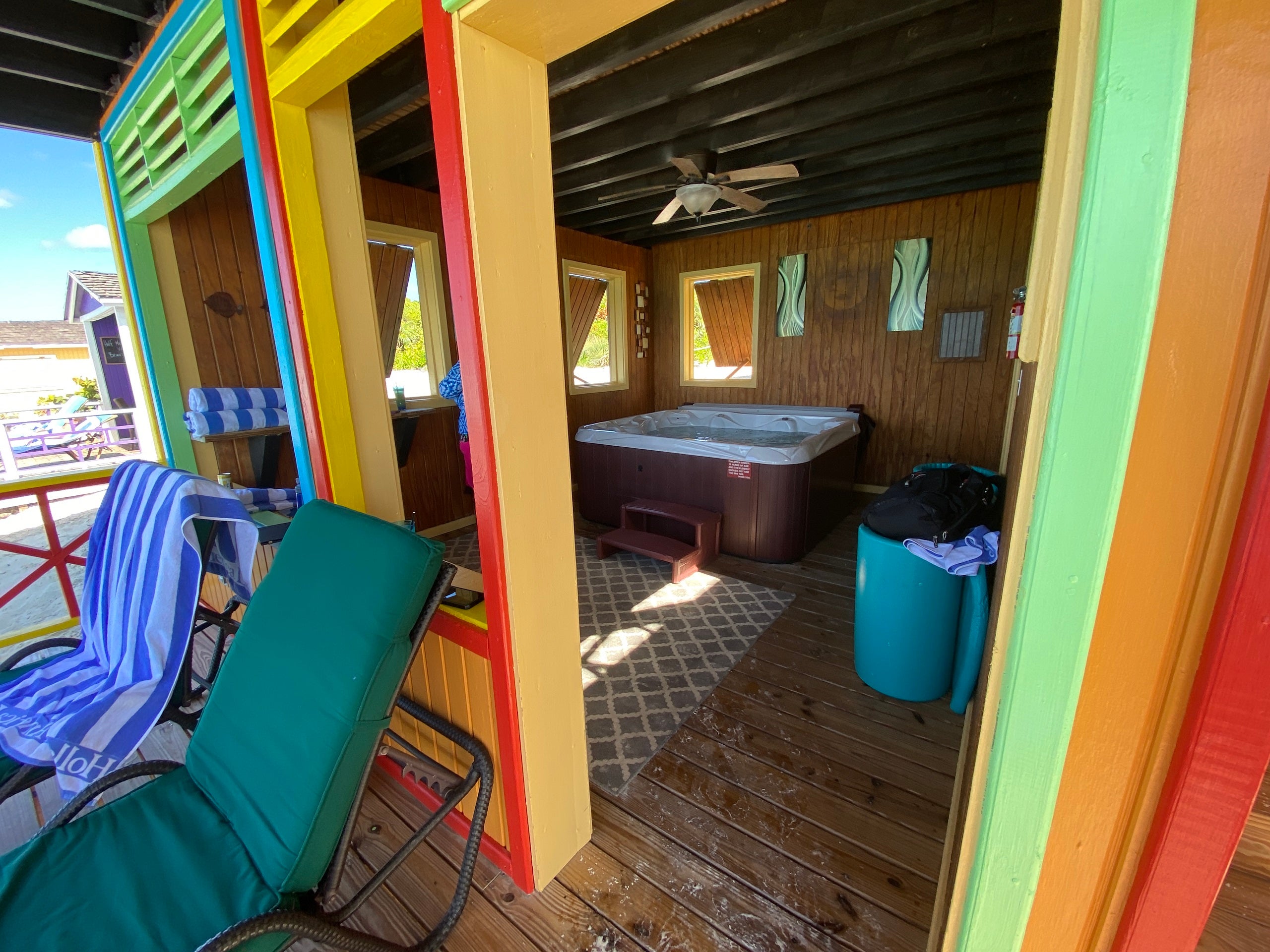 Admittedly, I didn't use it very much during my time there, but one of the hut's perks is a five-person indoor hot tub. Before I arrived, it was raining, and several of my friends relaxed there until it stopped and everything dried out.
The whirlpool provides added reassurance that you can still enjoy your investment if the weather is iffy. Plus, when you need a break from the sun, you can hop into the tub if you're not ready to dry off.
Private bathroom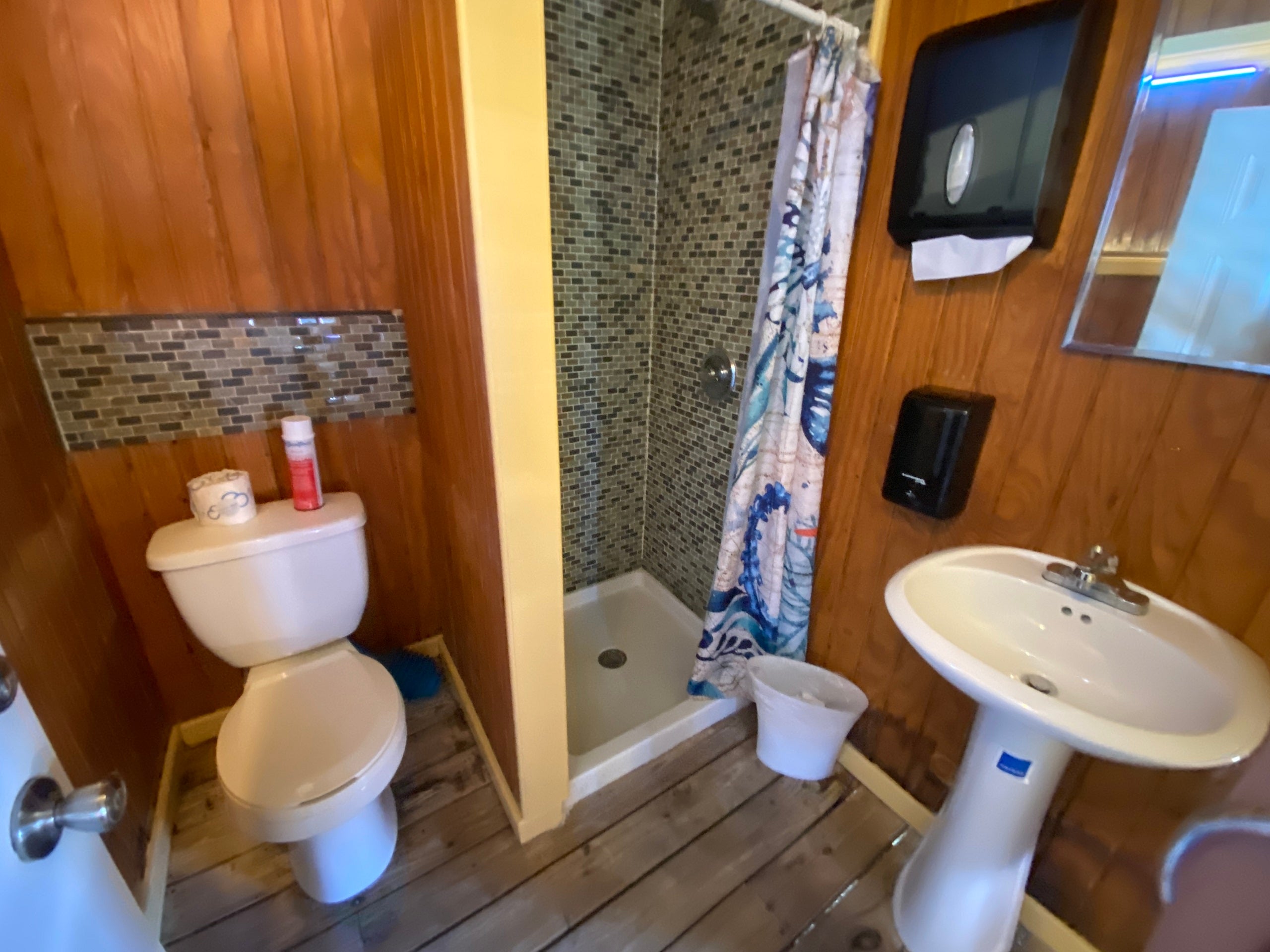 The Beach Villa's private bathroom, although small, was a godsend. It saved us loads of time because we didn't have to run back and forth to the nearest restroom every time the rum drinks caught up with us.
With a slatted door that revealed a little more than I liked, even when closed, the space featured a toilet, a sink and a small shower. Toiletries were not provided, so if you plan to clean off the salt, sand and sunblock before you head back to the ship, you'll need to bring your own.
Price breakdown
Villas start at $600 for up to eight people, with a per-person surcharge for each person after that, up to a total of 18 people.
Butler service starts at $400 for up to eight people, and it includes butler-served lunch and unlimited alcohol. As with the villa rental, prices fluctuate based on several factors, and anyone beyond the first eight people in the villa will incur a per-person charge. If you wish to tip your butler at the end of the day, be sure to bring cash with you.
Bottom line
Yes, a Beach Villa is expensive on its own — the highest echelon of exclusivity on Half Moon Cay. Add in extras like alcohol packages and butler service and it could quickly become a budget-buster. The key, though, is to realize what you're getting for your money, and evaluate whether it's worth it to you.
To me, it is. Will I do it every time I visit? Absolutely not, but it can be a nice once-in-a-while splurge. Plus, I was part of a large group traveling together, and the more people you bring, the less expensive it becomes per person, essentially allowing you to enjoy a luxury experience for about the same per-person cost as some shore excursions.
Editor's note: If you visit Half Moon Cay on a Carnival ship rather than a Holland America one, the experience will vary slightly. Prices tend to be a bit less expensive, and other amenities may be limited.
Featured photo by Ashley Kosciolek/The Points Guy.