Embarking on your first backpacking trip can be an empowering, fun, and adventurous experience, however, the path to becoming a seasoned backpacker is often paved with a few avoidable missteps.
I started backpacking in 2005, and my first few backpacking trips did not go smoothly. My first time was near Mt. Rainier in Washington, and when we got to the trailhead, I realized I forgot my hiking boots. Not wanting to drive all the way home, I ended up hiking in Chacos the entire time. Needless to say, my feet were a bloody mess by the end of the trip. We also didn't pack enough food, and I was starving the whole time.
Another time in 2007, my friends I took an early season trip in California's Emigrant Wilderness. A couple miles in, we found the trail covered in snow, with all of the trail signs being broken in half. Despite not having a map or GPS, we haphazardly decided to carry on. We got completely off track and had no idea where we were. Twenty-four hours later after camping near some unknown lake, we were post-holing our way up a snowy hillside when we randomly stumbled back on the trail.
Despite these initial backpacking trips being full of (sometimes comical) mistakes, I still had a great time and learned a ton of valuable lessons to ensure safer and more enjoyable backpacking trips in the future.
Since that first backpacking trip, I've spent many more nights in the backcountry, including 22 nights on the John Muir Trail, and have gained a ton of valuable outdoor skills in the process. Below I share the most common beginner backpacking mistakes to empower you to hit the trails with confidence – and ensure you don't make the same rookie errors as I did!
---
1. Overpacking Clothes & Unnecessary Gear
Overpacking is a common beginner backpacking mistake that can – quite literally – weigh you down and diminish the overall enjoyment of your adventure. You'll likely be carrying 20-30+ pounds on your back, which is tough enough without adding unnecessary gear.
While packing a physical book might be appealing, they add extra weight and bulk, and alternatives like e-readers or a book on your smartphone are more efficient. Leave the speaker at home which not only adds extra weight but distracts from the natural sounds of the outdoors.
Toiletries add up quickly in weight and you really don't need much aside from biodegradable soap (we like Dr Bronners since you can use it for dishes and for yourself), bug spray, and sunscreen.
When it comes to what to wear backpacking, it's easy to fall into the trap of packing too many clothes. I usually pack one outfit to hike in, one outfit to hang out at camp and sleep in, extra socks and underwear, and warm layers.
I know that doesn't sound like a lot, but trust me – it's all you need. You don't want to be weighed down by extra clothes. Plus, if the weather's warm enough and if you bring lightweight, quick dry clothing (which I highly recommend doing), you can rinse your hiking outfit when you change into your camp outfit and it'll be dry by the time you're ready to set off in the morning.
2. Packing Heavy Car Camping Gear
While car camping gear can be luxuriously comfortable, it's not designed for carrying over long distances. I learned this the hard way on a solo backpacking trip in 2016 in New Zealand where I backpacked with my ultra-heavy car camping cookware – since it was all I had with me. The weight and bulk of these items drastically impacted my ability to move quickly and comfortably on the trail.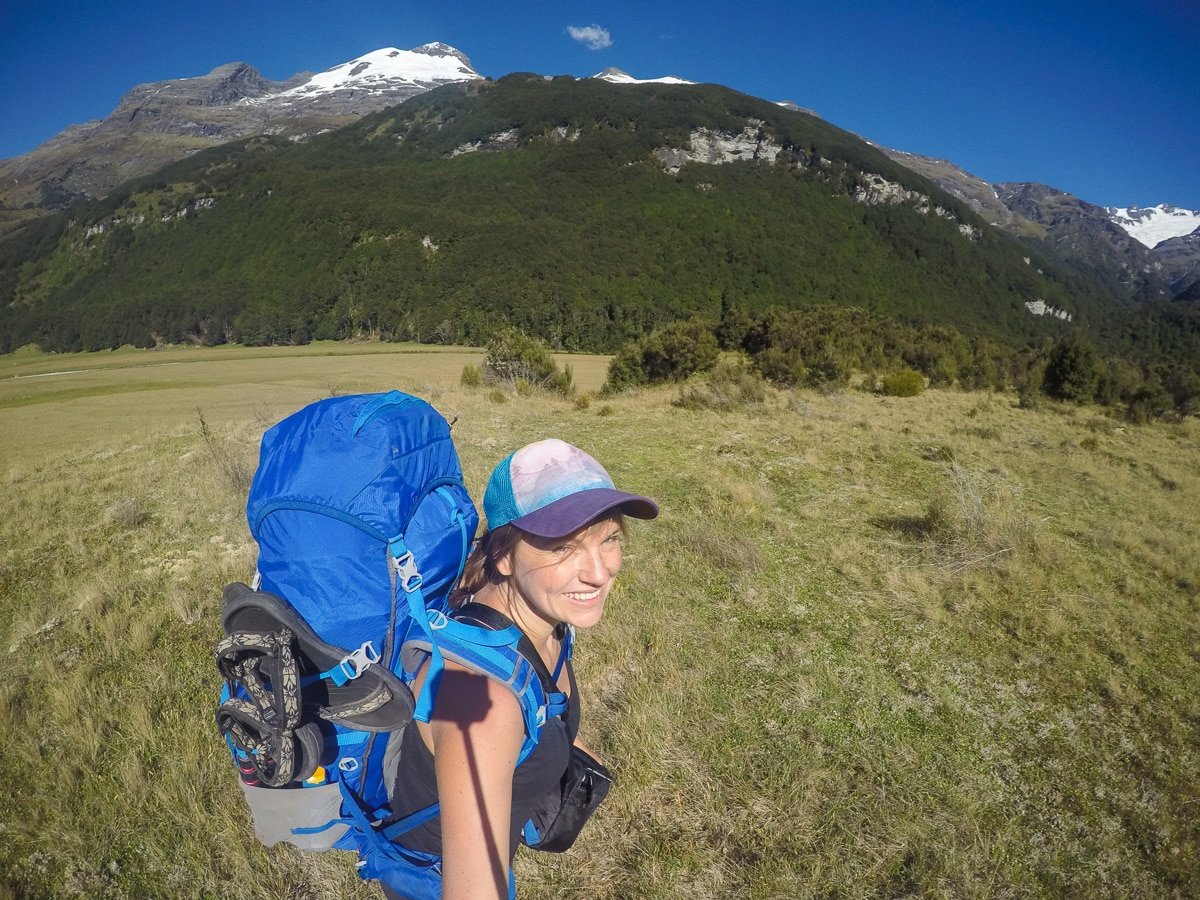 Investing in backpacking-specific gear can greatly reduce your pack weight and increase your enjoyment on the trail. Key gear pieces to focus on are your tent, sleeping bag, backpacking pack, sleeping pad, and cookware which contribute the most to your overall weight.
While these big gear items can be pricey, it's worth it to invest in quality gear that's lightweight and durable. High-quality gear will last you for years of adventures (we've had some of the same backpacking gear for 10+ years that we still use) and will make your time on the trail and at camp much more pleasant.
If you're looking to save on some of these big ticket items, keep an eye out on sales at REI and check out REI's Used Gear site for big discounts on lightly used gear, some of which is like new. You can learn more about the REI Used Gear program here.
3. Not Testing Your Gear Before Your Trip
Familiarizing yourself with your backpacking gear before you hit the trail allows you to understand how each piece functions, troubleshoot potential issues, and ensure that everything is in working order.
Imagine reaching your first campsite only to realize you're unsure how to assemble your tent, or worse, discovering a malfunction in your backpacking stove when you're ready to prepare a much-needed meal.
These situations can be easily avoided by taking the time to set up your tent in your backyard, testing your stove to make sure it works properly, or practicing using your water filter to ensure you know how it works.
By testing your gear ahead of time, you can embark on your backpacking trip with confidence, knowing that you're well-equipped to handle any surprises that come your way.
4. Not Packing Enough Food
On my first backpacking trip, my hiking partner was responsible for planning and packing our food and he grossly underestimated our appetites. We shared a small portion of pasta for dinner and went to bed with grumbling tummies.
When backpacking, you're burning a significant amount of calories each day – much more than during your regular day-to-day activities or even day hiking. It's important to look up the estimated calorie requirements for backpacking, which can range from 2,500 to 4,500 calories per day depending on factors like your weight, the difficulty of the trail, and the weather conditions.
To meet these high caloric needs without adding unnecessary weight to your pack, you should ensure your food is calorie-dense. Pack a variety of snacks (check out our favorite hiking snacks here!) because trust me – you'll get tired of eating the same protein bar day after day.
As a beginner backpacker, sticking to pre-made backpacker meals is an easy way to portion out your food – bring one backpacker meal per person per dinner. Don't be fooled by the "2 person" label found on most backpacker meal packages – I can easily eat a two-person backpacker meal by myself after a long day of hiking.
However, it's equally important not to overpack food, as this adds extra weight to your pack (food is one of the heaviest things you'll carry!) and can make your journey more strenuous. Before you leave on your trip, lay out your meals and snacks to get an idea of how much food you're bringing.
5. Not Checking The Weather Forecast
Failing to check the weather can lead to a totally miserable experience at best, or at worst, a potentially dangerous one. Always check the weather forecast before heading out on the trail, or better yet, call the closest ranger station to get the most up-to-date information.
If there's a chance of rain, having a lightweight rain jacket and rain pants is crucial to keep you dry and prevent hypothermia. With weather being unpredictable in the mountains, I'd say packing these items is typically a must.
It's important to research your destination thoroughly and understand what weather and conditions you may encounter to ensure you pack appropriately and are prepared for a safe and enjoyable adventure.
6. Wearing Improper Footwear
Nothing can cut a trip short faster than painful, blistered feet. Wearing brand-new hiking boots on your trip without breaking them in first can lead to discomfort and blisters, so it's essential to wear them on some hikes ahead of your trip.
During the break-in period, pay attention to any "hot spots" where your boot may be rubbing as this is where blisters are likely to form. Make sure to wear thick hiking socks (I'm partial to Darn Tough) and bring along some bandaids or moleskin to address these hot spots before they become an issue.
Wearing hiking boots or shoes that are too small is also a common beginner hiking mistake. Your feet swell when hiking, especially in warm weather, so you'll want to make sure you have a little bit of extra space in those boots without having so much space that you slide around. I recommend trying on your hiking boots with a pair of thick hiking socks and making sure they don't feel tight when you walk around.
I have been wearing Oboz hiking boots for years and they have never let me down – my favorite pair for backpacking are the Oboz Bridger B Dry Hiking Boots. They're comfortable, supportive, and waterproof so I feel confident hiking in any terrain.
You should also opt for good quality hiking socks, like Darn Tough (which have a lifetime guarantee!), instead of cotton ones, as they wick away moisture and help prevent blisters.
After a long day of hiking, you'll want to give your feet a break by switching to lightweight camp shoes like the Teva Trail Universal Sandal (which are also great for water crossings!). But avoid heavy sandals or shoes which add unnecessary weight to your pack.
7. Not Carrying Enough Water
A critical beginner backpacker mistake is not carrying sufficient water. Dehydration can be a serious issue while backpacking, leading to decreased energy, headaches, or in severe cases, heatstroke.
As a general guideline, I recommend carrying at least 2 liters of water. If you know you'll be surrounded by water sources (and don't mind stopping to fill up often), you can get away with less. If you're backpacking in hot weather or climates where water isn't easily accessible, plan to carry 3-4 liters.
I carry 2-3 of these lightweight 1L water bottles when backpacking. They're perfect for carrying extra water for longer, drier stretches of the trail and they're also great if you want to add electrolytes to your water. When you're not using these water bottles, they easily roll up and take up almost no room in your pack.
You'll also need a reliable method of water purification, and when possible, pick campsites that have a water source nearby so you can easily filter water for cooking too.
My favorite water filter is the Platypus GravityWorks Water Filter System because it's so easy to use. Rather than pumping water and getting a bicep workout, you can sit back and relax, letting gravity do the work.
8. Not Using Trekking Poles
Trekking poles might seem unnecessary or even nerdy at first glance, but the utility they provide on the trail is substantial. Trekking poles reduce the impact on your knees and help evenly distribute your weight, especially during descents, which can help you reduce the impact on your joints and prevent injuries.
They also provide stability on the trail when crossing uneven terrain or navigating stream crossings, especially since you're carrying a heavy load on your back that can easily knock you off balance. Once you try backpacking with trekking poles, you'll never go back.
If you're looking for a pair, these Black Diamond Trail Back trekking poles are a great pick – they're lightweight, pack down small, and are adjustable so they'll fit nearly any size, plus they're budget-friendly to boot.
9. Not Doing Enough Research & Planning
Thoroughly understanding the trail you are about to tackle is an essential part of safe and successful backpacking – and one that is often overlooked by beginner backpackers.
First, be sure to look up permit requirements and any regulations for the area – many popular backpacking trails require permits that go on sale up to a year in advance. You'd hate to plan your trip and show up at the trailhead only to realize you need a permit! Learn more about how to plan a backpacking trip here.
Next, be sure to read up on current trail conditions and potential obstacles to ensure a safe backpacking trip. For example, there may still be snow on the trail (as I described in my story earlier) or hazards like fallen trees. To do this, look for recent reviews (you can use an app like AllTrails for this), and if there's any uncertainty, call the local ranger station to get the most up-to-date information on trail status and safety concerns.
10. Not Bringing Maps & Preparing to be Without Service
Knowing how to avoid getting lost is the most important safety tip for any backpacker. You should 1) always download an offline map of the trail using your favorite hiking app, 2) carry a paper map as a backup, and 3) consider investing in a navigation/communication device like a Garmin InReach Mini, especially if you're heading into a remote area without cell service.
11. Not Charging Your Electronics
Imagine setting up camp the first night and realizing you forgot to charge your headlamp or swap out the batteries. Or hitting the trail and realizing you didn't fully charge your phone or GPS device that you plan on using for navigation.
Make sure you charge all of your electronics including your headlamp, phone, GPS device (like the Garmin Mini inReach we use), camera, and any other devices you need to bring along.
This BioLite headlamp lasted us 6 days and 5 nights on a backpacking trip in Sequoia National Park on one charge.
If you think you'll need more power, bring a small portable battery pack like this BioLite Charge 20 Power Bank.
12. Planning an Overambitious Route
Effective trip planning involves being realistic about your hiking abilities. Overestimating how far you can hike each day can lead to exhaustion, injury, or being stranded after dark.
It's better to plan for a low-mileage, beginner-friendly trail for your first backpacking trip and treat it as a "shakedown" trip to get you prepared for harder and longer-mileage trips.
For your first trip, I suggest an overnight. Opting for a one-night trip is a sensible choice because it allows you to gauge your comfort level and abilities and test your gear without over-committing to a longer stint in the wilderness.
It also provides a manageable introduction to carrying your gear, setting up camp, and cooking outdoors without overwhelming you with too many logistics.
Looking for a beginner-friendly trail? Here are a few of our favorites:
13. Not Researching Wildlife Ahead of Time
When it comes to backpacking, one common beginner backpacking mistake is failing to be properly bear and wildlife aware. Knowing the local wildlife is not only crucial for your own safety but also for the well-being of the animals you may encounter along the way.
In bear country, it's essential to know the proper techniques for storing food. Most places require you to use a bear canister or bear bags to secure your food.
Remember, different regions may have specific requirements and guidelines, so it's essential to do your homework and familiarize yourself with the wildlife regulations before your trip.
However, bears aren't the only wildlife you should be aware of. Depending on the region you're backpacking in, you may encounter other animals like rattlesnakes, marmots, or other critters.
It's crucial to educate yourself about these local inhabitants and learn how to interact with them safely. For example, at Havasu Falls, a bear canister or hanging your food is now required because squirrels and other critters will chew through your tent and backpack to access food. That actually happened to us the first time we went to Havasu Falls. We put our packs down to go for a swim, only to come back to find a rodent had gotten into our lunch.
14. Not Following Leave No Trace Principles
It's important for ALL backpackers (not just beginners!) to brush up on the 7 Leave No Trace Principles before heading into the backcountry. These principles are a set of guidelines that encourage sustainable and respectful outdoor practices designed to minimize human impact on the natural environment.
They cover everything from properly pooping outdoors and respecting wildlife to how to choose a campsite. Ignorance or disregard of these principles can lead to littered trails, damaged vegetation, wildlife habituated to human food, and diminished experiences for future backpackers (or can even lead to trails getting shut down).
Not being aware of or failing to adhere to Leave No Trace can cause significant harm to the beautiful landscapes we all enjoy. Therefore, it is crucial for all backpackers, novice or experienced, to familiarize themselves with and commit to LNT principles before embarking on their adventures, to ensure that our wild places remain pristine for generations to come.
15. Forgetting Emergency Supplies & Safety Plans
In the midst of the excitement of planning your first backpacking trip, don't overlook an important component of your planning: packing emergency supplies and creating a safety plan.
When it comes to backpacking, carrying essential emergency supplies can be the difference between a temporary setback and a dangerous situation. One such must-have safety item is a lighter or waterproof matches.
Fire can serve multiple purposes on the trail, from providing warmth and cooking food to being a source of light and a signal for help if the need arises. It's a small tool that can make a significant difference in challenging circumstances.
Next, let's talk about navigation tools. Even in the era of GPS and smartphone apps, a traditional compass and physical map of your hiking area remain indispensable. They do not rely on battery life or signal strength and could be your lifeline in maintaining direction and reaching safety if you veer off the marked trails. It's an old-school approach, yes, but one that has saved many seasoned hikers in the most unpredictable situations.
Finally, a well-stocked first aid kit should have its own special place in your backpack. Bandages, antiseptics, tweezers, and pain relievers are just the beginning. Remember, minor injuries can escalate quickly in the wilderness, and immediate care can prevent a manageable situation from turning into a complicated one.
Another critical step we strongly recommend is leaving your backpacking plans with a trusted friend or family member. Sharing details such as your intended route, potential campsites, and estimated return time can make a significant difference in ensuring your safety. This practice isn't just for beginners—it applies to all backpackers. By doing so, you establish an additional layer of security and peace of mind, knowing that someone is aware of your whereabouts.
Don't let these precautions daunt you, though! As you become more familiar with backpacking, you'll find that these preparations become second nature. They will serve to enhance your experience, not detract from it.
Remember, the goal is to fully immerse yourself in the beauty of the outdoors, secure in the knowledge that you're prepared for any eventuality. And trust me, with the right prep, you're in for an absolutely unforgettable adventure!
What beginner backpacking mistakes do you have questions about? Are there any others you can think of? Leave us a comment below!
The post 15 Beginner Backpacking Mistakes to Avoid appeared first on Bearfoot Theory.