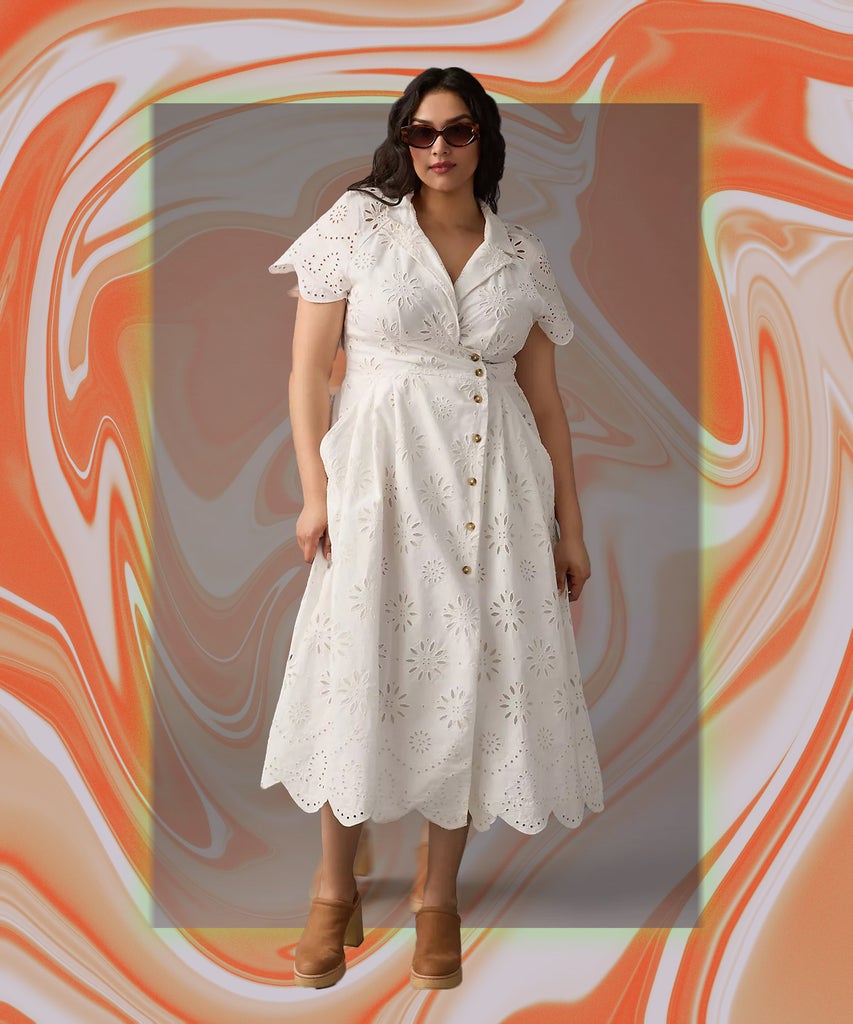 If you can believe it, spring has officially sprung — and while we have a few more chilly weeks left, it's absolutely acceptable to bust out all your packed-away spring clothes again (or overhaul your entire spring wardrobe, of course). While the likes of denim pants and lightweight jackets are decidedly considered "year-round pieces" with some sleuth layering, one type of apparel always tends to carry the weight when it comes to the grand ushering of the warmer, sunnier months: the spring dress. And — you don't need us to tell you this, but — Anthropologie is guaranteed to be stacked with the latest spring dress styles that will be upwardly trending on a sidewalk near you.
We praise the spring dress! The spring dress can take on many forms and silhouettes, but what sets it apart from other seasonal frocks is a few specific factors. First, the length: The warmer the temperature, the more leg you'll want to bare — and midi and mini skirts are obviously far easier to throw on when the heat index reaches the right levels. Secondly, spring dresses, for the most part, tend to be flowier and flouncier, which makes for the introduction to playful silhouettes, such as tent-like skirts or breezy sheath dresses that drape the body (instead of clinging to it). Third, the hallmark of a true spring dress is one that's fabricated in an airy, lightweight material that allows for movement and ventilation, like chiffon or Anthropologie's Magic Fabric blend of viscose, linen, cotton, and elastane.
The spring dress is the kind of piece that does so much with so little. It's a one-and-done miracle that can solve that classic dressing dilemma when you have to run out the door but need a put-together look in a snap. Ahead, in this edition of Hype Machine, we've tallied up some of the best-trending spring dress styles offered at Anthropologie that have been ranked and rated by its early wearers. Feeling twirl-happy yet? Scroll on for 11 dressy looks that could happen to you.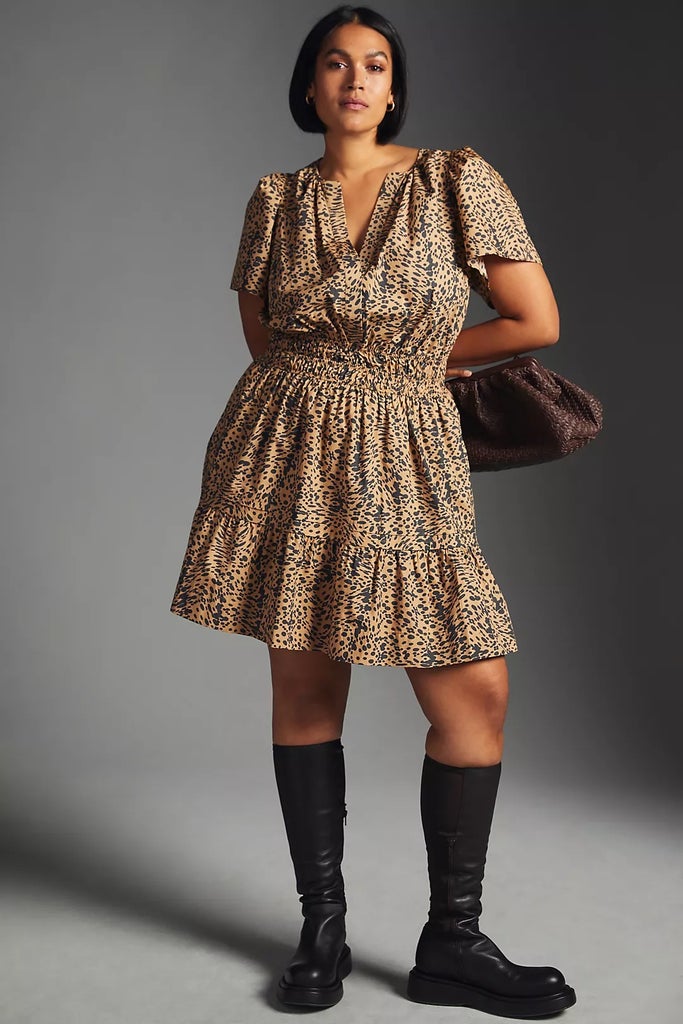 The Hype: 4.1 out of 5 stars, 79 reviews
Why It's Trending: One of Anthropologie's cult styles is the ever-beloved and best-selling Somerset. Members of our very own Most Wanted team reviewed and confirmed its wearability last year. This season, however, the Somerset is boasting a much-needed trim — and the mini dress version is sure to be next in line to hit fan-favorite status. "It's comfortable. It's not too short. It's not too long. It has pockets. It's not too young or too old. I don't know where I'm going to wear this but it's going to be in my closet when I need it," writes a pleased shopper.

Shop Anthropologie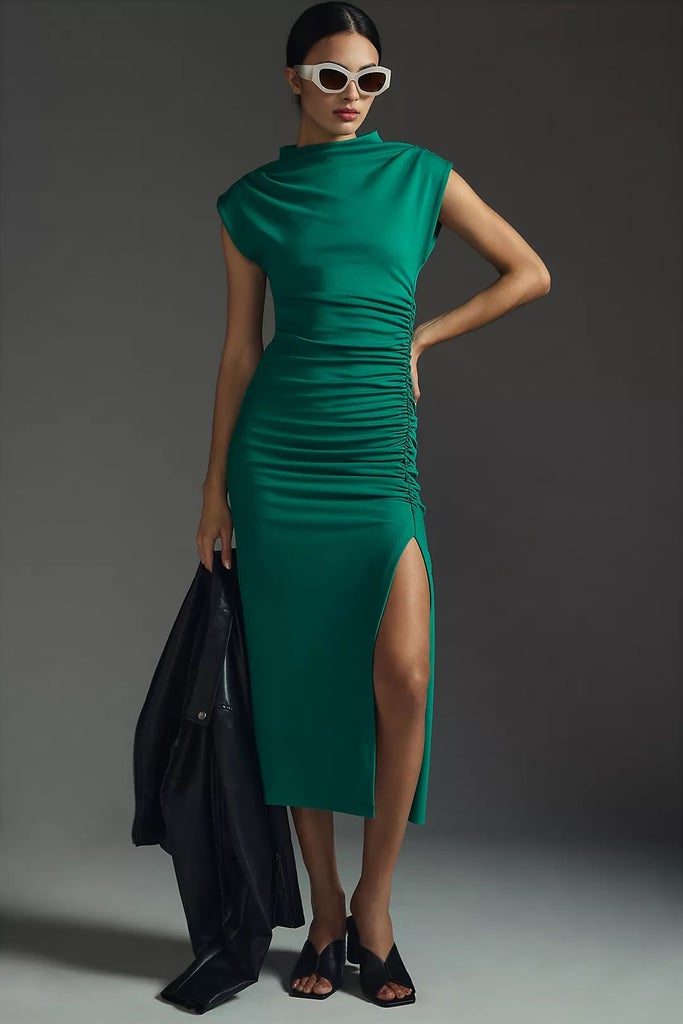 The Hype: 4.2 out of 5 stars, 36 reviews
Why It's Trending: This ruched dress only looks fancy — you can thank the ruching, cowl neck, and high slit details for its elegance. Truthfully, though, it's quite comfy due to the elastane stretch blend. "I usually have issues with dresses that lack a defined waistline but not this one. Ridiculously flattering. I'm not seeing any of the issues with snagging others have," writes one reviewer. Another wearer — 5'4", 145 lbs., and pear-shaped — writes that a size medium fits splendidly. "The fabric quality is great, thick but not too heavy. I love that you can dress is up or down. Highly recommend," the reviewer writes.

Shop Anthropologie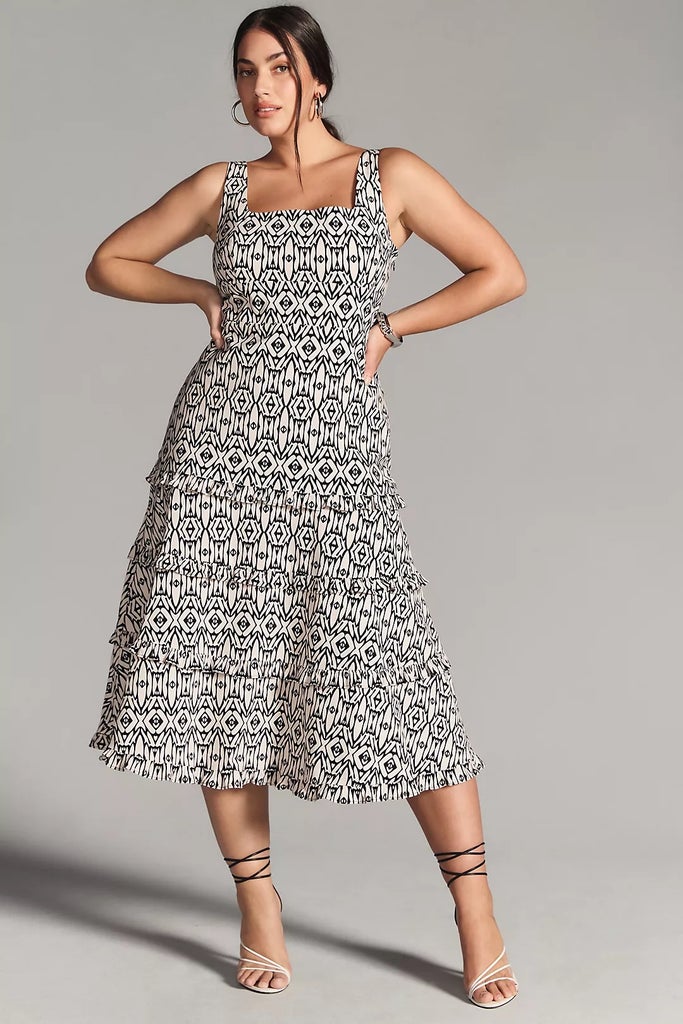 The Hype: 4.5 out of 5 stars, 13 reviews
Why It's Trending: One well-known Anthropologie secret is the brand's special Magic Fabric blend of viscose, linen, cotton, and elastane. The material is used for select springtime pieces for its lightweight wearability without the linen getting overly wrinkly. "This dress was more form-fitting than I expected. The material has quite a bit of stretch and is a little heavy (but I think that makes it more flattering. It doesn't show every bump)." writes one reviewer. Another writes: "I saw this in the store and it is really amazing. The material and fit are extremely flattering. I really hope they continue to make this available through the summer."

Shop Anthropologie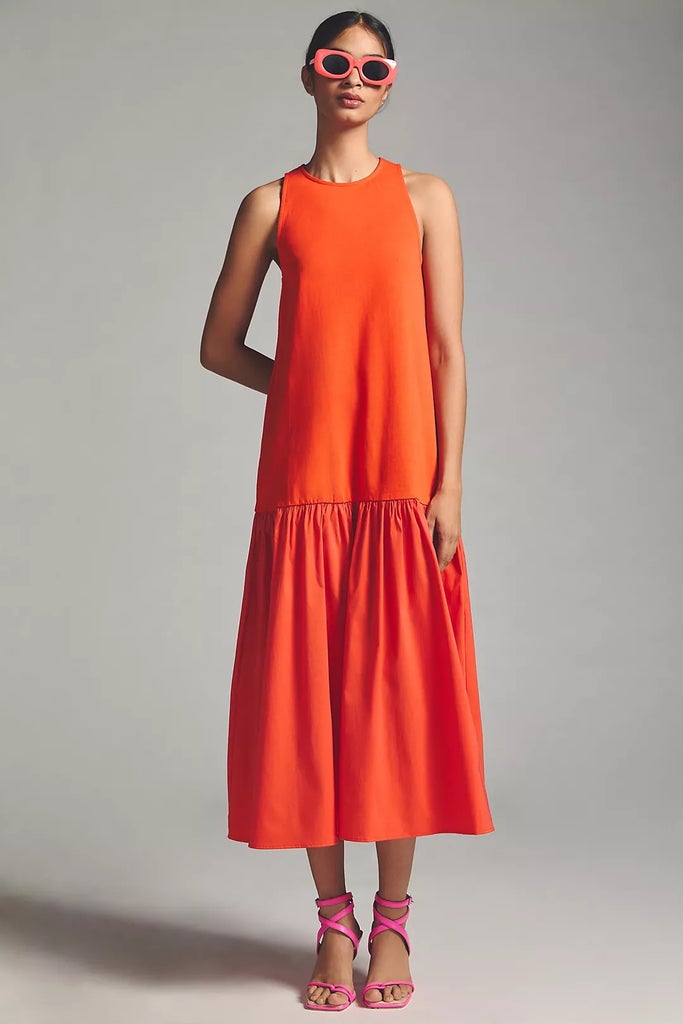 The Hype: 4.8 out of 5 stars, 8 reviews
Why It's Trending: Flounce is a must! This Maeve silhouette is a classic Anthropologie style: The brand writes that the word "maeve" is a reference to a flower, in case the dress reminds you of a blooming petal. "I purchased this dress last season and have worn it many times. Dress it up with long pearls or a denim jacket. The arm holes have perfect coverage. The neckline is fitted with a single stylish pearl button. A must-have!" a reviewer raves.

Shop Anthropologie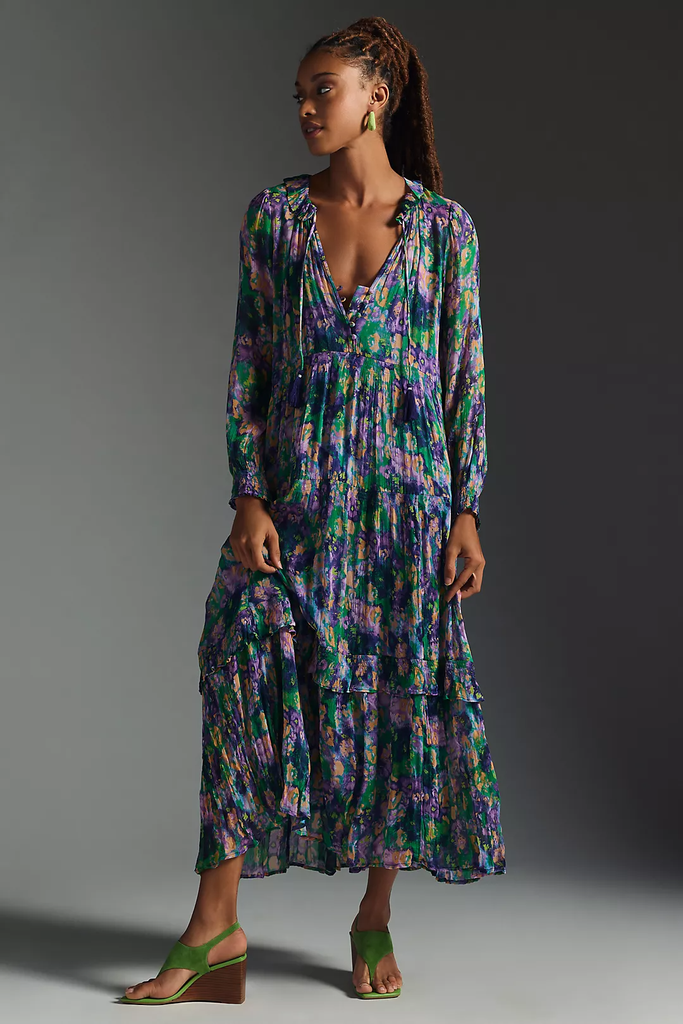 The Hype: 4.1 out of 5 stars, 189 reviews
Why It's Trending: "This dress flows so beautifully! Yes, it fits loose but that's the style! I ordered my usual size xs & it is long (I'm 5'2) but with a 2-inch wedge heel, the dress was perfect," writes one of 189 reviewers who sing this dress's praises. This chiffon maxi is designed to flutter and flow with every stride you take — which may clue you into why this effortless pullover style is so highly coveted by Anthropologists for the warmer months.

Shop Anthropologie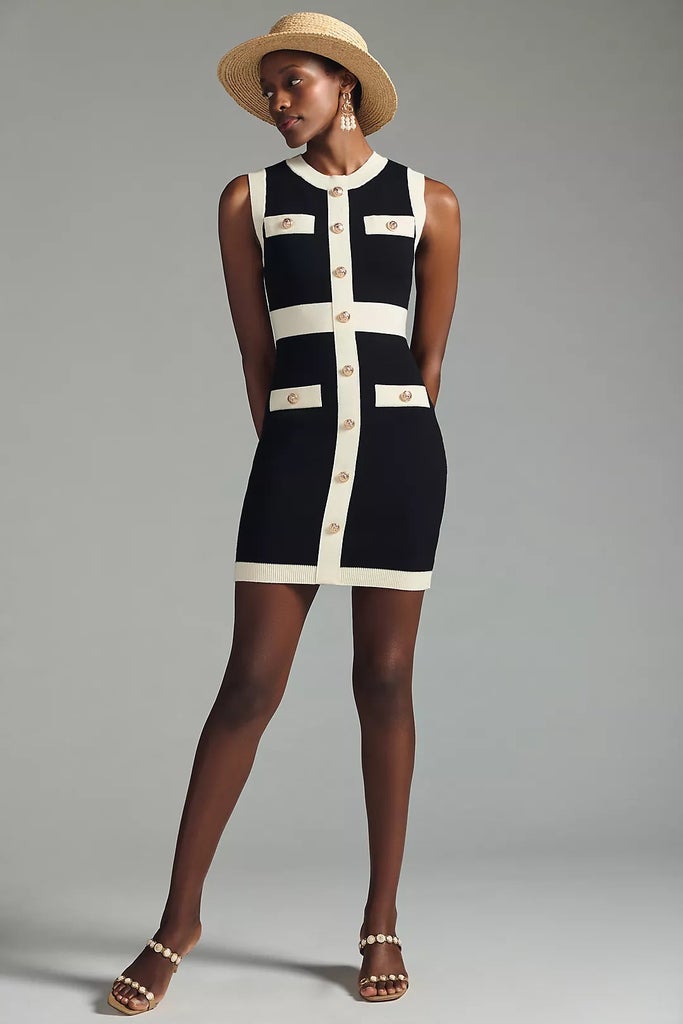 The Hype: 3.9 out of 5 stars, 7 reviews
Why It's Trending: We must pose the question: Doesn't this bodycon mini dress look so much more high-end than it actually is? (The easy pullover style is in part to a clever rayon, nylon, and polyester blend.) This spring dress could work at a professional luncheon or a seaside getaway.
"This is a closet staple! The fabric is thick enough to cover lumps and bumps and form-fitting enough to be flattering while classy," writes a reviewer. "The only issue I have is the white waist band doesn't lay flat in the back but that's forgivable."

Shop Anthropologie
The Hype: 4.5 out of 5 stars, 4 reviews
Why It's Trending: If you don't already have a heavenly white, eyelet-detailed spring dress, perhaps this empire-waisted frock should be added to your cart. The scalloped sleeves and hemline are divine details as well. Some of the reviewers suggest sizing down, however. "I am 5' and 138lb, ordered a medium and it was big, and was loose in the bust. Decided to order a small petite and OH MY it fit perfectly," writes one petite reviewer. "The length was just right, bust was perfect (38d) not too revealing, and it was not as large in the hip area like the medium was. Overall a perfect dress for spring and summer. I can't wait to wear this on my next vacation."

Shop Anthropologie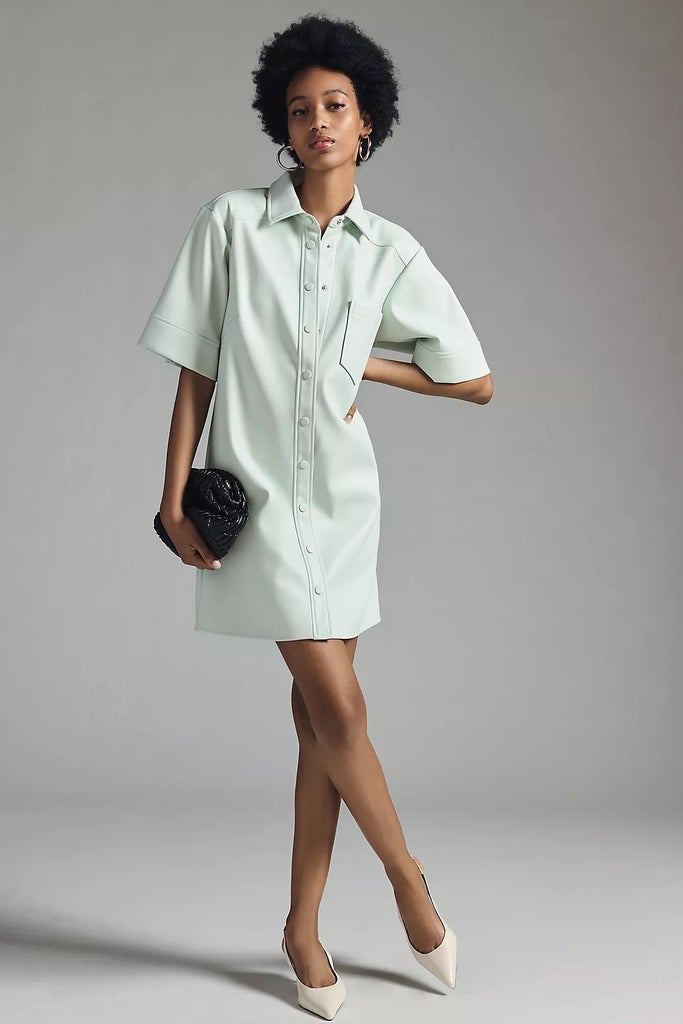 The Hype: 5 out of 5 stars, 10 reviews
Why It's Trending: For now, this shirt dress is scoring a perfect 5 out of 5 stars. "Very comfortable while being very chic too! The pink is an unexpected pop of color in the faux leather. Love it enough that I'm thinking deeply about the mint one," writes a reviewer. The loose fit, the breezy style, and the faux leather finish make this particular dress an easy one to wear for the transitional weeks. A tip from shoppers: Size up from your usual fit for more easy-going wear. "The fit is a slightly boxier looser style. I usually get an XXS but went with the XS. Everything about it is perfect," writes a satisfied dresser.

Shop Anthropologie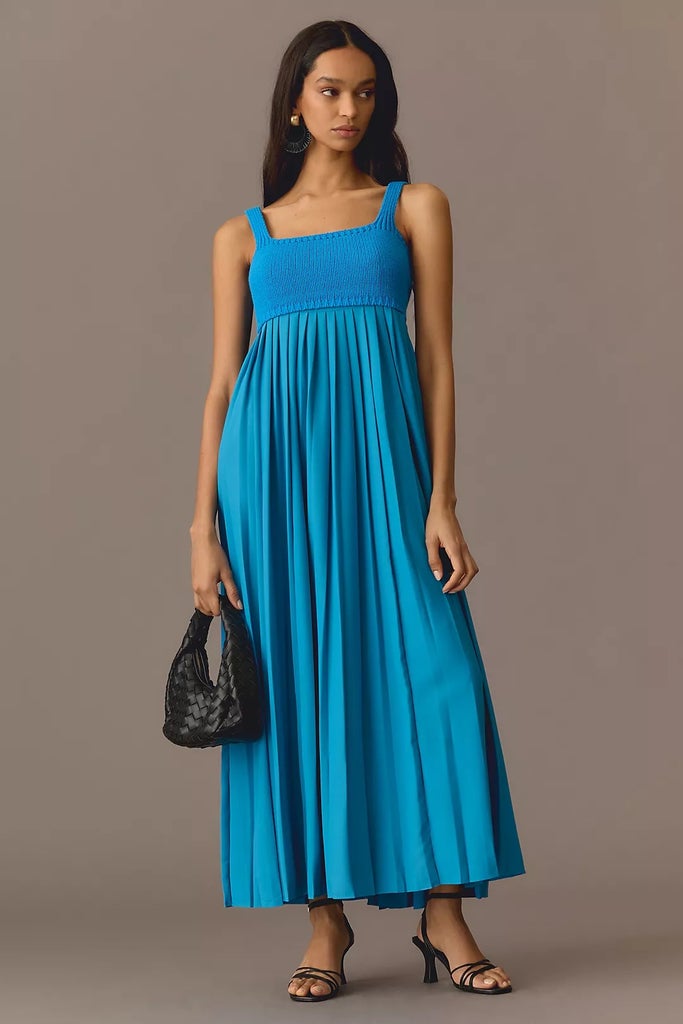 The Hype: 3.3 out of 5 stars, 6 reviews
Why It's Trending: While this dress is currently one of the lower-ranking styles in this roundup, we think it has the potential to gain traction as the following weeks pass by. After all, who can deny the maxi length, the pleated skirt, and the crochet-detail top? "The dress is substantial. The pleats and the fabric weight hang beautifully. However, I felt as though it 'swallowed' me. I considered sizing down to an XS, which is not uncommon for me," suggests one reviewer. Once you find the correct fit for your frame, we think this vibrantly hued spring dress will wow any passersby.

Shop Anthropologie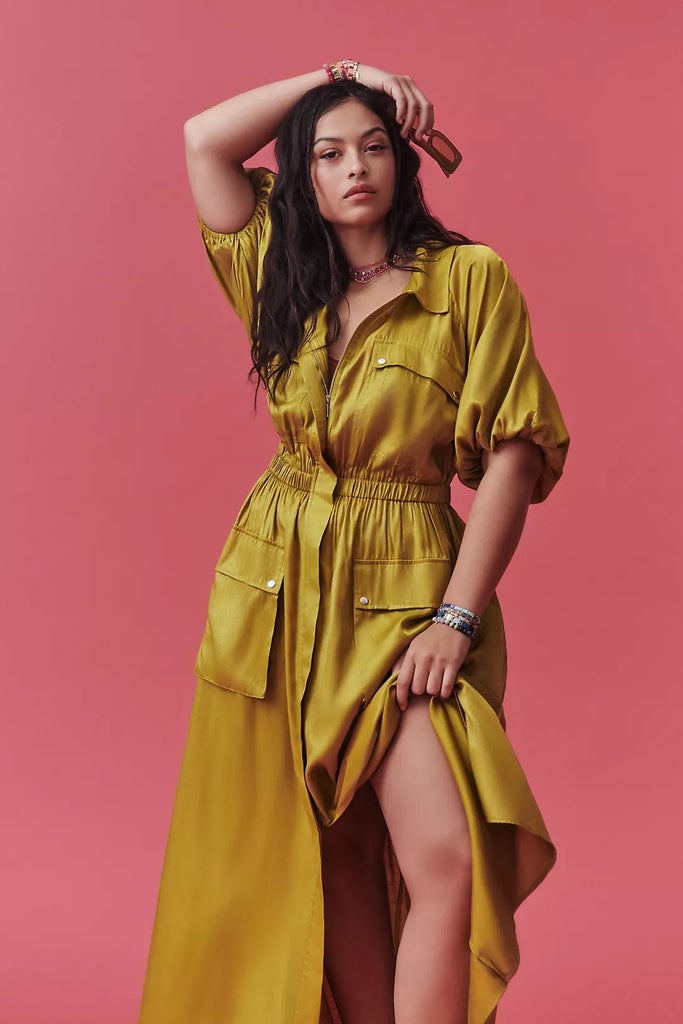 The Hype: 4.3 out of 5 stars, 17 reviews
Why It's Trending: "I saw this in my local Anthro store and tried it on straight away. So far I've worn it with a black leather moto jacket, wrap-style belt, studded/buckled ankle boots. So cute! Love the fabric, and make of this dress," writes one reviewer of the myriad ways you can style this utilitarian-inspired frock. The almost silk-like finish keeps things feeling feminine and fresh. "I listened to the other reviewers and ordered a small instead of my usual medium. It fits very well and is flattering. The fabric is really different: I ordered the black and it's a shimmery, lightweight fabric that has an iridescent sheen," writes another reviewer.

Shop Anthropologie
The Hype: 3.4 out of 5 stars, 5 reviews
Why It's Trending: "I absolutely love this dress, so chic and classic and cool. I saw a review below that mentioned the fabric being bad but I COMPLETELY disagree," writes a reviewer who's also a believer in the machine-washable, polyester-nylon blend. "I'm glad I went for it because this fabric is that uber cool tech-y almost taffeta feel… super modern!" This dress is also part of Anthropologie's popular "Maeve" family; what begets is this "structured yet delicate" silhouette that is still soft but maintains a flirty shape throughout the day's wear.

Shop Anthropologie
At Refinery29, we're here to help you navigate this overwhelming world of stuff. All of our market picks are independently selected and curated by the editorial team. All product details reflect the price and availability at the time of publication. If you buy or click on something we link to on our site, Refinery29 may earn commission.
Like what you see? How about some more R29 goodness, right here?
All About Anthropologie Velvet Somerset Maxi Dress
Bubble Hems Are Spring's Most Party-Ready Trend