THE BEST SUSTAINABLE KIDS' SWIMWEAR
Whenever you go to the beach, there are a few specific things you need to bring to make your trip fun and unforgettable. One of the most important things you should not forget to pack in your suitcase is your swimsuit. 
Whether you enjoy swimming in the ocean or the pool or simply prefer relaxing on your beach towel, swimwear is absolutely essential to have. 
Sometimes, it can be tricky to find a good-quality swimsuit. But as an adult, once you have found one or two you like, you can usually enjoy them for a while. For kids' swimwear, it is a little different as children grow so quickly! You have to buy new swim shorts or bikini sets for your kids a lot more regularly! 
Plus, as an eco-conscious parent, you might want to purchase swimsuits that will not harm the planet. This can be difficult because they are all made of synthetic materials, and we know how bad plastic is for our environment. 
So if you are looking for new eco-friendly swimwear for your children this year, this article is for you! We have selected 10 sustainable brands selling kids' swimsuits so that you and your family can create happy memories on your next trip to the beach! 
WHAT MAKES bathing suits SUSTAINABLE? 
When we see kids' swimsuits costing as little as a few dollars at the store, we can easily be tempted to go for the cheap option. However, with such a low price tag, swimwear cannot be made to last or produced under ethical conditions. 
So try to avoid fast fashion brands as much as possible, and support an ethical company that pays its workers a fair wage, treats them well and provides them with healthy, safe working conditions. Remember that when something is too cheap, someone in the supply chain is paying the price. 
You also don't want your child to lose his/her swimsuit while having fun with friends. So investing in quality is the way to go to make sure the piece will last. 
Finally, try to support brands that have taken steps to minimize their environmental footprint, and choose swimwear made from eco-friendly materials. 
WHAT ECO-FRIENDLY MATERIALS SHOULD YOU SEARCH FOR?
Unfortunately, it is almost impossible to avoid synthetic materials when buying swimsuits as they have to be stretchy. Natural fabrics would also not last long if used in salt water or chlorine-filled swimming pools.  
Thankfully, there are sustainable alternatives to polyester and nylon, which are what most swimsuits on the market are made of. For instance, recycled polyester and recycled nylon, produced from plastic water bottles or nylon fishing nets, are great options! 
Buying swimwear made with these materials helps divert plastic waste from landfills and oceans and encourages manufacturers to stop using virgin petroleum-based materials to create new products.  
NOW, OUR TOP PICKS FOR SUSTAINABLE Childrens SWIMWEAr:
Size Range: 4 To 12 Years
Materials: Recycled Nylon, Recycled Polyester
Price Range: $90-112
KAMPOS redefines luxury by transforming waste found in the ocean into high-quality swimwear. Its kids' swimsuits are handcrafted in Italy, and they are available in several solid colors and lovely patterns that will make your child stand out from the crowd. Designed for children aged between 4 and 12 years old, KAMPOS' swimwear collection consists of swim shorts, bikinis & one-piece suits.
The bikinis feature a classic cut with a triangle bikini top and a tie-side bottom. 
While the boys' swim shorts are all made with 100% recycled plastic bottles, the girls' collection is produced using recycled fishing nets and other nylon waste. 
KAMPOS uses recycled packaging that is also 100% recyclable and FSC-certified. It also donates part of its profits to the Coral Conservation Project, an initiative launched to protect and restore coral reefs in the Maldives. 
The brand is a certified B Corporation, and in 2022, it was named Best for the World™ in the Environment and Community categories. Plus, KAMPOS received the Butterfly Mark accreditation, which identifies luxury brands meeting the highest standards of environmental performance.
Shop Kampos
---
Size Range: 12 Months To 16 Years
Materials: Recycled Nylon, Deadstock Fabric
Price Range: $42-124
Elle Evans sells sustainable swimwear for children, from newborns to 16-year-old teens. It has everything from rash tops and bikinis to swimsuits and swim onesies for toddlers. The brand creates all its kids' swimwear using offcuts from its women's collection to reduce waste. Not only that but the original fabric is also produced from plastic waste dredged from the sea, like fishing nets, as well as fabric scraps, carpet flooring, and industrial plastic waste from landfills and oceans. 
We also love that Elle Evans chooses to make each piece to order, which means that it is only produced when you buy it. This helps reduce fabric waste to a minimum, and the company even reuses smaller scraps and turns them into frills or straps for other swimsuits!  
Elle Evans works with a digital printer that uses water-based, non-toxic inks and makes sure to never discard inks down the drain. It also ships its products through carbon-neutral couriers.
The company also donates 1% of all its sales to the Healthy Seas Initiative, which is the organization that collects the nylon waste used in Elle Evans' collections.
Shop Elle Evans
---
Size Range: 6 Months To 12 Years
Materials: Recycled Polyester, Organic Cotton 
Price Range: $10-44
Frugi is a British children's clothing brand that creates high-quality pieces using GOTS-certified organic cotton. Its clothes are recognizable by their bright, vibrant colors and playful prints. 
The company offers several swimsuits for babies and children up to 12 years.
It has two swim shorts, one adorned with lovely shells and the other decorated with fun surfboards. Frugi also sells two rash guard sets with cute little marine animals, like sharks, fishes and whales. 
The brand's swimwear is made from recycled polyester using post-consumer recycled plastic bottles. The fabric dries very quickly, making these swimsuits super practical whether your child wants to swim, surf or build sandcastles.  
Frugi has also received many awards for its commitment to sustainability and ethical manufacturing. For instance, it won the 2019 Drapers Independents Awards as "Kids' Brand of the Year". In 2020, it was also awarded two Queen's Awards for Enterprise, Sustainable Development and International Trade, which are the most prestigious awards for British businesses.
Shop Frugi
---
Size Range: Newborn To 8 Years
Materials: Recycled Nylon
Price Range: $15-34
Turtledove London is an ethical clothing brand on a mission to make organic unisex clothes for our children. It has a small collection of swim shorts, one-piece swimsuits, rash guards and surf suits, all of which are both comfortable and stylish. 
The company purposefully creates gender-neutral pieces to increase their likelihood of being passed down to several children down the line.
It is also why all the pieces have timeless styles and a simple color palette. 
Turtledove London makes its swimwear with recycled nylon and eco-friendly, azo-free dyes. The fabric is made to last and provides UPF 50+ protection against harmful sun rays. Once they are produced, the swimsuits are packed in compostable bags made of cornstarch and sent to you in paper mailing bags and boxes. 
The company's pieces are all made in factories that are SEDEX-certified and members of the Ethical Trading Initiative, which ensures workers in the supply chain are treated fairly. Turtledove London was also a finalist in the Drapers Sustainable Fashion Awards in 2021!
Shop Turtledove London
---
Size Range: 3 Months To 8 Years
Materials: Recycled Polyester, Recycled Nylon
Price Range: $23-27
Mon Coeur, which means "my heart" in French, is an earth-friendly children's clothing brand creating pieces with deadstock fabrics and recycled materials. 
It offers different kinds of swimsuits for babies and children up to 8 years, all made using 100% recycled European fabrics.
For instance, it has several swim trunks produced from rescued fishing nets, as well as rash guards and bikini sets made from recycled plastic bottles. 
The bikini sets feature fun oversized ties at the shoulders and bottoms, and the rash guards will make your child an eco-activist with its saying "make the sea plastic-free"! The fabric dries very quickly and provides UPF 50 sun protection. 
Mon Coeur's swimwear is ethically made in Portugal, and all the yarns used in the production process received the Global Recycled Standard certification. 
Everything the brand sells is made with recycled and upcycled materials, right down to the labels, buttons, zippers, hang tags, and embroideries! 
Mon Coeur is a member of 1% For The Planet, and it partners with the 5Gyres Institute, a non-profit organization leading the global movement against plastic pollution.
Shop Mon Coeur
---
Size Range: 24 Months To 10 Years
Materials: Recycled Polyester, Recycled Nylon
Price Range: $19-57
August Society creates flattering, eco-friendly swimsuits for each member of the family. If you are looking for sustainably made swimwear for your kids, this is probably the brand offering the most options on this list!
Its kids' swimsuits are comfy, high-quality and timeless pieces that your children will be able to wear all summer long.
They feature one-of-a-kind, unisex prints designed by August Society's founder, so they can be handed down from brother to sister and from sister to brother. 
You will be able to choose between different styles of one-piece suits, rash guards, bikinis, swim pants, and swim leggings. Some models are even reversible, with one print on one side, and another on the other side.
The brand crafts its swimwear out of recycled polyester and recycled nylon, produced with plastic water bottles, old carpeting and recovered ghost fishing nets. The fabric protects your children from the sun and is designed to last for many years. 
August Society also makes its prints using digital printing methods. The process requires the use of a lot less ink and dye, and the total amount of fabric waste is reduced.
Shop August Society
---
Size Range: 6 Months To 14 Years 
Materials: Recycled Polyester, Recycled Nylon, Organic Cotton
Price Range: $19-79
Cosmo Crew is an Australian ethical brand selling comfy kids' swimwear so that our children can enjoy their adventures at the beach and have carefree days under the sun, all while respecting our precious planet. It has a large selection of swimsuits for children under 14 years old.
Made from recycled polyester or recycled nylon, all the pieces feature high-quality fabrics that are long-lasting and extra resistant to the effects of chlorine, sand, and sunscreen.  
For little boys, consider getting one of Cosmo Crew's beach shorts! They are produced from organic cotton and can be worn in and out of the water as they dry very quickly. 
Girls will be able to choose between different models of bikini sets and one-piece suits. These are decorated with cool frolicking frills and have lovely cross-backs to avoid strap annoyances. 
Cosmo Crew also offers surf suits and rash tops, which are super soft and provide UPF 50+ sun protection. All the brand's swimwear is handmade in Bali by talented tailors who craft each piece with comfort, fit and longevity in mind.
Shop Cosmo Crew
---
Size Range: Newborn To Size 12
Materials: Recycled Nylon, Recycled Polyester, Cotton, Polyester
Price Range: $10-52
Founded in 1983, Hanna Andersson has made sustainability and circularity two of its core principles. It crafts pajamas for the whole family and all kinds of other clothes for children and babies. The brand sells many types of swimwear for your kiddos, including long-sleeve rash guards, boys' swim trunks, girls' tankini sets, and one-piece suits.
They are all designed with happy patterns and colors, marrying functionality and comfort. 
Most of Hanna Andersson's swimsuits are made from recycled nylon or recycled polyester. They also received the OEKO-TEX Standard 100 certification, so they are completely safe to wear and free of harmful chemicals.  
The company's fabrics are incredibly durable and built to last so that the clothes can be worn again and again, and handed down to other children later. 
Hanna Andersson is a GOTS-certified brand that is very transparent about its suppliers. It also regularly supports charities, like Baby2Baby, which provides children in need with clothes, diapers, and other basic necessities.
Shop Hanna Andersson
---
Size Range: Newborn To Size 12
Materials: Recycled Nylon, Recycled Polyamide, Recycled Polyester 
Price Range: $45-60
Summersalt creates ethical womenswear designed to keep you comfortable and chic while you are on the go.
It has a small collection of kids' swimsuits, all of which are available in larger sizes for parents as well. 
The brand's swimwear is sold in different colors and patterns that will remind you of nature, like little nectarines or flowers. The girls' suits are particularly adorable with their ruffles at the shoulders!
Summersalt makes its kids' swimwear from recycled polyamide, recycled nylon or recycled polyester, depending on the model. Its recycled materials help divert fishing nets and commercial carpets from landfills by turning them into new products! Plus, the recycled polyamide is certified by the Global Recycled Standard. 
All the swimsuits feature a high-quality, compressive fabric that provides UPF 50+ protection to protect your little ones from harmful sun rays. And if you want them to be even more protected and covered, opt for the brand's rash guard tankini set! 
Summersalt also ships all its products in poly bags made from recycled materials. 
Shop Summersalt
---
Size Range: 3 Months To 14 Years 
Materials: Recycled Polyester, Recycled Polyamide, Polyester, Cotton
Price Range: $10-44
Boden is a sustainable family-run clothing company that has been making beautiful clothes for more than 30 years. It has a very large selection of swimwear for girls and boys up to 14 years, as well as a carefully curated collection for babies and toddlers. 
Each piece is very colorful, and many of them feature fun prints, like rainbows, dinosaurs, penguins, and many more!
You can choose between various styles and sleeve-lengths, and the brand even sells several surf suits. 
While some of Boden's swimsuits contain polyester or cotton, most of them are made with recycled polyester and recycled polyamide. The company is also very transparent about where its clothes are made, and it ships them in 100% recycled and recyclable packaging. 
Boden offers you to send back your well-worn pieces when your kids no longer need them, and it will donate them to a charity that either gives them away or recycles them. 
The brand is also a member of the Ethical Trading Initiative, and it has donated tons of clothes to different charitable organizations around the globe.
Shop Boden
---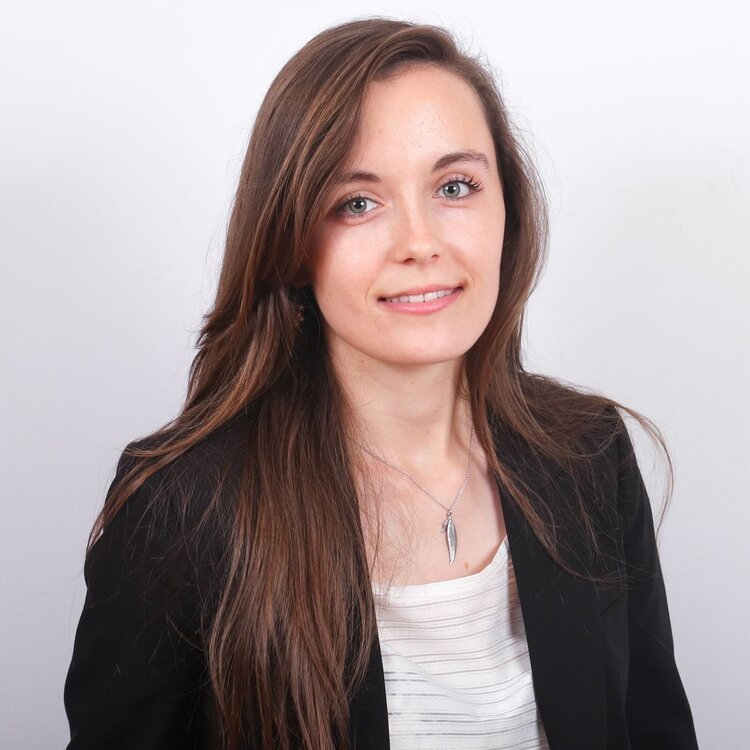 About the Author
Eva Astoul is a French freelance writer, specializing in content related to sustainability, simple living, and a growth-focused healthy lifestyle. She runs her own blog, Green With Less, to inspire people to live a more minimalist and sustainable life.
---
MAKE SURE TO PIN THE PHOTO BELOW TO SAVE THIS POST FOR LATER!
---
WANT MORE SUSTAINABLE BRANDS? VISIT OUR BRAND DIRECTORY!
Our Brand Directory is home to hundreds of sustainable brands, from makeup to cleaning supplies, from underwear to shoes. We have broken everything down by category for easy shopping, along with discount codes unique to Sustainably Chic viewers.
Shop the Sustainable Brand Directory
---
RELATED READING YOU MAY ALSO ENJOY: